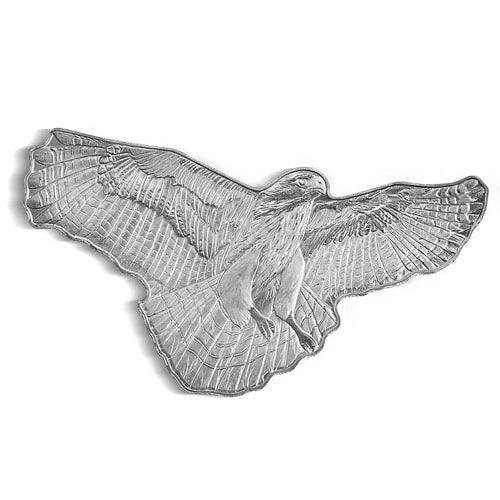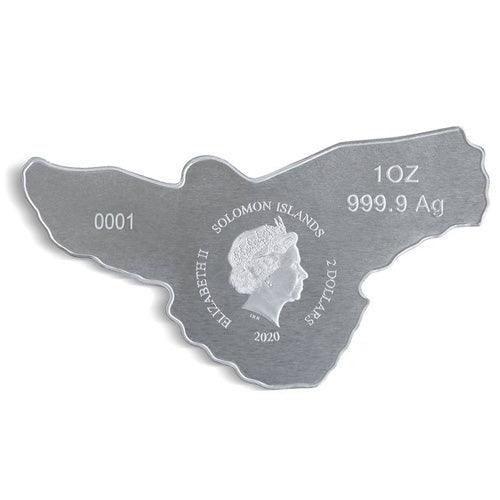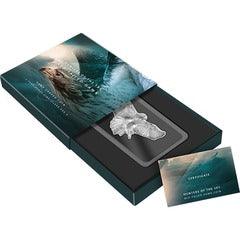 RED TAILED HAWK Hunters of the Sky 1 Oz Silver Coin $2 Solomon Islands 2020
This beautiful 1 Oz Silver coin is dedicated to the world's number one apex predator of the sky– the Red Tailed Hawk. The coin is beautifully shaped as a Red Tailed Hawk, has a beautiful design and comes in a themed case, along with the Certificate of Authenticity. Limited mintage to 2500 pieces worldwide!
Embark on a thrilling journey into the realm of birds of prey with the Red-tailed Hawk Hunters of the Sky 1 Oz Silver Coin. As the second installment in this awe-inspiring coin series, it pays homage to the remarkable Red-tailed Hawk. Crafted from 1 ounce of .9999 fine silver, this legal tender coin showcases unparalleled artistry and attention to detail, creating a numismatic masterpiece that captures the essence of these majestic creatures.
Limited to a mintage of only 2,500 coins worldwide, each coin is individually serialized, guaranteeing its uniqueness and adding to its collectability. Encased within custom capsules, these coins are preserved in their flawless state, safeguarding their beauty for generations to come. Complemented by fact-filled Certificates of Authenticity, each coin is a testament to the fascinating world of birds of prey and the importance of preserving their natural habitats.
Measuring 63.2mm x 35.7mm, this proof-quality coin is a testament to the exceptional craftsmanship and artistic precision. Every detail of the Red-tailed Hawk has been meticulously captured, from its fiery red tail feathers to its piercing gaze and outstretched wings. The coin's design perfectly encapsulates the strength, grace, and predatory nature of these remarkable hunters of the sky.
Hold the Red-tailed Hawk Hunters of the Sky coin in your hand and experience the awe-inspiring beauty of nature's finest hunters. The weight of the silver, the intricate design, and the superb craftsmanship will transport you into the world of these majestic creatures. Whether you are an avid collector, an admirer of wildlife, or seeking a distinctive gift, this coin is sure to captivate and leave a lasting impression.
Celebrate the Red-tailed Hawk's indomitable spirit and unrivaled hunting prowess with this exceptional coin. Immerse yourself in the world of birds of prey as you admire the breathtaking design and contemplate the intricate balance of power and grace. The Red-tailed Hawk Hunters of the Sky 1 Oz Silver Coin is a true testament to the beauty and magnificence of these aerial predators, serving as a lasting tribute to their place in the natural world.