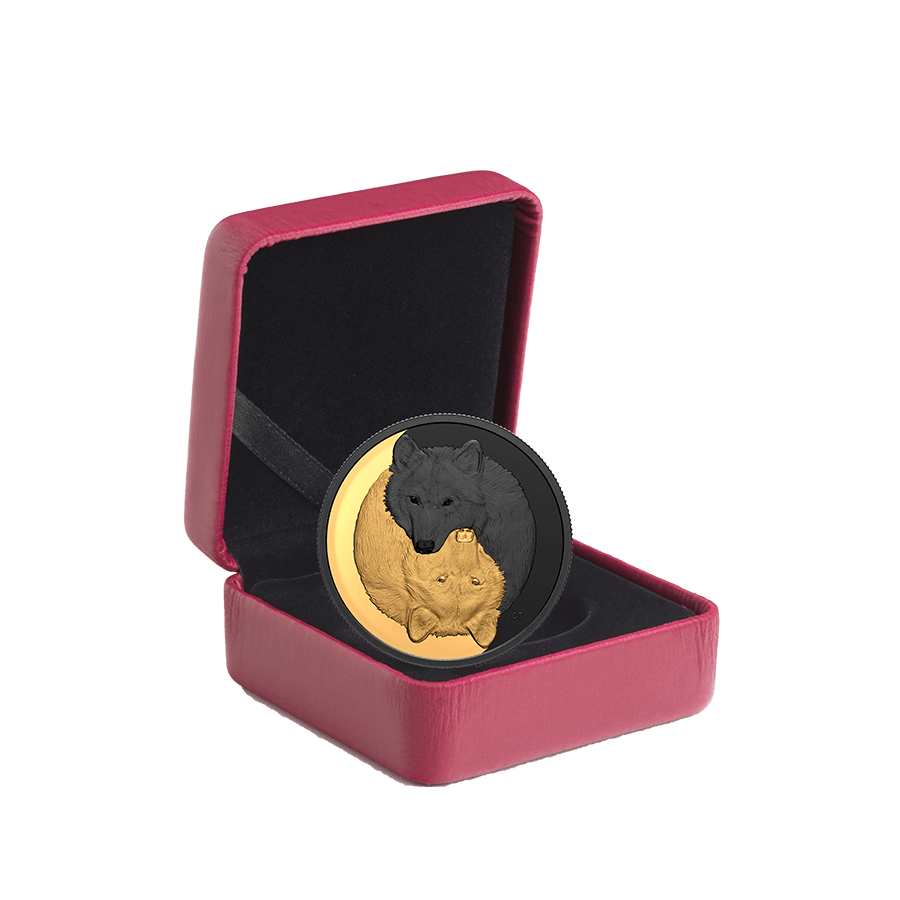 GREY WOLF Black and Gold Silver Coin $20 Canada 2021
This Silver coin features the duality of the Grey Wolf, in Yin and the Yang style, with two animals, one plated in Gold and the other in Black Rhodium. The coin has a beautiful design, a Matte Proof quality and comes in a case, along with a Certificate of Authenticity. Limited mintage of 5500 pieces worldwide!
Embrace the captivating allure of the Sparkle of the Heart Silver Coin, where gold plating meets black rhodium on this exquisite pure silver masterpiece. As a perfect follow-up to the immensely popular 2019 Black and Gold: The Canadian Horse coin, this 2021 edition takes you on a journey into the heart of the Canadian wilderness, showcasing the enigmatic and majestic grey wolf.
The wolf's duality is a key aspect that draws us to this remarkable creature. With its yin and yang existence, this 99.99% pure silver coin beautifully captures the essence of the wolf. For centuries, the wolf has been both feared and unfairly portrayed as a villain in children's stories. However, this highly intelligent and social species plays a crucial role in maintaining the delicate balance of the ecosystem, ensuring the harmony between flora and fauna, predator and prey.
This coin is not only a stunning addition to any collection but also a testament to the intricate beauty found in nature. Its gold and black rhodium plating instantly captivates, pulling you into the mesmerizing gaze of the wolf. The dynamic design, inspired by the yin yang symbol, symbolizes the wolf's strong social bonds and leaves a lasting impression on anyone who beholds it.
Beneath the gold and black rhodium plating, the coin boasts a 99.99% pure silver core, showcasing the impeccable craftsmanship and attention to detail. With a low mintage of only 4,500 coins worldwide, this coin is a highly sought-after collector's item that is sure to become a cherished treasure for years to come.
As with all collector coins from the Royal Canadian Mint, this Sparkle of the Heart Silver Coin comes with a serialized certificate, certifying its authenticity and adding to its value and appeal.
Experience the power and elegance of the wolf, beautifully represented in the gold and black rhodium plating of this stunning coin. With its captivating design and limited availability, this coin is a true testament to the enduring allure of nature's masterpieces. Add the Sparkle of the Heart Silver Coin to your collection today and be captivated by its timeless beauty.