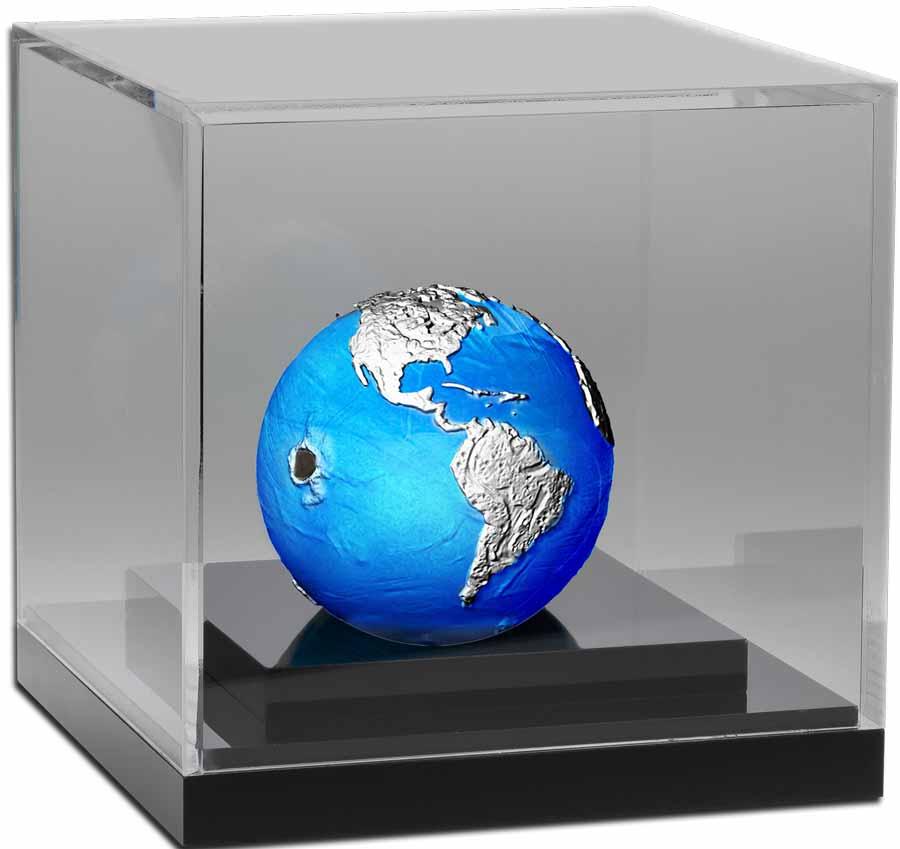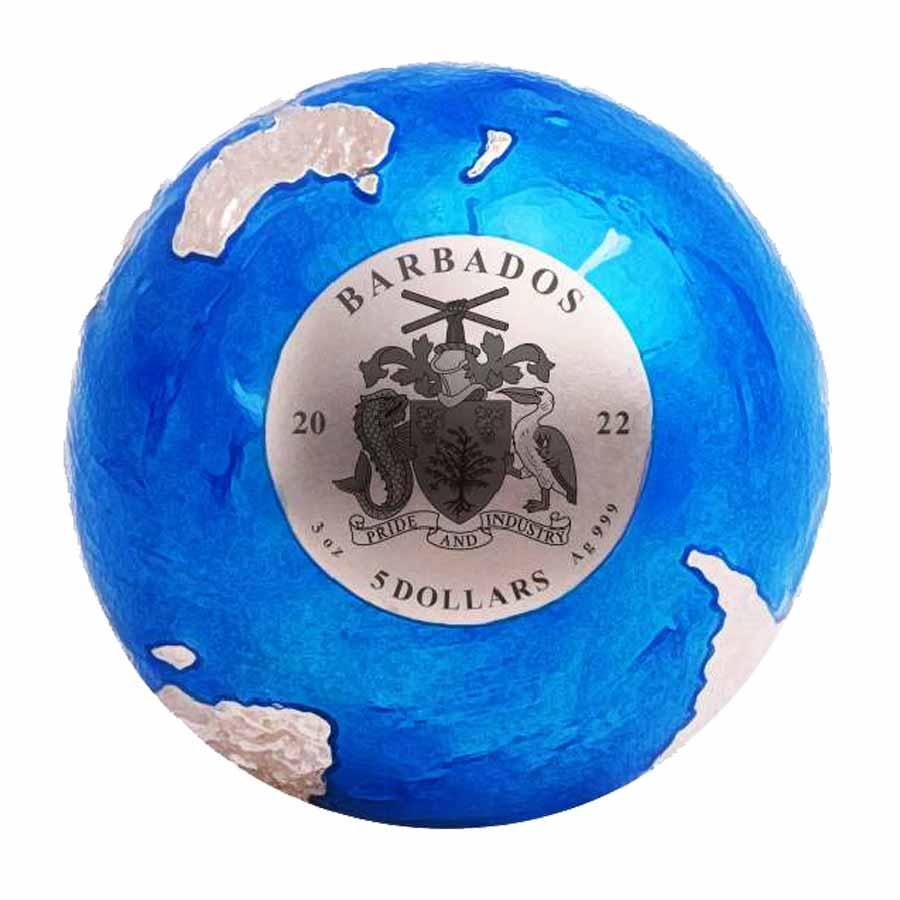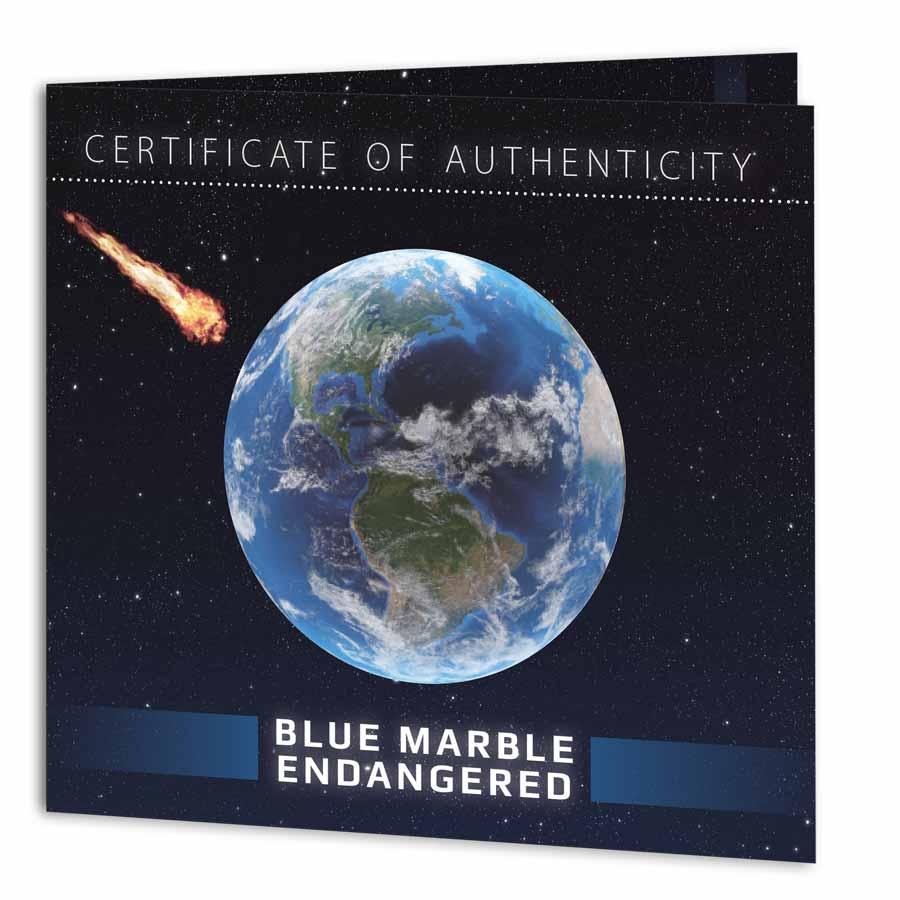 BLUE MARBLE ENDANGERED Meteorite From Space 3 Oz Silver Coin $5 Barbados 2022
This beautiful 3 Oz Silver coin is the new issue in the "Blue Marble" series and is dedicated to our precious planet – the Earth, featuring a real Chondrite Meteorite. The coin has a wonderful spherical shape, is realized with a translucent blue enamel and with a water transfer print. The coin comes in a luxury case, along with the Certificate of Authenticity. Limited mintage to 999 pieces Worldwide!

Discover the extraordinary Blue Marble Endangered Meteorite From Space 3 Oz Silver Coin, a stunning tribute to our precious planet Earth. This unique coin features a genuine meteorite fragment, specifically a Chrondrite Meteorite piece sourced from the Sahara Desert, which originated from an impact in the Pacific Ocean. It is a remarkable representation of the connection between our planet and the vast reaches of space.

The incorporation of the meteorite fragment into the coin adds a touch of cosmic rarity and intrigue. Each piece is carefully selected and refined to ensure its authenticity and uniqueness. The meteorite fragment serves as a testament to the enduring and awe-inspiring nature of the universe, reminding us of the remarkable celestial events that shape our world.

With the Blue Marble Endangered Meteorite From Space Coin, you not only own a precious piece of silver, but you also possess a tangible piece of space history. The coin's design showcases a beautifully detailed Coat of Arms applied through the highly innovative "Water Transfer Print" technique, ensuring a visually striking and intricate representation of the coin's theme.

The demand for previous issues of the Blue Marble series has seen a strong increase in value, with collectors and enthusiasts eagerly seeking these exceptional coins. Given the limited availability and the inclusion of the meteorite fragment, it is expected that this coin will also experience high demand and a need for allocation. Owning the Blue Marble Endangered Meteorite From Space Coin allows you to be part of a select group of individuals who appreciate the wonders of our planet and the marvels of the cosmos.

Experience the awe-inspiring beauty and profound significance of our world and beyond with the Blue Marble Endangered Meteorite From Space 3 Oz Silver Coin. This extraordinary coin serves as a captivating reminder of the delicate balance of life on Earth and the interconnectedness of our planet with the vast universe. Don't miss the opportunity to own this exceptional piece that combines precious metals with a genuine meteorite fragment, making it a remarkable addition to any collection and a true conversation starter.