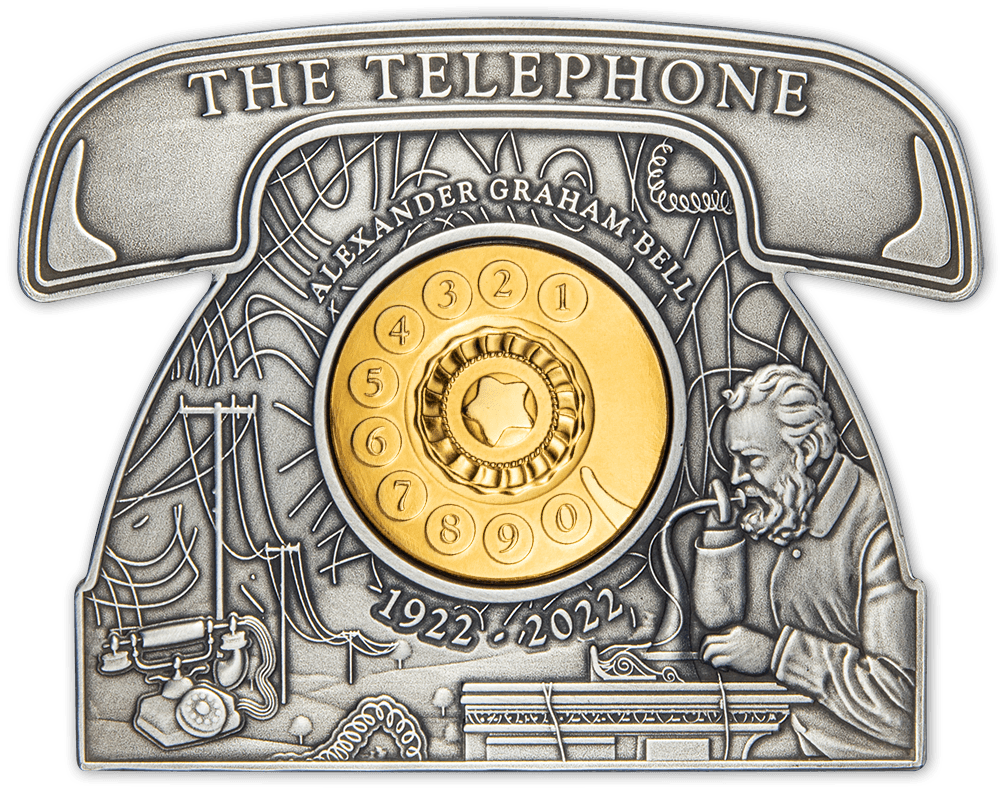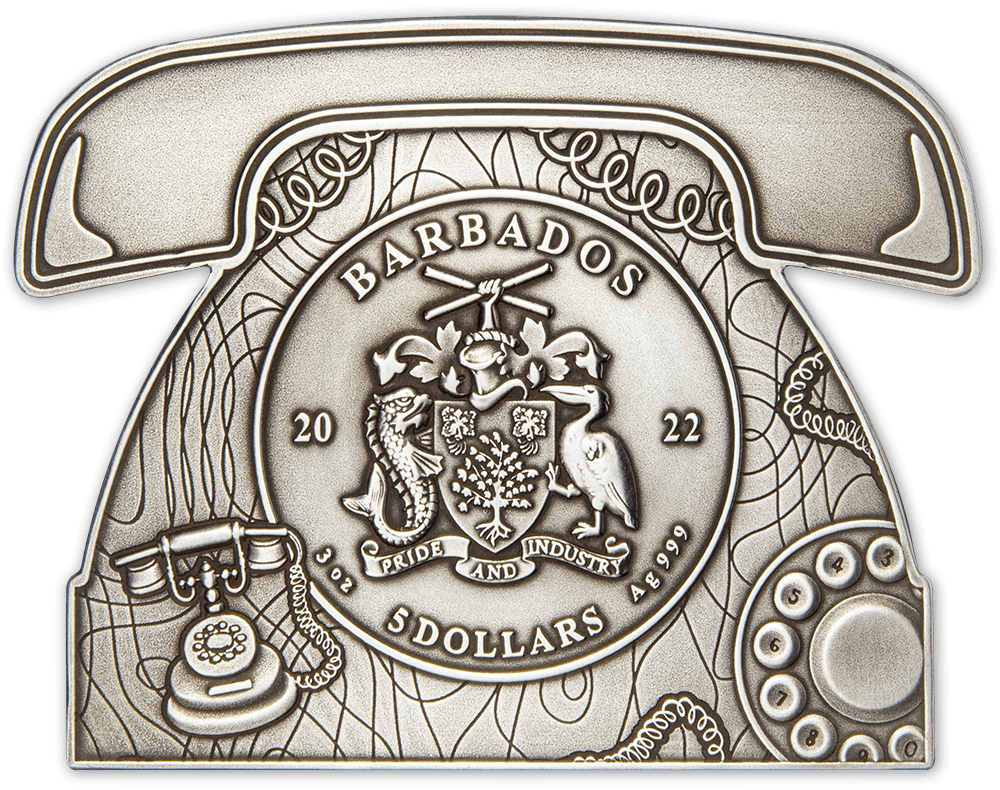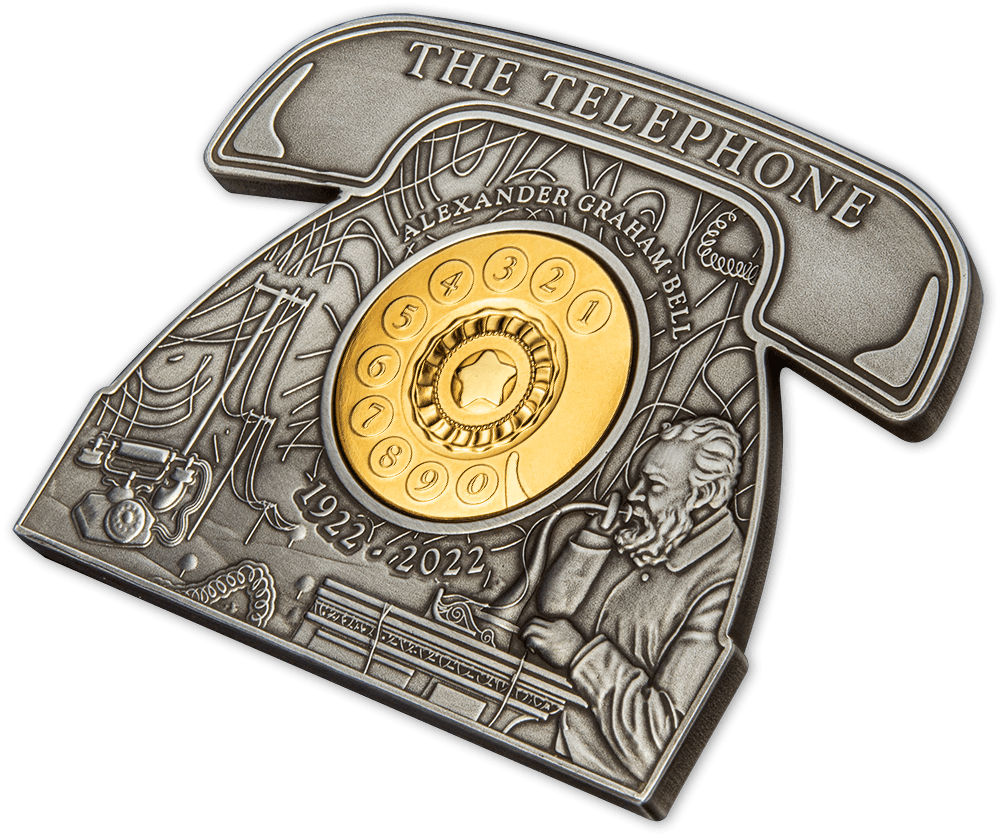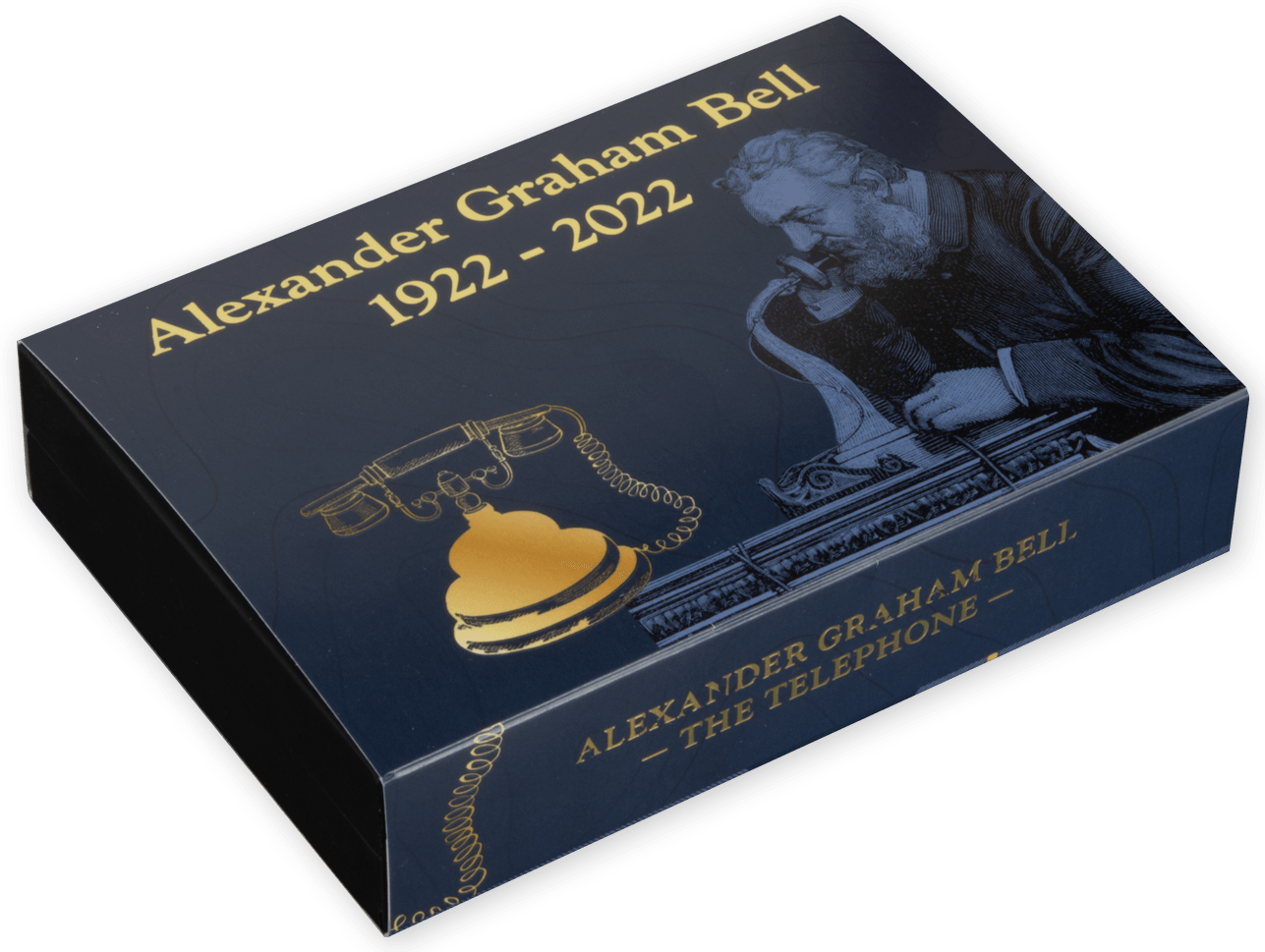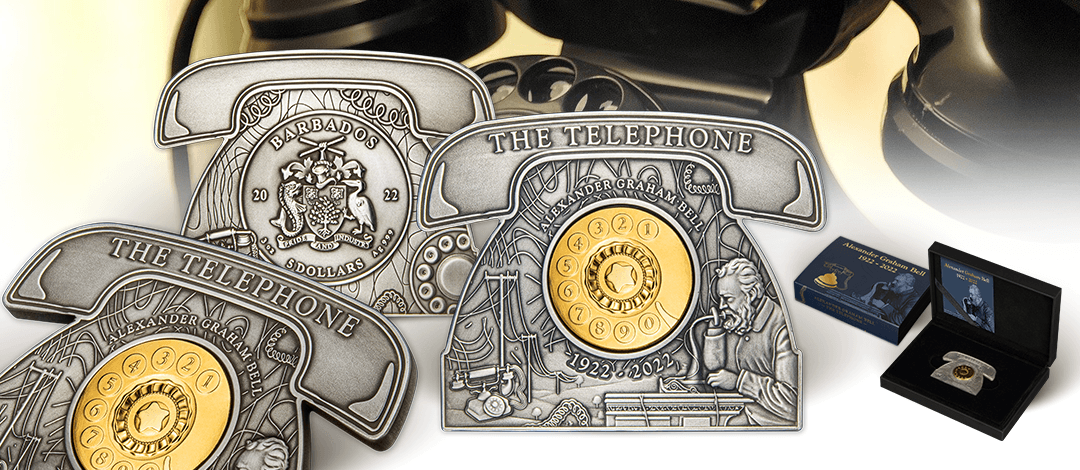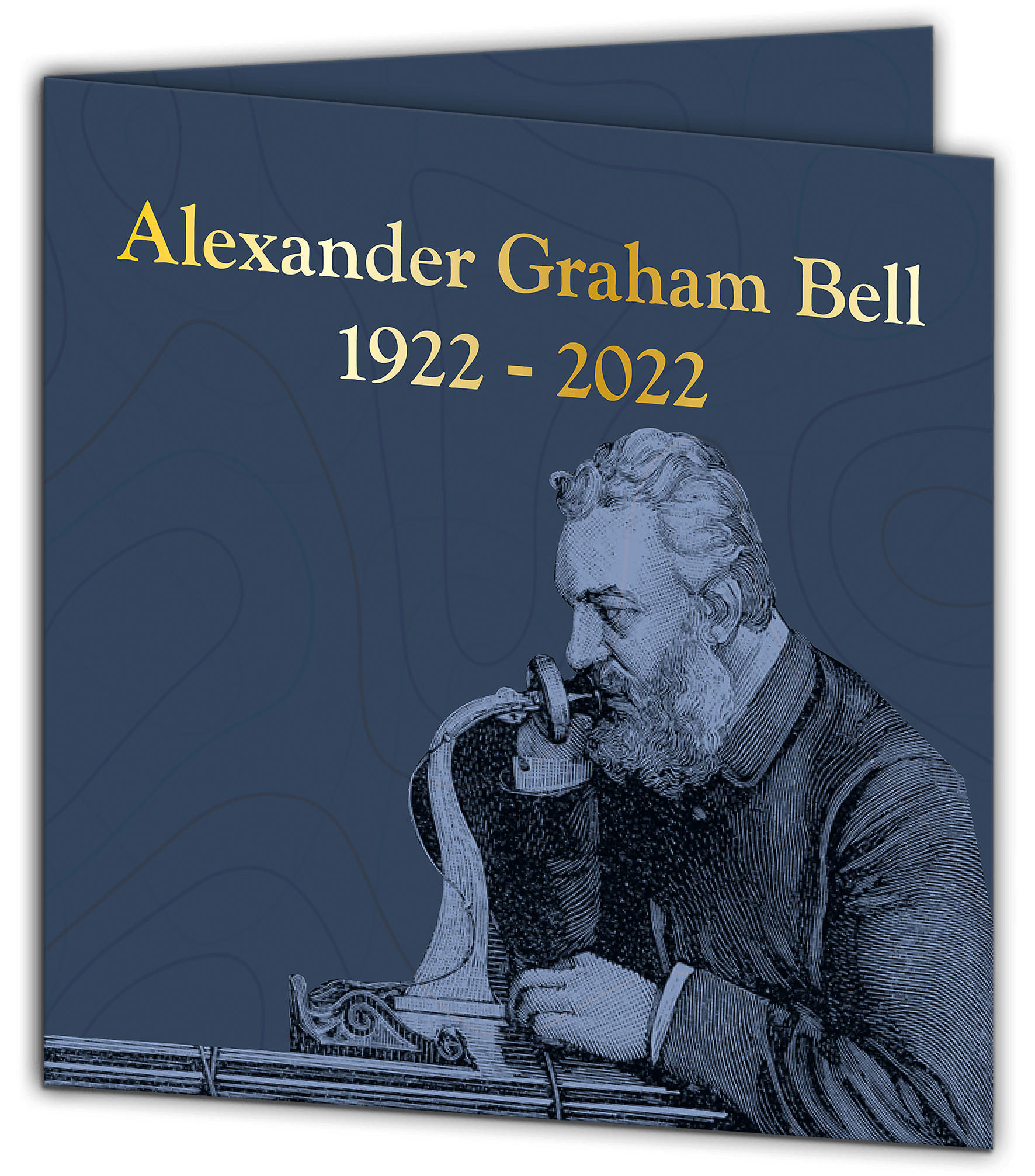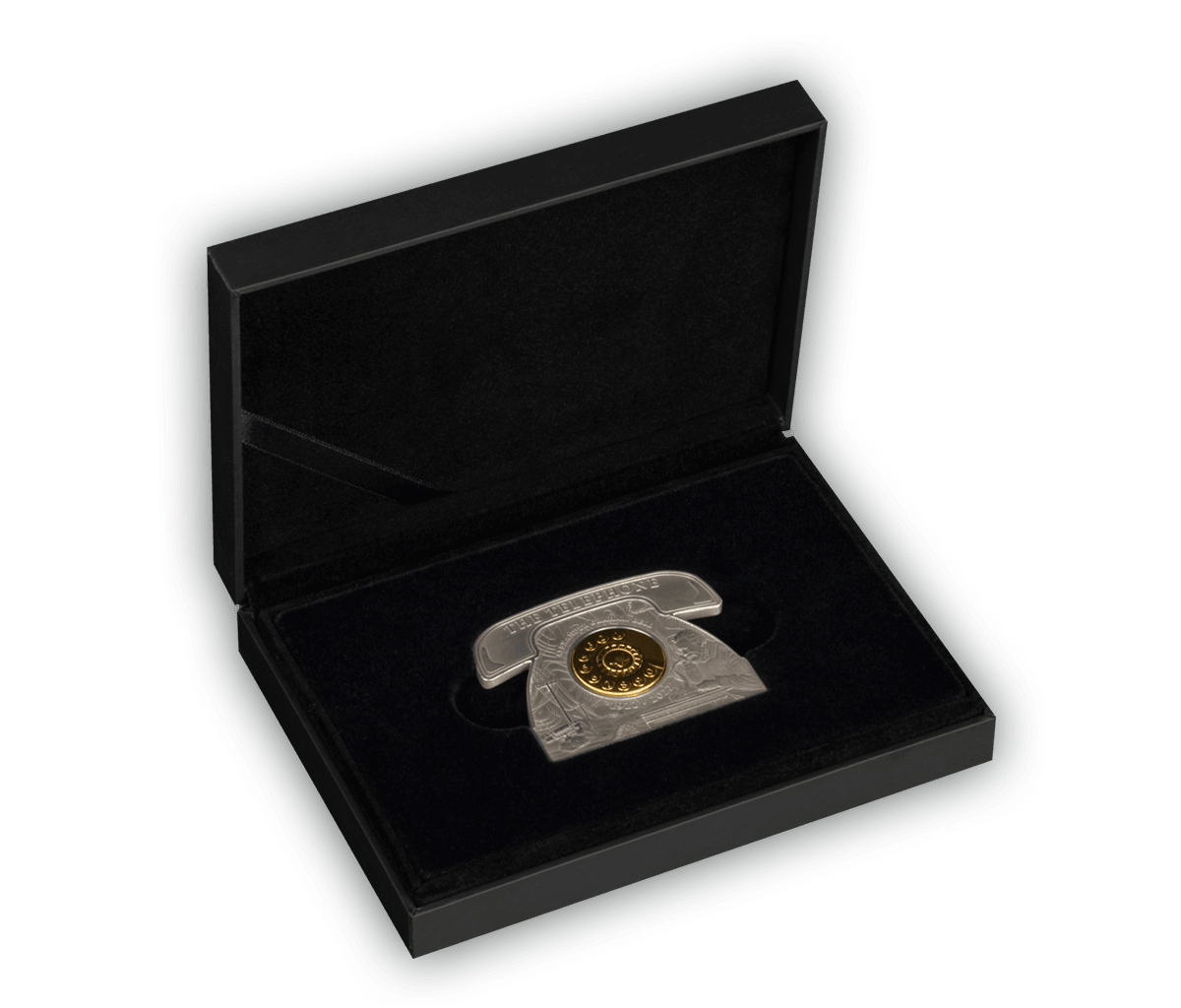 ALEXANDER GRAHAM BELL 100th Anniversary Shaped 3 Oz Silver Coin $5 Barbados 2022
This beautiful 3 Oz Silver coin commemorates the 100th Anniversary of the innovative inventor Alexander Graham Bell's death. The coin has Antique Finish quality and has a removable Gold Plated inlay. The coin comes in a themed box accompanied by the Certificate of Authenticity. Strictly limited mintage of 999 pieces worldwide!
Only 1 unit left
In commemoration of the 100th anniversary of Alexander Graham Bell, the brilliant inventor known for his groundbreaking work in telecommunications, a unique and limited edition collector's coin has been released. This extraordinary 3 oz Silver coin takes the shape of a telephone, paying homage to Bell's most iconic invention.

The year 2022 marks a significant milestone, as it has been a century since the passing of Alexander Graham Bell on August 2, 1922. To honor his enduring legacy and contributions to the world, this special collector's coin has been strictly limited to only 999 pieces worldwide, making it a highly coveted item among collectors and enthusiasts alike.

The telephone-shaped design captures the essence of Bell's groundbreaking invention, with a moveable dial wheel at the center. The dial wheel, featuring a 24K Gold Plated inlay, adds a touch of elegance and authenticity to the coin, allowing the user to interact with the piece and experience the intricate design firsthand.

Unlike traditional coins, the Alexander Graham Bell 100th Anniversary Shaped Silver Coin does not come with a capsule. Instead, it features a special protective finish that allows the Gold Plated, moveable inlay to be appreciated and handled directly. This unique feature provides a tactile experience, allowing collectors to fully immerse themselves in the artistry and innovation of the coin.

With its limited mintage and distinctive design, this collector's coin serves as a remarkable tribute to Alexander Graham Bell and his profound impact on the world of communication. Whether displayed as a centerpiece in a collection or cherished as a symbol of technological progress, this coin encapsulates the spirit of innovation and celebrates the enduring legacy of one of history's most influential inventors.

Don't miss the opportunity to own this exceptional piece of numismatic art and pay homage to the visionary mind of Alexander Graham Bell. This 3 oz Silver coin is a remarkable keepsake, blending history, art, and innovation into a single exquisite piece.