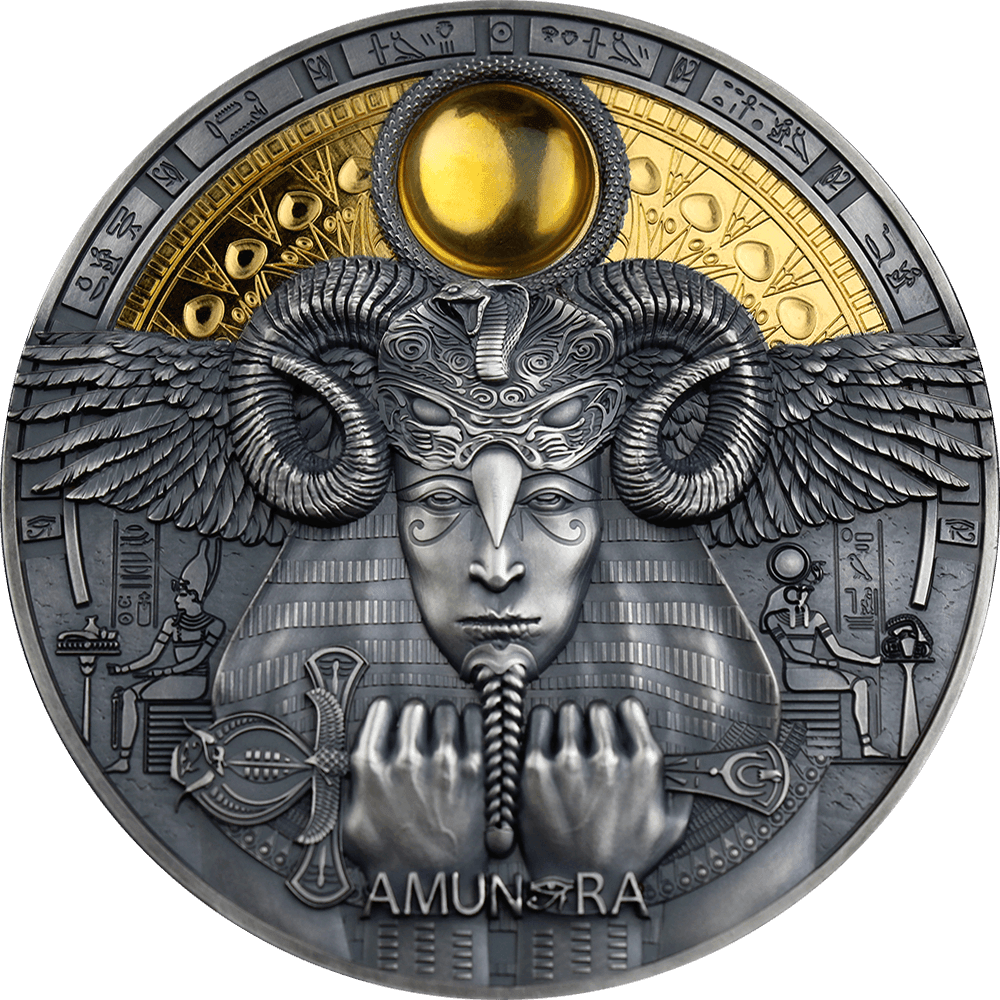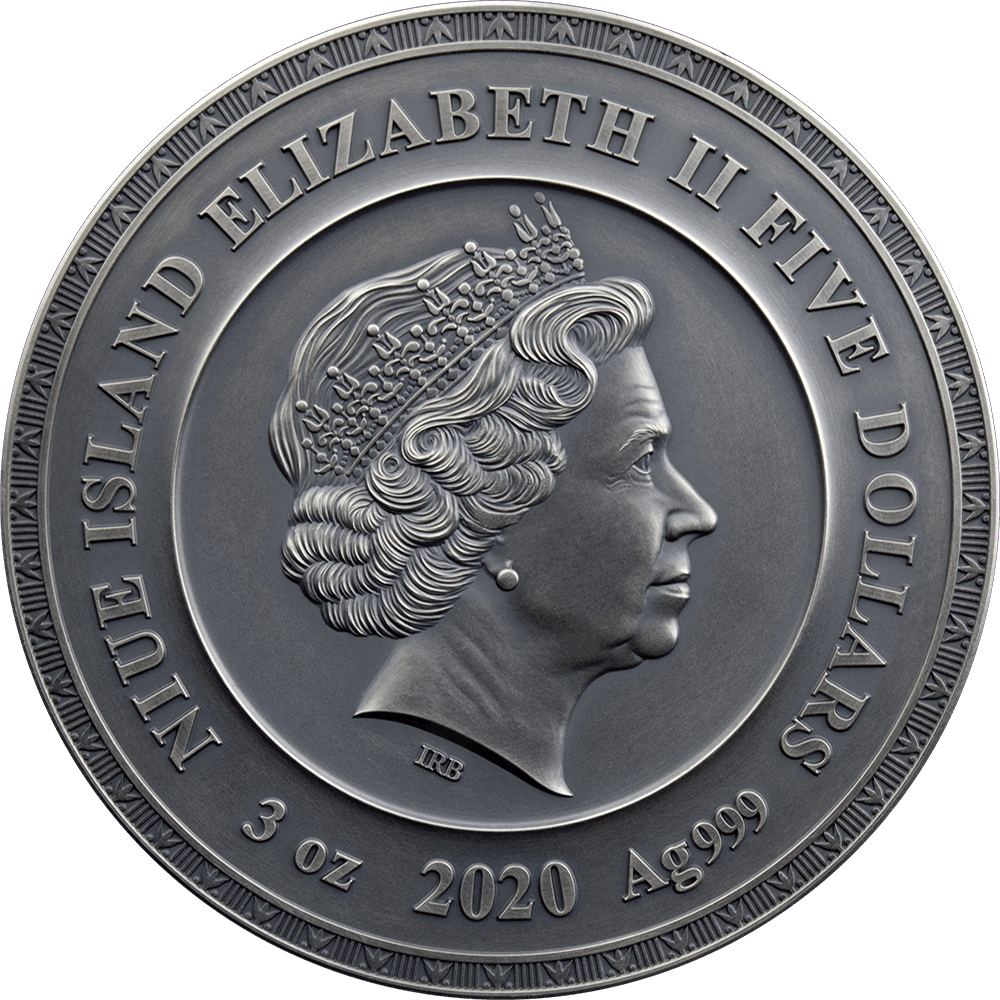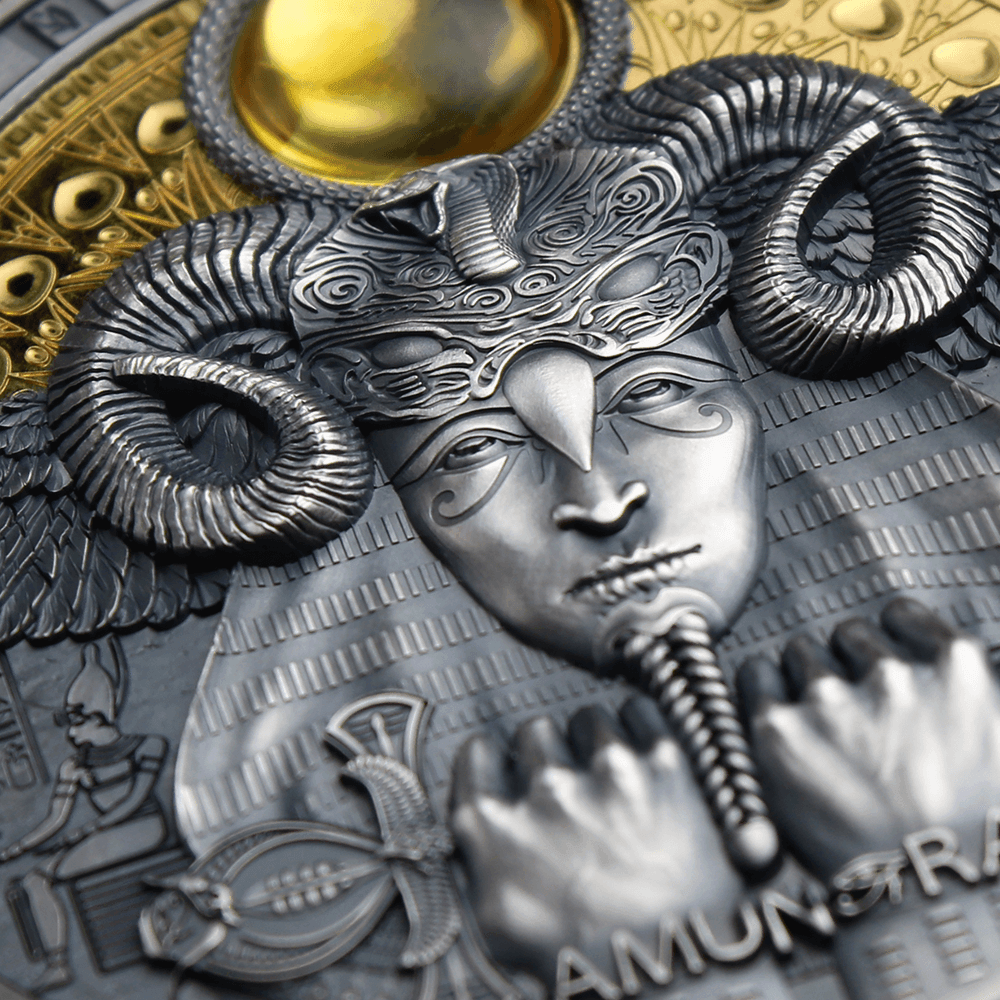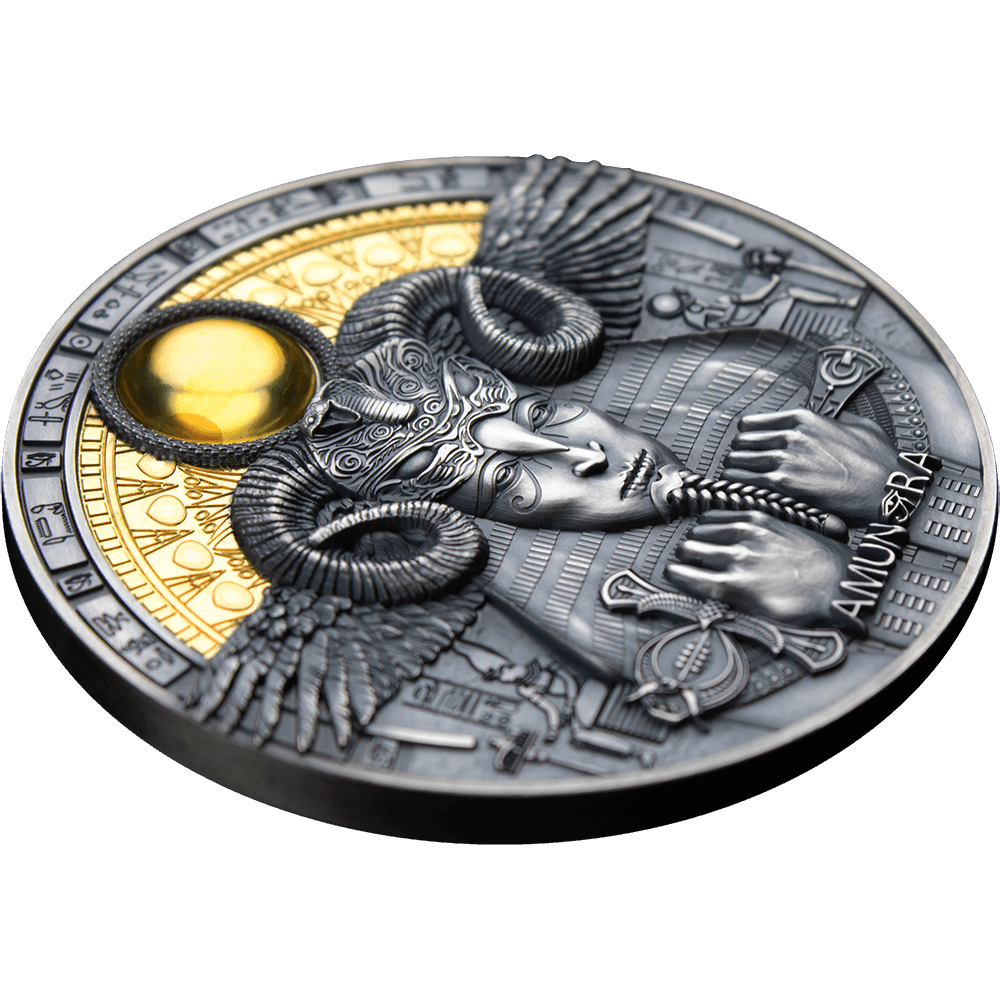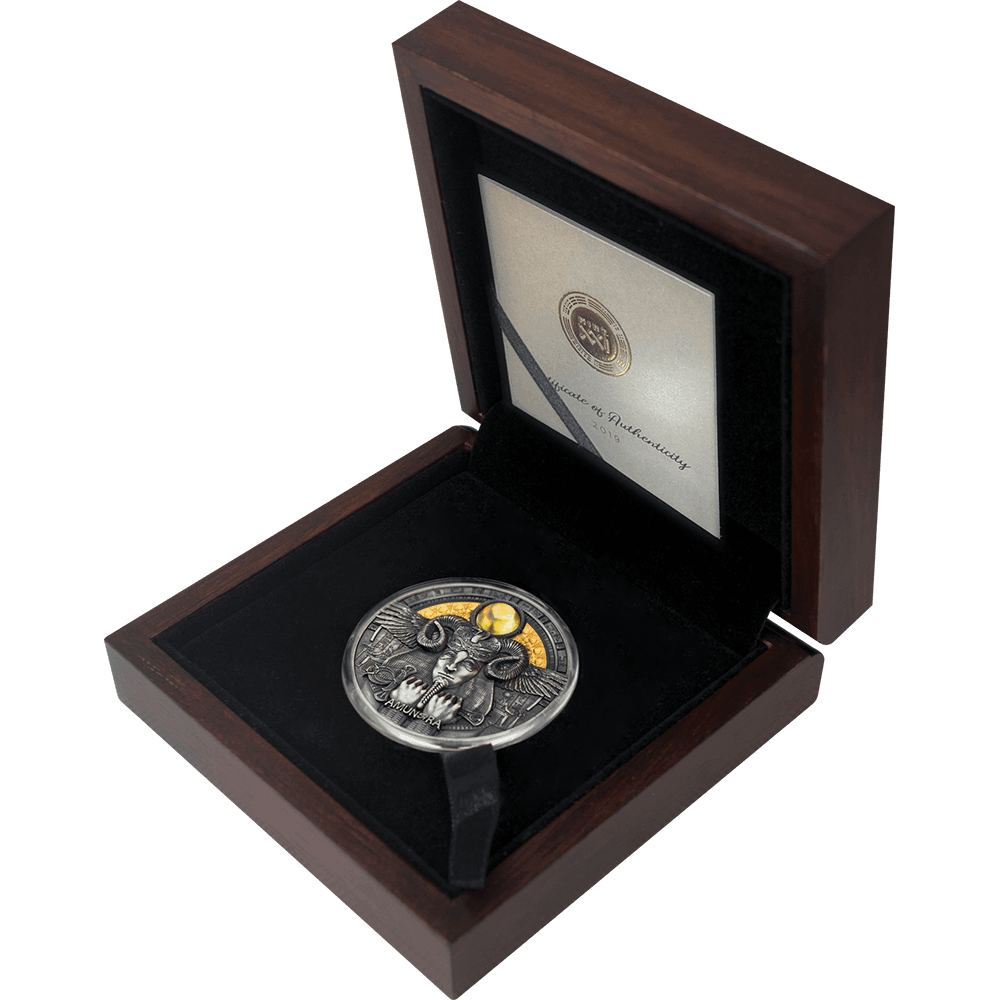 AMUN-RA Divine Faces Of The Sun 3 Oz Silver Coin $5 Niue 2020
This spectacular 3 Oz Silver coin is dedicated to Amun-Ra, the incarnation of two Egyptian gods united : Amun and Ra. The coin has a beautiful amber insert, a high level of details, an Antique Finish and is gold gilded. It comes in a case, along with its Certificate of Authenticity. Limited mintage to only 500 pieces worldwide!
Experience the awe-inspiring power of the divine with the Amun-Ra Divine Faces of the Sun 3 Oz Silver Coin, the inaugural release in the esteemed "Divine Faces of the Sun" series. This remarkable coin pays homage to the amalgamation of two prominent Egyptian deities, Amun and Ra, who united to form the mighty god Amun-Ra. Fused together around 2040 B.C., Amun-Ra embodied the combined attributes, influence, and magnificence of both divinities.
On this exquisite coin, Amun-Ra is artfully portrayed as a regal figure with the head of a ram, as ancient Egyptians often depicted him. The imagery also incorporates elements of Ra, showcasing the eagle with a solar disk adorning its head, symbolizing the sun god's radiance and power. Amun-Ra is depicted holding a cross with a loop, a symbol representing life and immortality. This coin serves as a testament to the rich cultural and religious heritage of ancient Egypt, offering a glimpse into the worship of the supreme god, Amun-Ra.
Crafted from 3 ounces of .999 fine silver, this coin showcases a diameter of 55mm, allowing for intricate details to be displayed with striking clarity. The antique finish adds a touch of antiquity and grandeur to the coin's design, while selective gilding and an enchanting amber insert further elevate its visual appeal. With a limited mintage of only 500 pieces, this coin is a rare and highly sought-after treasure among collectors and enthusiasts alike.
The Amun-Ra Divine Faces of the Sun 3 Oz Silver Coin is meticulously presented in a protective capsule and housed in a custom-designed case, ensuring its safety and enhancing its display value. This magnificent coin invites you to immerse yourself in the mystical world of ancient Egyptian mythology and embrace the divine power of Amun-Ra. It is a striking addition to any collection, capturing the essence of a revered deity and immortalizing the grandeur of Egypt's rich history.
Unlock the secrets of ancient Egypt and embrace the majestic presence of Amun-Ra with the Amun-Ra Divine Faces of the Sun 3 Oz Silver Coin. Let its exquisite design and symbolic significance transport you to a realm of awe-inspiring divinity, where gods reign supreme and the power of the sun illuminates all.