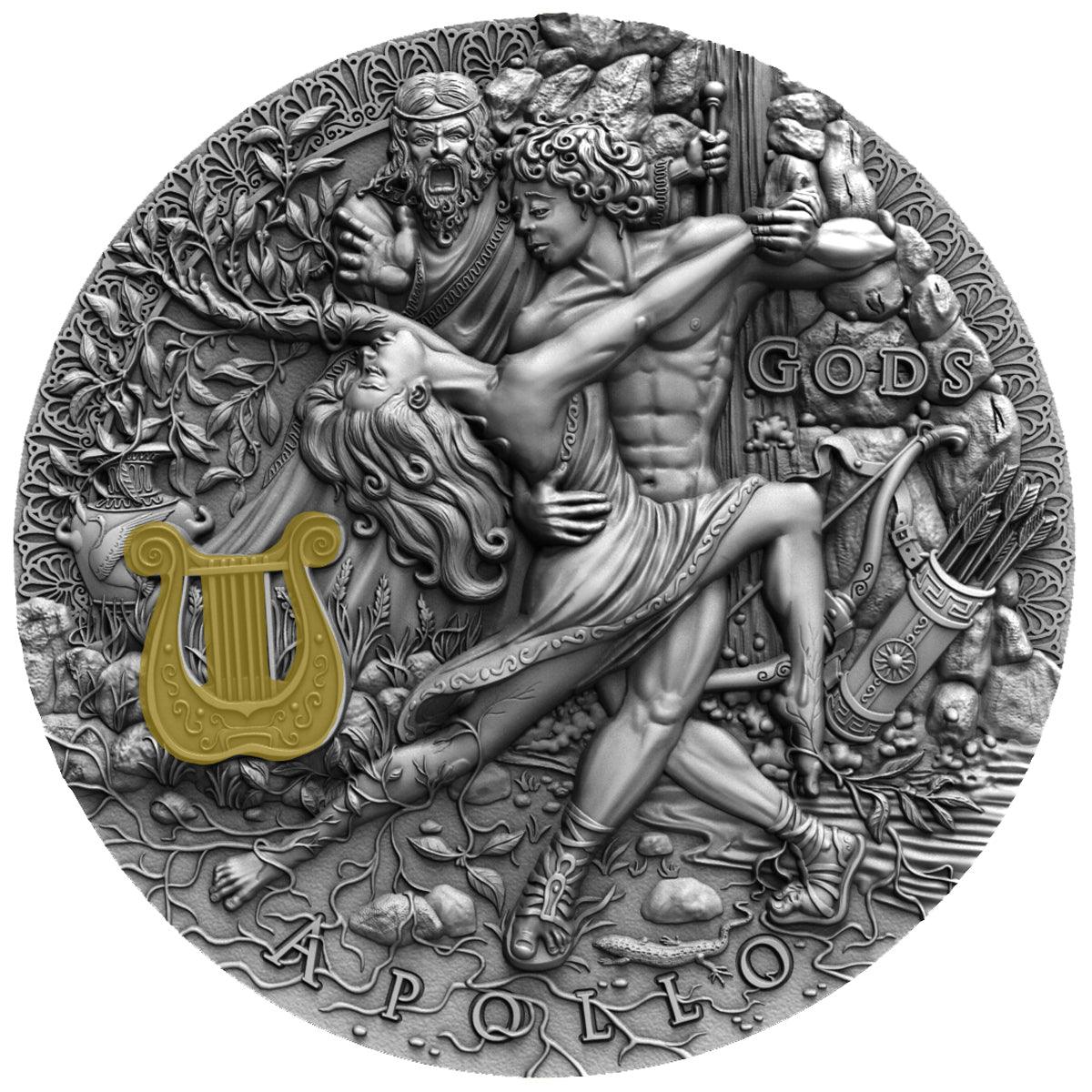 APOLLO God of the Sun Gods 2 Oz Silver Coin $2 Niue 2020
This 2 Oz Silver coin is part of the "Gods" series, dedicated to Apollo, a major Greek god who was associated with the bow, music, and divination. The coin has a selective Gold plating, an Antique Finish quality and comes in a case, along with the Certificate of Authenticity. Limited mintage to 500 pieces worldwide!
Only 1 unit left
Celebrate the radiant glory of Apollo, the God of the Sun, with the Apollo God of the Sun 2 Oz Silver Coin. This remarkable coin is part of the esteemed "Gods" series, paying homage to the influential deities of ancient Greek mythology. Apollo, revered as the god of music, poetry, and prophecy, is showcased in stunning detail on this exquisite coin.
Crafted from 0.999 pure silver, the coin possesses a weight of 2 ounces, giving it a substantial feel and presence. The selective Gold plating adds a touch of elegance, highlighting the divine attributes of Apollo and accentuating the intricate design elements. The Antique Finish quality lends an air of timelessness, evoking the aura of ancient times and mythological realms.
Measuring 45 mm in size, the coin captures the intricate details of Apollo's likeness with remarkable precision. The Ultra High relief technique enhances the three-dimensional aspects of the design, bringing Apollo to life with a sense of depth and realism. Gilded highlights further accentuate the key features, showcasing the divine radiance associated with the god of the sun.
Each coin is presented in a protective case, ensuring its pristine condition and allowing for effortless display. Accompanied by a Certificate of Authenticity, this limited edition coin has a mintage of only 500 pieces worldwide, adding to its collectible value and rarity.
The Apollo God of the Sun 2 Oz Silver Coin is a testament to the enduring power and significance of ancient mythology. Whether admired for its artistic brilliance, cherished as a symbol of divine inspiration, or pursued as a valuable addition to a coin collection, this extraordinary coin invites you to bask in the majesty of Apollo and the rich tapestry of Greek mythology.