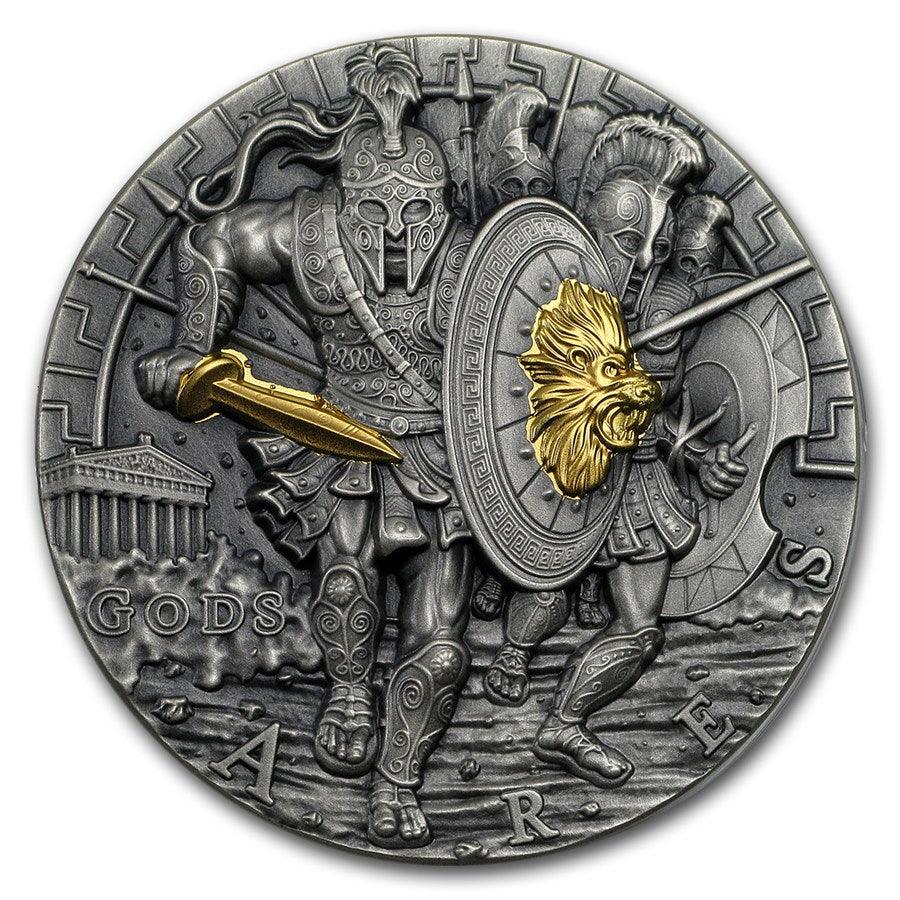 ARES God of War Gods 2 Oz Silver Coin $2 Niue 2017
This is the first 2 Oz Pure Silver coin release in the new "Gods" series, dedicated to Ares, the God of war. The wonderful Ultra High Relief details, the Gilding, the Antique Finish and the low mintage, make the coin unique. Don't miss the opportunity to collect this great new coin. The coin comes in a wooden case with Certificate of Authenticity. Limited mintage to only 500 pieces worldwide!
Embark on a journey into the realm of ancient mythology with the Ares God of War 2 Oz Silver Coin, the inaugural release in the captivating "Gods" series. This exquisite coin pays tribute to Ares, the formidable God of War, renowned for his indomitable spirit and unwavering strength on the battlefield.
Immerse yourself in the stunning Ultra High Relief details that bring the essence of Ares to life. Every sinew, every intricate feature, is meticulously crafted to capture the raw power and intensity of the mighty deity. The coin's design is further enhanced with selective Gilding, adding a touch of opulence and majesty to the piece. The Gilding highlights Ares' iconic attributes, creating a visual spectacle that demands attention.
With an Antique Finish quality, this coin exudes a sense of timelessness and reverence. The carefully applied patina enhances the depth and complexity of the design, giving it an air of ancient wisdom and mythical grandeur. The Antique Finish not only adds character to the coin but also serves as a reminder of the enduring legacy of the God of War.
Each coin is elegantly presented in a wooden case, providing a secure and distinguished home for your prized possession. Accompanied by a Certificate of Authenticity, attesting to its limited mintage of only 500 pieces worldwide, this coin becomes a rare and cherished treasure for collectors and enthusiasts alike.
Don't miss the opportunity to add this remarkable coin to your collection. The Ares God of War 2 Oz Silver Coin is a testament to the power, resilience, and eternal appeal of the ancient gods. With its remarkable craftsmanship, gilded accents, and limited availability, it stands as a tangible symbol of the mythical realms and the timeless fascination with deities of war.