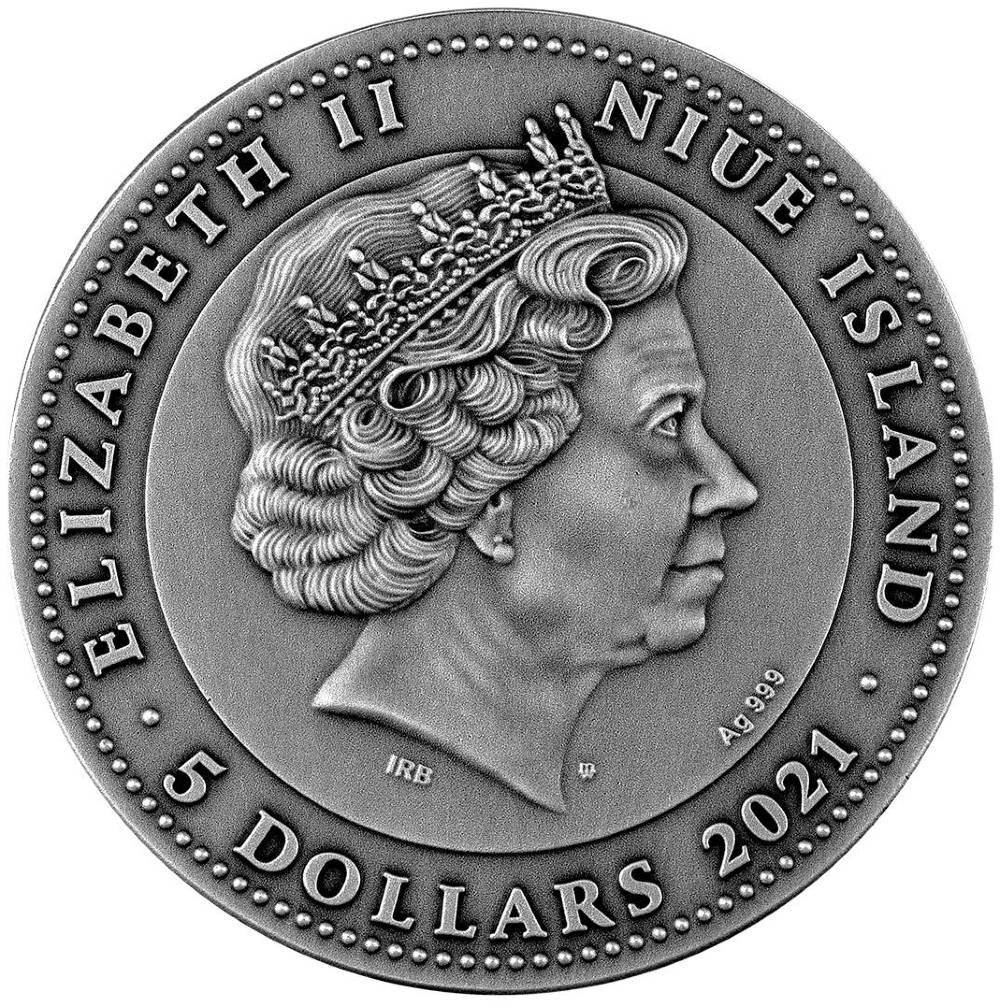 ARES & MARS GODS 2 Oz Silver Coin $5 Niue 2021
This 2 Oz Silver coin is part of the "Ancient Gods" series, and is dedicated to Ares, a major Greek god who was associated with war and violence, and to Mars, father of Remus and Romulus. The coin has a wonderful High Relief, a beautiful resin insert, an Antique Finish quality and comes in a case, along with this Certificate of Authenticity. Limited mintage to only 500 pieces worldwide!
Immerse yourself in the realm of ancient mythology with the Ares & Mars Gods 2 Oz Silver Coin, a remarkable piece from the esteemed "Ancient Gods" series. This coin pays tribute to the mighty Greek god Ares and his Roman counterpart Mars, both revered for their association with war and revered as powerful deities. With its captivating design and exquisite craftsmanship, this coin is a true collector's gem.
Crafted from 0.999 pure silver, this 2-ounce coin showcases a stunning high relief technique that brings depth and dimension to the artwork. The intricate details of Ares and Mars are masterfully sculpted, allowing you to appreciate the fine craftsmanship that went into their portrayal. The use of ultra high relief elevates the design, creating a three-dimensional effect that brings the gods to life.
A highlight of this coin is the beautiful resin insert, which adds a touch of artistic brilliance. The insert captures the essence of the gods, enhancing their presence and making them the focal point of the design. The resin insert also provides a striking contrast against the antique finish of the coin, further accentuating the intricate details and giving it a sense of timelessness.
Limited to just 500 pieces worldwide, this coin is a rare find for collectors and enthusiasts alike. Each coin is accompanied by a certificate of authenticity, attesting to its quality and ensuring its provenance. It is elegantly presented in a case, ready to be displayed and admired.
The Ares & Mars Gods 2 Oz Silver Coin is not only a stunning work of art but also a tangible connection to the rich mythological traditions of ancient Greece and Rome. It serves as a reminder of the power and significance these gods held in the ancient world. Add this extraordinary coin to your collection and let the gods of war and might grace your numismatic display.