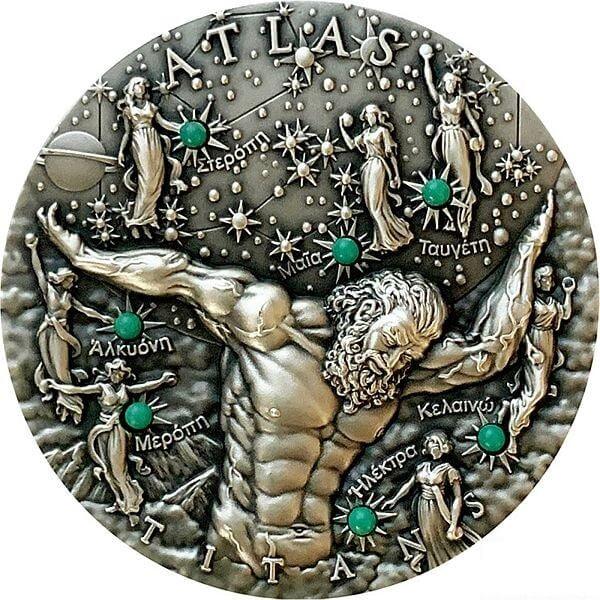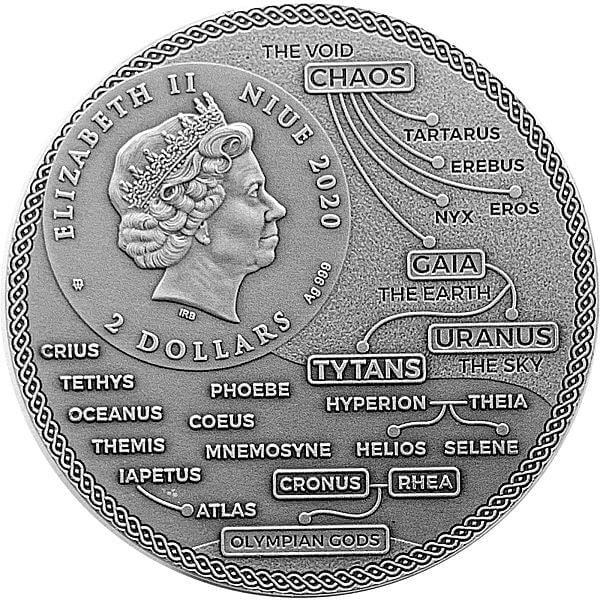 ATLAS Titans Glow in the Dark 2 Oz Silver Coin $2 Niue 2020
This beautiful 2 Oz Silver coin is the new release in the "Titans" series and is dedicated to Atlas, the Titan condemned to hold up the celestial heavens for eternity. The coin features an incredible Glow in the Dark effect, has an Antique Finish quality and comes in a case, along with the Certificate of Authenticity. Limited mintage to only 500 pieces worldwide!
Only 1 unit left
Embrace the mesmerizing allure of the Atlas Titans Glow in the Dark 2 Oz Silver Coin, the latest addition to the captivating "Titans" series. This remarkable coin pays homage to Atlas, the Titan of Greek mythology tasked with bearing the weight of the celestial heavens. With its unique Glow in the Dark effect, this coin is sure to captivate collectors and mythology enthusiasts alike.
Crafted from 2 ounces of 0.999 pure silver, this coin boasts a substantial weight and a size of 45 mm, allowing for intricate detailing and a sense of grandeur. The Antique Finish quality enhances the coin's appearance, giving it a timeless and weathered aesthetic reminiscent of ancient artifacts.
The highlight of this coin is its remarkable Glow in the Dark effect. Designed with meticulous precision, the coin features glow-in-the-dark inlays that bring Atlas and his celestial burden to life. When exposed to darkness, these luminous elements emit an ethereal glow, creating a captivating visual experience that showcases the coin's unique design and symbolism.
The Ultra High relief technique further enhances the coin's intricacy, adding depth and dimension to the artwork. Every meticulous detail, from Atlas's muscular form to the celestial heavens he supports, is brought to life with exceptional precision and artistry.
Each coin is housed in a protective case to preserve its beauty and comes with a Certificate of Authenticity. With a limited mintage of only 500 pieces worldwide, this coin is a rare and highly sought-after collector's item, making it a true gem for enthusiasts of mythology, history, and numismatics.
The Atlas Titans Glow in the Dark 2 Oz Silver Coin combines exceptional craftsmanship, symbolic significance, and a mesmerizing Glow in the Dark effect, making it an extraordinary addition to any collection. Immerse yourself in the timeless mythology and beauty of Atlas with this stunning coin.