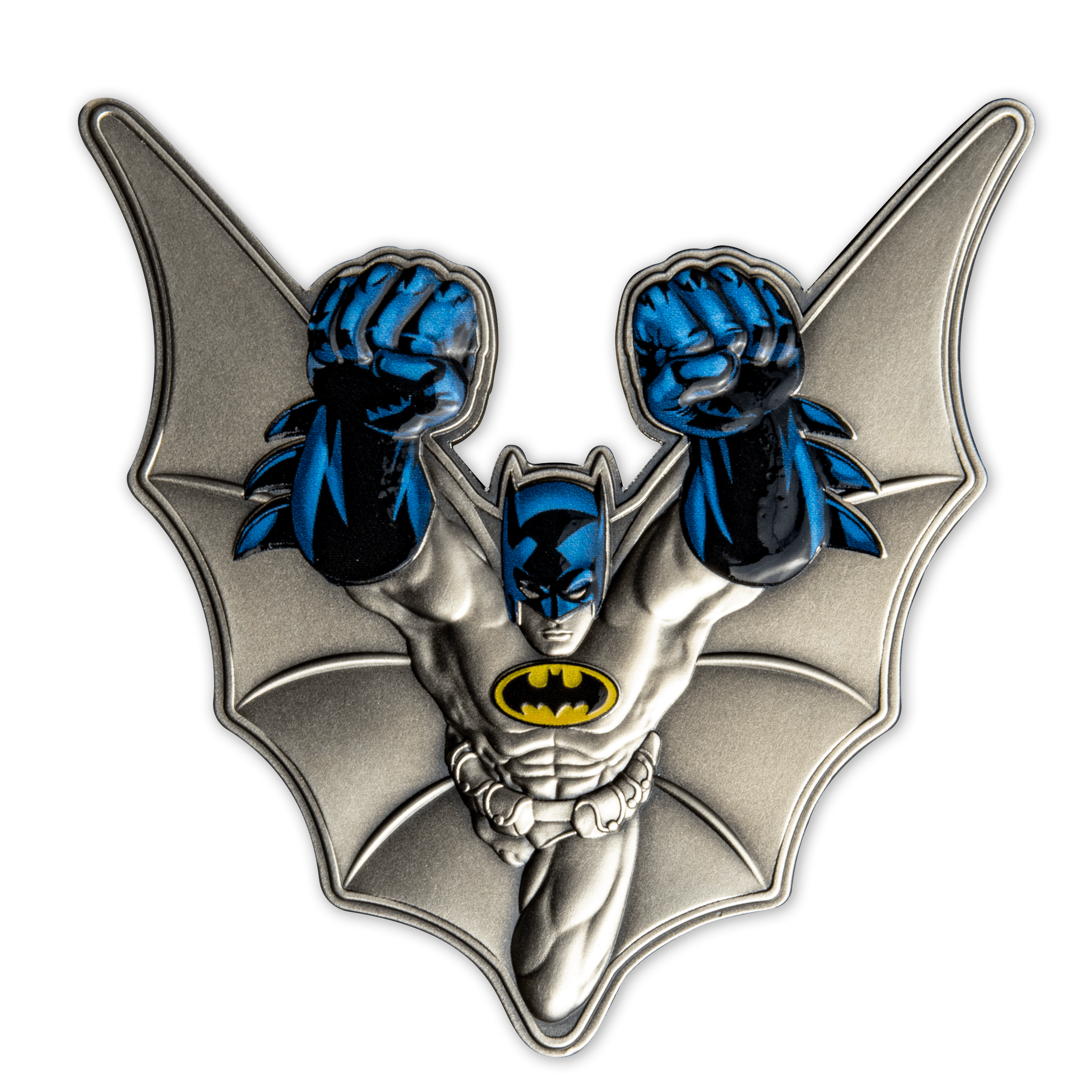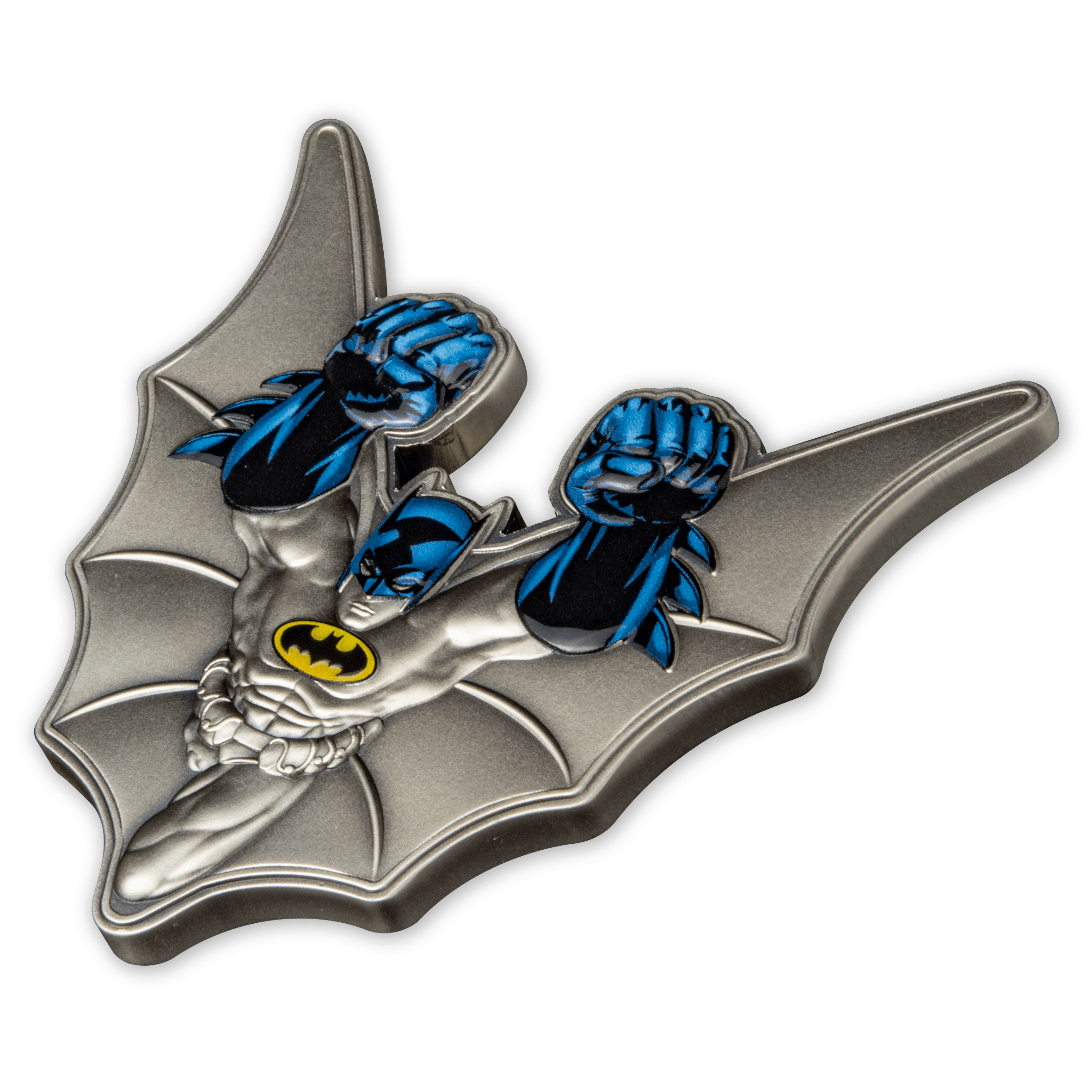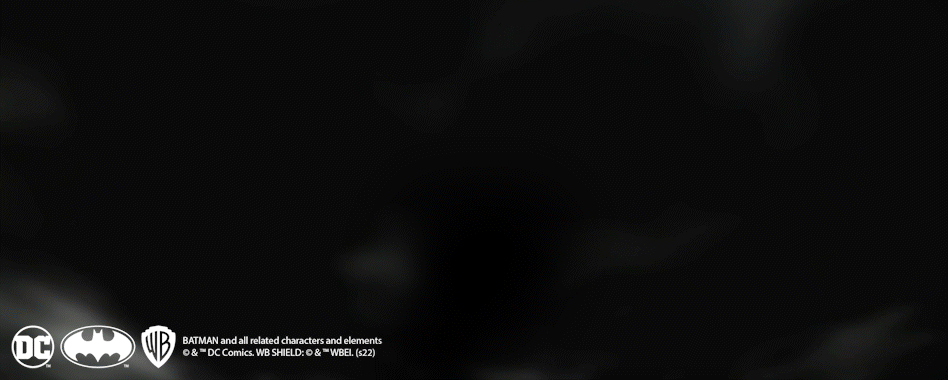 BATMAN 5 Oz Shaped Silver Coin $5 Barbados 2022
This beautiful 5 Oz Silver coin is dedicated to one of the most popular superheroes of the DC Comic Universe: Batman. The coin has a wonderful coloration, has a special shape, has Antique Finish quality and comes in a case, along with the Certificate of Authenticity. Limited mintage to 750 pieces worldwide!
Only 1 unit left
Prepare to be amazed by the awe-inspiring Batman 5 oz Shaped Silver Coin. This remarkable coin is truly one of a kind, capturing the essence of the iconic Caped Crusader in a unique and captivating design. For every superhero enthusiast, this coin is an absolute must-have, showcasing the legendary Batman in all his glory.

Officially licensed by DC Comics, this coin is a testament to the enduring popularity and cultural impact of Batman. Crafted from 5 ounces of pure Silver, the coin's impressive 3D shape brings Batman to life in a way that is both visually striking and highly collectible. With its antique finish, the coin exudes a sense of timelessness and captures the essence of Batman's mysterious and enigmatic persona.

Limited to just 750 pieces worldwide, this coin is a rare and exclusive treasure for collectors. Each coin is meticulously crafted to ensure its exceptional quality and attention to detail. The gradient high-end color varnish on the reverse adds a touch of realism to the coin, enhancing the overall visual appeal and making it a true masterpiece.

As you hold this Batman 5 oz Shaped Silver Coin in your hands, you can feel the weight of its significance. It represents not only a remarkable piece of numismatic art but also the embodiment of Batman's enduring legacy as a symbol of justice and heroism. Whether you're a fan of the Dark Knight or a dedicated collector, this coin is a testament to your passion for the world of superheroes.

Don't miss your chance to own this extraordinary Batman 5 oz Shaped Silver Coin. With its limited mintage, exceptional design, and official DC Comics license, it is a true collector's gem. Add a touch of superhero greatness to your collection and let the Caped Crusader watch over your numismatic treasures with his unwavering vigilance.