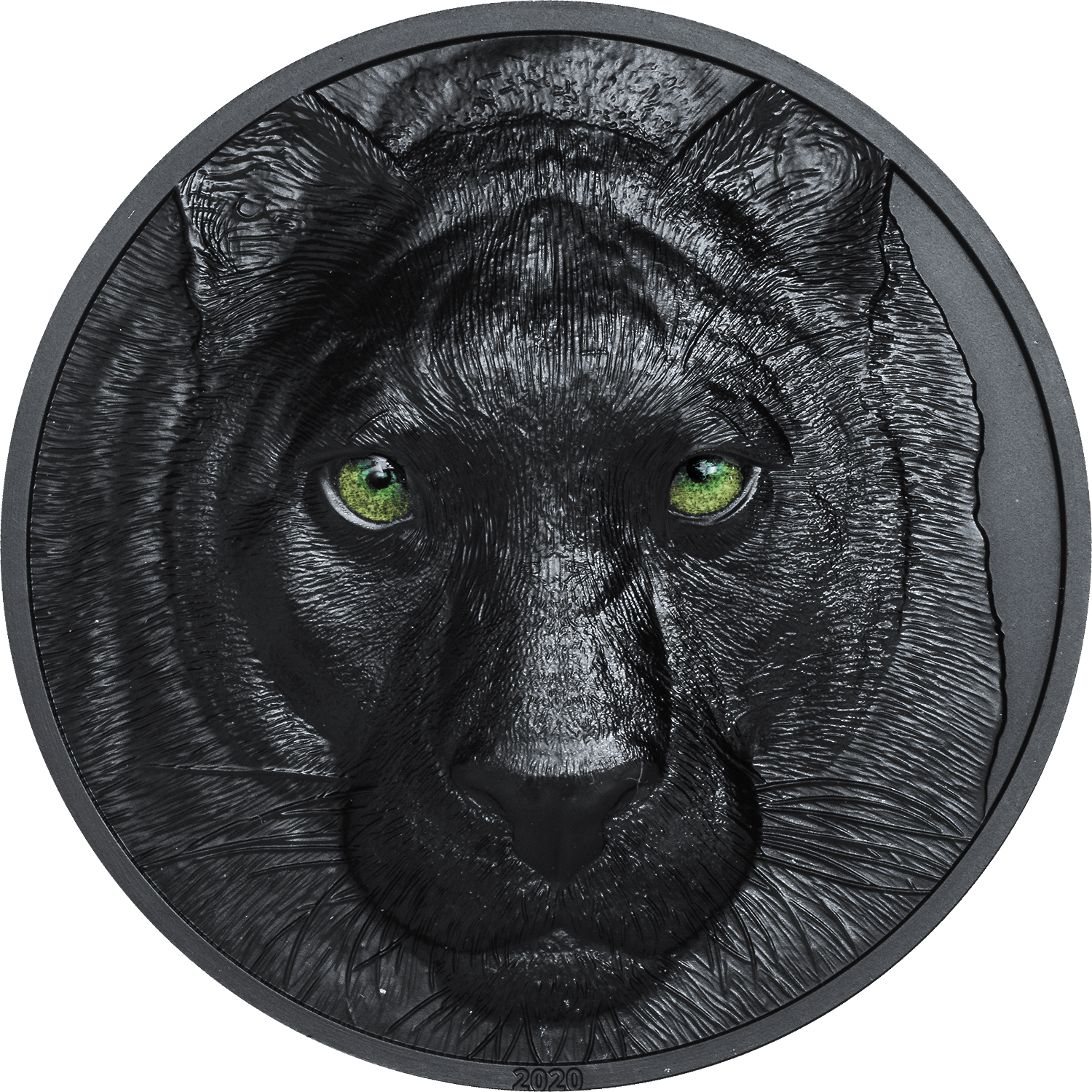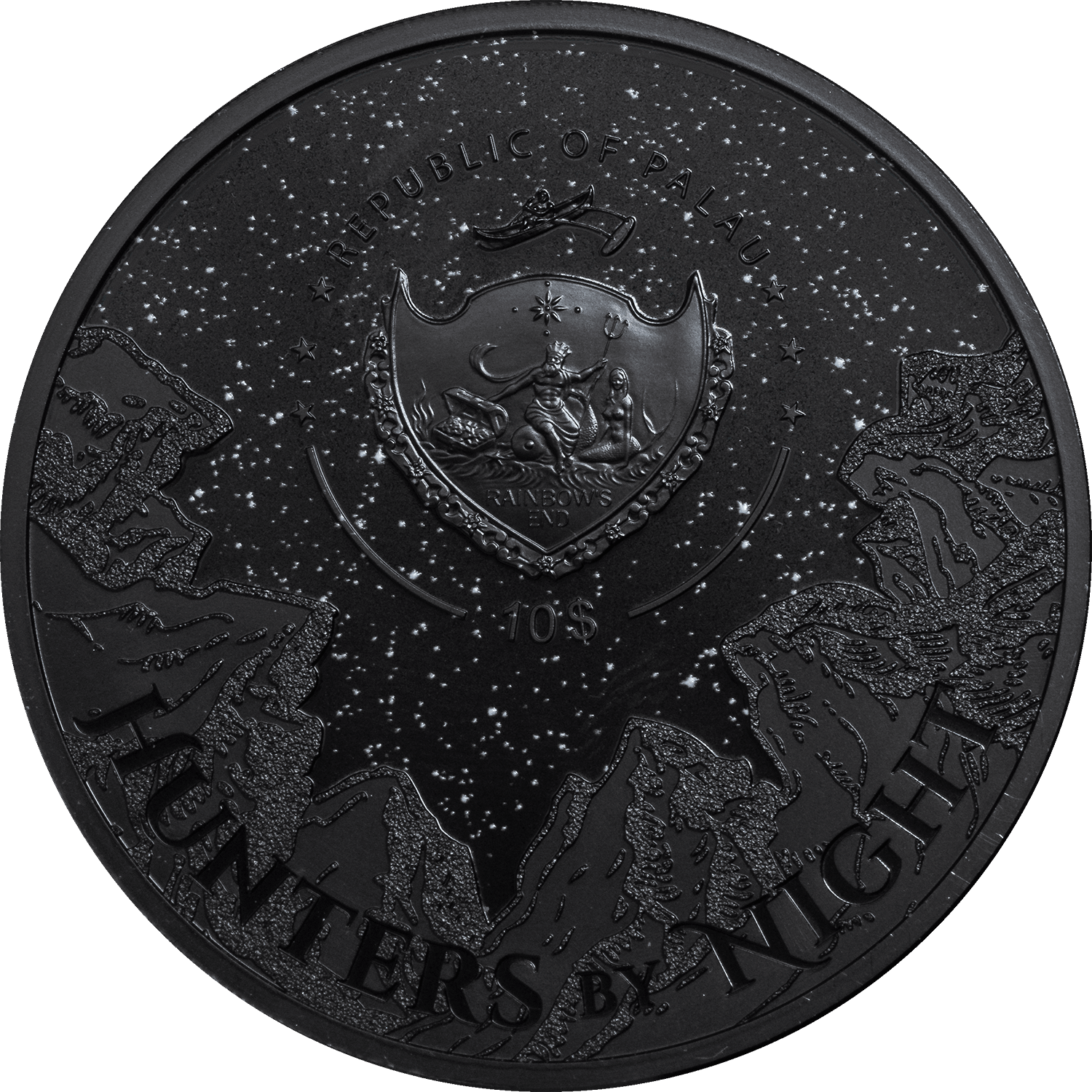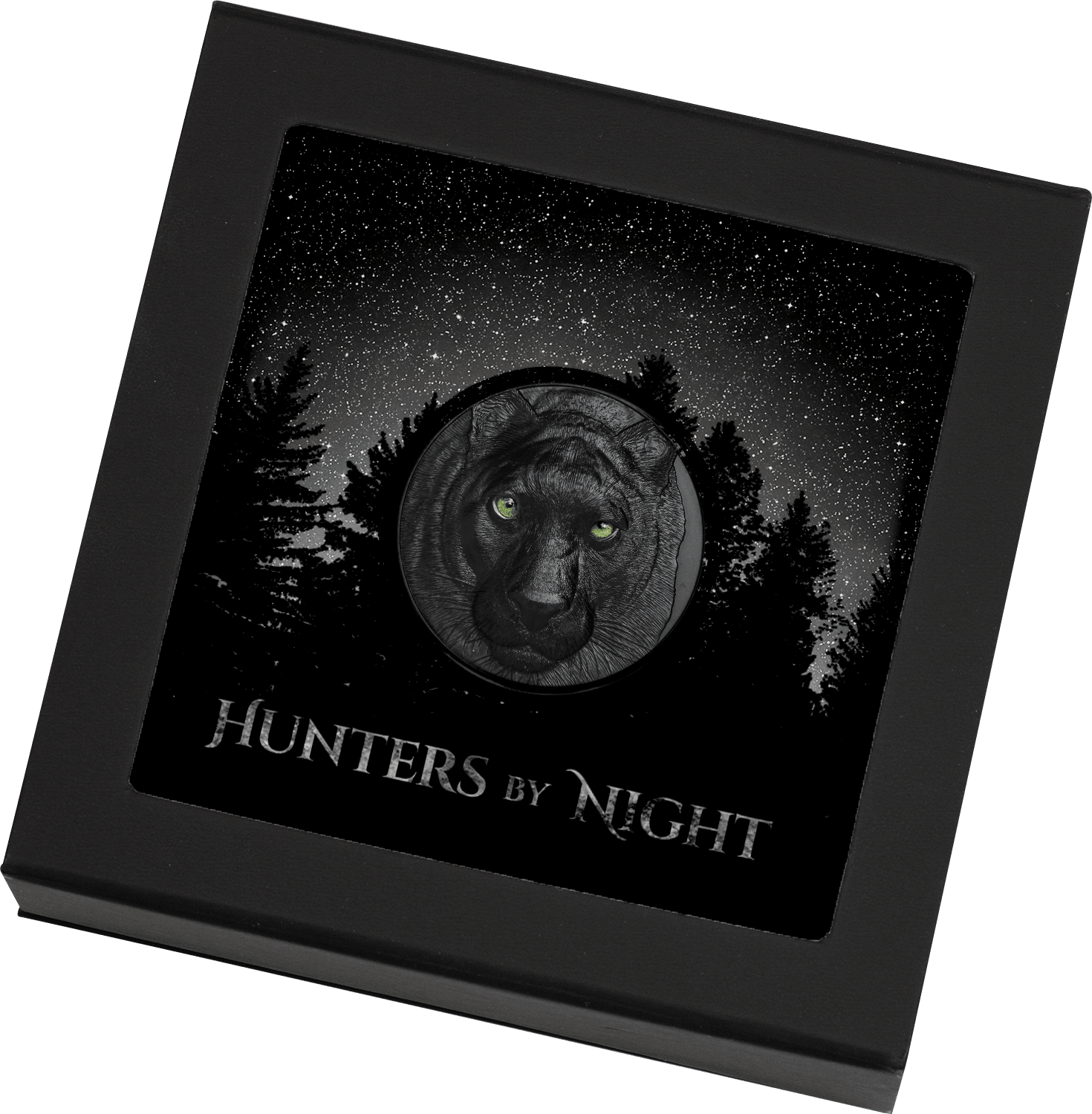 BLACK PANTHER Hunters by Night 2 Oz Silver Coin $10 Palau 2020
This 2 Oz Silver coin is the first release in the new "Hunters By Night" series and is dedicated to the Black Panther. The coin features a realistic front view thanks to the Smartminting technology and the Obsidian Black quality combined with silk areas. The coin comes in a case, along with the Certificate of Authenticity. Limited mintage to 888 pieces worldwide!
Enter the realm of stealth and mystery with the Black Panther Hunters by Night 2 oz Silver Coin. This captivating coin marks the debut of the "Hunters by Night" series, immersing you in the intense gaze of a majestic Black Panther. With its stunning front view of the panther's face, the coin showcases an astonishing level of realism, achieved through the obsidian black proof finish combined with silk areas. The mesmerizing effect draws you into the panther's world, where the moonlight illuminates a crystal-clear starry sky, providing the perfect backdrop for the panther's nocturnal pursuits.
The coin's obverse is equally captivating, featuring the same starry sky, evoking a sense of awe and wonder. The ultra-high relief achieved through enhanced smartminting© technology brings the panther to life, its glossy eyes staring directly at you with an air of intimidation. The attention to detail and lifelike portrayal make this coin a true work of art.
Limited to just 888 pieces worldwide, this 2 oz crown-sized coin is a rare and sought-after treasure for collectors and enthusiasts. The allure of the shiny coat of the panther is irresistible, but be warned: as you marvel at its beauty, remember the panther is a predator in the wild. Capture the essence of the Black Panther and add this exquisite coin to your collection, a symbol of strength, elegance, and the untamed spirit of the night.
Crafted from .999 silver, with a weight of 2 oz and a diameter of 38.61 mm, this coin embodies the essence of the Black Panther. Its obsidian black quality finish, combined with the unique silk areas, creates a visual masterpiece that commands attention. The limited mintage of 888 pieces ensures its rarity and exclusivity. Embrace the thrill of the hunt and secure your place in the world of the Black Panther Hunters by Night.
smartminting©
The smartminting© technology is a ground-breaking advancement in contemporary numismatics that permits an unparalleled level of ultra-high relief, and it establishes novel benchmarks in the coin industry.
This technology enables the production of standard weight coins with larger diameters, while maintaining high relief height.

It also allows for coins with greatly reduced weight to maintain standard relief heights and permits coins with only slightly increased weight to exhibit high reliefs.