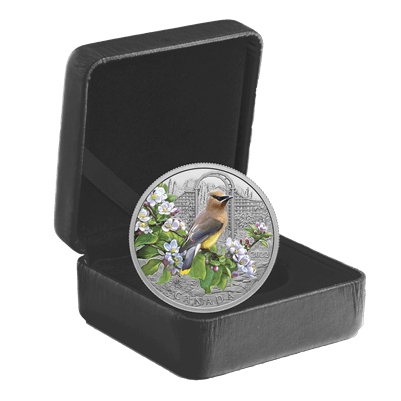 CEDAR WAXWING Colourful Birds 1 Oz Silver Coin $20 Canada 2022
This beautiful Silver coin is the new issue of the "Colourful Birds" series, it's dedicated to an adorable bird: the Cedar Waxwing. It has a Proof quality, a beautiful coloration and it comes in a case, along with the Certificate of Authenticity. Limited mintage of 7500 pieces worldwide!
Immerse yourself in the vibrant world of nature with the Cedar Waxwing Colourful Birds 1 oz. Silver Coin. This stunning coin showcases the captivating beauty of the cedar waxwing, a bird known for its unique features and vibrant colors. With its slicked-back crest, black mask, and silky yellow-brown feathers, the cedar waxwing stands out as a true marvel of Mother Nature's artistry.
As the star of the second Colourful Birds-themed coin series, the cedar waxwing follows in the footsteps of the popular Blue Jay coin from 2021. This exquisite coin is a must-have for nature lovers, bird enthusiasts, and collectors of Canadiana-themed items. Its striking design captures the essence of the cedar waxwing, making it a standout piece in any collection.
With a limited mintage of only 7,500 coins worldwide, this collector's item holds both rarity and value. Each coin comes with a serialized certificate from the Royal Canadian Mint, ensuring its authenticity and collectible status. The mint's commitment to excellence is evident in every detail of this coin, from the vibrant colors to the intricate engraving that brings the cedar waxwing to life.
The cedar waxwing's distinctive traits are further highlighted by fascinating facts about its behavior and appearance. Some individuals have orange tail tips instead of the usual yellow, a result of their diet consisting mainly of berries from a specific type of honeysuckle. The "waxwing" part of its name refers to the red waxy secretions found on its wing feathers, and while their purpose is not fully understood, they are believed to be connected to courtship.
Even the cedar waxwing's eating habits have intriguing characteristics. While it has an appetite for insects and small fruits, it can sometimes overindulge in overripe berries and fruits, causing intoxication. These unique traits make the cedar waxwing a truly remarkable bird, and this coin captures its beauty and allure in exquisite detail.
Add a touch of natural splendor to your collection with the Cedar Waxwing Colourful Birds 1 oz. Silver Coin. Its vibrant colors, limited availability, and meticulous craftsmanship make it a cherished piece for collectors and nature enthusiasts alike. Experience the wonders of the cedar waxwing and celebrate the marvels of the natural world with this remarkable coin.