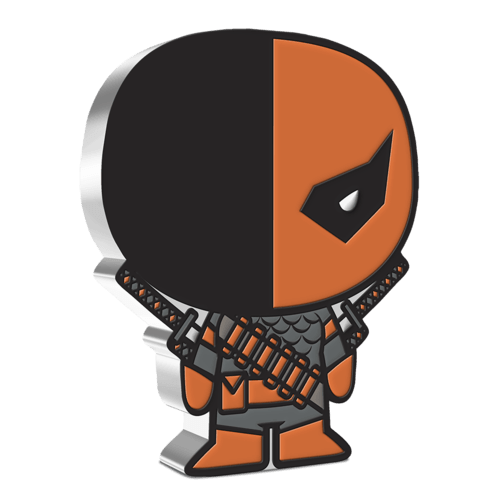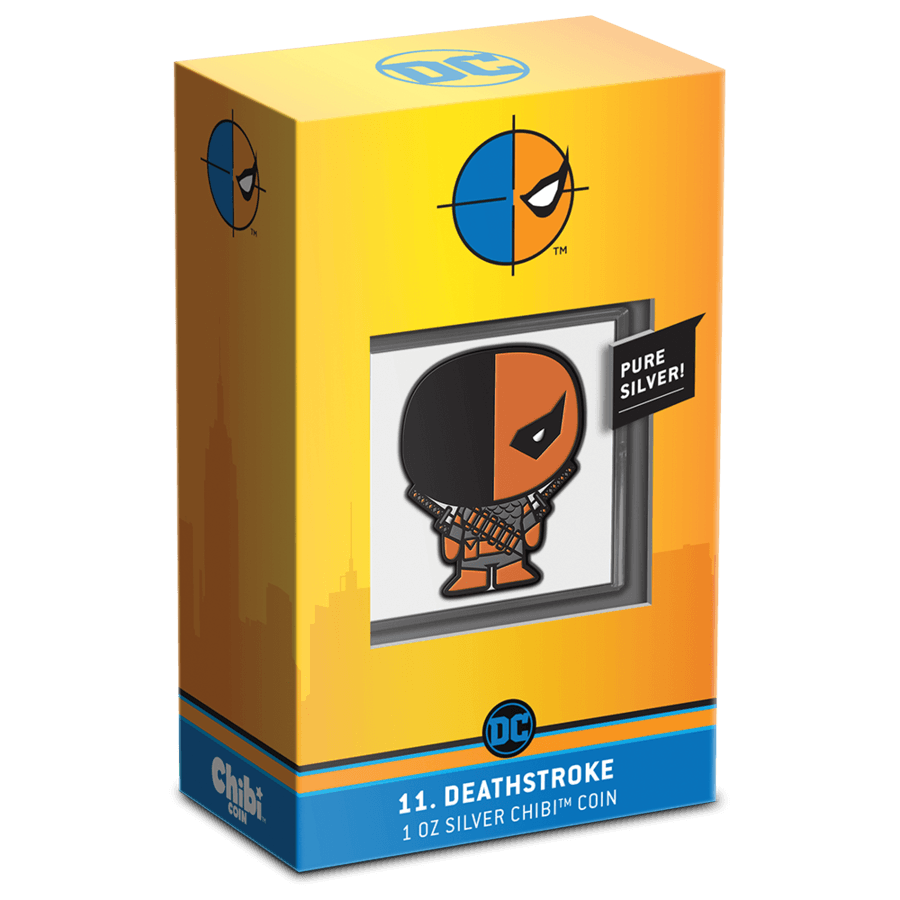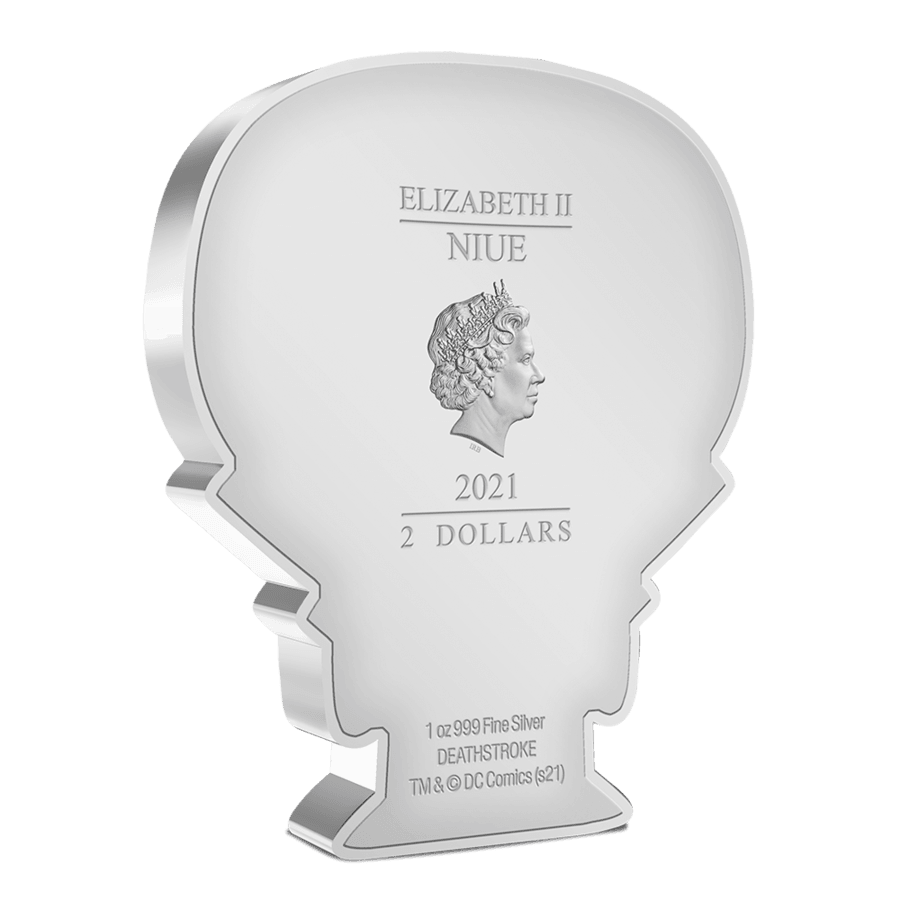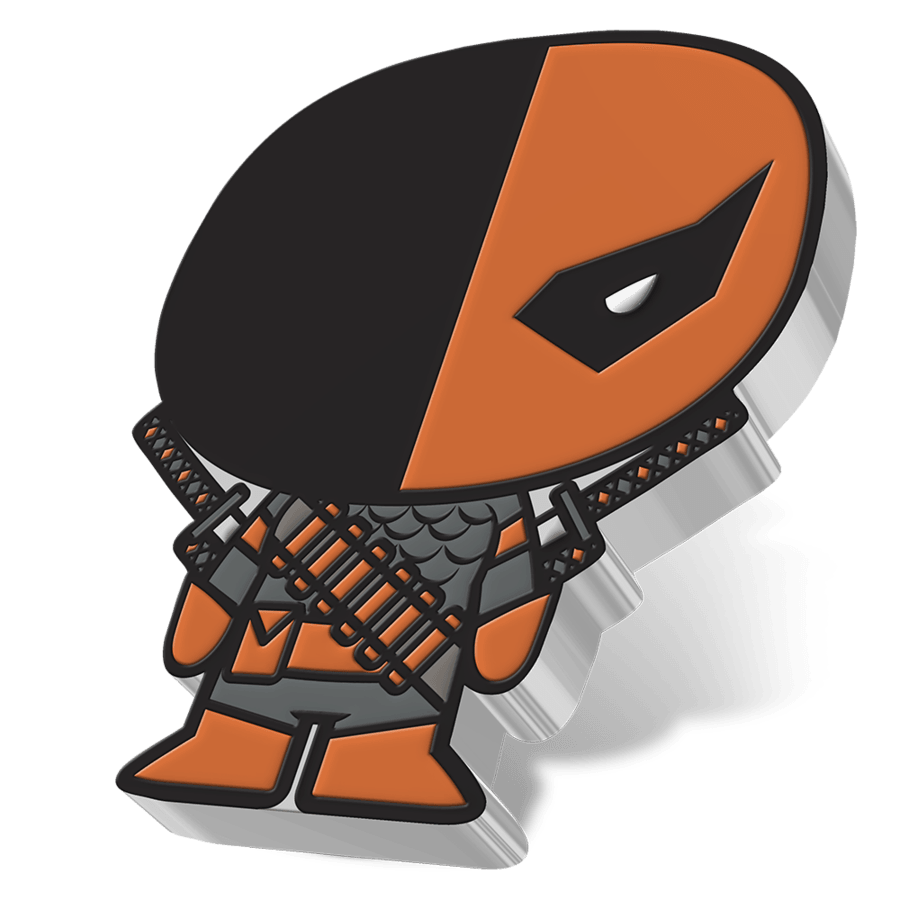 DEATHSTROKE™ DC Comic Series Chibi 1 Oz Silver Coin $2 Niue 2021
This wonderful 1 Oz shaped Silver coin is the new release from the "Chibi" series and features the greatest assassins in the DC Universe, DEATHSTROKE™! The coin has a beautiful coloration, has a Proof quality and comes in a themed case, along with the Certificate of Authenticity. Limited mintage of 2000 pieces worldwide!
Only 1 unit left
Embrace the darkness and delve into the world of DC Comics™ with the Deathstroke™ Chibi 1 Oz Silver Coin, the eleventh release in the captivating DC Comics™ Chibi Series. This officially licensed coin by DC COMICS™ pays tribute to the legendary assassin, Deathstroke™, and is a highly sought-after treasure for devoted DC Comics™ enthusiasts and passionate collectors.
Meticulously crafted by the prestigious New Zealand Mint, this coin is expertly struck from one ounce of 99.9% pure silver in impeccable proof quality. Its most distinctive feature is its unique Chibi shape, characterized by a disproportionately large head and a relatively small body, capturing the essence of Deathstroke™ in adorable and stylized form. This Chibi Art style adds a touch of whimsy to the coin, making it a standout piece in any collection.
The coin showcases Deathstroke™, one of the most formidable antiheroes in the DC Universe, with his signature orange and blue attire, adorned with his iconic mask and menacing eye patch. The reverse of the coin features the timeless Ian Rank-Broadley portrait of Queen Elizabeth II, along with the denomination and year of issue. With a limited mintage of only 2,000 pieces worldwide, this coin holds significant value and exclusivity, making it a prized addition to any DC Comics™ collection.
Your Deathstroke™ Chibi 1 Oz Silver Coin arrives beautifully presented in its original box from the New Zealand Mint, ensuring its safekeeping and providing an elegant display for this exceptional piece. Accompanying the coin is a certificate of authenticity, attesting to its official status as a licensed DC Comics™ collectible.
Unleash the power and intrigue of Deathstroke™ with the Deathstroke™ Chibi 1 Oz Silver Coin. Whether you're an avid fan of DC Comics™ or a dedicated collector, this coin is a must-have addition to your cherished collection. With its exceptional design and limited availability, this coin embodies the essence of Deathstroke™, making it a true treasure for every DC Comics™ enthusiast.