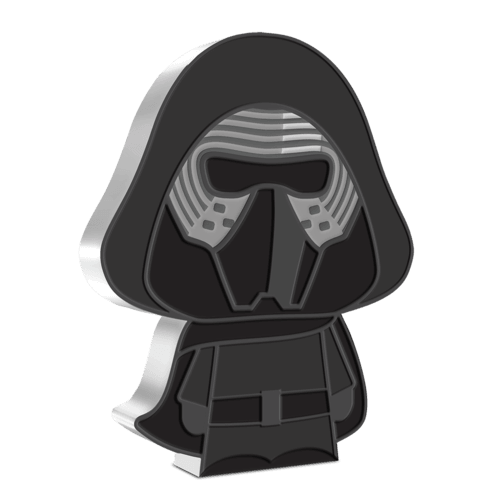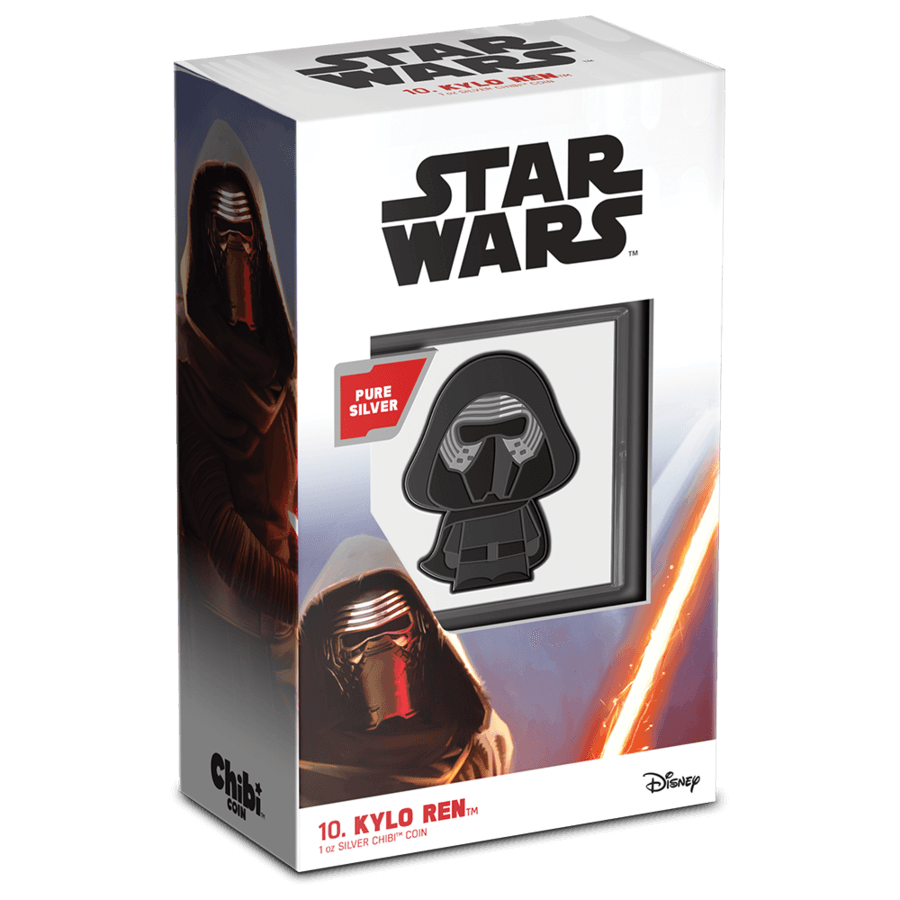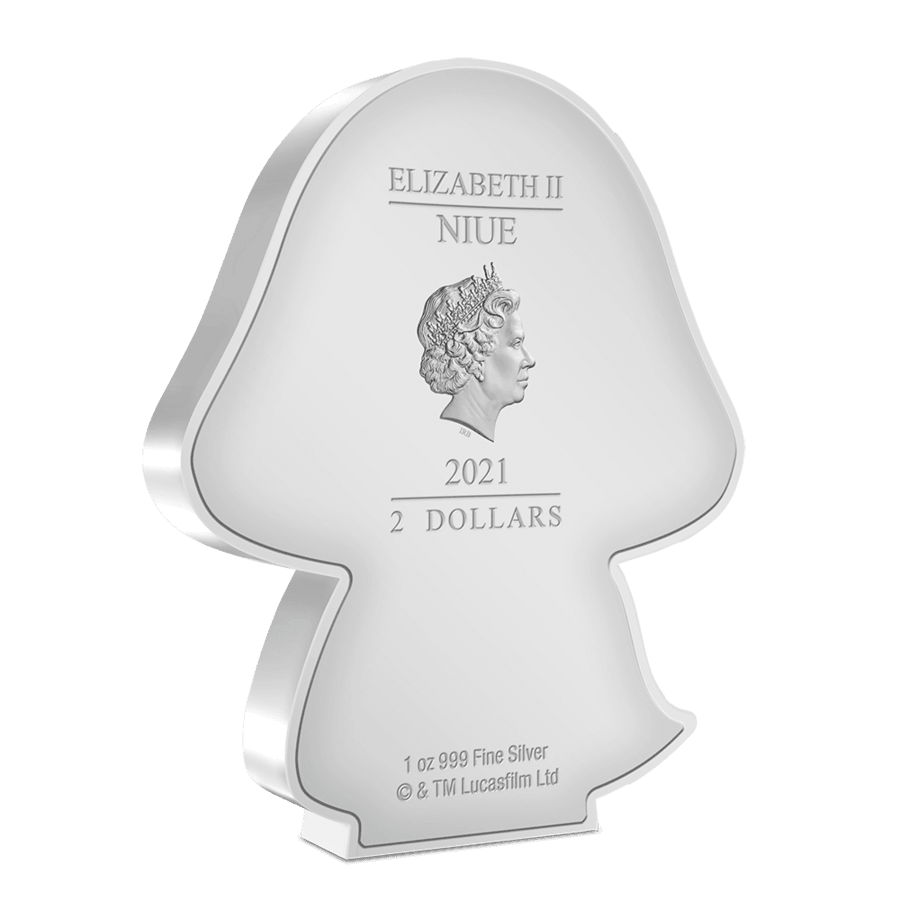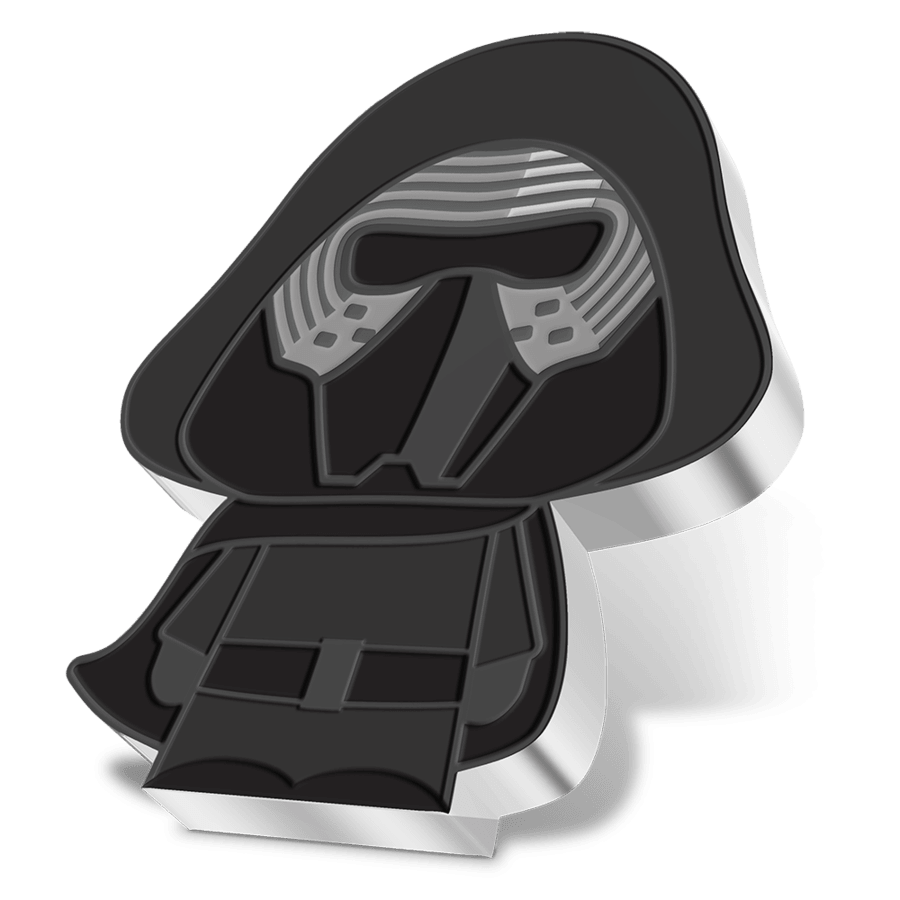 KYLO REN™ Chibi 1 Oz Silver Coin $2 Niue 2021
This wonderful 1 Oz shaped Silver coin is the new release from the "Chibi" series and features the First Order™ champion Kylo Ren™! The coin has a beautiful coloration, has a Proof quality and comes in a themed case, along with the Certificate of Authenticity. Limited mintage of 2000 pieces worldwide!
Embrace the power and complexity of the dark side with the Kylo Ren™ Chibi 1 Oz Silver Coin, the tenth release in the STAR WARS™ Chibi Series. Officially licensed by Lucasfilm Ltd.™, this coin pays tribute to Kylo Ren™, the enigmatic antagonist from the STAR WARS™ sequel trilogy.
Kylo Ren™, born as Ben Solo™, is the son of Han Solo™ and Leia Organa™, and the nephew of Luke Skywalker™. Sworn to the dark side, he becomes the apprentice of Supreme Leader Snoke™, adopting the name Kylo Ren™. Despite his loyalty to the First Order, an inner conflict constantly plagues him. Torn between the light and dark sides of the Force, Kylo Ren™ experiences moments of doubt and is drawn to the light, especially his connection to his family. The weight of his inner struggle leads him to commit the unthinkable act of killing his own father. However, through love and forgiveness, Kylo Ren™ finds redemption and joins the fight against the resurrected Emperor Palpatine.
Crafted by the renowned New Zealand Mint, this coin is struck from one ounce of 99.9% silver in proof quality, ensuring exquisite detail and striking design. The coin's standout feature is its unique "Chibi Art" style, characterized by disproportionately large heads and relatively small bodies, which adds a touch of whimsy and charm to the depicted characters. The exceptional Chibi shape of the Kylo Ren™ coin makes it a true standout piece for STAR WARS™ fans and collectors alike.
The reverse of the coin showcases the Ian Rank-Broadley portrait of Queen Elizabeth II, along with the denomination and year of issue. With a limited mintage of only 2,000 pieces worldwide, this coin is a highly sought-after and valuable collector's item. It is presented in the original box from the New Zealand Mint, providing both protection and display possibilities for this extraordinary coin. Each coin is accompanied by a certificate of authenticity, further confirming its status as an officially licensed STAR WARS™ collectible.
Unleash the power of the dark side and add the Kylo Ren™ Chibi 1 Oz Silver Coin to your STAR WARS™ collection. Whether you're a passionate fan of the franchise or a dedicated coin collector, this meticulously crafted coin captures the essence of Kylo Ren's™ complex character and the enduring legacy of STAR WARS™. Don't miss the opportunity to own a piece of the galaxy far, far away.