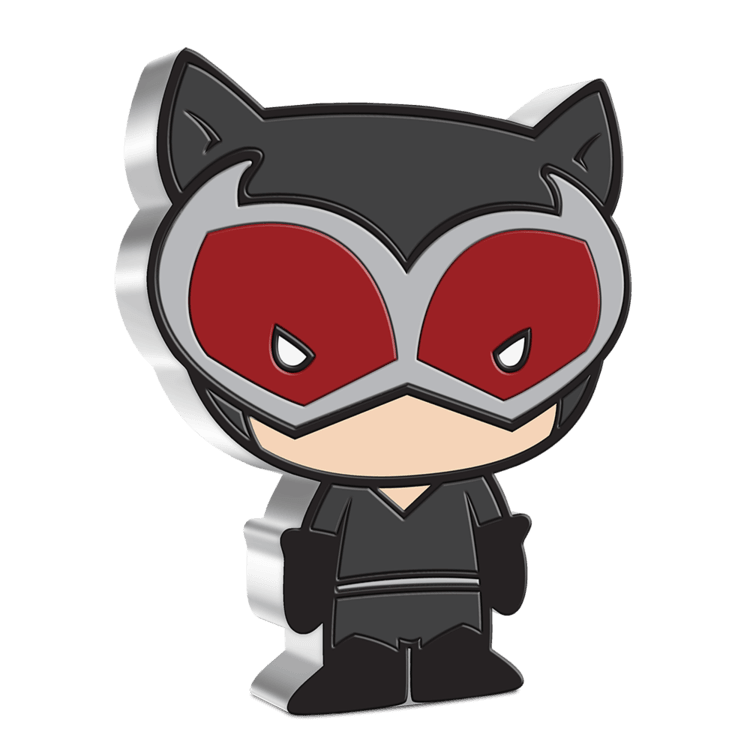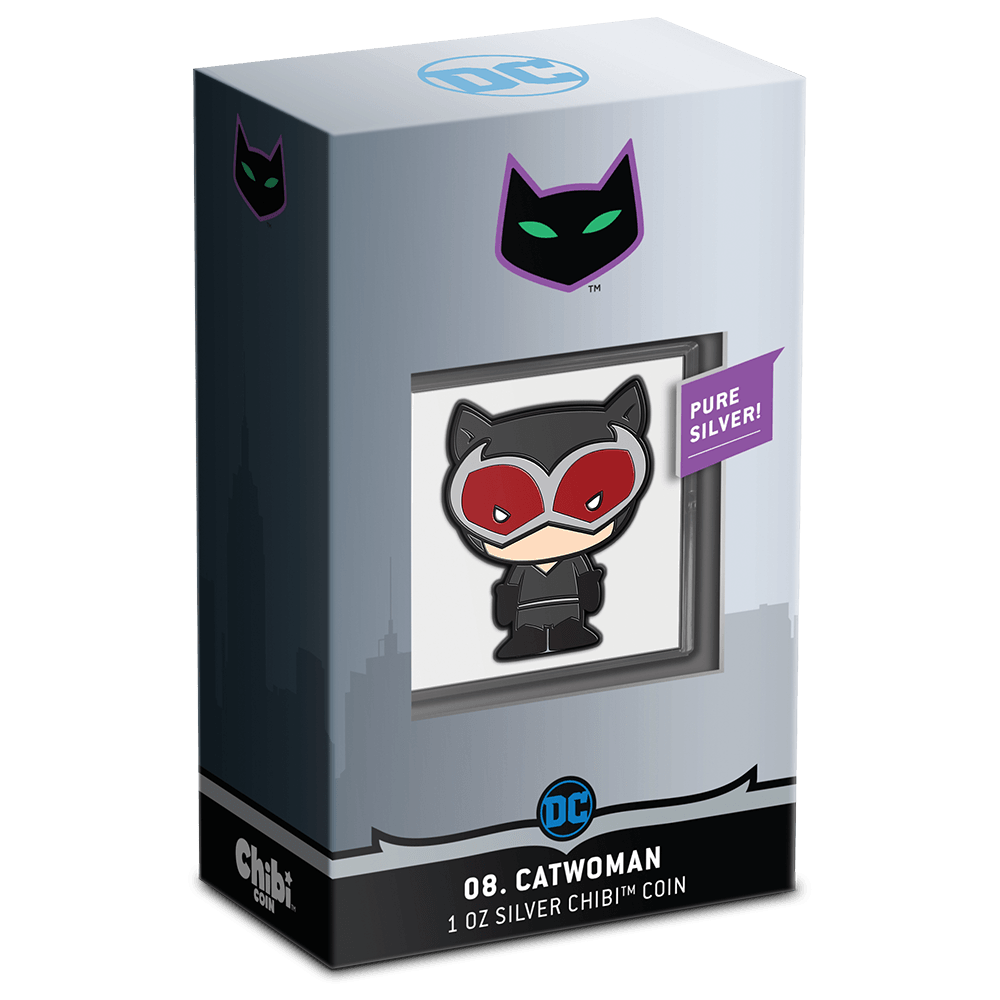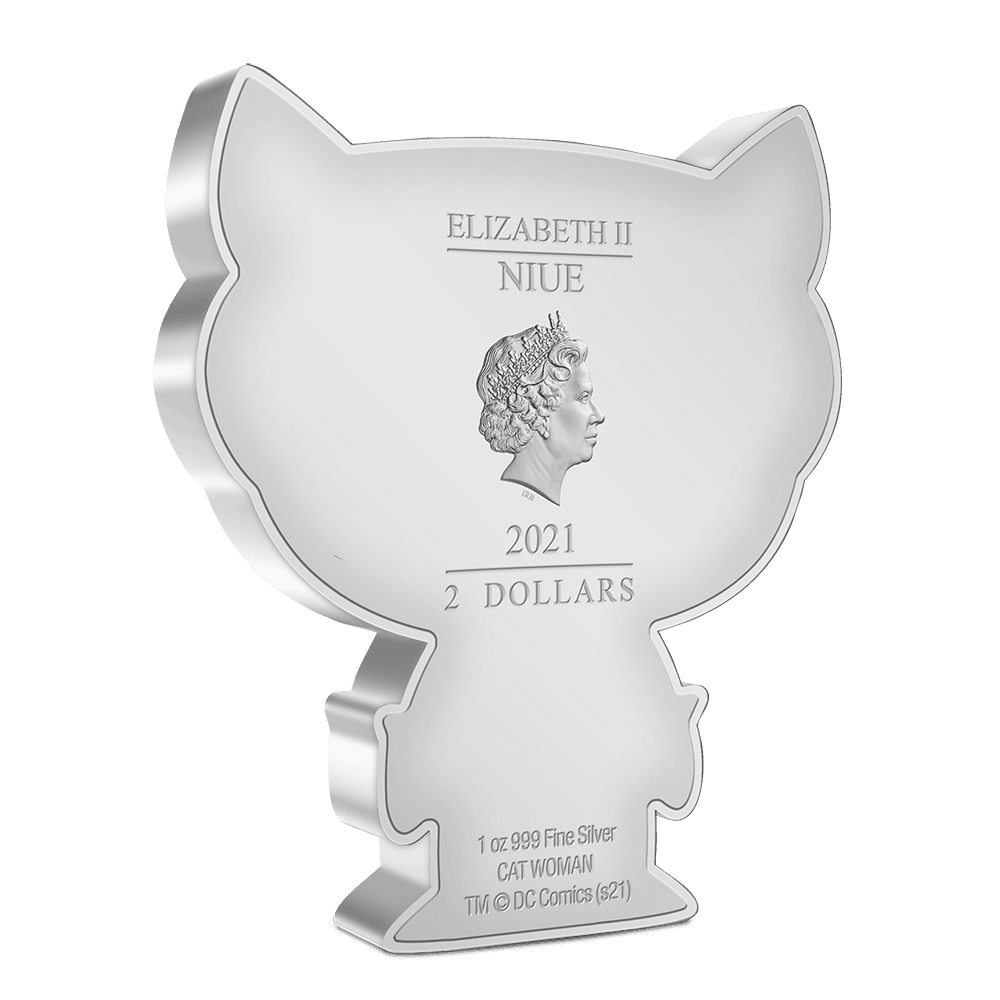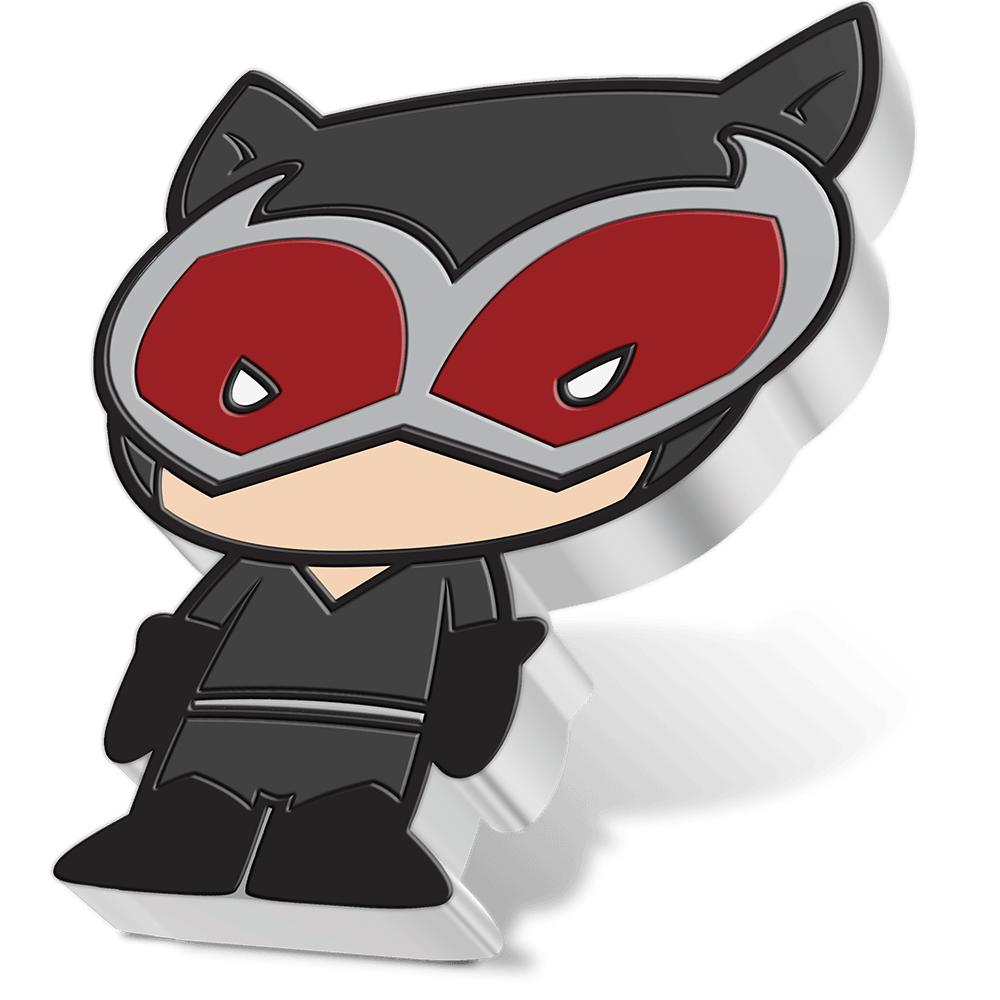 CATWOMAN™ Chibi 1 Oz Silver Coin $2 Niue 2021
This wonderful 1 Oz shaped Silver coin is the new release from the "Chibi" series and features the Infamous cat-burglar and antiheroine, CATWOMAN™! The coin has a beautiful coloration, has a Proof quality and comes in a themed case, along with the Certificate of Authenticity. Limited mintage of 2000 pieces worldwide!
Only 1 unit left
Embrace the allure and mystery of Gotham City with the Catwoman™ Chibi 1 Oz Silver Coin, the eighth release in the captivating DC Comics™ Chibi Series. This officially licensed coin pays homage to the iconic anti-heroine Catwoman™, showcasing her in the distinctive Chibi Art style.
Expertly struck by the esteemed New Zealand Mint, this coin is crafted from one ounce of 99.9% silver in exquisite proof quality. What sets this coin apart is its unique shape, capturing the essence of Chibi Art with its exaggerated large head and diminutive body. This whimsical design adds an element of charm and playfulness to this remarkable silver coin, making it a prized possession for both DC Comics™ enthusiasts and dedicated collectors alike.
The reverse of the coin features the Ian Rank-Broadley portrait of Queen Elizabeth II, along with the denomination and year of issue. With a limited mintage of only 2,000 pieces worldwide, this coin holds tremendous value and exclusivity. It is thoughtfully presented in its original box from the New Zealand Mint, ensuring its preservation and providing an elegant display for this exceptional coin. Each coin is accompanied by a certificate of authenticity, guaranteeing its official status as a licensed DC COMICS™ collectible.
Catwoman™, with her cat-like agility and cunning, has captivated audiences as both a formidable adversary and a complex anti-heroine. This coin allows you to bring her enigmatic presence into your collection and showcase your admiration for this iconic character. Whether you're a passionate DC Comics™ fan or an avid collector, the Catwoman™ Chibi 1 Oz Silver Coin is a must-have addition to your treasure trove.
Indulge your fascination with the captivating world of DC Comics™ and indulge in the allure of Catwoman™ with the Catwoman™ Chibi 1 Oz Silver Coin. Immerse yourself in the thrilling universe of Gotham City and celebrate the enduring legacy of this iconic character. Don't miss your chance to own this exquisite piece of DC Comics™ history and showcase your passion for the captivating Catwoman™.