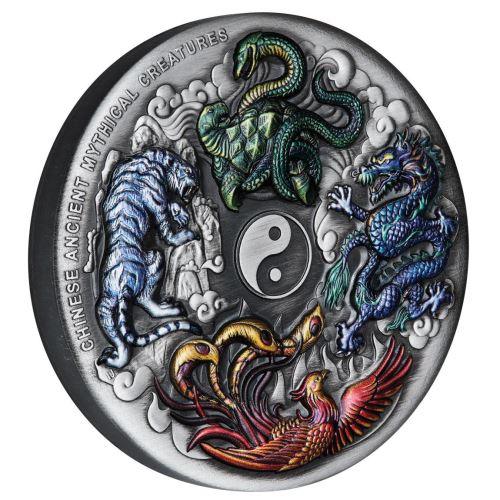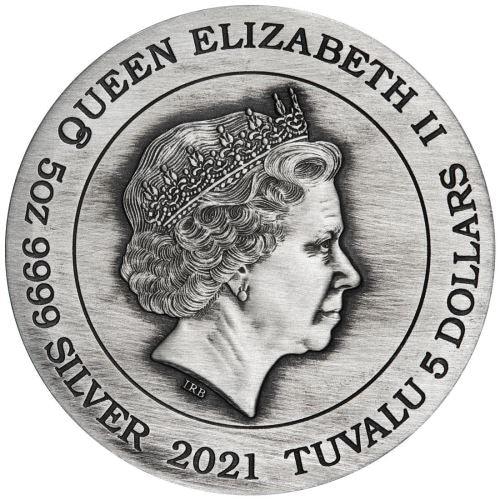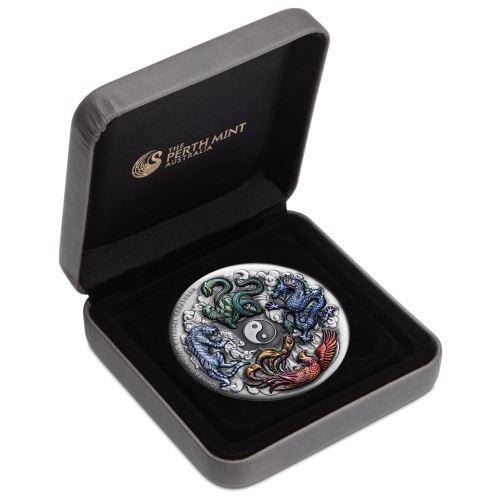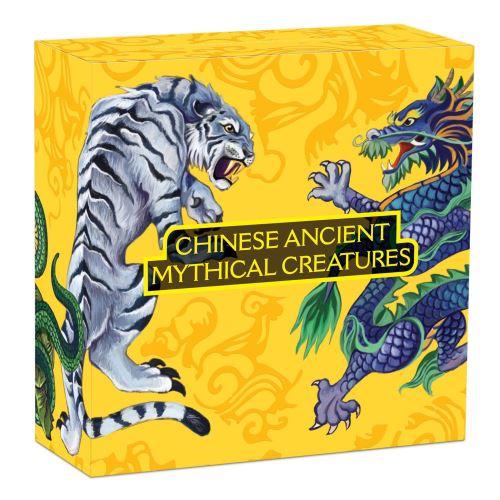 CHINESE ANCIENT Mythical Creatures 5 Oz Silver Coin $5 Tuvalu 2021
This beautiful 5 Oz Silver coin features the four Ancient Chinese Mythical Creatures that mark the beginning and end of winter, summer, fall and spring. This coin has a beautiful High Relief, is partially colored, has an Antique Finish quality and comes in a case, along with a Certificate of Authenticity. Limited mintage of only 488 pieces worldwide!
In stock
Embark on a journey into the realm of ancient Chinese mythology with the extraordinary 2021 5oz Tuvalu Mythical Creatures Silver Antiqued Colored coin, a remarkable offering from The Perth Mint. This highly collectible coin explores the fascinating theme of the Four Celestial Palaces, representing the four quadrants of the universe and the changing seasons. According to ancient Chinese mythology, each quadrant was guarded by a mythical animal associated with a specific season and elemental virtue.
The reverse of the coin features the four mythical animals in all their splendor, each beautifully colored and highlighted with individually applied antique finish. The Black Tortoise of the North, associated with Winter and the element of Water, is joined by the Blue Dragon of the East, associated with Spring and the element of Wood. The Red Phoenix of the South, linked to Summer and the element of Fire, and the White Tiger of the West, connected to Autumn and the element of Metal, complete the magnificent quartet. At the center of the design lies the yin-yang symbol, representing balance and harmony.
As a legal tender offering by Tuvalu, the obverse displays the Ian Rank-Broadley portrait of Her Majesty Queen Elizabeth II, with inscriptions encircling the rim, including the coin's weight, purity, denomination, year of issue, and the nation of Tuvalu. The individually applied antique finish on the obverse reflects the personal attention given to each individual coin, resulting in minor variations that collectors cherish.
With an extremely limited mintage of only 488 pieces worldwide, this premium offering is a true rarity. Each coin comes with a numbered Certificate of Authenticity and is housed in a classic display case, presented within an awe-inspiring themed shipper. The 2021 5oz Tuvalu Mythical Creatures Silver Antiqued Colored coin is a top-shelf display piece, perfect for both seasoned collectors and enthusiasts looking to acquire a piece of ancient Chinese mythology.
Immerse yourself in the captivating world of Chinese ancient mythical creatures with this stunning coin. Whether displayed as a centerpiece in your collection or treasured as a work of art, this coin is a testament to The Perth Mint's outstanding designs and production excellence. Secure your purchase now while supplies last, and own a piece of the mystical and enchanting universe of ancient Chinese mythology.