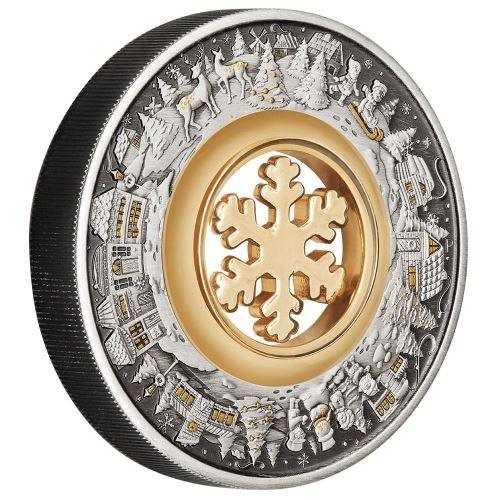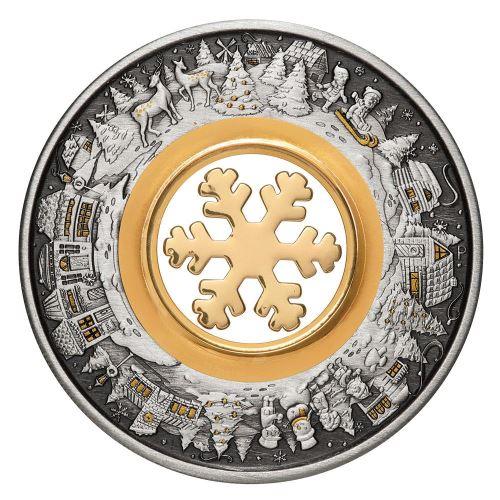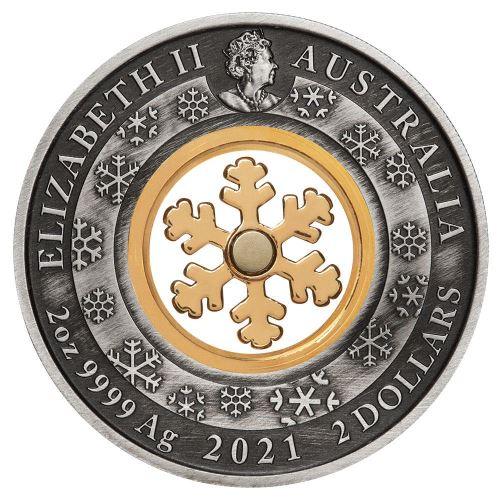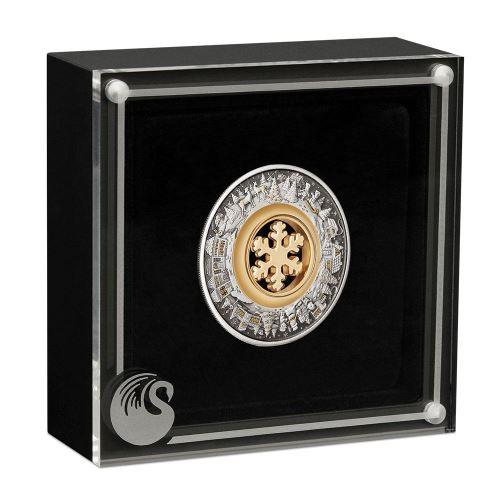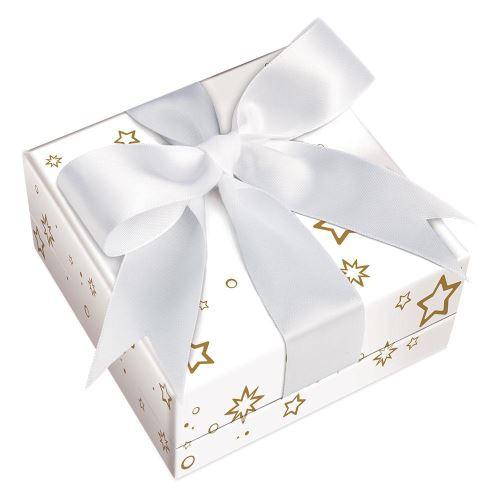 CHRISTMAS WONDERLAND 2 Oz Silver Coin $2 Australia 2021
This stunning 2 Oz Christmas themed Silver coin features a Gold plated rotating snowflake insert surrounded by a Christmas scene. The coin has Antique Finish, is partially coloured and comes in a Christmas themed box, along with a Numbered Certificate of Authenticity. Limited mintage of only 2500 pieces worldwide!
In stock
Embrace the magic and joy of the holiday season with the Christmas Wonderland 2 Oz Silver Coin. This exquisite coin captures the essence of a Christmas winter wonderland, evoking memories of snow-covered landscapes, twinkling lights, and the excitement of the festive season.
In the northern hemisphere, Christmas holds a special place in hearts as a time of celebration and religious observance, dating back over two millennia. The coin's design beautifully portrays a heartwarming Christmas Eve scene, with delighted children playing joyfully in the snow. The use of gold-colored accents adds a touch of enchantment, symbolizing the warmth of cozy homes and the glimmering fairy lights on Christmas trees.
On the obverse, you'll find the effigy of Her Majesty Queen Elizabeth II, surrounded by an artistic circle of stylized snowflakes. The coin's weight, purity, denomination, and year-date are also elegantly displayed. The Perth Mint's iconic 'P' mintmark is featured on the reverse, signifying its exceptional quality and craftsmanship.
Each coin is thoughtfully housed in a classic display case with a clear lid, allowing you to admire its beauty from all angles. As a perfect touch for gift-giving, the coin comes elegantly packaged in a Christmas gift box, adorned with a festive bow, making it an ideal present for your loved ones during the holiday season.
This limited-edition coin comes with a numbered Certificate of Authenticity, ensuring its uniqueness and collectible value. With a weight of 2 ounces and an antiqued finish, this coin is a true treasure to commemorate the spirit of Christmas and celebrate the cherished traditions that bring joy to hearts around the world. Embrace the enchantment of Christmas with the Christmas Wonderland 2 Oz Silver Coin, and create lasting memories with a piece of numismatic art that captures the essence of the holiday season.