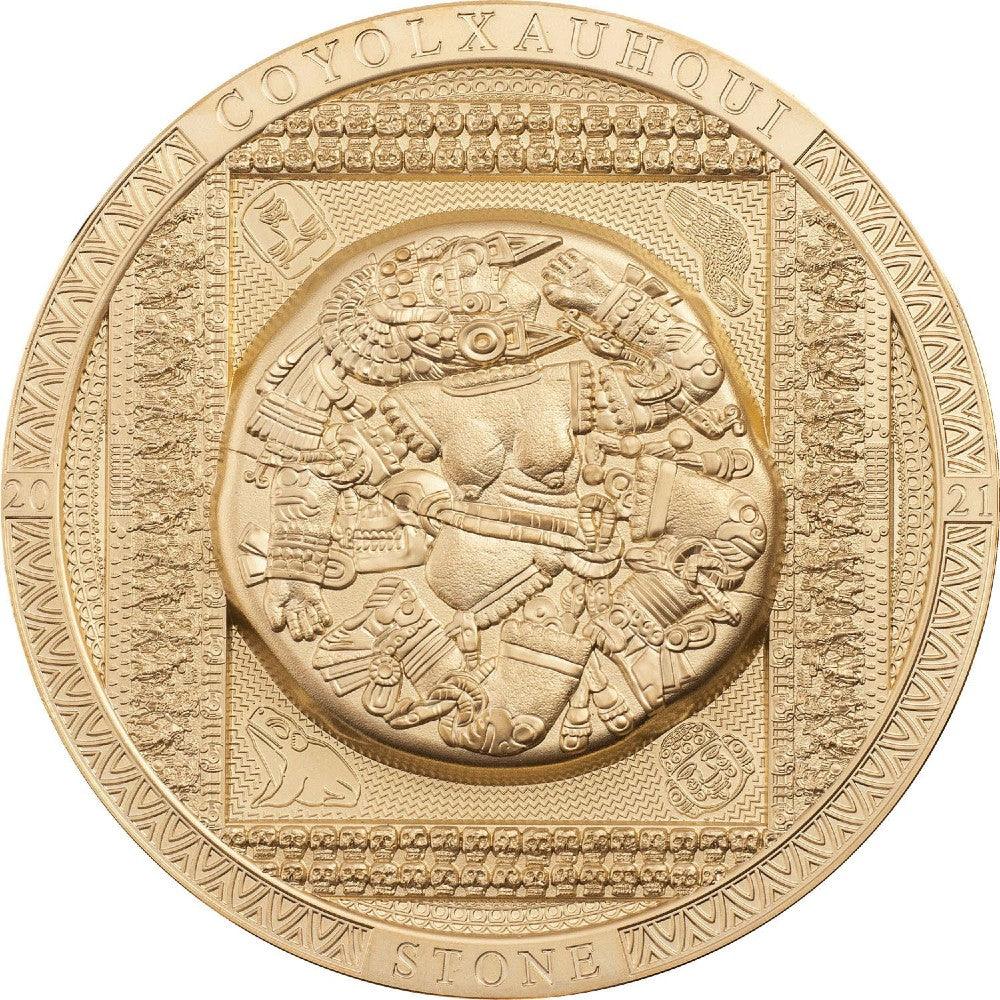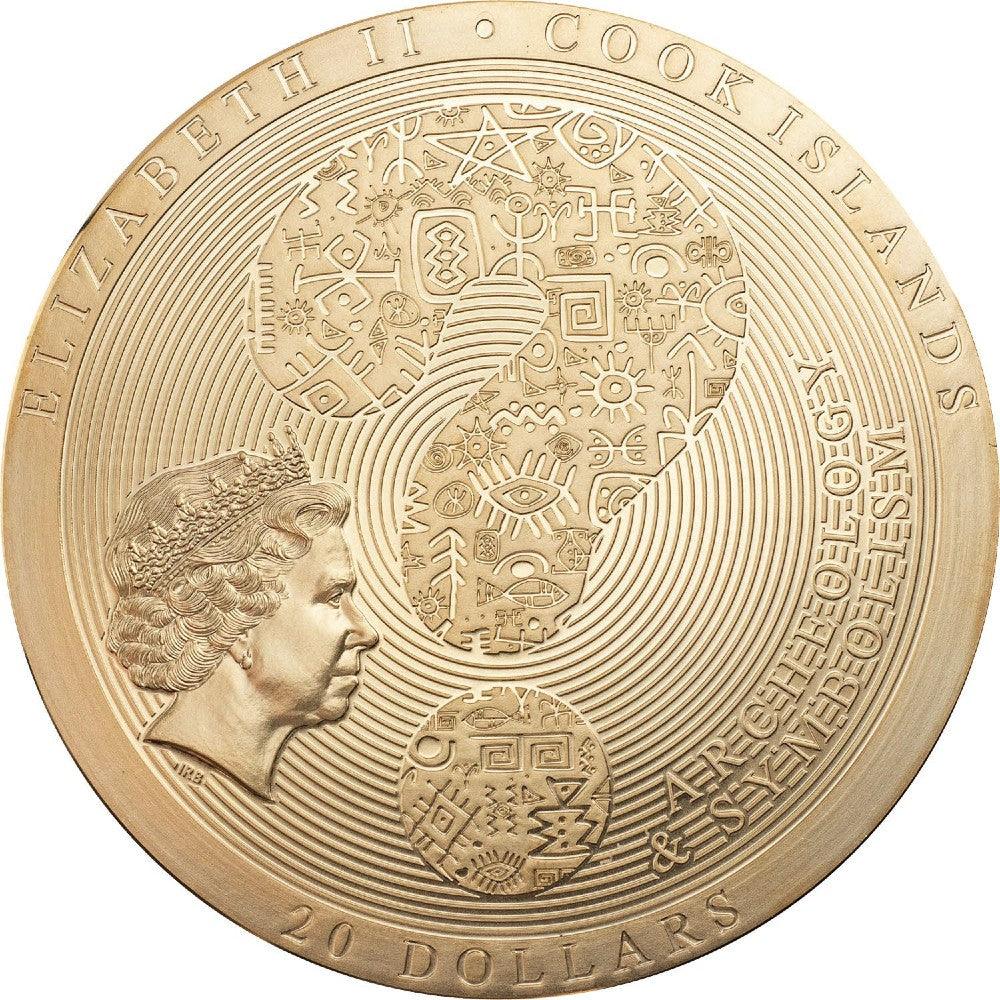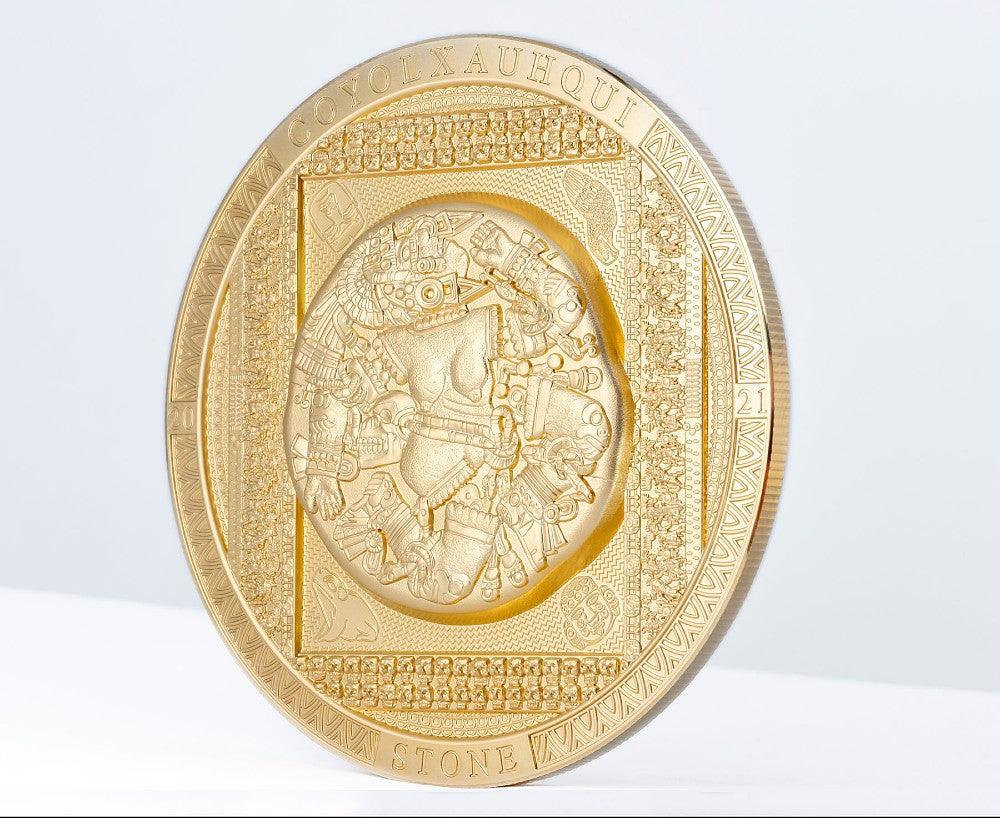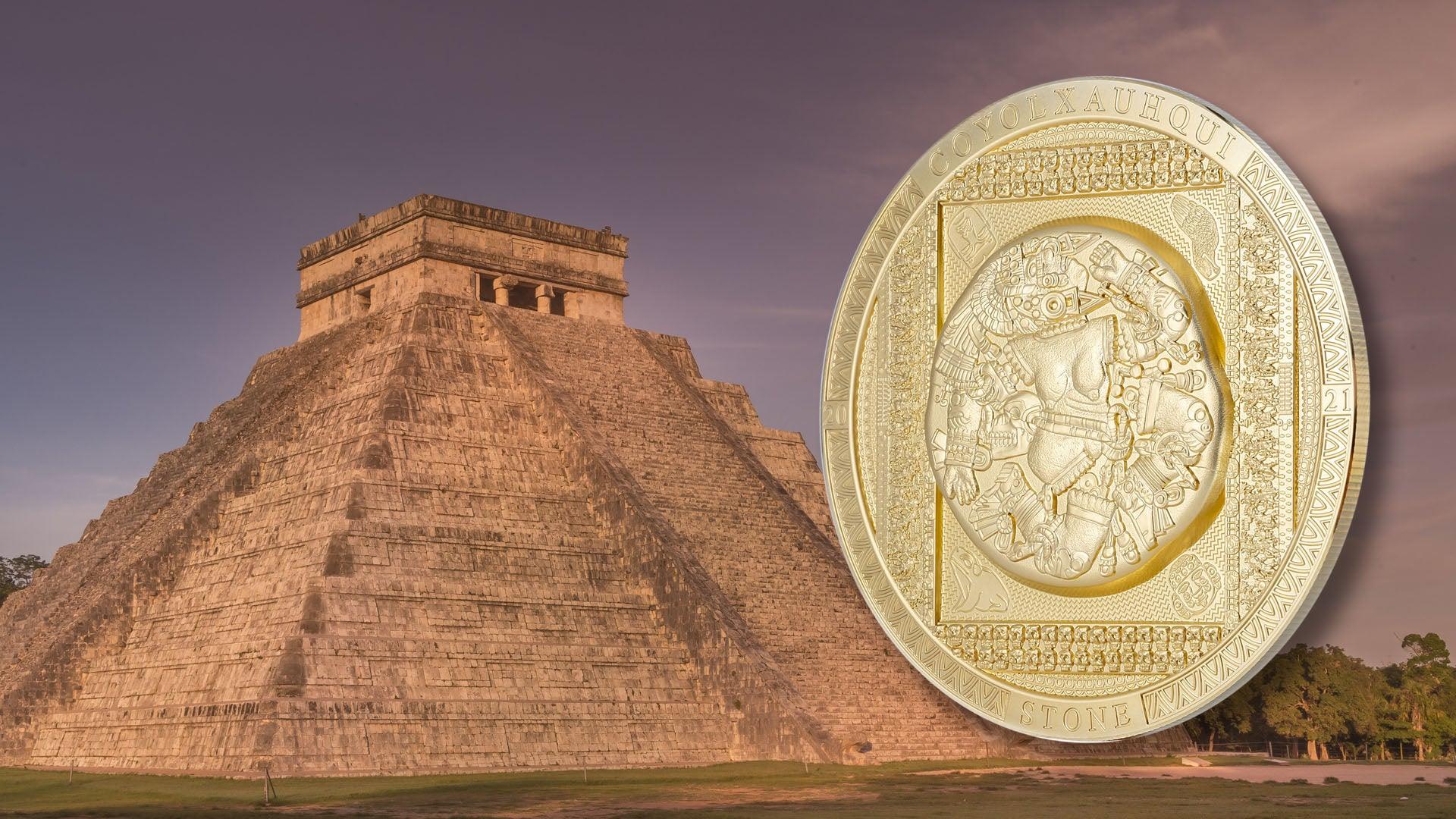 COYOLXAUHQUI STONE Gilded Archeology Symbolism 3 Oz Silver Coin $20 Cook Island 2021
This 3 Oz Silver coin is the new release in the "Archeology & Symbolism" series, dedicated to the most famous symbols in history. In this edition – the Coyolxauhqui Stone. The coin features the Smartminting technology, has an Antique Finish quality, is Gold plated and comes in a beautiful case, along with the Certificate of Authenticity. Limited mintage to only 99 pieces worldwide!
Are you a fan of ancient history and unique coins? Look no further than the 'Aztec Coyolxauhqui Stone' coin, the sixth issue in the 'Archeology & Symbolism' series. Thanks to enhanced Smartminting©️ technology, this coin brings the carved Coyolxauhqui Stone disk to life in stunning detail. This large 3 oz pure .999 silver 65mm coin has a limited mintage of only 333 pcs antiqued (of which 99 are coloured in the original colors of the Aztec empire) and 99 gilded pcs worldwide, so don't wait to add this rare coin to your collection.
The ultra-high relief reverse side of the coin features the Coyolxauhqui Stone disk in all its intricate glory, including the famous crack through the middle. Surrounding the disk are various Aztec carvings also originating near the Temple Mayor of Tenochtitlan in modern-day Mexico City. The edge of the coin has inscriptions of "Coyolxauhqui Stone" (the name) and "2021" (the year of issue). 
The Coyolxauhqui Stone is a fascinating piece of Aztec history, dating back to the mid-15th century when it was carved from one piece of stone measuring 3.4 meters in diameter. Depicting Coyolxauhqui in a dismembered pose, it was likely used in the temple to warn enemies of the Aztec Empire. It is believed that female deities would die first in battle, and Coyolxauhqui came to represent all defeated enemies. The stone was discovered in 1978 at the site of the Templo Mayor of Tenochtitlan, where traces of original color in blue, white, red, and yellow were found. As one of the best-preserved pieces of Mesoamerican Art, this stone holds significant cultural and historical value.
Don't miss out on the unique concept of the 'Archeology & Symbolism' series, which features heavy 3oz silver coins with interesting small details. The low mintage of only 99 pcs for the gilded version and the first-ever colored version adds to the rarity and collectibility of this coin. With its Smartminted©️ relief on a 65mm blank, the Coyolxauhqui Stone coin is a stunning addition to any collection.