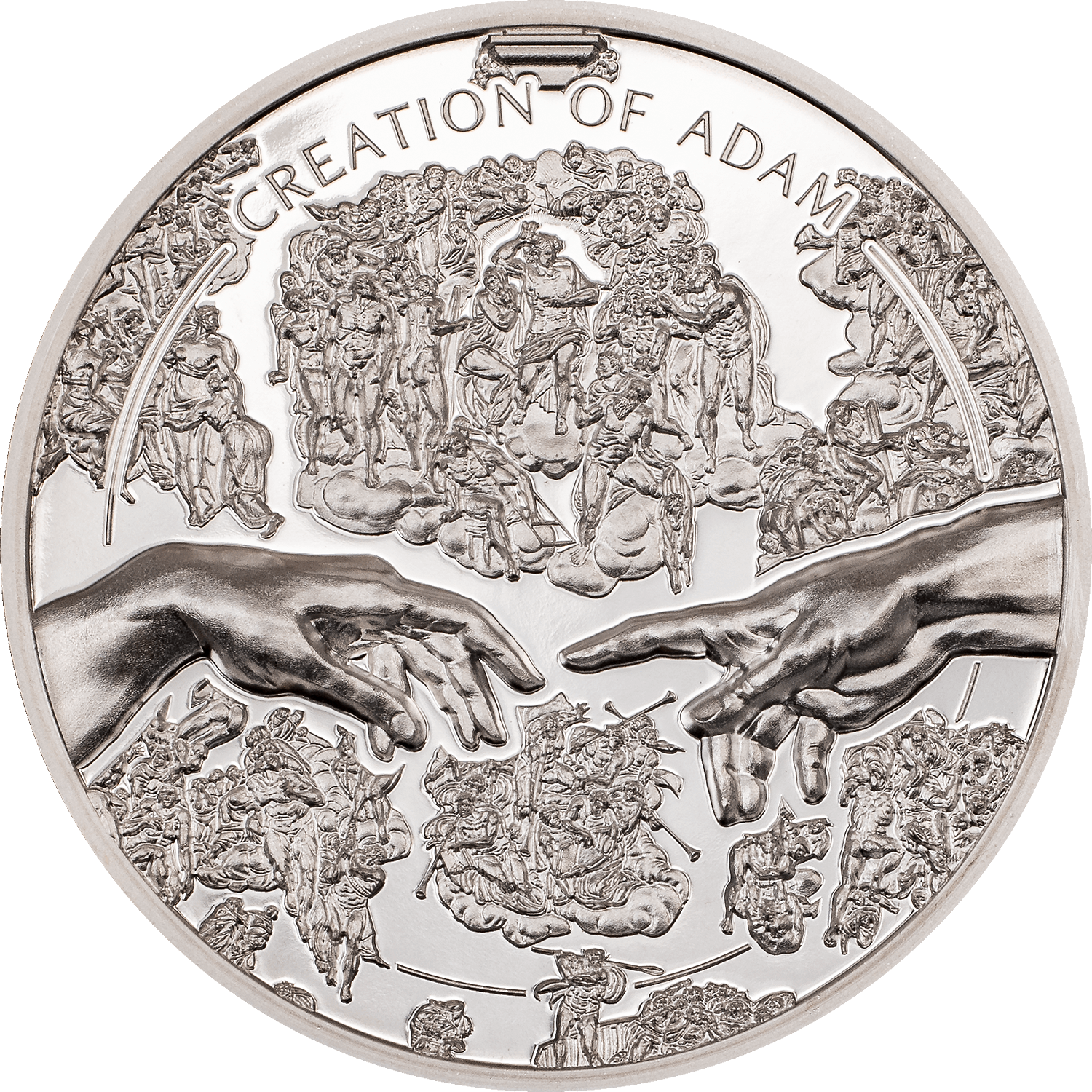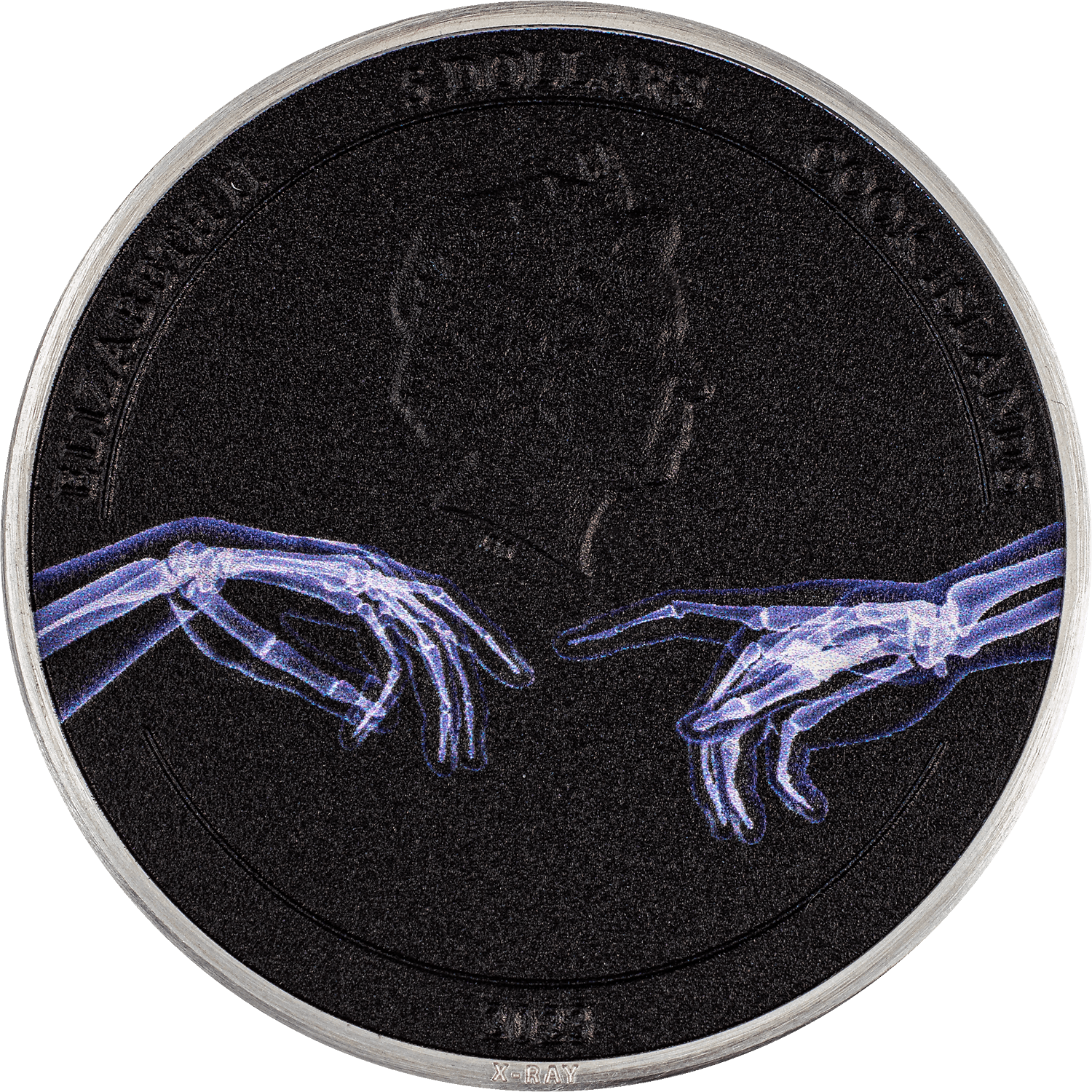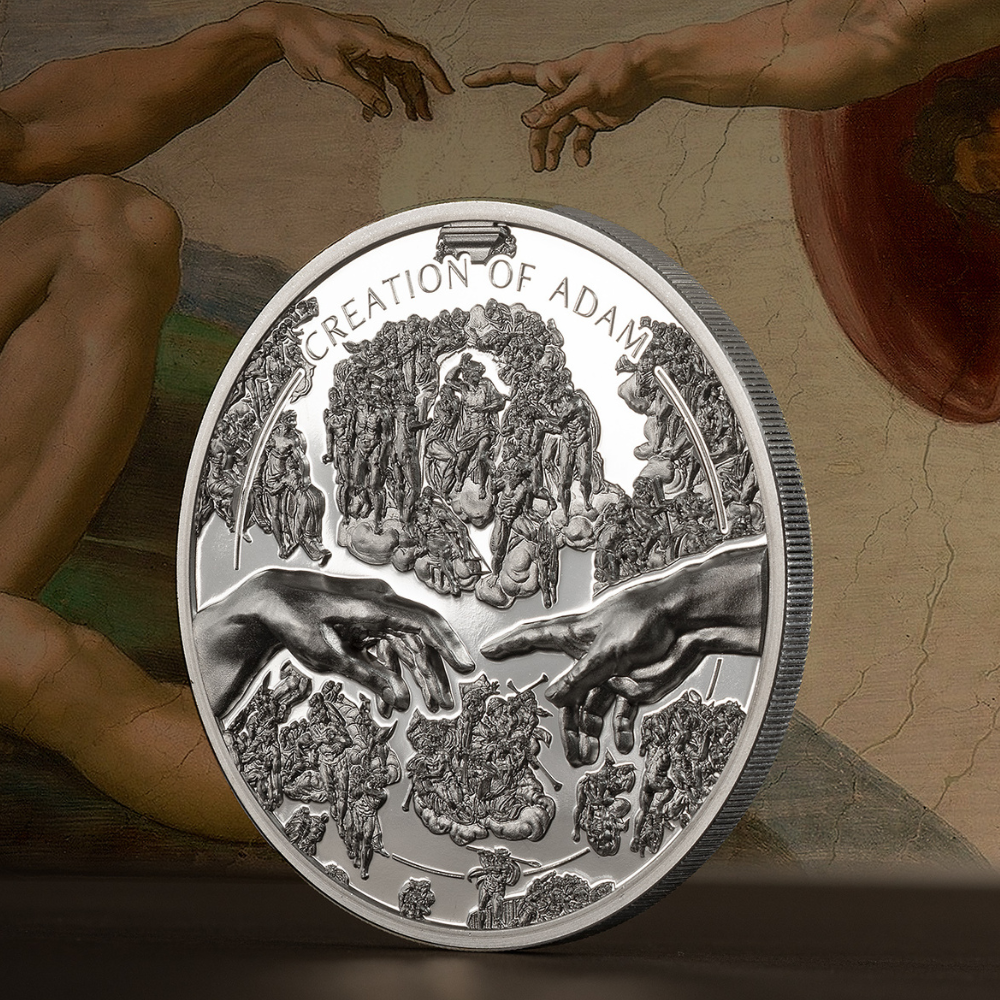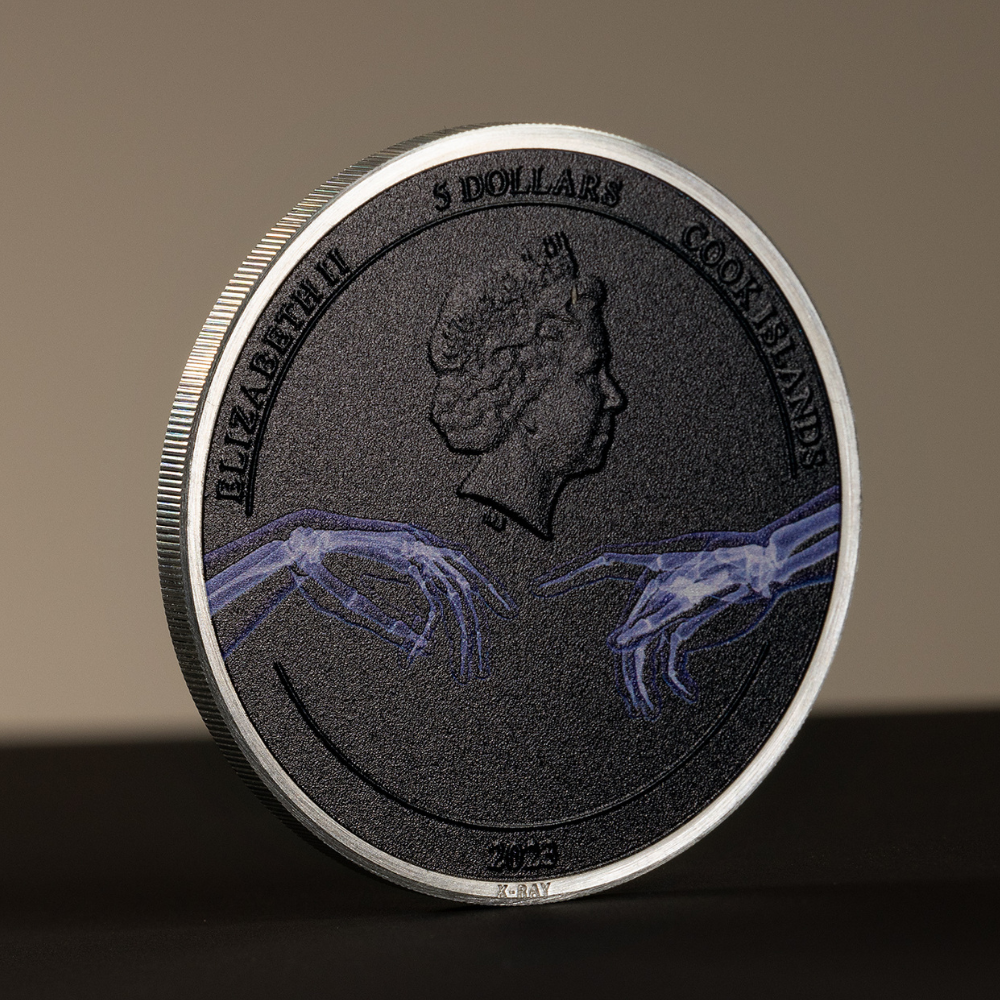 CREATION OF ADAM X Ray 1 Oz Silver Coin $5 Cook Islands 2023
This beautiful 1 Oz Silver coin is the new issue of X-Ray series and depicts the masterpiece of Michelangelo: Creation of Adam. The coin has a Proof quality, features the Smartminting technology and has an Ultra High Relief. It comes in a case, along with the Certificate of Authenticity. Limited mintage to 1500 pieces worldwide.
In stock
Embark on a journey to Rome and immerse yourself in the beauty of art with the CREATION OF ADAM X Ray 1 Oz Silver Coin. This extraordinary coin is the third edition in the X-ray series, following the previous exploration in Egypt. Inspired by the iconic frescoes in the Sistine Chapel, this coin showcases the famous scene of the Creation of Adam, painted by the renowned Italian artist Michelangelo.
At the heart of the design, we see the powerful image of two hands almost touching—one belonging to God and the other to Adam. This iconic gesture represents the moment when God imparts the breath of life to the first man. The intricate X-ray technique used in the coin's design reveals the underlying details of Michelangelo's masterpiece, allowing us to appreciate the skill and genius of the artist on a new level.
As you explore the coin further, another monumental work by Michelangelo is unveiled—the Last Judgement. This stunning portrayal of biblical scenes adds depth and complexity to the design, showcasing the artist's mastery of storytelling and composition. The X-ray technique used in this coin not only reveals the hidden details but also symbolizes the layers of meaning and symbolism that exist within these iconic works of art.
Crafted from 1 oz of pure silver, this coin is a true testament to the beauty and significance of Michelangelo's artistic contributions. Whether you are a lover of art, a collector of exquisite coins, or simply appreciate the timeless beauty of the Renaissance period, the CREATION OF ADAM X Ray 1 Oz Silver Coin is a remarkable addition to your collection.
Experience the divine touch of Michelangelo's art and the profound symbolism of the Creation of Adam with this exquisite coin. Let the X-ray technique transport you to the Sistine Chapel in Rome, where the mastery of Michelangelo comes to life. As you hold this coin in your hands, you will be captivated by the beauty and power of one of the most celebrated works of art in history.

smartminting©
The smartminting© technology is a ground-breaking advancement in contemporary numismatics that permits an unparalleled level of ultra-high relief, and it establishes novel benchmarks in the coin industry.
This technology enables the production of standard weight coins with larger diameters, while maintaining high relief height.

It also allows for coins with greatly reduced weight to maintain standard relief heights and permits coins with only slightly increased weight to exhibit high reliefs.