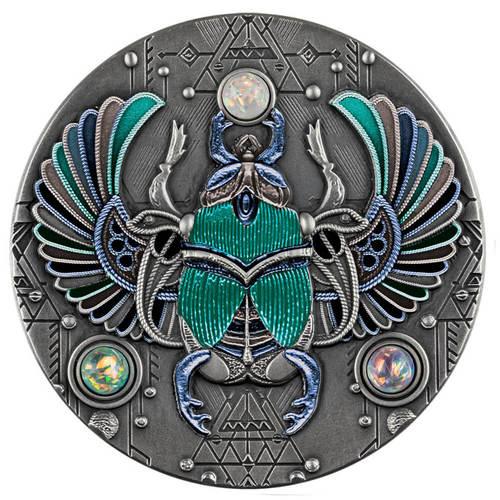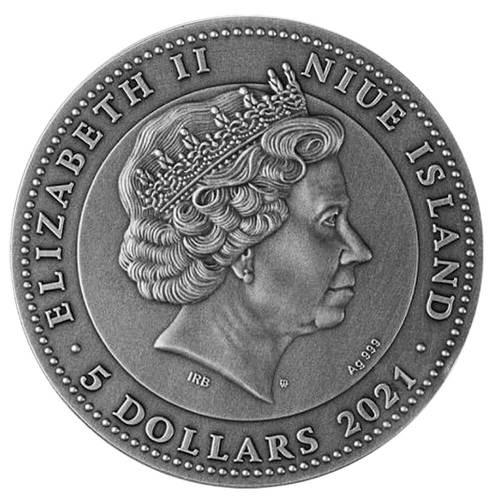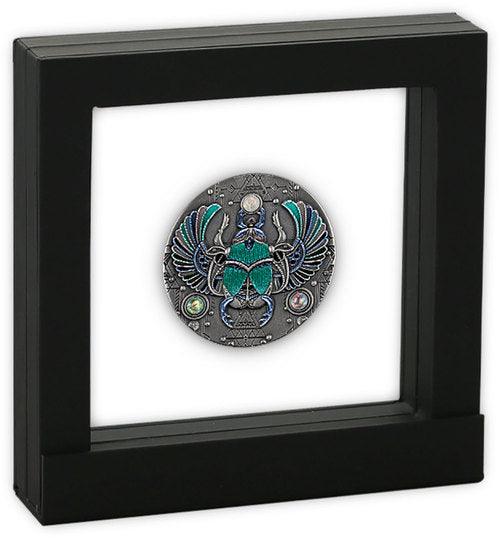 CRYSTAL SCARABAEUS 2 Oz Silver Coin $5 Niue 2021
This beautiful 2 Oz Silver coin is dedicated to the Scarabaeus, an ancient symbol of rebirth and of divinity. The coin features wonderful Crystal inserts, has a beautiful coloration, an Antique Finish quality, a beautiful High Relief and comes in a case, along with the Certificate of Authenticity. Limited mintage to 500 pieces worldwide!
Only 1 unit left
Experience the allure and beauty of the Crystal Scarabaeus 2 Oz Silver Coin, a remarkable tribute to one of nature's most captivating creatures. Crafted from 0.999 pure silver, this coin showcases meticulous craftsmanship and attention to detail, making it a true masterpiece for collectors and enthusiasts alike.
Weighing 2 oz and measuring 50 mm in size, this coin offers a substantial canvas to bring the stunning scarab beetle to life. The antique finish lends an air of timeless elegance, adding depth and character to the intricate design. The antique quality also serves to enhance the fine details, creating a visually striking contrast against the silver background.
Limited to only 500 pieces worldwide, the Crystal Scarabaeus Silver Coin is a highly sought-after treasure. Owning this coin means possessing a rare and precious symbol of nature's beauty and the artistry of minting.
The coin's design features a combination of high relief and digital printing techniques, showcasing the scarab beetle with remarkable precision. Every contour, curve, and texture of the beetle's exoskeleton is intricately captured, making the coin a true testament to the art of numismatics. The addition of digital printing allows for vibrant and lifelike colors, enhancing the visual appeal of the scarab's radiant beauty.
Adding to the coin's allure, ruby inserts are carefully placed to mimic the mesmerizing shimmer of the scarab's iridescent shell. These precious ruby accents catch the light and create a captivating display of color, evoking the scarab's mystical and enchanting nature. The incorporation of ruby inserts elevates the coin's aesthetic appeal, transforming it into a true gem among collectors.
The Crystal Scarabaeus 2 Oz Silver Coin is a testament to the timeless beauty and fascination inspired by the scarab beetle. With its exquisite design, limited mintage, and use of innovative minting techniques, this coin is a must-have for those who appreciate the wonders of nature and the artistry of numismatics. Add this extraordinary piece to your collection and let the charm of the Crystal Scarabaeus shine.