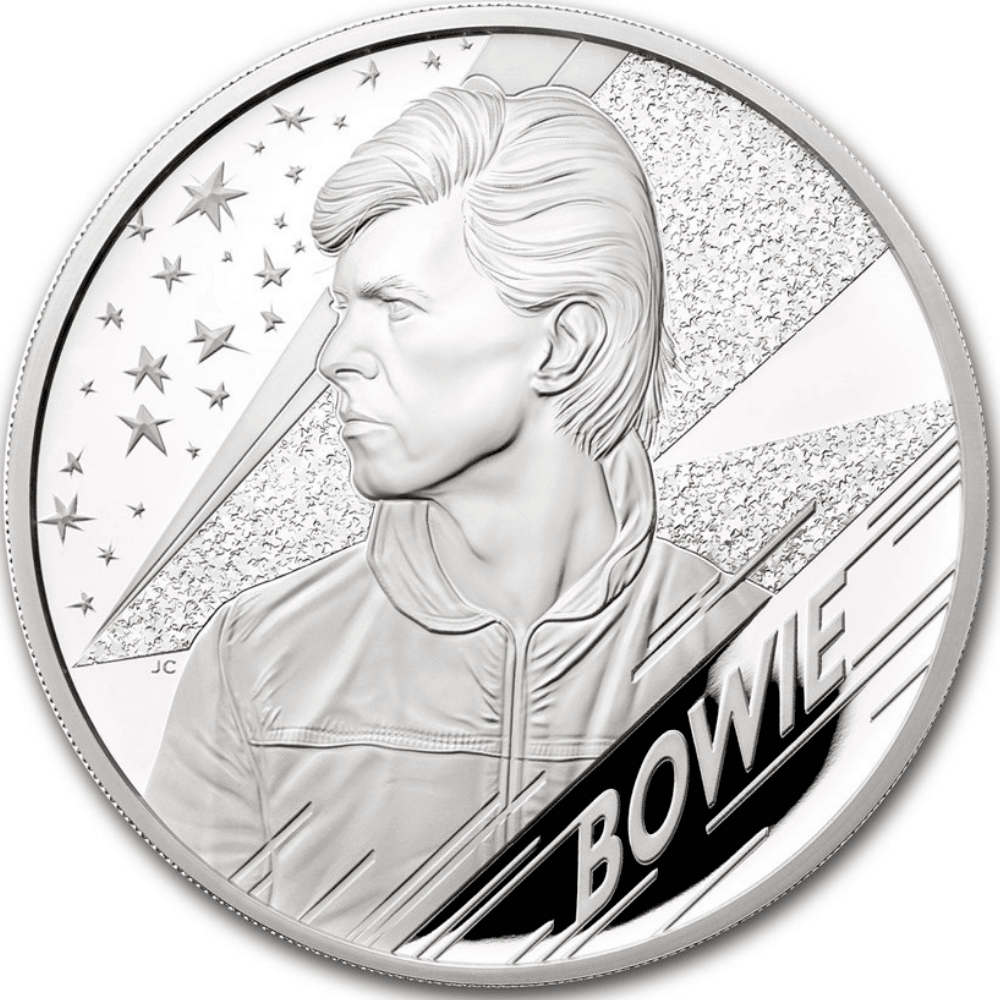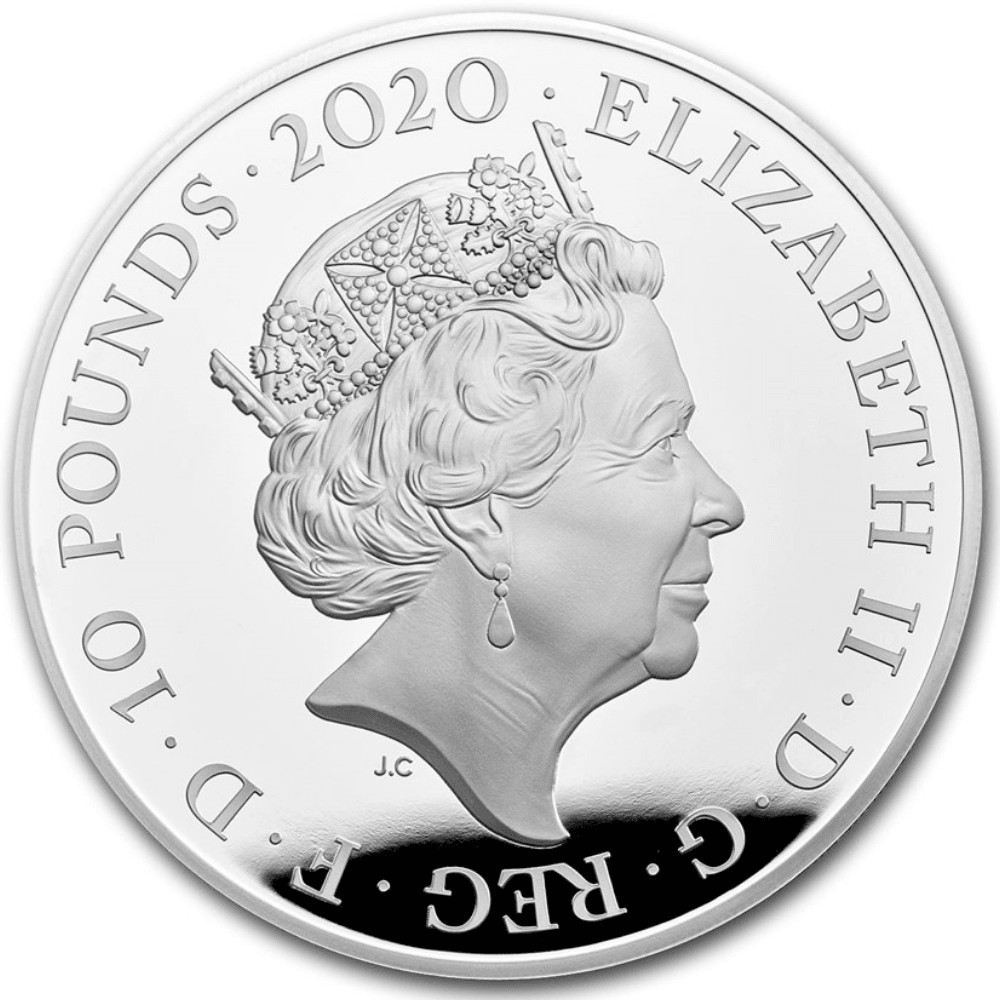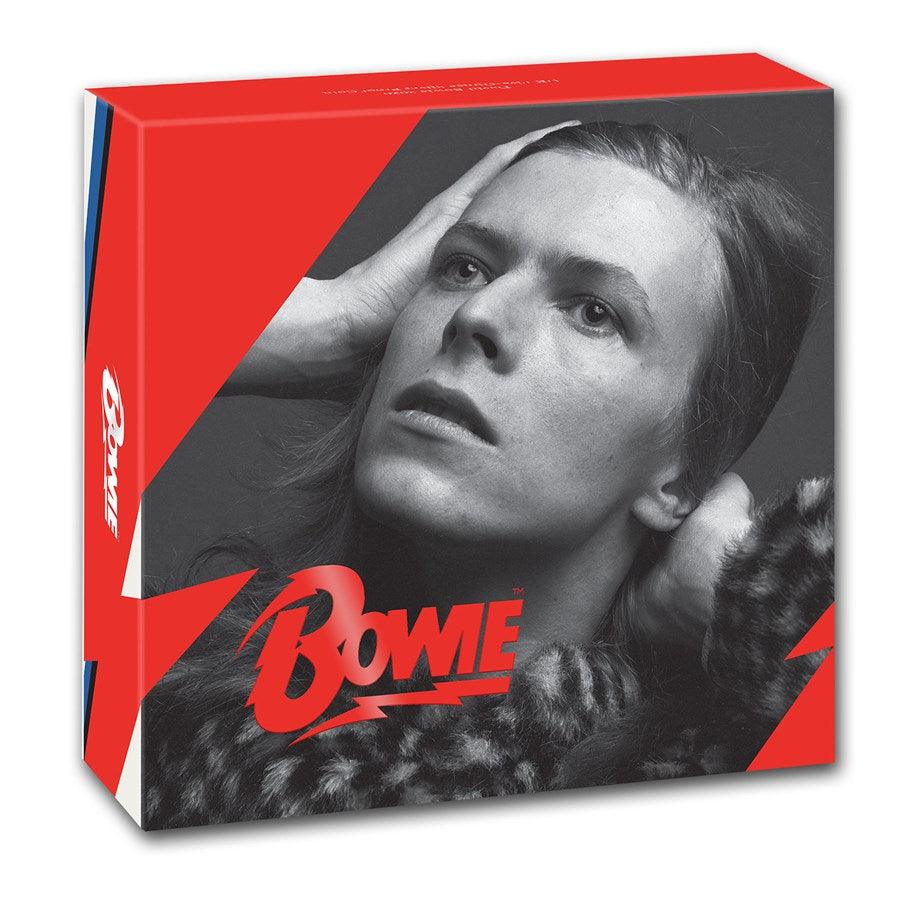 DAVID BOWIE Music Legends 5 Oz Silver Coin 10 Pounds United Kingdom 2020
This lovely 5 Oz Silver coin celebrates some of the country's most important artists, in this edition, one of the most influential musicians of the 20th century – David Bowie. The coin features a beautiful design, has a Proof quality and comes in a themed case, along with the Certificate of Authenticity. Limited mintage to 500 pieces worldwide!
Only 1 unit left
David Bowie fans can now add an extraordinary and exclusive piece to their collections with the release of the largest and most exclusive silver coin in the Music Legends range, celebrating the iconic British artist. The coin is expertly crafted to showcase the lightning bolt motif from Bowie's Aladdin Sane era, which has become synonymous with the artist's career. The lightning bolt appears laced with stardust, creating a glitter effect that shimmers and sparkles in the light, capturing the essence of the Starman.
The coin is struck to Proof standard, using the highest quality dies and the latest minting techniques, ensuring the finest possible detail and finish. The 5 oz silver coin is presented in a sleek black case that complements the design, and the case is accompanied by a fascinating booklet detailing Bowie's life and career. The booklet includes rare photographs and insightful commentary, providing a wonderful insight into the life of one of the most enigmatic artists of all time.
As a limited edition presentation of just 500 coins, this is an exceptional collectible that is sure to be highly sought-after by collectors and fans alike. The unique and exclusive nature of the coin ensures that it will become a highly prized addition to any collection, as well as a fitting tribute to one of British music's most influential and enduring artists.
The David Bowie Music Legends 5 Oz Silver Coin is an exceptional piece of memorabilia that celebrates the life and career of one of the most iconic figures in music history. It is a beautiful and highly collectible piece that perfectly captures the essence of Bowie's creativity, innovation, and artistic vision. The exclusive nature of the coin, combined with the exceptional quality of the craftsmanship, ensures that it will become a highly prized item in any collection, and a fitting tribute to one of the greatest musicians of our time.