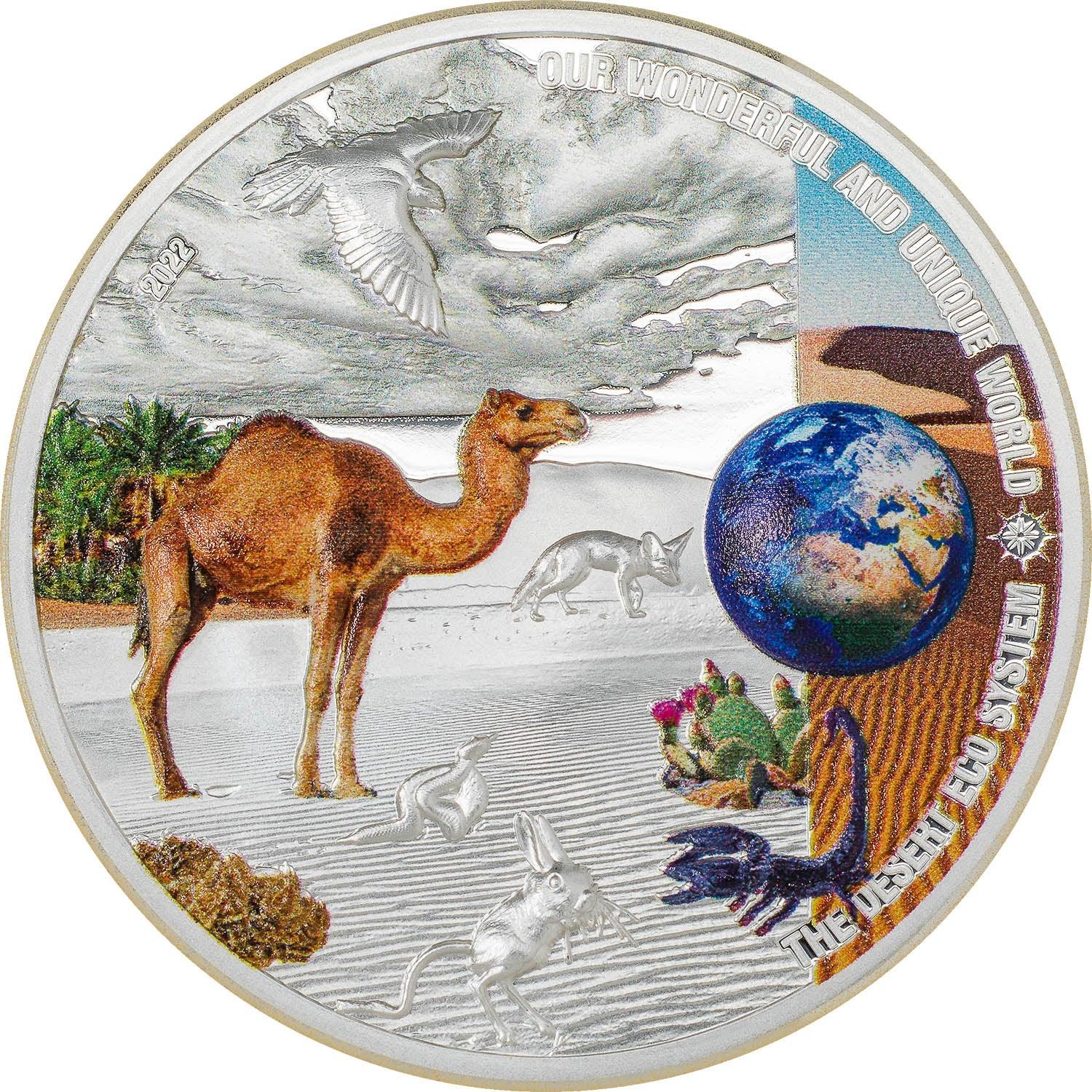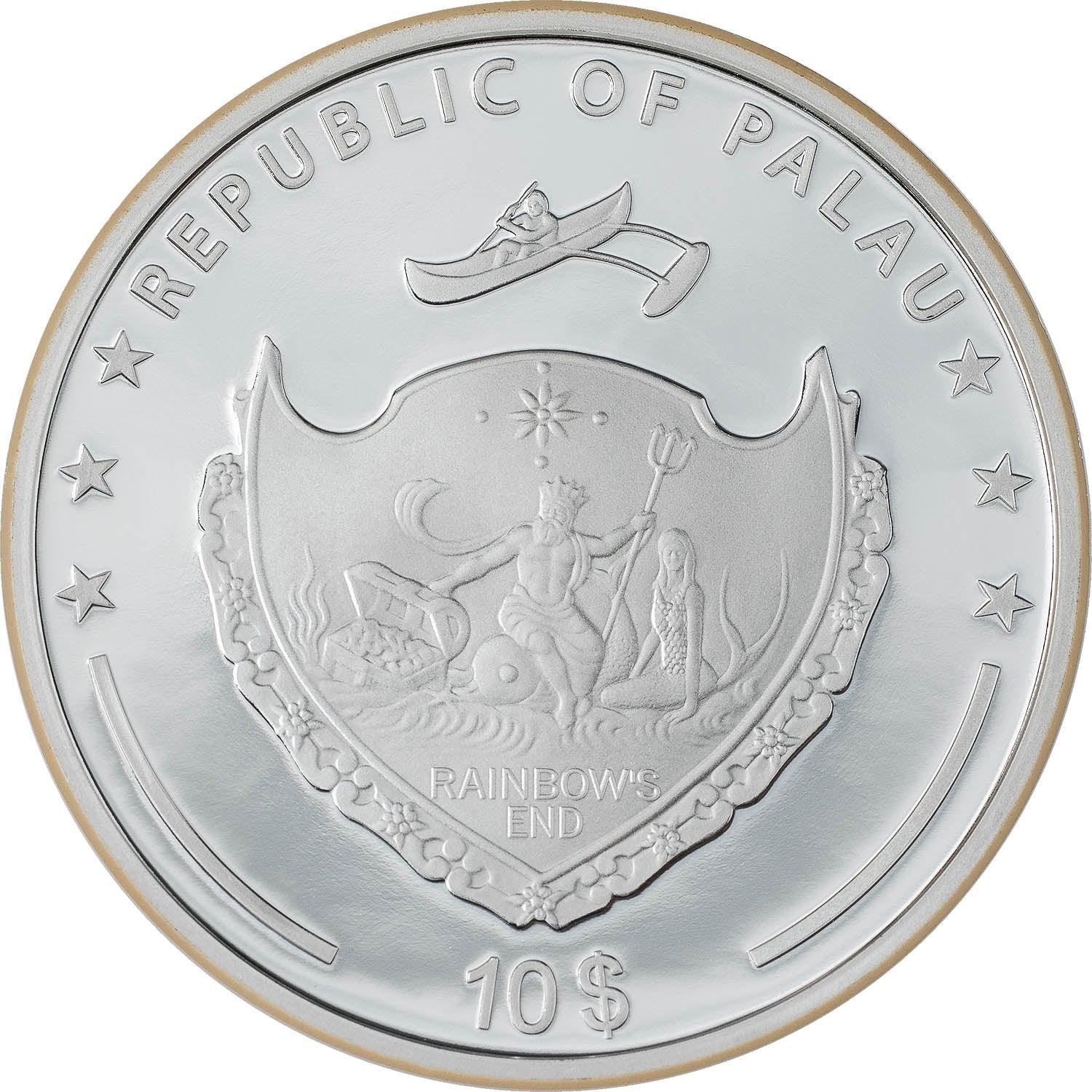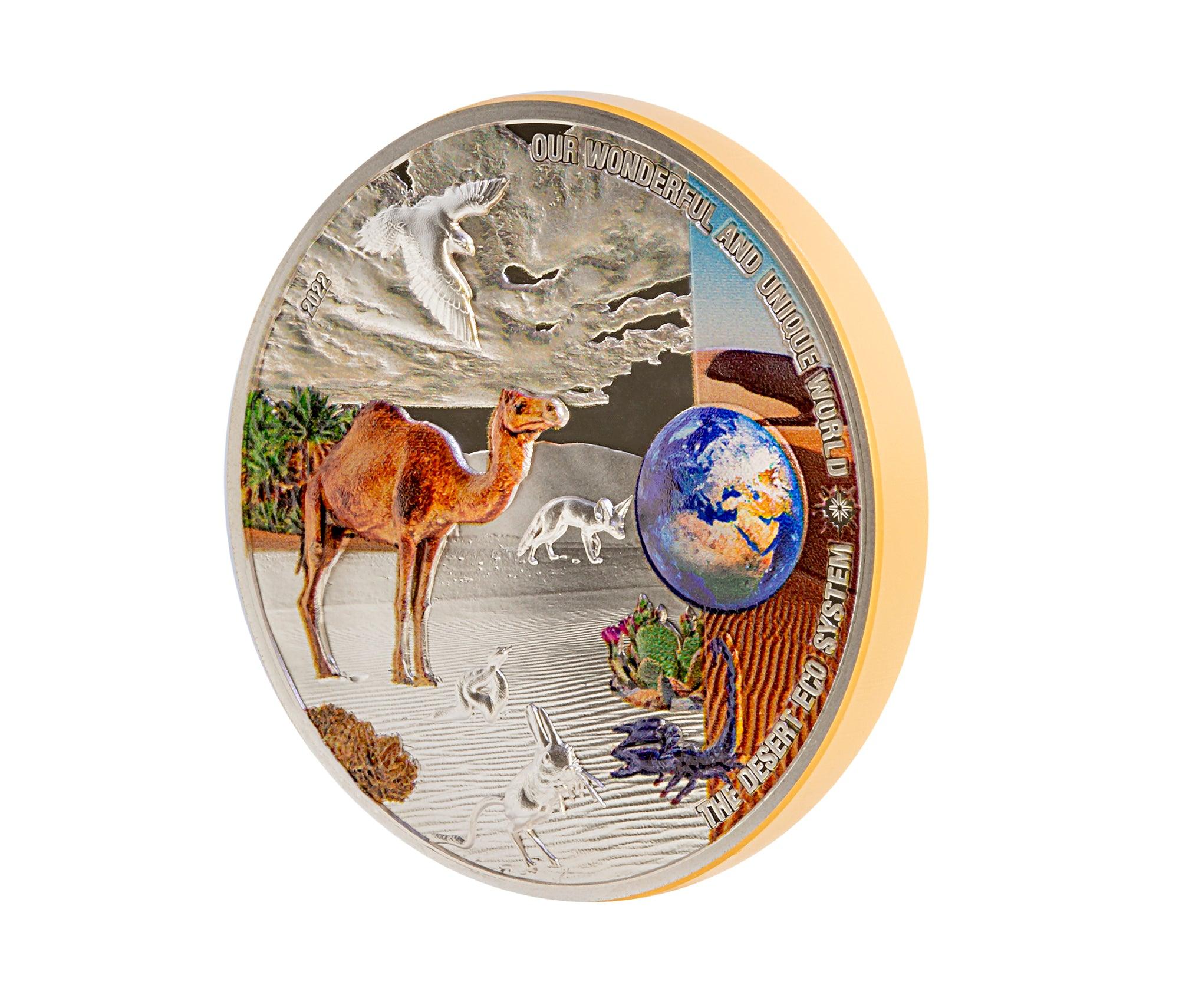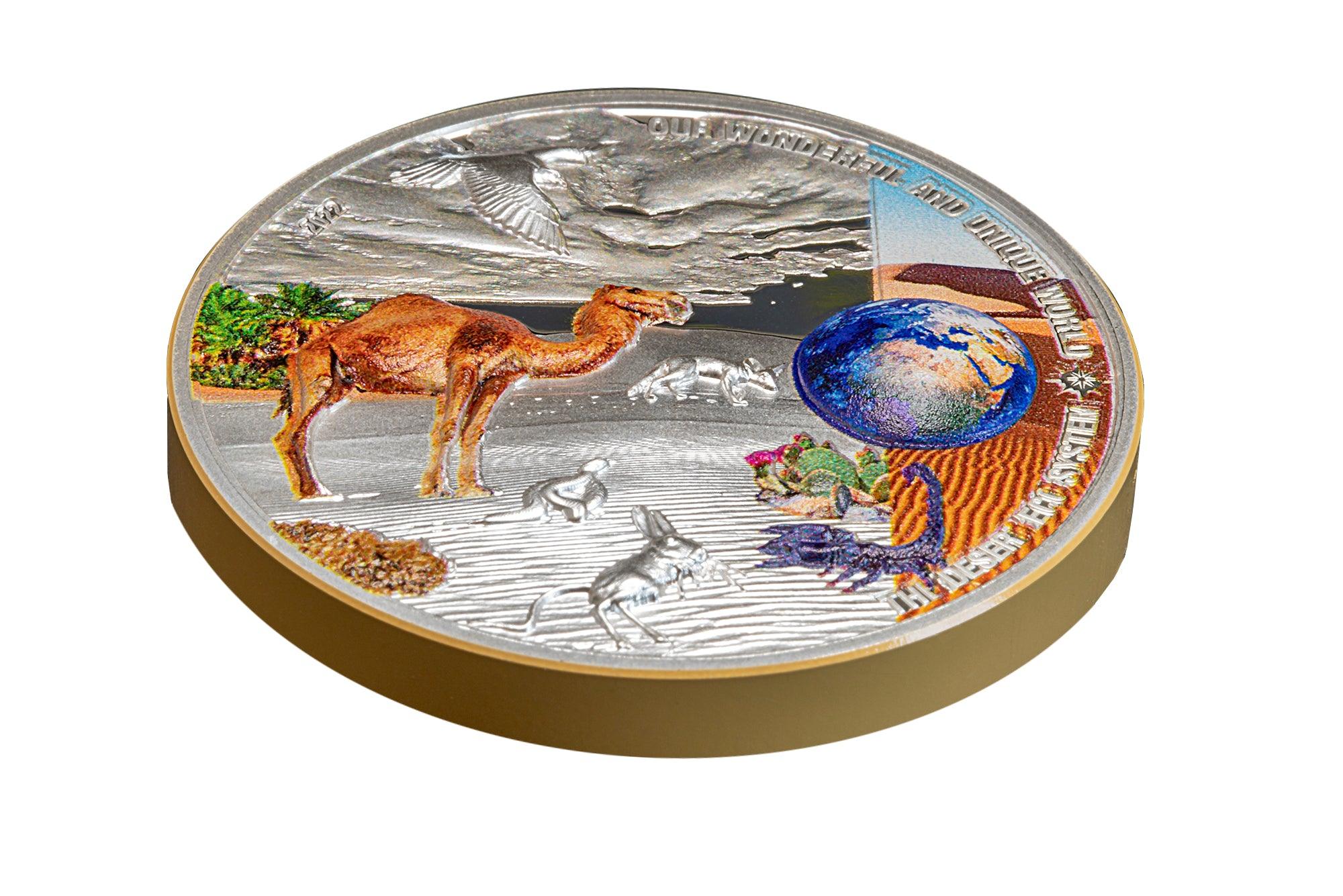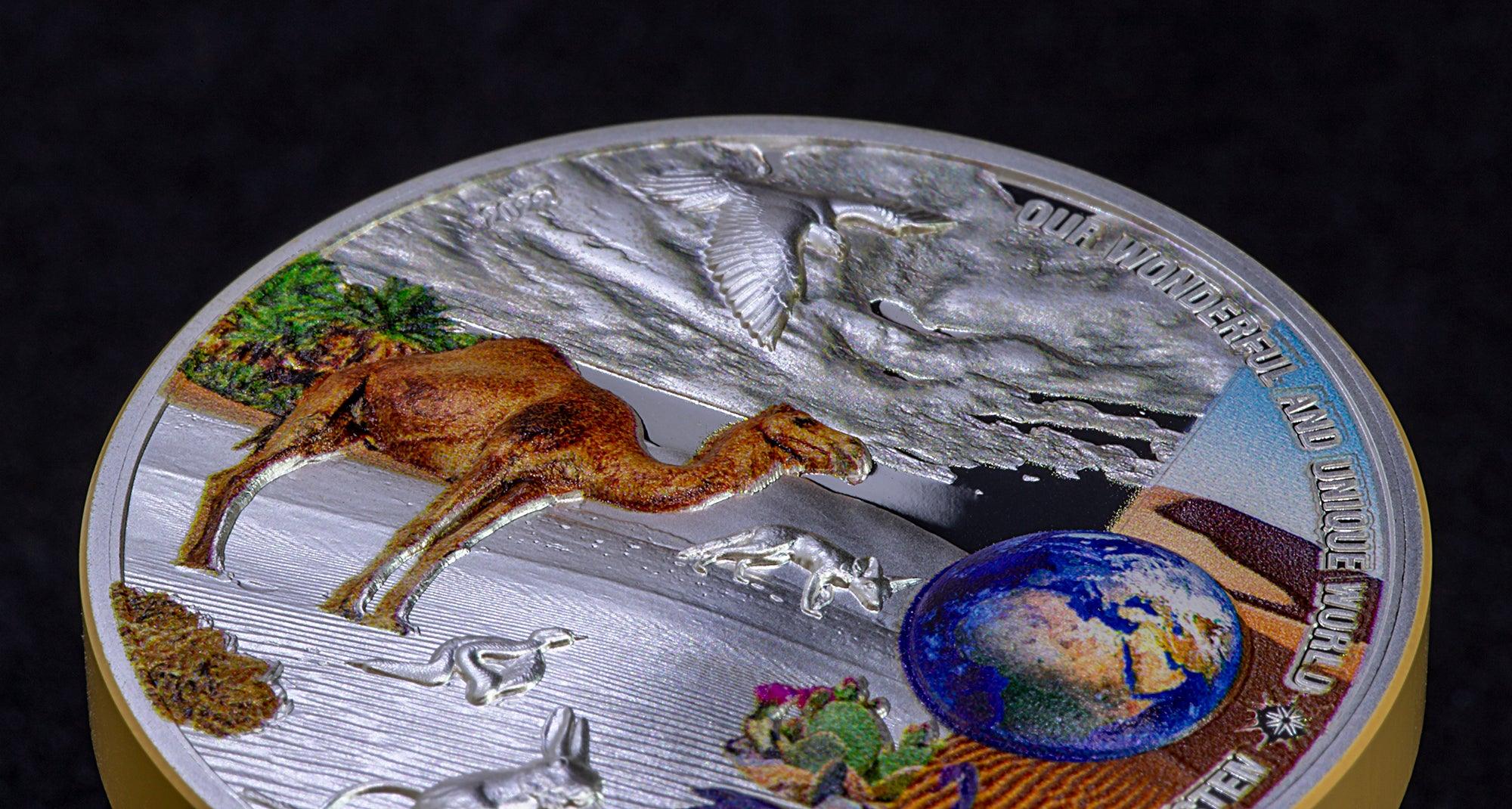 DESERT Our Earth Ecosystems 2 Oz Silver Coin $10 Palau 2022
This wonderful 2 Oz Silver Coin is the new release in the "Our Earth Ecosystems" series, dedicated to the various ecosystems of the world. In this issue: the Desert. The coin features a unique edge coloring technique, has a Proof quality and comes in a case, along with the Certificate of Authenticity. Limited mintage of only 499 pieces worldwide!
In stock
Step into the world of the desert with the third coin in the 'Our Wonderful Earth Ecosystems' series – 'Desert'! Using the enhanced Smartminting©️ technology, this 2 oz pure silver coin with PROOF finish and partly colored design brings the barren beauty of the desert to life. With a unique sand-colored edge, this coin is struck on a 38.61mm blank in the highest quality, with a limited mintage of only 499 pieces worldwide. The reverse of the coin depicts the desert with a camel, fox, snake, mouse, and scorpion. The Saharan rainforest is centered on the globe, with the inscriptions: "OUR WONDERFUL AND UNIQUE WORLD" (the name of the series) and "THE DESERT ECO SYSTEM" (the name of the coin). The year of issue "2022" is written on the top left, making this coin a must-have for collectors of themed collections.
Plants and animals living in the desert need special adaptations to survive in the harsh environment. The plants tend to be tough and wiry with small or no leaves, water-resistant cuticles, and often spines to deter herbivory. The animals need to keep cool and find enough food and water to survive, and many are nocturnal and stay in the shade or underground during the heat of the day. This coin captures the unique ecosystem of the desert and reminds us that although it may look dead, there is plenty of life. Each coin comes in a beautiful box with a Certificate of Authenticity.
Experience the beauty of the desert with this ultra high relief coin with a lot happening in the design. Get your hands on this unique and limited edition coin before it's too late!