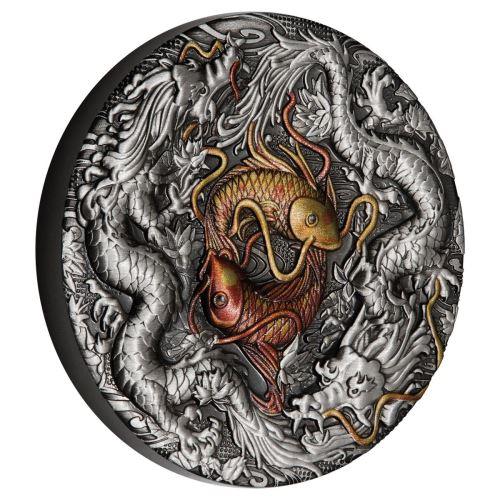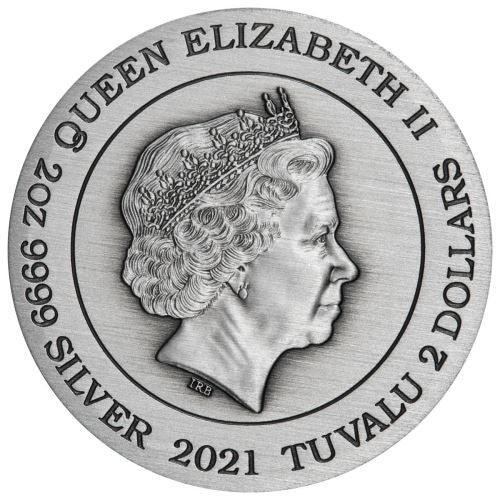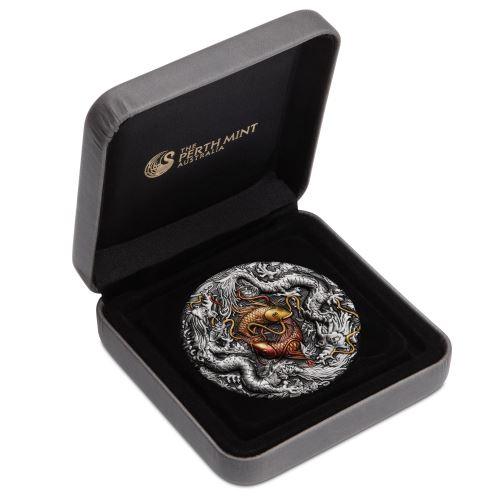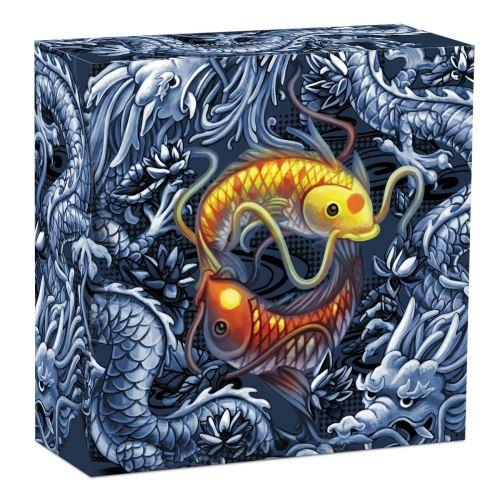 DOUBLE DRAGON AND YIN YANG KOI 2 Oz Silver Coin $2 Tuvalu 2021
This beautiful 2 Oz Silver coin features the Double Dragon and Yin Yang Koi, an ancient Chinese mythology. The coin has a beautiful design, has an exceptional High Relief, has an Antique Finish quality and comes in a case, along with a numbered Certificate of Authenticity. Limited mintage to 888 pieces worldwide!
In stock
Step into the enchanting realm of ancient Chinese mythology with the 2021 Tuvalu Double Dragon Yin Yang Koi Color Antique 2oz Silver coin. This exquisitely designed coin draws inspiration from a captivating legend, recounting the tale of a school of golden koi that braved a fast-flowing river and a formidable mountain waterfall known as The Dragon Gate. The repeated efforts of one determined koi eventually transformed it into the most auspicious mythical creature in Chinese culture - a dragon. This remarkable design captures the moment of this metamorphosis, where two golden koi take the form of a Yin Yang symbol, encircled by two serpentine-shaped Chinese dragons.
The reverse of the coin showcases the intricate scene of double dragons encircling the rim, with the two koi at the center swimming together in perfect harmony, symbolizing the balance and harmony of the Yin Yang. The transformation of the koi into dragons is visually represented by the interconnection of their colored whiskers. Adding to the symbolism, the design features a backdrop of scrolling clouds associated with deities and lotus flowers, representing purity.
As a legal tender release by Tuvalu, the obverse displays the Ian Rank-Broadley portrait of Her Majesty Queen Elizabeth II, with a light antiqued finish that complements the overall design. Inscriptions encircling the rim include the coin's weight, purity, denomination, year of issue, and the nation of Tuvalu.
With a very auspicious mintage of only 888 pieces worldwide, this highly collectible coin is a prized addition to any collection. The coin's striking antiqued finish further enhances its allure, giving it a sense of antiquity and adding depth to the intricate design. This premium offering is presented in a classic Perth Mint display case and includes a numbered Certificate of Authenticity, ensuring its provenance and authenticity. The beautifully illustrated themed shipper adds an additional touch of elegance to this exquisite coin.
Step into the realm of myth and legend with the 2021 Tuvalu Double Dragon Yin Yang Koi Color Antique 2oz Silver coin, a stunning testament to the timeless allure of Chinese mythology and culture. Whether you are a seasoned numismatist, a collector of mythological-themed coins, or simply appreciate the beauty of captivating designs, this coin is a treasure to cherish and behold.