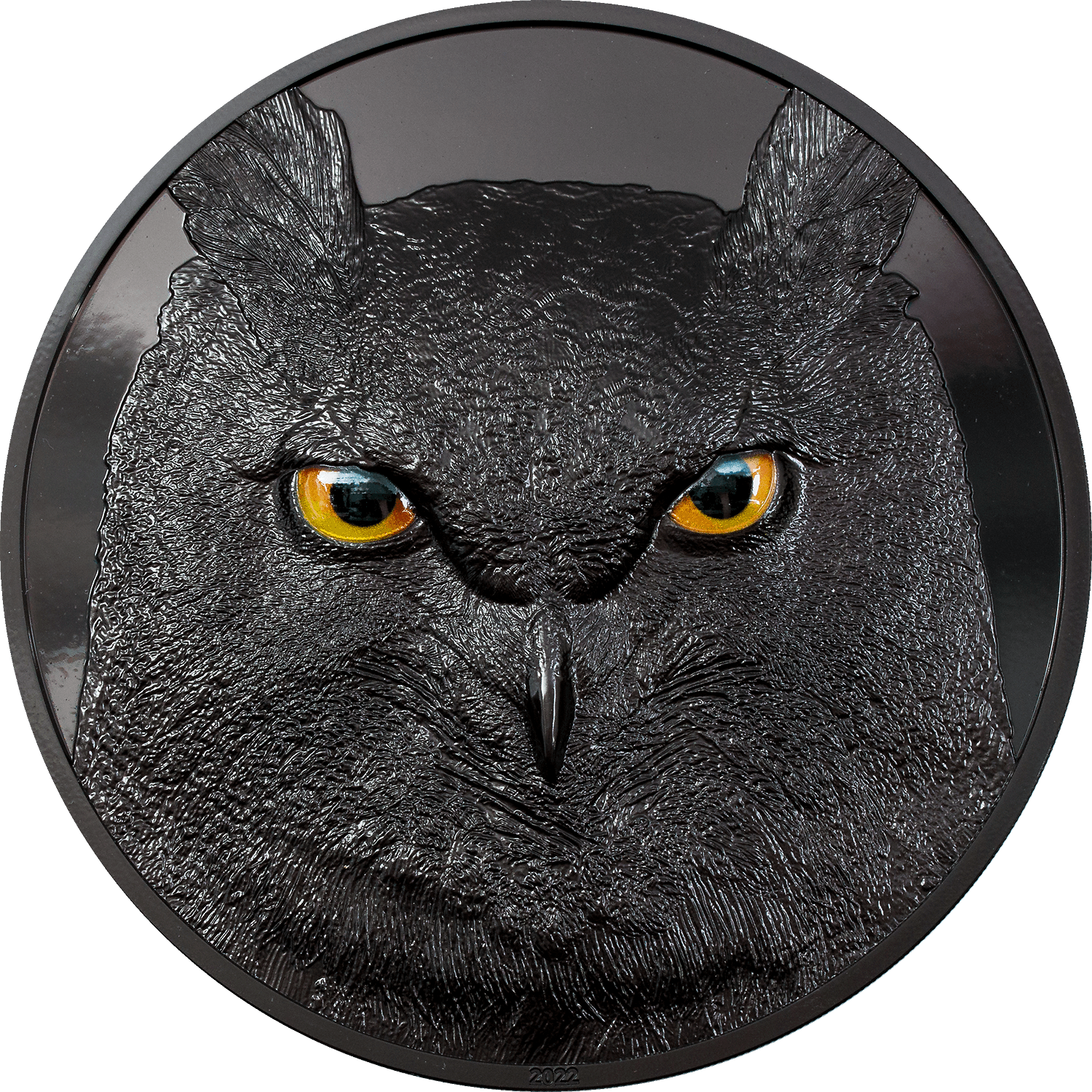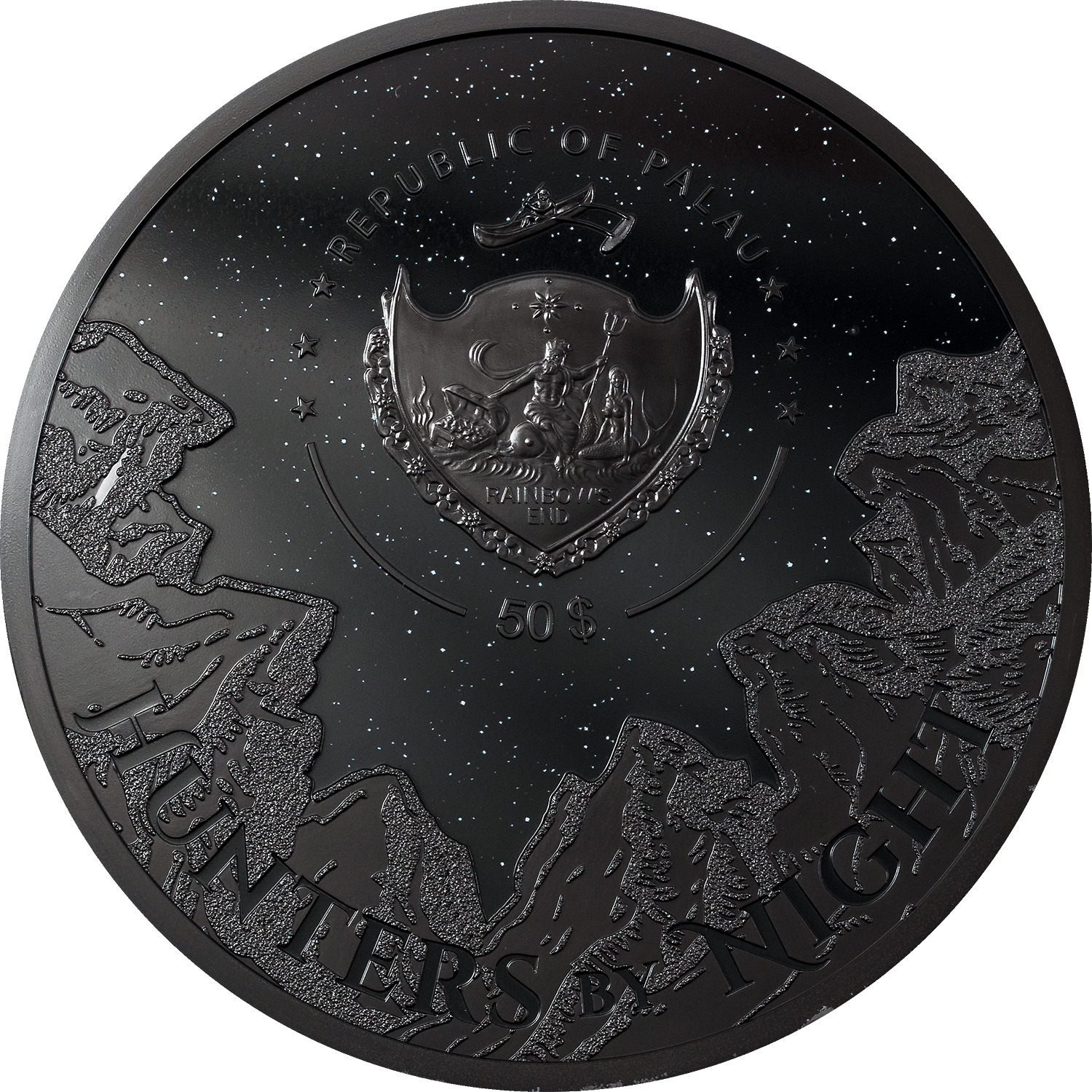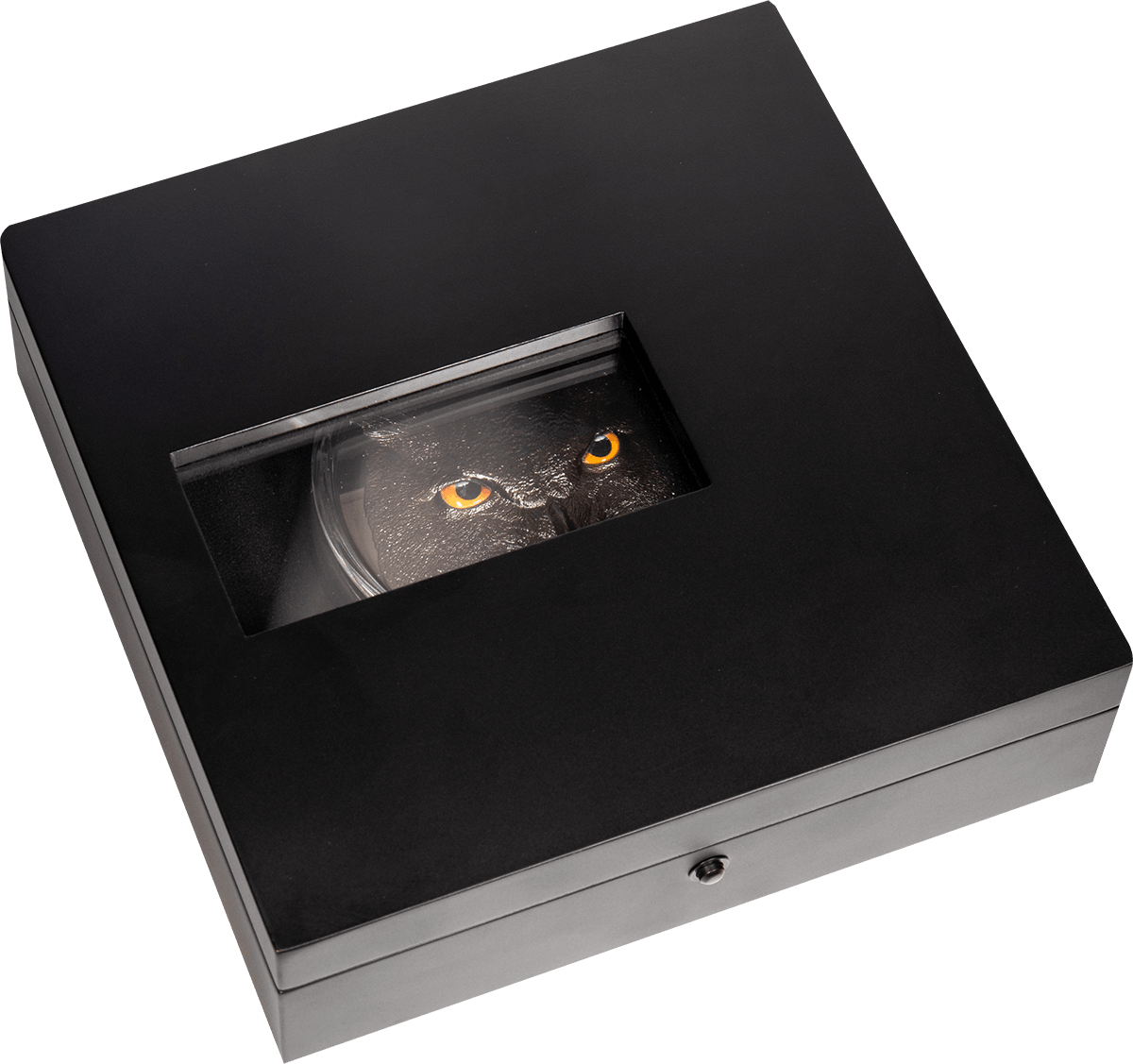 EAGLE OWL Hunters by Night 1 Kg Kilo Silver Coin $50 Palau 2022
This Kilo Silver coin is the new release in the "Hunters By Night" series and is dedicated to the Eagle Owl. The coin features the Smartminting technology, has an Obsidian Black Proof quality combined with silk areas and comes in a case, along with the Certificate of Authenticity. Limited mintage to 99 pieces worldwide!
Prepare to be captivated by the majestic presence of the Eagle Owl as it takes flight in the Hunters by Night series, now in an impressive 1 kg kilo silver coin edition. Building upon the success of its predecessor, the Eagle Owl edition sold out immediately, leaving collectors craving for more. Responding to the overwhelming demand, CIT proudly presents this larger and bolder version that will leave you in awe.
With a size of 100 mm, this coin allows every intricate detail to shine. The ultra-high relief beak adds a striking 3D effect, while the meticulously crafted feathers create a sense of realism that is truly breathtaking. The mesmerizing eyes, set against the obsidian black finish, exude an intense and captivating gaze. The coin's design is a true work of art, requiring the perfect angle of light to reveal all its extraordinary details. Even the starry night sky on the obverse, framed by majestic mountains, adds to the coin's ethereal beauty.
Limited to just 99 pieces worldwide, this premium edition of the Eagle Owl Hunters by Night coin is a collector's dream. Each coin is meticulously struck from 1 kg of .999 silver, ensuring its exquisite quality and precious metal content. The smartminting® technology employed in its creation achieves an ultra-high relief that brings the owl to life with unparalleled depth and dimension.
Presented in a protective capsule, this remarkable coin is accompanied by a certificate of authenticity, attesting to its limited mintage and ensuring its collectible value. The Eagle Owl Hunters by Night 1 kg kilo silver coin is a true masterpiece that showcases the artistry and innovation of CIT. Don't miss your chance to own a piece of numismatic history and immerse yourself in the beauty and power of the Eagle Owl.
smartminting©
The smartminting© technology is a ground-breaking advancement in contemporary numismatics that permits an unparalleled level of ultra-high relief, and it establishes novel benchmarks in the coin industry.
This technology enables the production of standard weight coins with larger diameters, while maintaining high relief height.

It also allows for coins with greatly reduced weight to maintain standard relief heights and permits coins with only slightly increased weight to exhibit high reliefs.