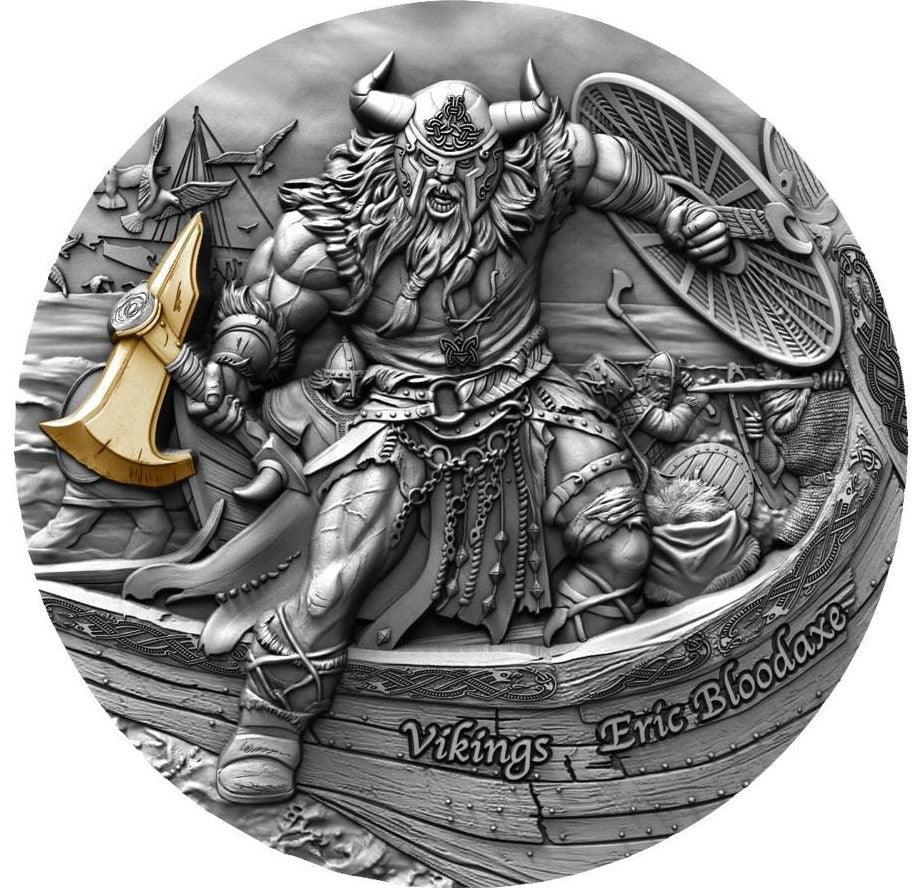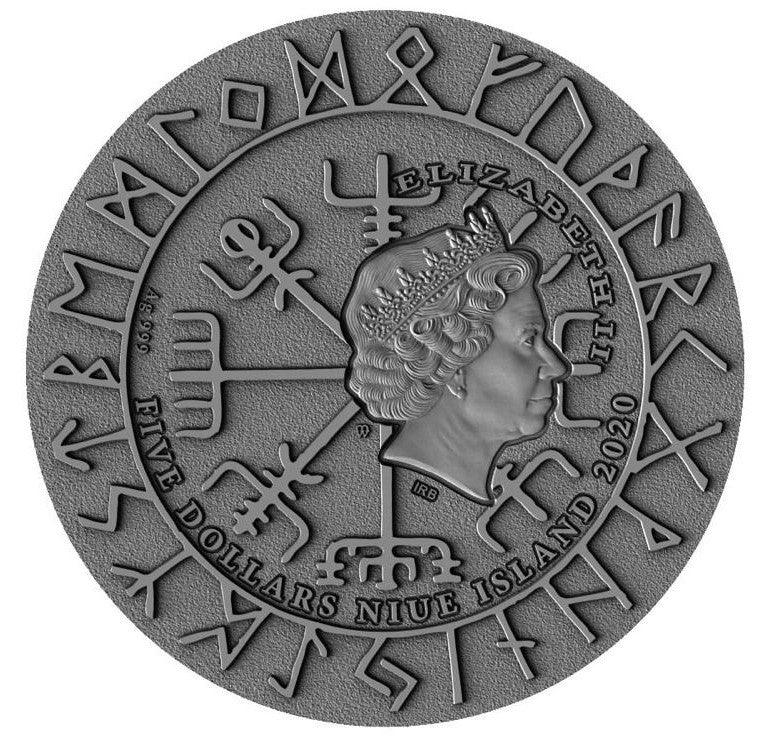 ERIC BLOODAXE Vikings 2 Oz Silver Coin $5 Niue 2020
This 2 Oz Silver coin is the first issue in the new "Vikings" series, dedicated to the Eric Bloodaxe, a Norwegian ruler who lived during the 10th century. The coin presents Ultra High Reliefs, a selective Gold plating, an Antique Finish quality and comes in a case, along with the Certificate of Authenticity. Limited mintage of only 500 pieces worldwide!
Only 1 unit left
Embrace the spirit of Viking valor and legends with the Eric Bloodaxe Vikings 2 Oz Silver Coin, the inaugural release in the captivating "Vikings" series. This coin pays tribute to Eric Bloodaxe, a renowned Norwegian ruler who left an indelible mark on history during the 10th century.
Crafted from 0.999 pure silver, this coin showcases exceptional craftsmanship and attention to detail. The Ultra High Reliefs bring Eric Bloodaxe to life, capturing his fierce demeanor and commanding presence. The selective Gold plating adds a touch of opulence, highlighting key elements of the design and accentuating the regal nature of the coin.
With an Antique Finish quality, this coin exudes a sense of antiquity and mystique. The weathered appearance gives it a timeless appeal, as if it has witnessed the battles and triumphs of the legendary Viking ruler firsthand. Each coin is housed in a protective case, ensuring its pristine condition for years to come, and is accompanied by a Certificate of Authenticity, verifying its limited mintage of only 500 pieces worldwide.
The Eric Bloodaxe Vikings 2 Oz Silver Coin is a captivating addition to any collection, appealing to both history enthusiasts and passionate coin collectors alike. Whether displayed as a symbol of Viking heritage or treasured as an investment, this coin stands as a testament to the enduring legacy of Eric Bloodaxe and the mighty Viking warriors who shaped the course of history.
Embrace the strength, courage, and resilience of the Viking era with this extraordinary coin, and let the spirit of Eric Bloodaxe inspire you to conquer new horizons.