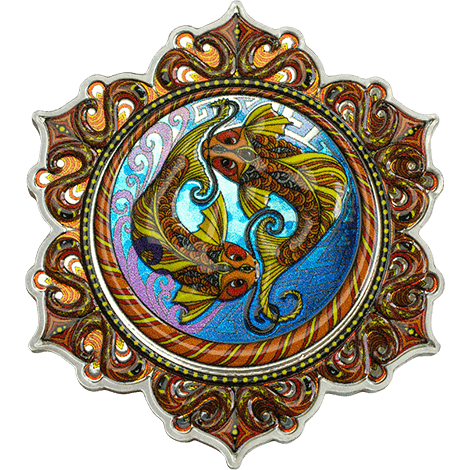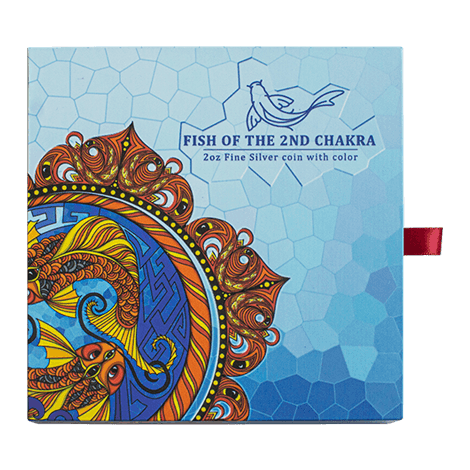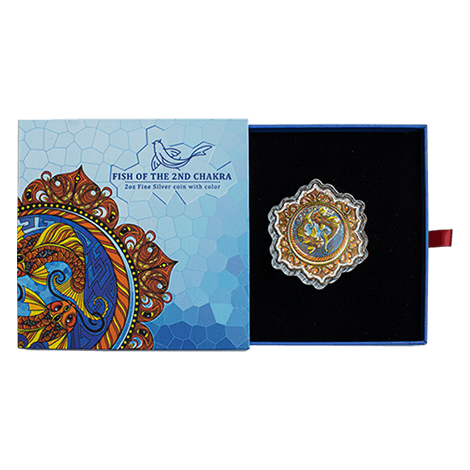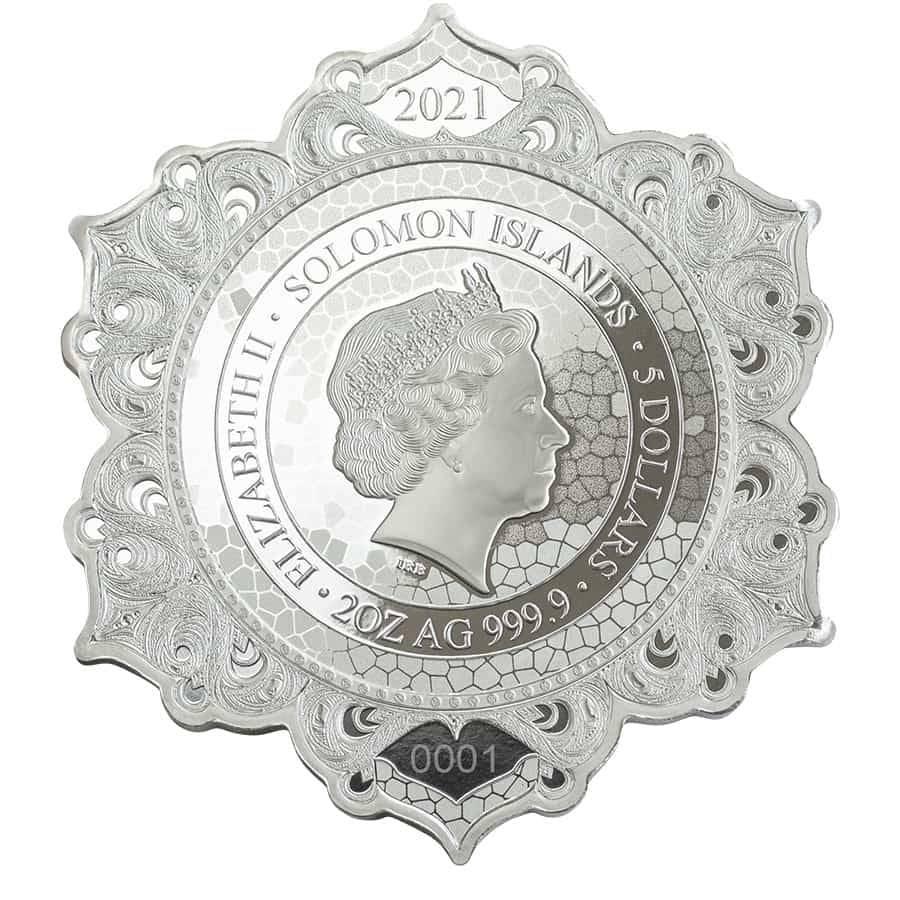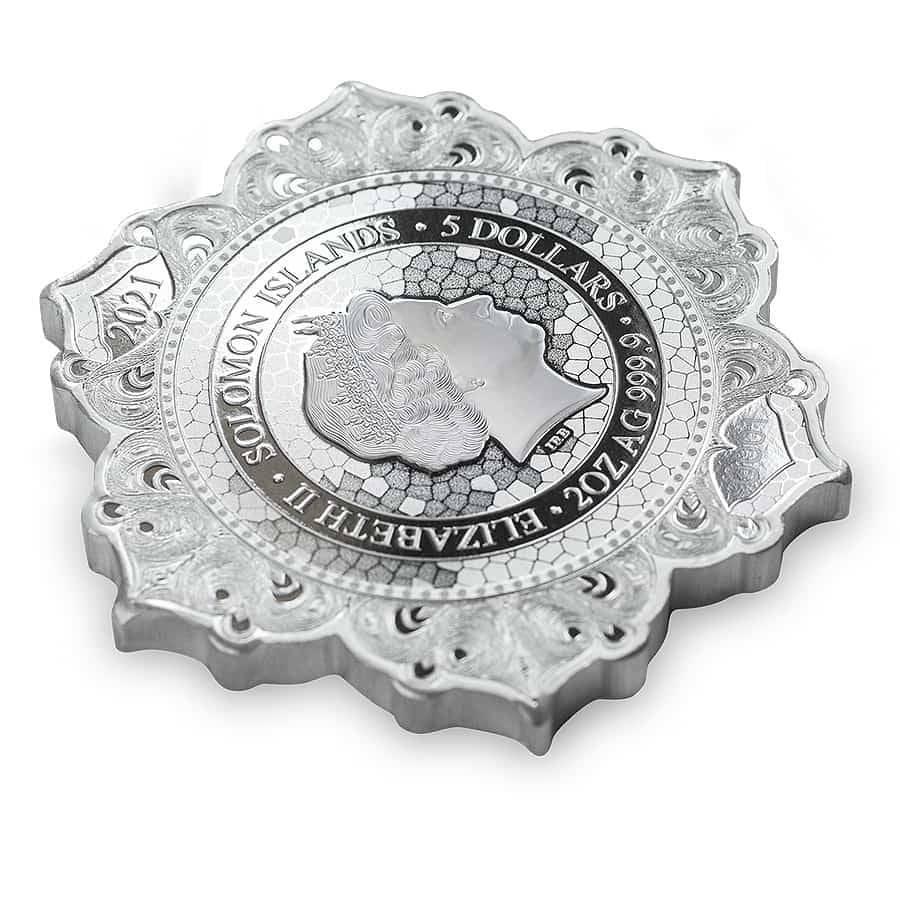 FISH OF THE 2ND CHAKRA Phil Lewis 2 Oz Silver Coin $5 Solomon Islands 2021 - COA #11
This beautiful 2 Oz Silver coin features the Fish of the Second Chakra, with two fish flowing in water, inspired by the emotions that are surfacing in these uncertain times. The coin has a particular shape, a Proof quality, is numbered and it is coloured with vibrant colour. It comes in a capsule, along with the Certificate of Authenticity. Limited mintage to 1500 pieces worldwide!
Experience the profound symbolism and artistic brilliance of the Fish of the 2nd Chakra Phil Lewis 2 Oz Silver Coin, the inaugural release in a captivating 7-coin series exploring the mystical realm of the chakras. Created by renowned artist Phil Lewis, each coin in this series delves into the spiritual significance of the chakras, drawing inspiration from the depths of wisdom and ancient ideologies.
Immerse yourself in the enchanting portrayal of the 2nd chakra, also known as the sacral chakra, through the captivating depiction of two graceful Koi fish engaged in an elegant dance of harmony amidst the cycles of transformation. The sacral chakra, situated just below the navel in the center of our lower belly, is closely associated with creativity, sensuality, and emotions. Symbolizing the flow and adaptability of water, this chakra serves as the gateway to our emotional world, inviting us to explore the depths of our feelings and embrace the power of transformation.
Crafted from 2 ounces of .999 fine silver, this proof-quality coin showcases exceptional attention to detail and artistic precision. With a size of 44.4mm x 50mm, the coin provides ample space for the intricate design to shine. The gleaming proof finish adds a touch of elegance and sophistication, enhancing the overall aesthetic appeal of this magnificent piece.
Limited to a mintage of only 1500 coins, the Fish of the 2nd Chakra Phil Lewis 2 Oz Silver Coin is a highly sought-after treasure among collectors and spiritual enthusiasts alike. Each coin is accompanied by a certificate of authenticity, attesting to its precious metal content and limited availability. Whether you are a seasoned collector, a follower of spiritual teachings, or simply captivated by the beauty of the coin, this remarkable piece offers a profound journey into the realm of the chakras.
Dive into the depths of spiritual exploration and embrace the transformative energy of the 2nd chakra with the Fish of the 2nd Chakra Phil Lewis 2 Oz Silver Coin. As you witness the graceful dance of the Koi fish, allow yourself to connect with the essence of creativity, sensuality, and emotional balance. This exquisite coin serves as a reminder of the infinite possibilities that arise when we harmonize our inner energies and embrace the power of transformation. With its extraordinary design, limited mintage, and impeccable craftsmanship, this coin is an extraordinary addition to any collection and a gateway to the profound wisdom of the chakras.