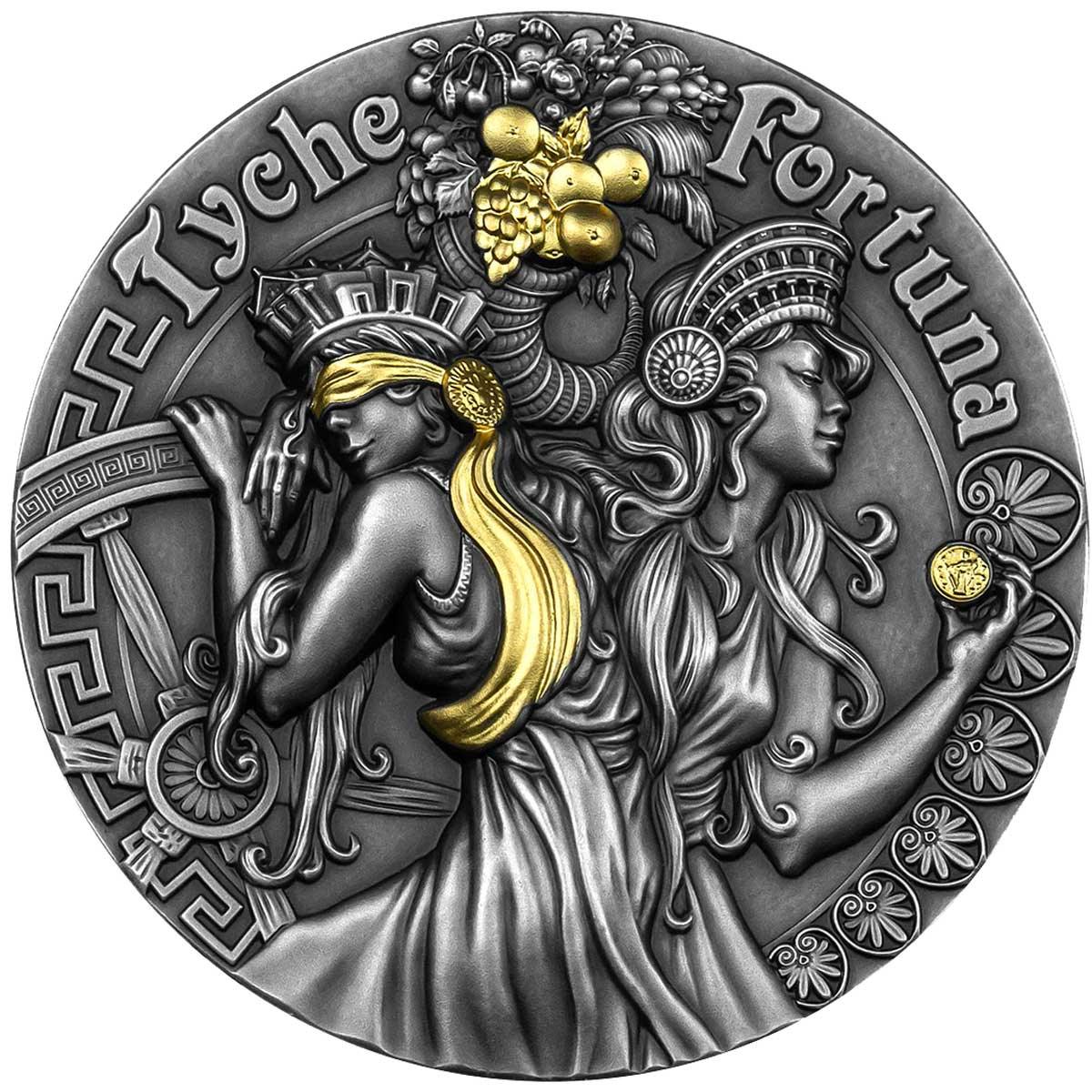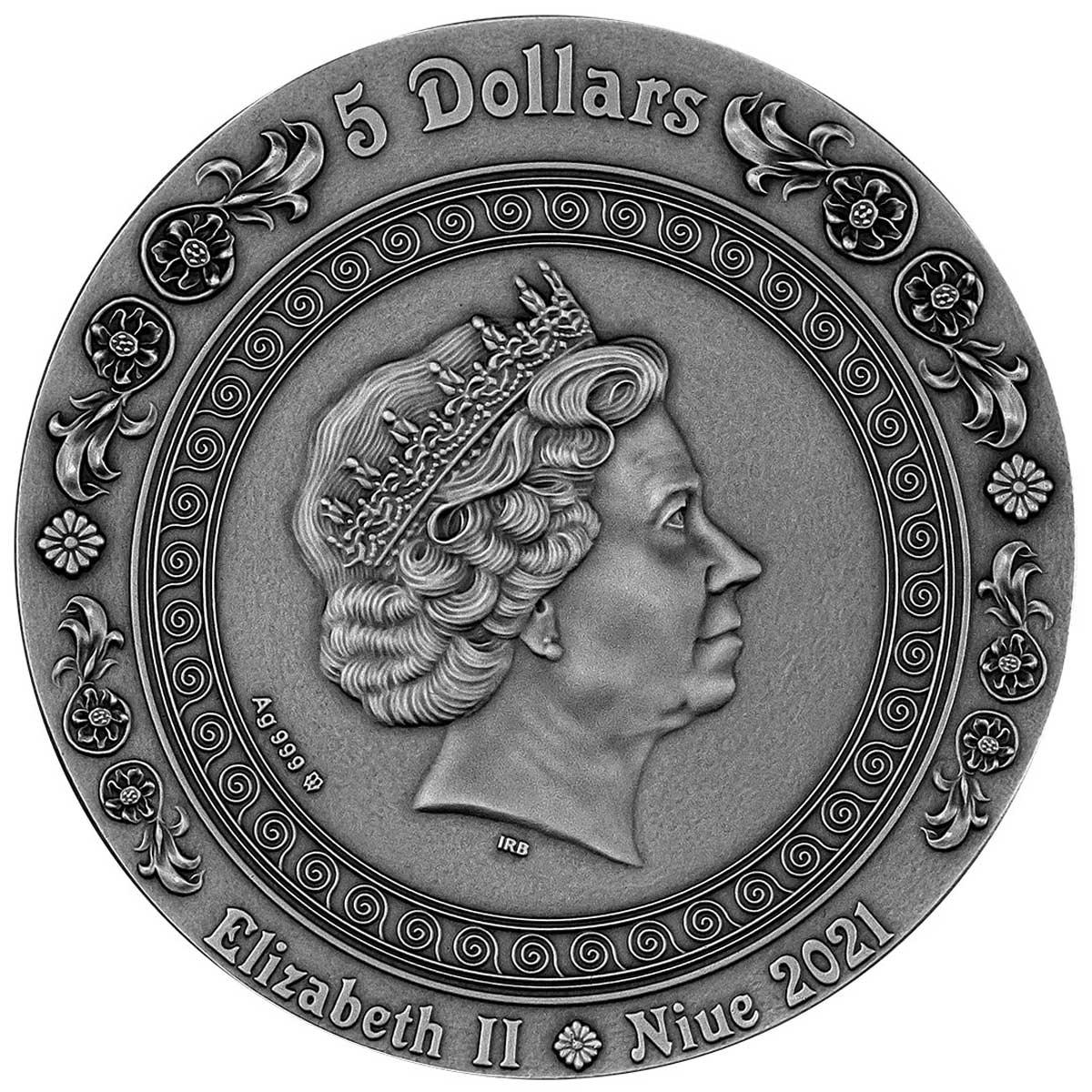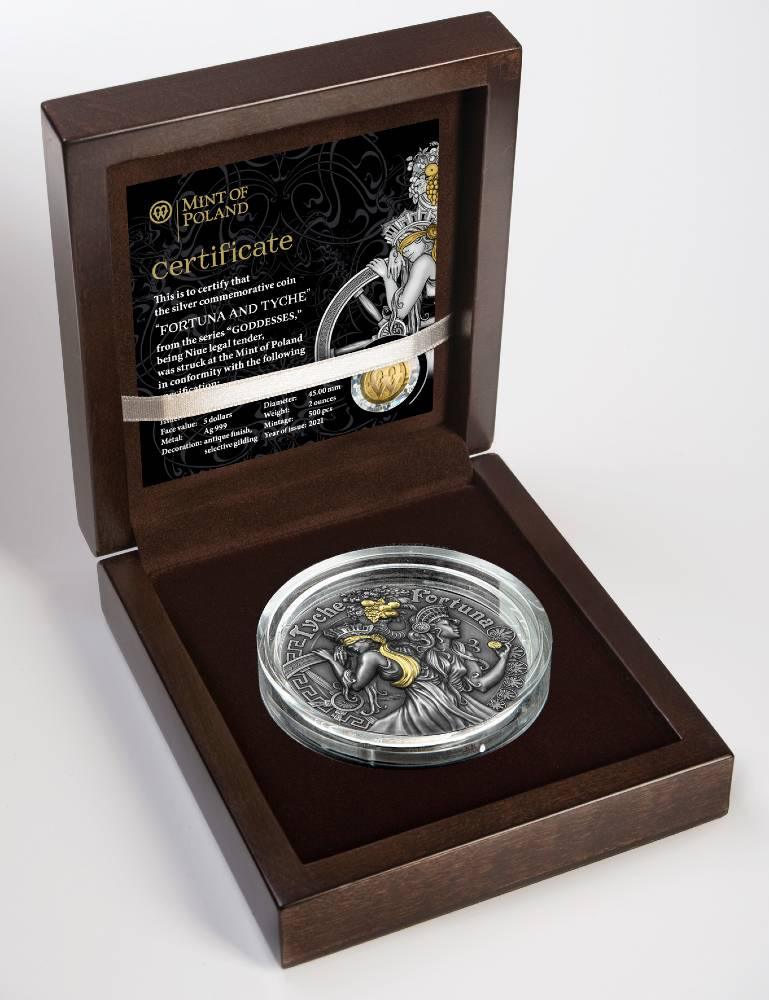 FORTUNA AND TYCHE Goddesses 2 Oz Silver Coin $5 Niue 2021
This striking 2 Oz Silver coin depicts two goddesses, the Greek goddess of fortune, who guaranteed the prosperity and fate of a city, along with her Roman equivalent - the goddesses Tyche and Fortuna. The coin has a very High Relief, has a selective Gold plating, an Antique Finish quality and comes in a case, along with a Certificate of Authenticity. Limited mintage of only 500 pieces worldwide!
Coin. Crafted from 0.999 pure silver, this coin showcases the exquisite beauty and power of two revered goddesses. Measuring 45 mm in size, it offers a compact yet impactful canvas to portray these mythical figures in stunning detail.
The antique finish lends a sense of timelessness to the coin, adding depth and character to the intricate design. The antique quality also enhances the fine details, allowing the viewer to appreciate the craftsmanship and artistry that went into creating this remarkable piece. The combination of antique finish and Ultra High relief work together harmoniously, bringing the goddesses to life in a three-dimensional form that captivates the eye.
Limited to just 500 pieces worldwide, the Fortuna and Tyche Goddesses Silver Coin is a highly coveted treasure among collectors. Each coin is individually numbered, further accentuating its exclusivity and desirability. Owning this coin means owning a rare and precious piece of mythological artistry that will surely become a cherished part of any collection.
The coin's design features gilded highlights, adding a touch of opulence and brilliance to the goddesses' appearances. The gilded accents beautifully emphasize the crowns, jewelry, and intricate details of their garments, enhancing the coin's overall aesthetic appeal. The careful application of gilded highlights elevates the coin to a new level of elegance and sophistication.
With its combination of gilded highlights, Ultra High relief, and antique finish, the Fortuna and Tyche Goddesses 2 Oz Silver Coin is a true masterpiece of numismatic art. It pays homage to the power and grace of these legendary figures from ancient mythology, capturing their essence in a tangible and exquisite form. Embrace the allure of these goddesses and add this extraordinary coin to your collection, where it will undoubtedly become a cherished symbol of mythological beauty and the art of minting.