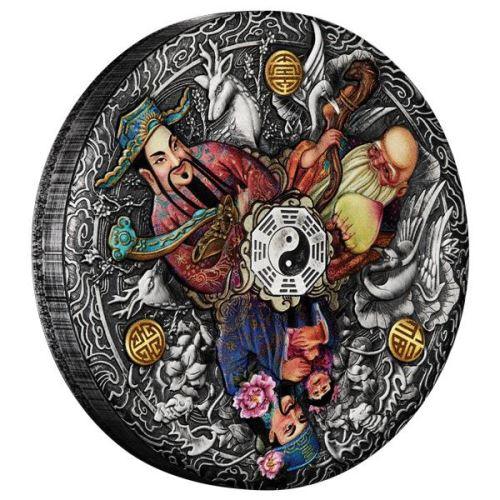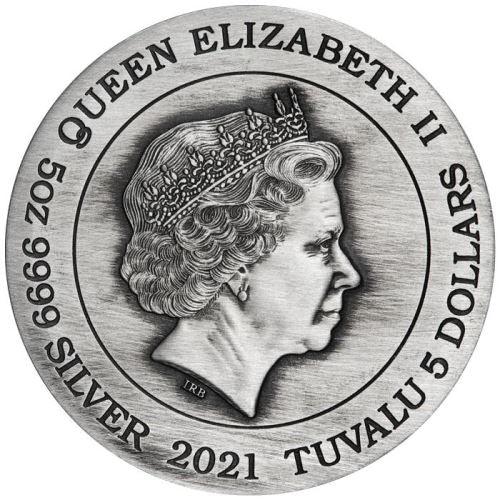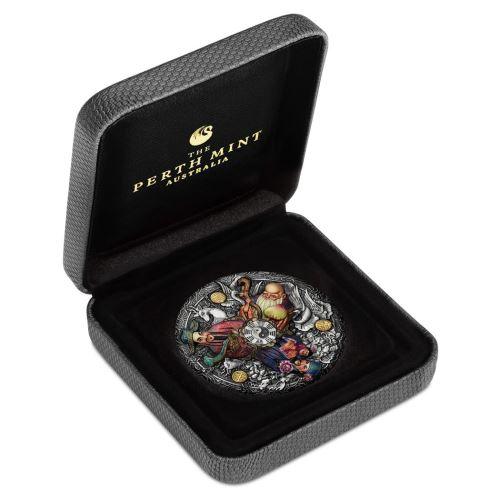 FU LU SHOU 5 Oz Silver Coin $5 Tuvalu 2021
This lovely 5 Oz Silver coin is dedicated to Fu, Lu and Shou that represent the gods of three auspicious heavenly bodies. The coin has a wonderful coloration, has an interesting design, an Antique Finish quality and comes in a case, along with the Certificate of Authenticity. Limited mintage to 388 pieces worldwide!
Only 1 unit left
Celebrate the essence of prosperity, success, and longevity with the FU LU SHOU 5 Oz Silver Coin, a magnificent representation of the generous gods from traditional Chinese culture. For centuries, Fu, Lu, and Shou have been revered as symbols of auspiciousness, embodying the attributes believed to bring personal happiness and well-being. This coin pays homage to these revered deities, capturing their essence in stunning detail and vibrant colors.

Fu, the god of prosperity, stands tall as a treasury official holding a salver of boat-shaped gold ingots, known as sycee, which served as currency in Imperial China. This depiction symbolizes wealth and financial abundance, making Fu a revered figure for those seeking prosperity in their lives.

Lu, the god of success, takes the form of a court mandarin clutching a scroll, signifying the announcement of a promotion in rank. As a representation of advancement and achievement, Lu is believed to bring success and recognition to those who pay homage to him.

Shou, the god of longevity, graces the coin as a wise old man with a high forehead, radiating a warm smile while surrounded by happy children. These children symbolize one of the paths to prosperity and happiness, making Shou a beloved figure for those seeking a long and fulfilling life.

The exquisitely detailed design is complemented by an intricate background featuring motifs considered highly auspicious in Chinese culture. The addition of bats, clouds, peonies, a deer, and a crane further enhances the coin's significance, infusing it with positive energy and blessings.

Crafted with the highest attention to detail and an antique finish, this 5 oz silver coin is a true masterpiece that reflects the time-honored traditions and deep-rooted beliefs of Chinese culture. It bears The Perth Mint's renowned 'P' mintmark and The Queen Elizabeth II Memorial Obverse, showcasing the effigy of Queen Elizabeth II along with the dates of her reign.

The FU LU SHOU 5 Oz Silver Coin comes elegantly presented in a display case and an illustrated shipper, making it a perfect addition to any collection or a thoughtful gift for someone seeking blessings of prosperity, success, and longevity. With a limited mintage of only 388 coins worldwide, this treasure is a precious keepsake that embodies the ancient wisdom and enduring traditions of Chinese culture.