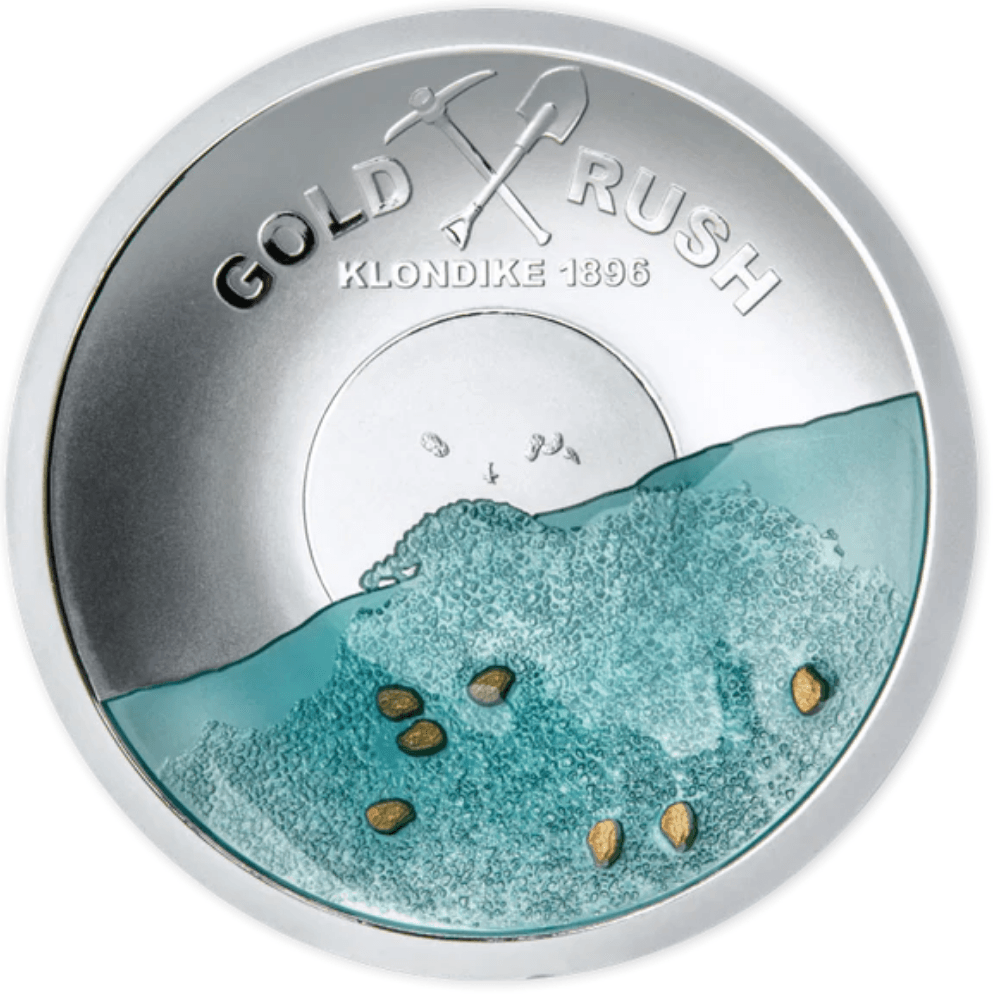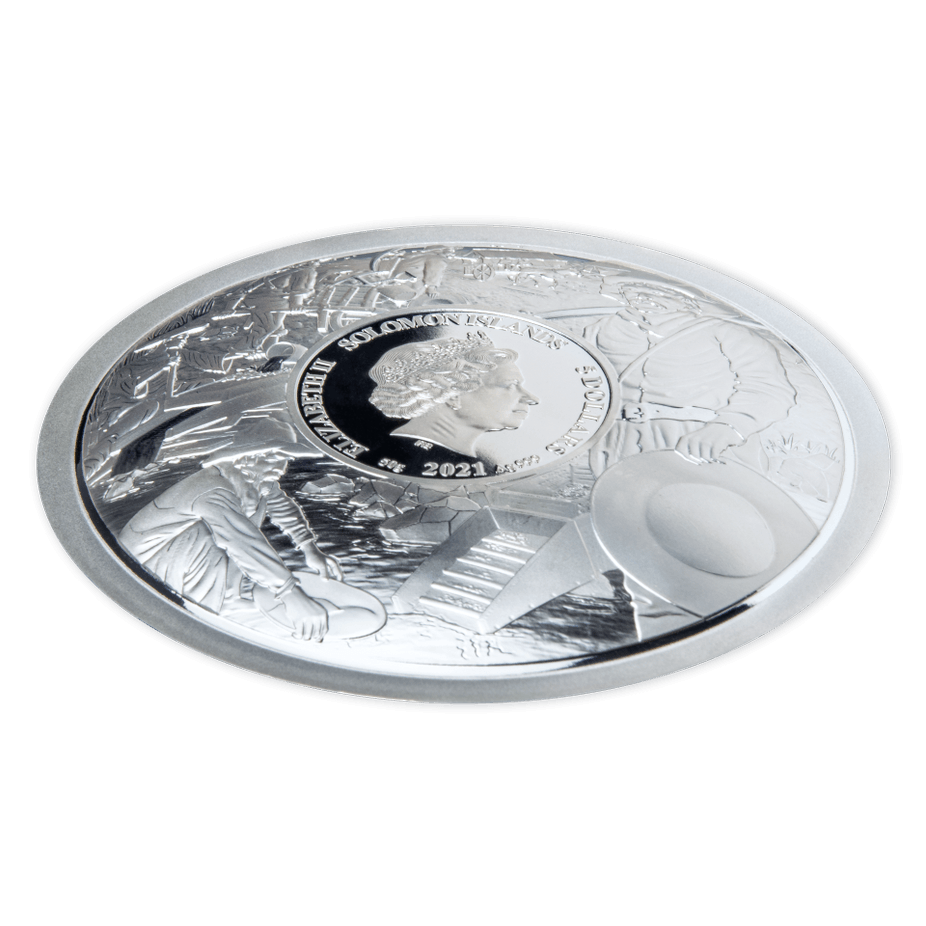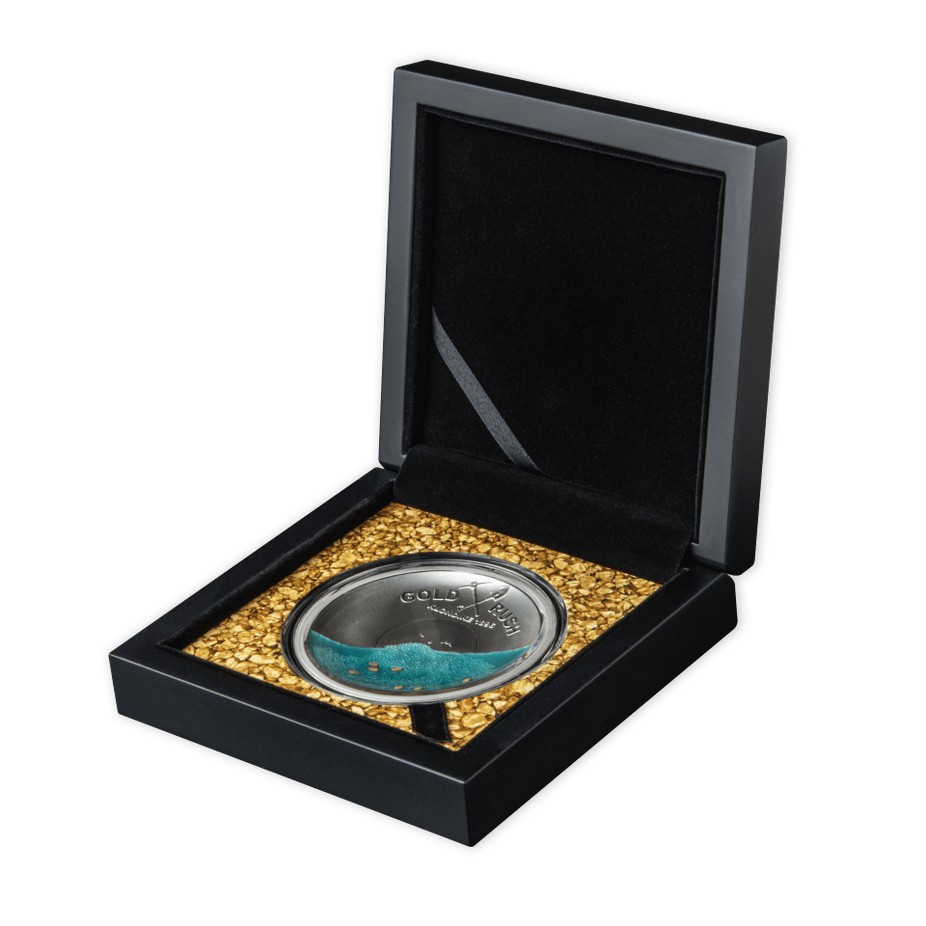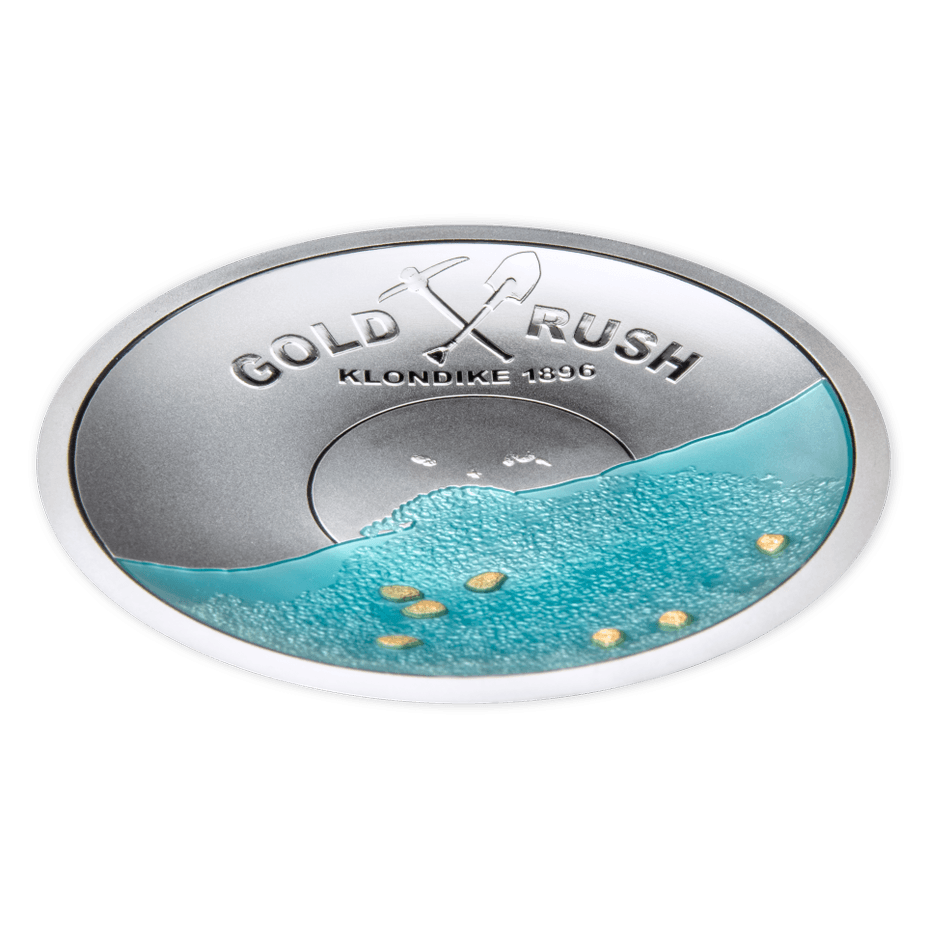 GOLD RUSH KLONDIKE 125TH ANNIVERSARY CONVEX 50g Silver Coin $5 Solomon Island 2021
This Silver coin commemorates the 125th Anniversary of the discovered of the Gold in the Klondike, triggering a stampede of prospectors. The coin has a Convex shape, a beautiful translucent blue Enamel and a Gold plated nuggets inlays. It comes in a case, along with its Certificate of Authenticity. Limited mintage to 1999 pieces worldwide!
The Gold Rush Klondike 125th Anniversary Convex 50g Silver Coin is a true masterpiece in the world of coin collecting. The coin is a celebration of the 125th anniversary of the Klondike Gold Rush that took place on August 16, 1896. The discovery of gold in the Klondike region of the Yukon led to a massive stampede of prospectors in search of their fortunes. Today, this momentous occasion is commemorated in the form of this beautifully designed silver coin.

The convex side of the coin features a typical scene of miners extracting gold in the fields. The intricate details of the miners and their tools are visible and the background is a picturesque view of the Klondike landscape. The concave side is where the true beauty of the coin lies. The surface is transformed into a gold pan, with 24K gold plated nugget inlays placed in translucent blue color. This gives the impression of actual gold nuggets that one might find during the Klondike Gold Rush. The overall effect of the coin is breathtaking and is sure to impress any coin collector.

The Gold Rush Klondike 125th Anniversary Convex 50g Silver Coin is not just a work of art but a technically advanced coin as well. The plateau minting technique used to produce this coin transforms the coin into a 3D shape with a curved surface, making it unique among other coins. The nugget inlays finished in 24K gold add a touch of elegance and exclusivity to this stunning coin. The combination of the convex and concave sides creates an interesting interplay of light and shadow, which enhances the overall visual appeal of the coin.

This coin is not just a collector's item but also a piece of history. The Klondike Gold Rush was a pivotal moment in North American history, and this coin serves as a reminder of that. The coin is strictly limited to 1999 pieces worldwide, making it an exclusive item for collectors. Each coin comes with a certificate of authenticity, which adds to the overall value of the piece. If you are a collector or a history enthusiast, the Gold Rush Klondike 125th Anniversary Convex 50g Silver Coin is an excellent addition to your collection.