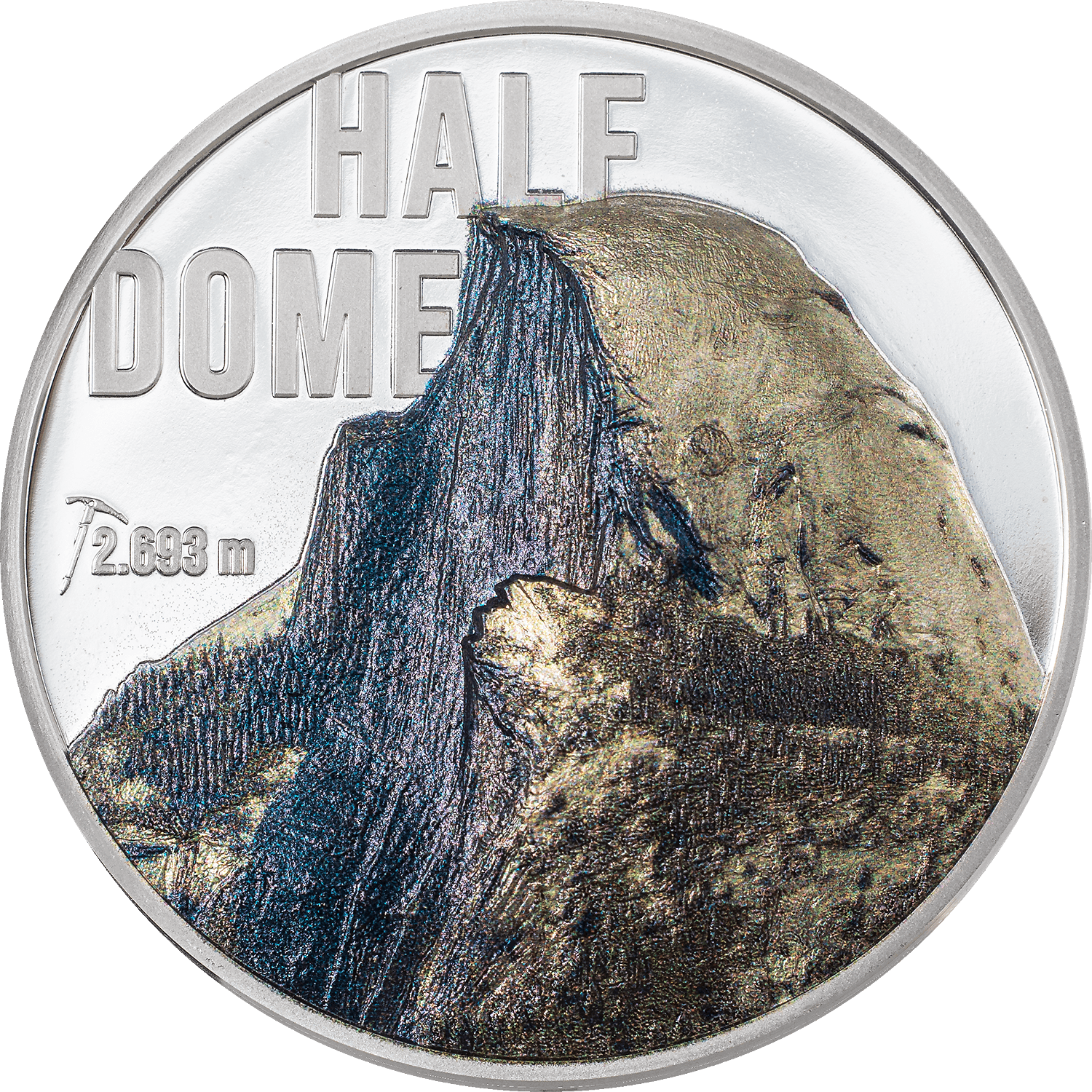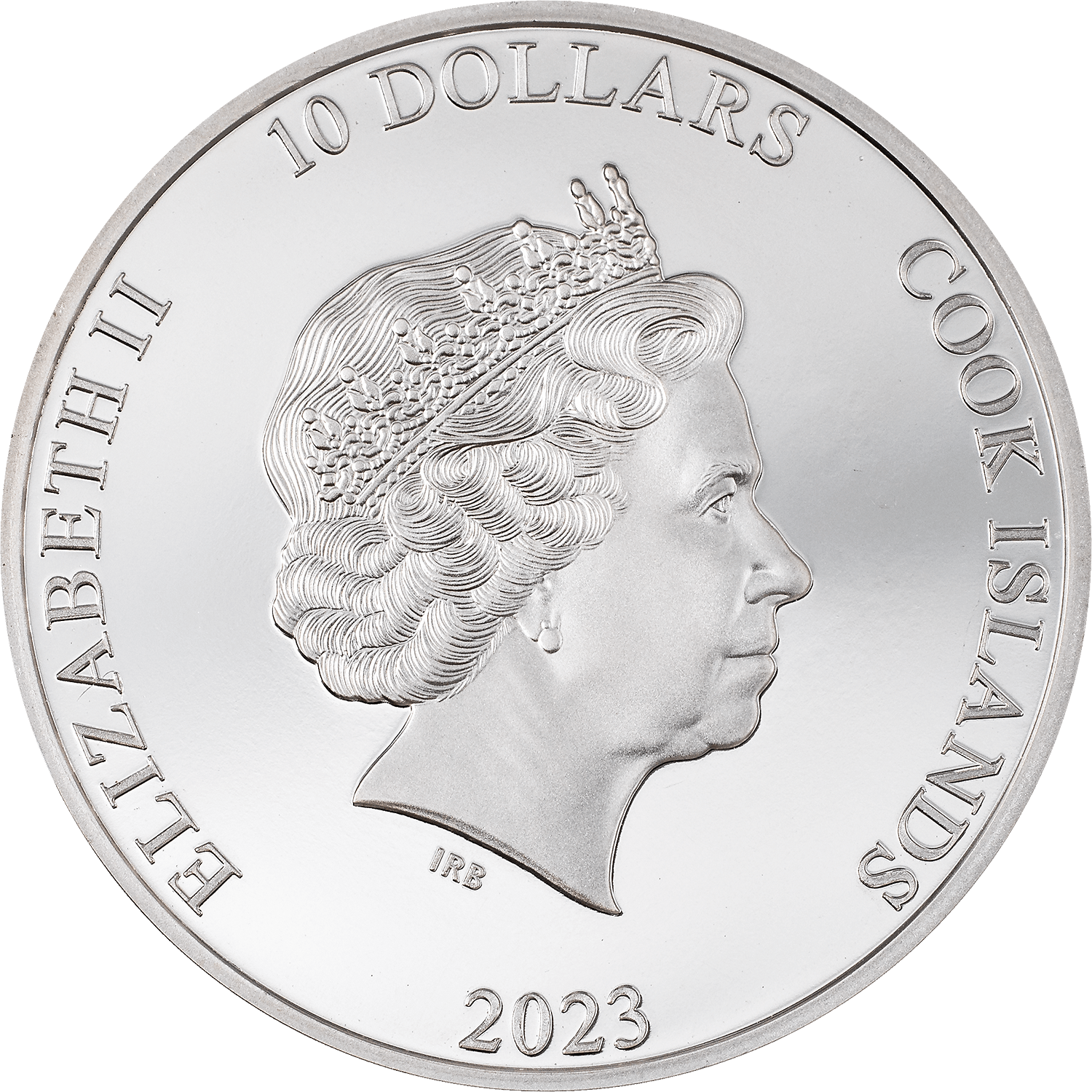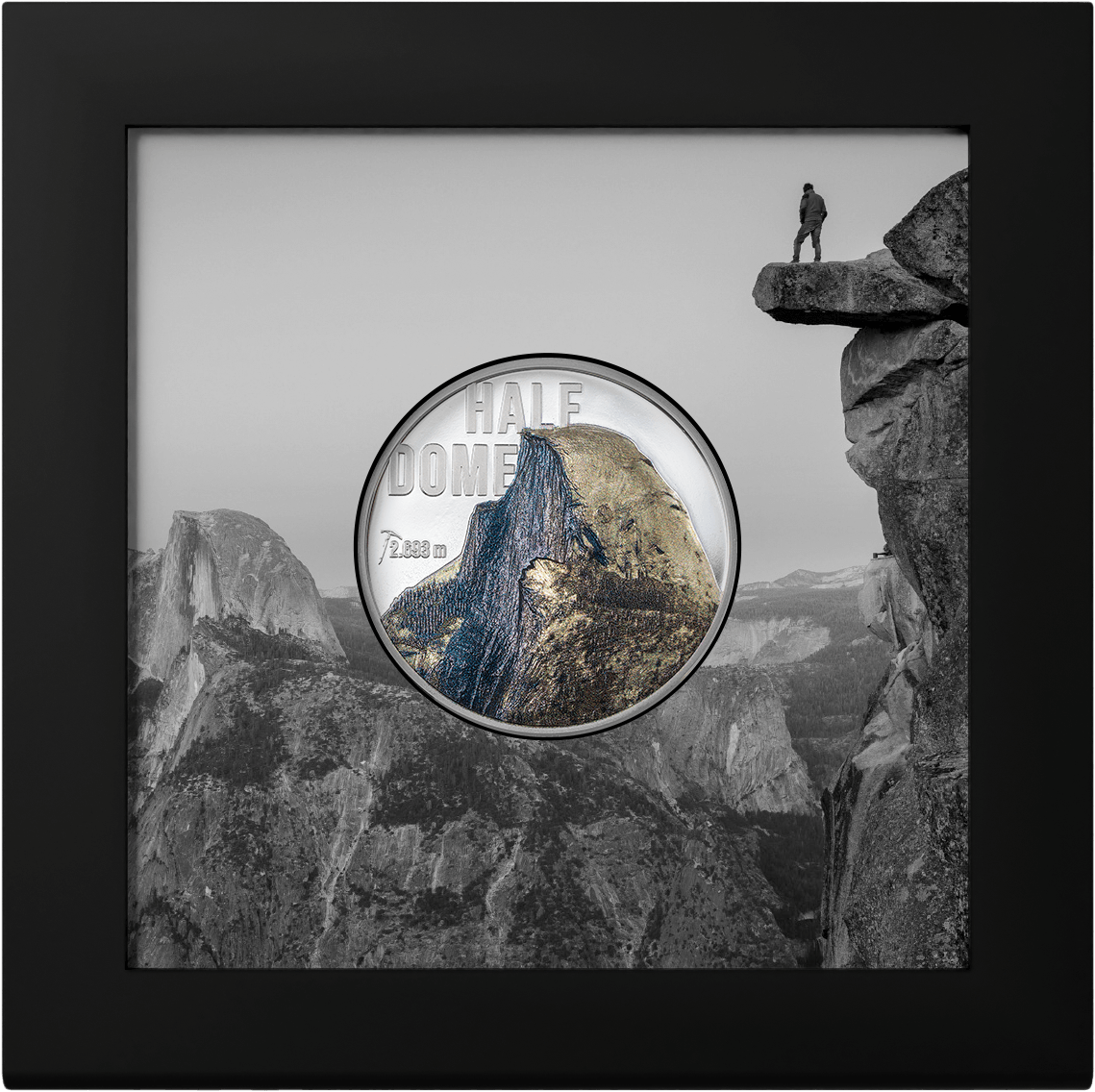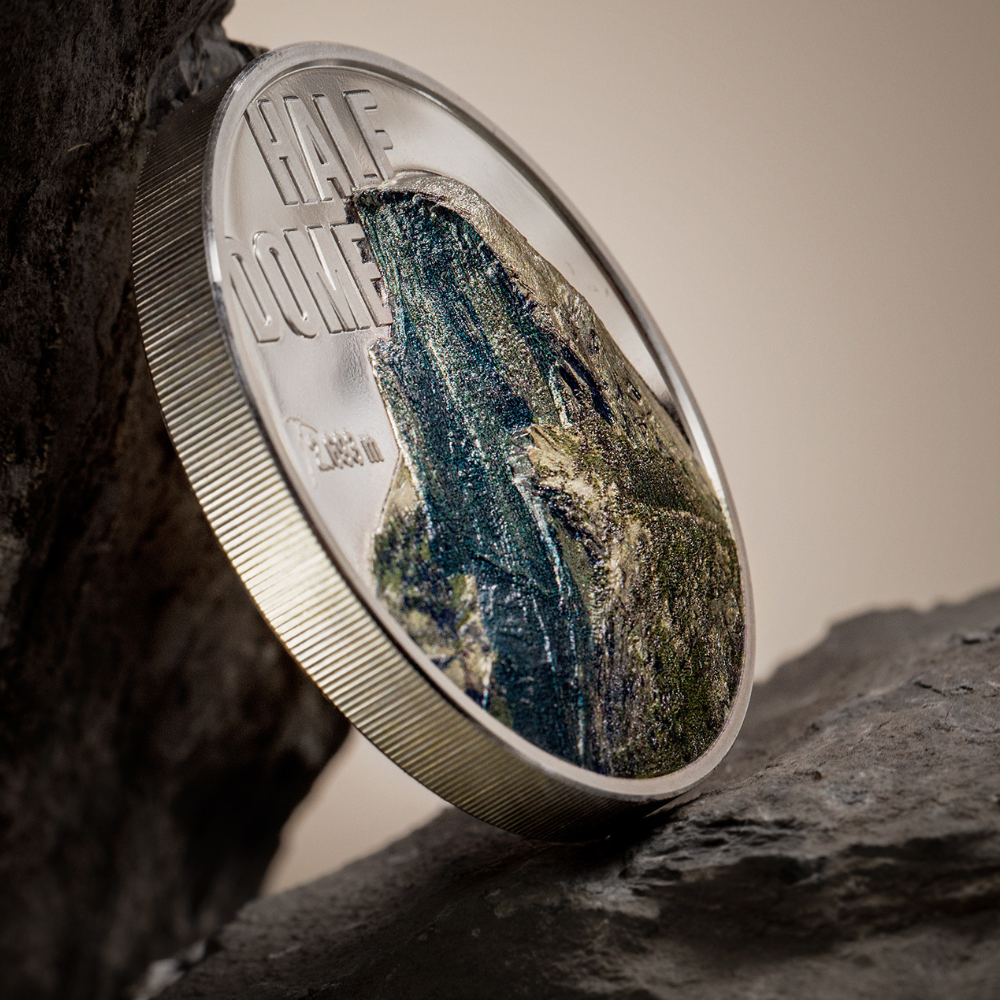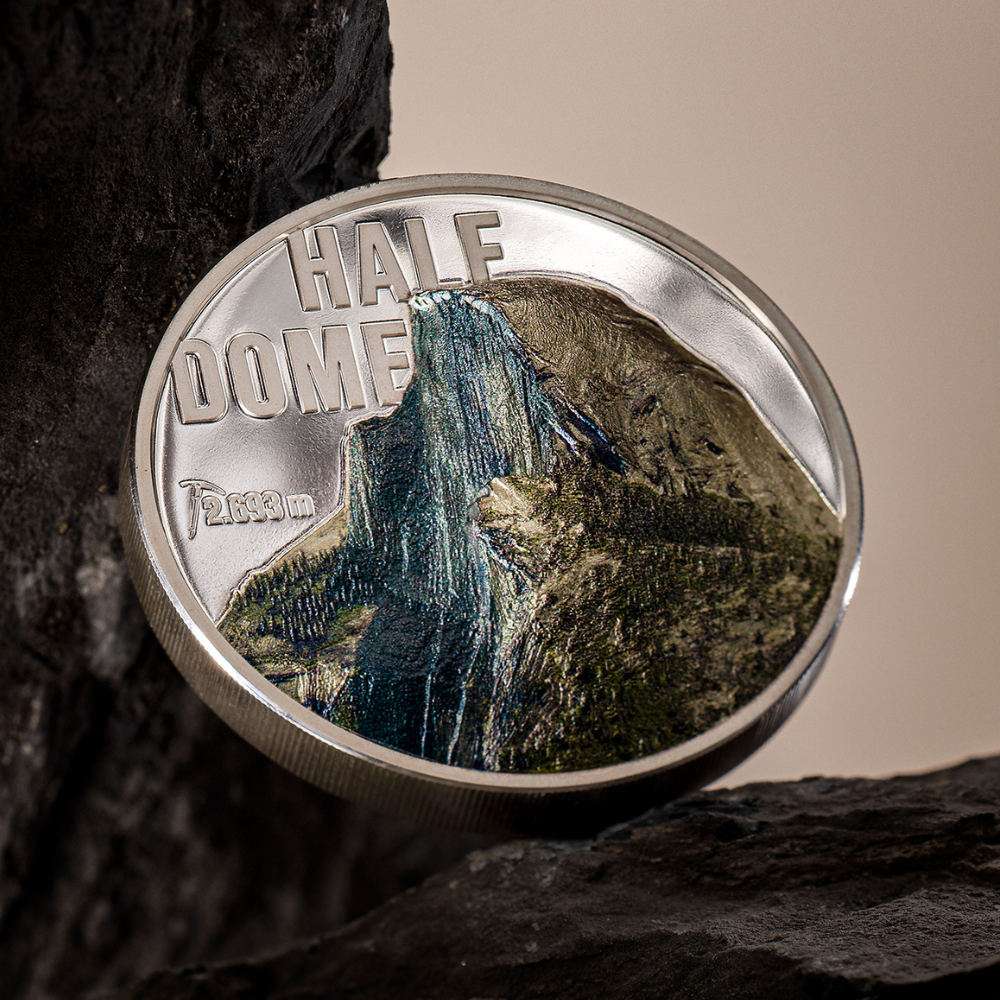 HALF DOME Mountains 2 Oz Silver Coin $10 Cook Islands 2023
This beautiful 2 Oz Silver coin is dedicated to one of America's most iconic mountains: Half Dome. The coin has Ultra High Relief thanks to Smartminting Technology and has Proof quality. It comes in a case, along with the Certificate of Authenticity. Limited mintage to 1500 pieces worldwide!
In stock
Discover the awe-inspiring beauty and majesty of Half Dome with the HALF DOME Mountains 2 Oz Silver Coin. This remarkable coin captures the essence of one of America's most iconic mountains, known for its steep, rugged cliffs and distinctive half-sphere shape. As you hold this coin in your hands, you'll be transported to the breathtaking landscape of Yosemite Valley and feel a sense of wonder at the natural wonders of our world.
Crafted from 2 ounces of .999 fine silver, this coin is a true testament to the artistry and craftsmanship that collectors appreciate. With a size of 38.61 mm, it offers a perfect canvas for the intricate design that brings Half Dome to life. The proof quality enhances the details, allowing you to admire the rugged cliffs, the smooth granite, and the remarkable shape of this iconic mountain.
The reverse of the coin showcases the majestic Half Dome in all its glory. The ultra high relief technique used in the minting process ensures that every intricate detail of the mountain is beautifully rendered. From the cleft rock formation to the steep cliffs and the surrounding wilderness, the design captures the essence of Half Dome's grandeur. You can almost feel the sense of adventure and accomplishment that comes with conquering this challenging peak.
With a limited mintage of 1500 coins, this collectible piece is a rare find for any nature enthusiast or avid collector. Each coin is individually numbered, guaranteeing its authenticity and exclusivity. Whether you've hiked to the summit of Half Dome yourself or simply appreciate the natural wonders of the world, the HALF DOME Mountains 2 Oz Silver Coin is a remarkable tribute to this iconic American landmark.
Hold a piece of Yosemite Valley's natural beauty in your hands and embark on a journey to Half Dome with this exquisite silver coin. Let its intricate design and impressive craftsmanship transport you to the rugged cliffs and breathtaking vistas of this iconic mountain. Whether displayed in your collection or given as a gift, the HALF DOME Mountains 2 Oz Silver Coin is a true celebration of nature's wonders and a symbol of exploration and adventure.
smartminting©
The smartminting© technology is a ground-breaking advancement in contemporary numismatics that permits an unparalleled level of ultra-high relief, and it establishes novel benchmarks in the coin industry.
This technology enables the production of standard weight coins with larger diameters, while maintaining high relief height.

It also allows for coins with greatly reduced weight to maintain standard relief heights and permits coins with only slightly increased weight to exhibit high reliefs.