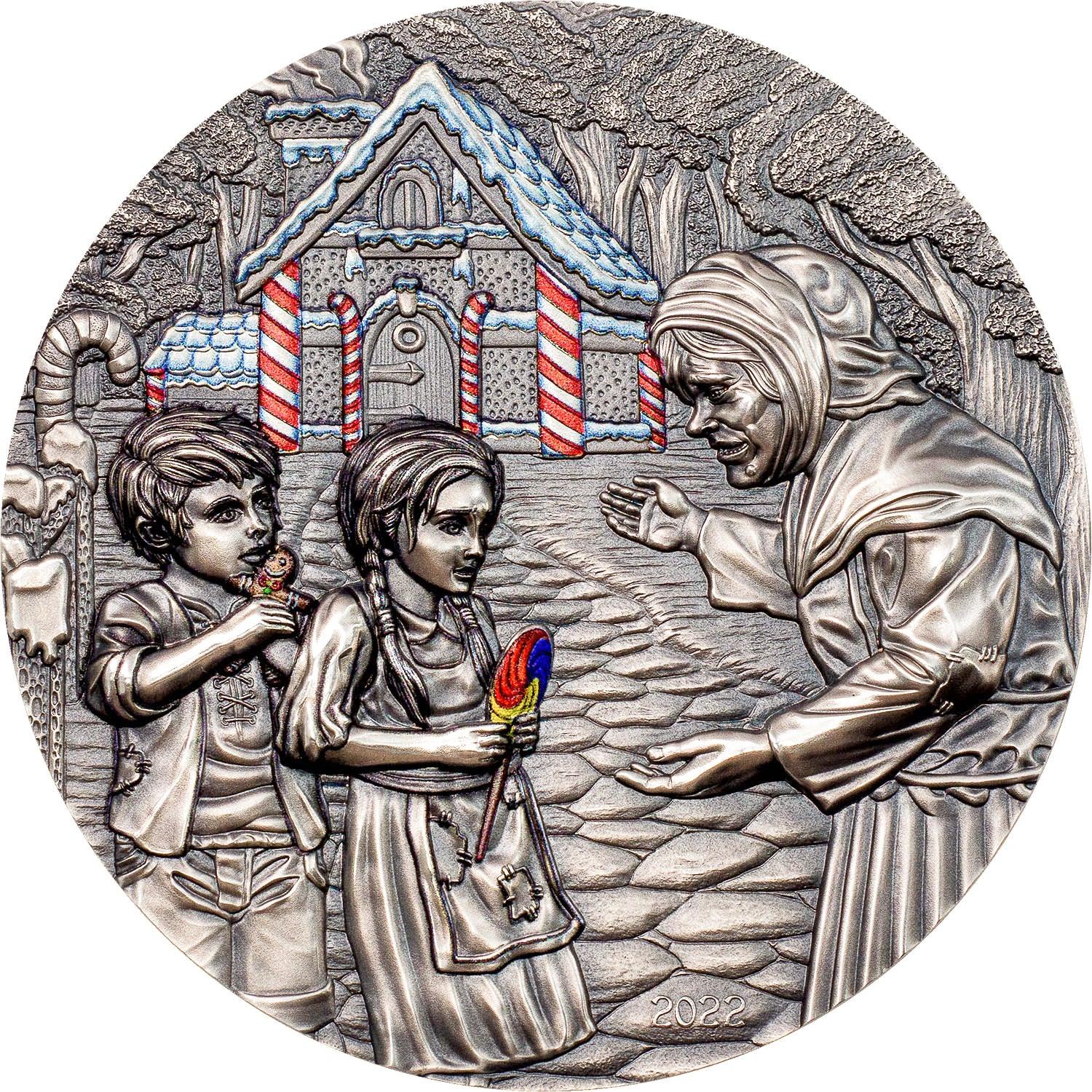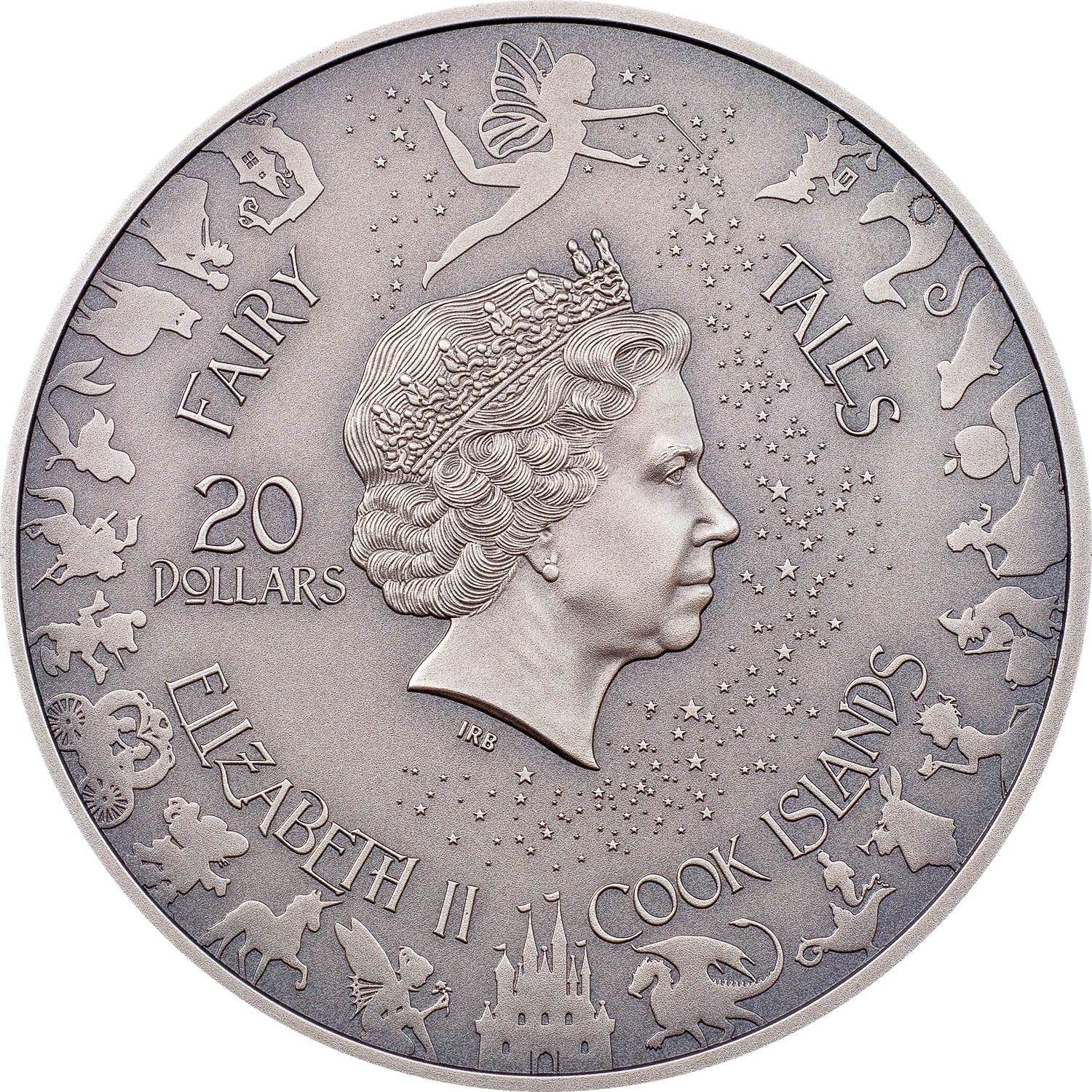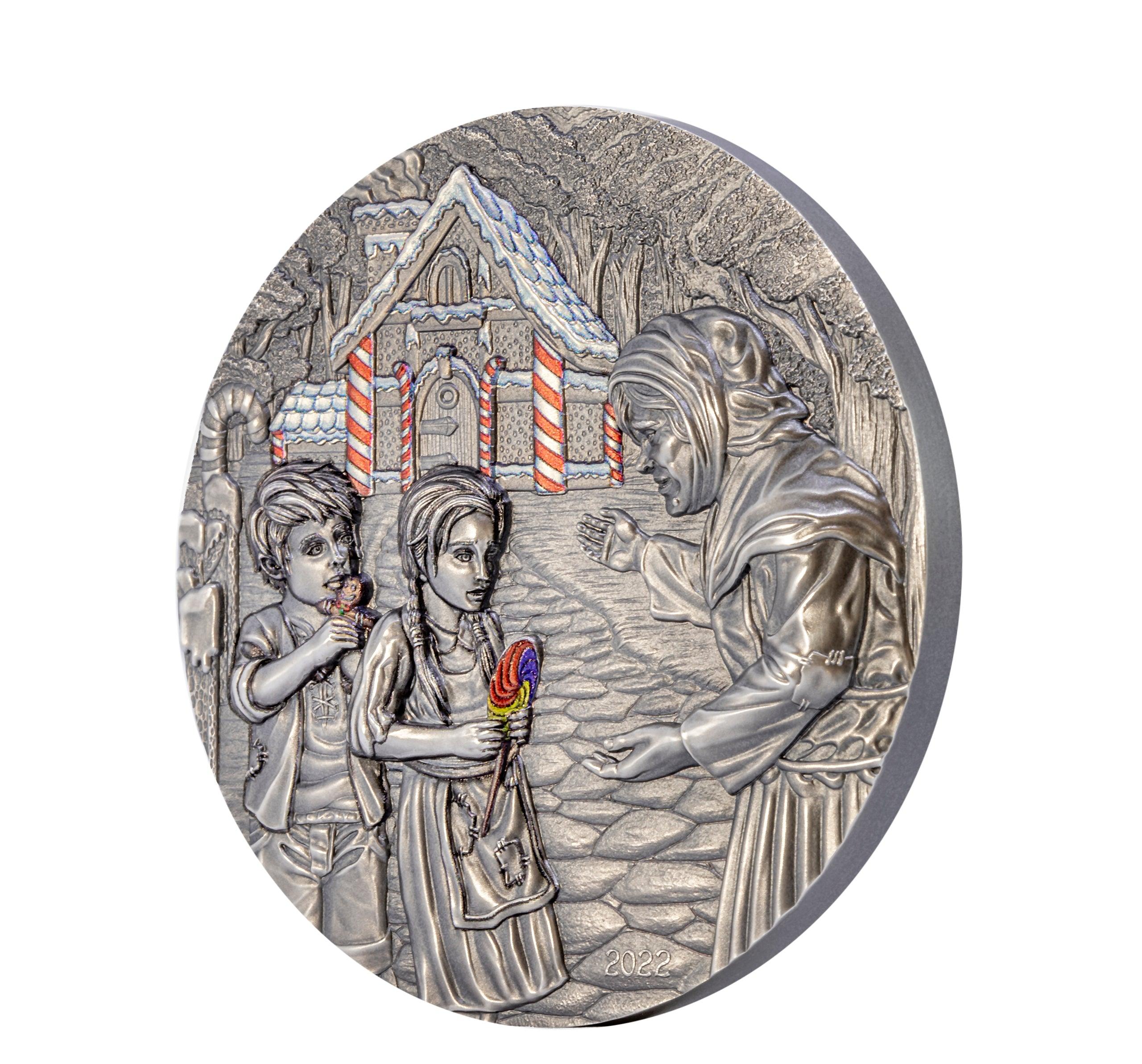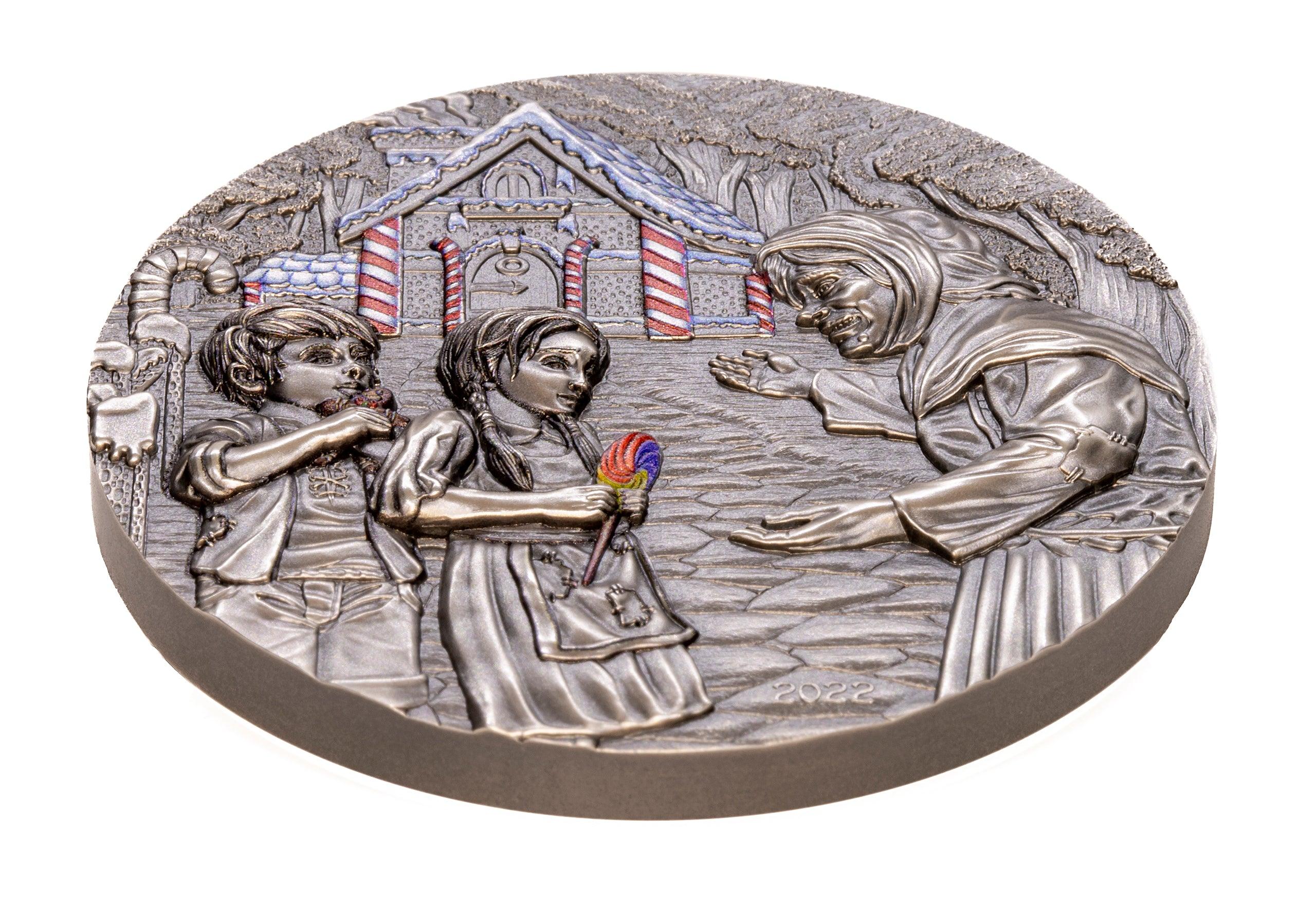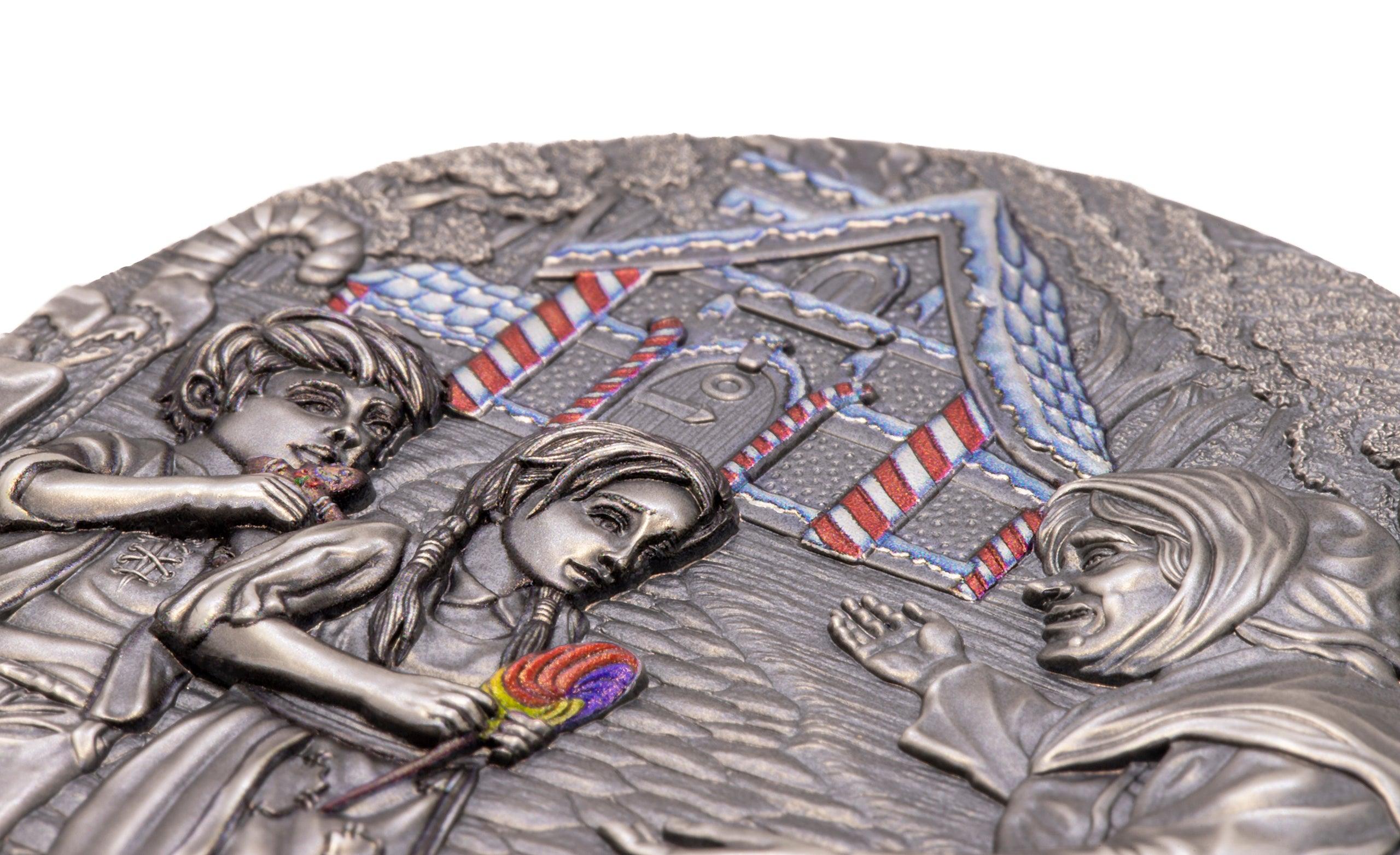 HANSEL AND GRETEL Fairy Tales Fables 3 Oz Silver Coin $20 Cook Islands 2022
This 3 Oz Silver coin is the third release in the "Fairy Tales & Fables" series, dedicated to some of the most famous Fairy Tales. In this edition: Hansel & Gretel. The coin features Smartminting technology, has Antique Finish quality, is partly colored and comes in a beautiful case, along with the Certificate of Authenticity. Limited mintage to only 333 pieces worldwide!
Step into the magical world of fairy tales with the 'Hansel & Gretel' coin, the third issue in the 'Fairytales' series. This beautifully designed coin is a must-have for collectors who appreciate fine artistry and storytelling. Struck using enhanced ultra-high relief Smartminting©️ technology, the coin captures the essence of the famous Grimm's fairy tale in stunning detail.
The 'Hansel & Gretel' coin is a masterpiece of artistry and craftsmanship. The coin's reverse features Hansel and Gretel enjoying sweets from the witch, while the witch attempts to lure them to her gingerbread house. The scene is brought to life with exquisite detailing, making it easy to imagine the siblings' plight. The coin's obverse features the standard Coat of Arms with Queen Elizabeth II, surrounded by Fairy Tales elements, making it a fitting tribute to the world of fairy tales.
This coin is partly colored, giving it a unique and striking appearance. It has an antique finish that enhances its vintage appeal, and it is struck on a 3 oz pure silver 50mm blank in the highest quality. The coin has a limited mintage of only 333 pieces worldwide, making it an exclusive collector's item. Each coin comes with a Certificate of Authenticity and a beautiful box, making it a perfect gift for any young collector.
The 'Hansel & Gretel' coin is a work of art that tells a story. It captures the essence of the famous fairy tale and is a tribute to the power of storytelling. The ultra-high relief fine detailed relief gives the coin a sense of depth and dimension that is rarely seen in modern coinage. The design is so captivating that it will transport you to a magical world of fairy tales and leave you spellbound.
If you're a collector who loves fairy tales and appreciates fine artistry, the 'Hansel & Gretel' coin is a must-have for your collection. With its exquisite design and limited mintage, it is a rare and exclusive collector's item that is sure to appreciate in value over time. Get your hands on this third edition now and complete your collection.