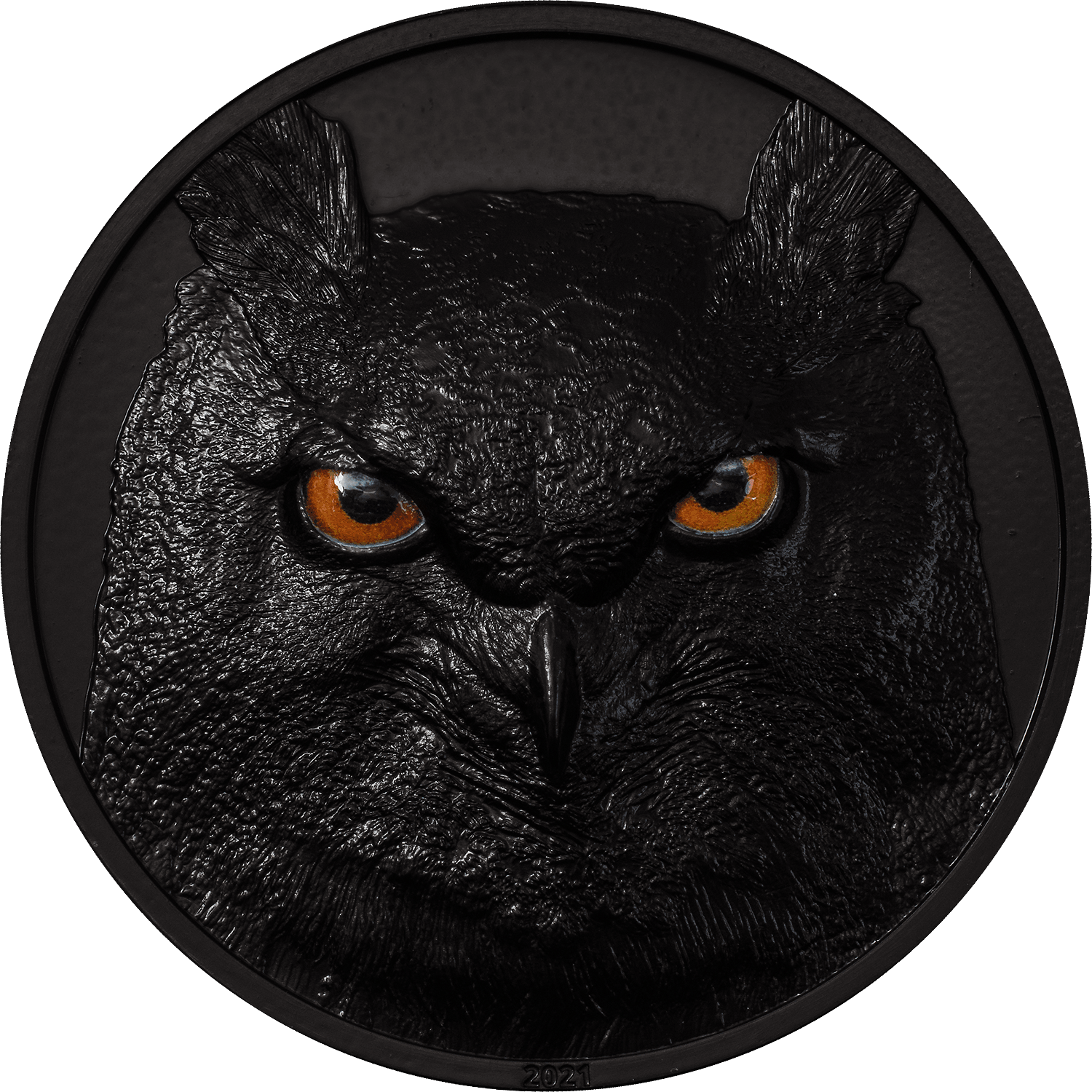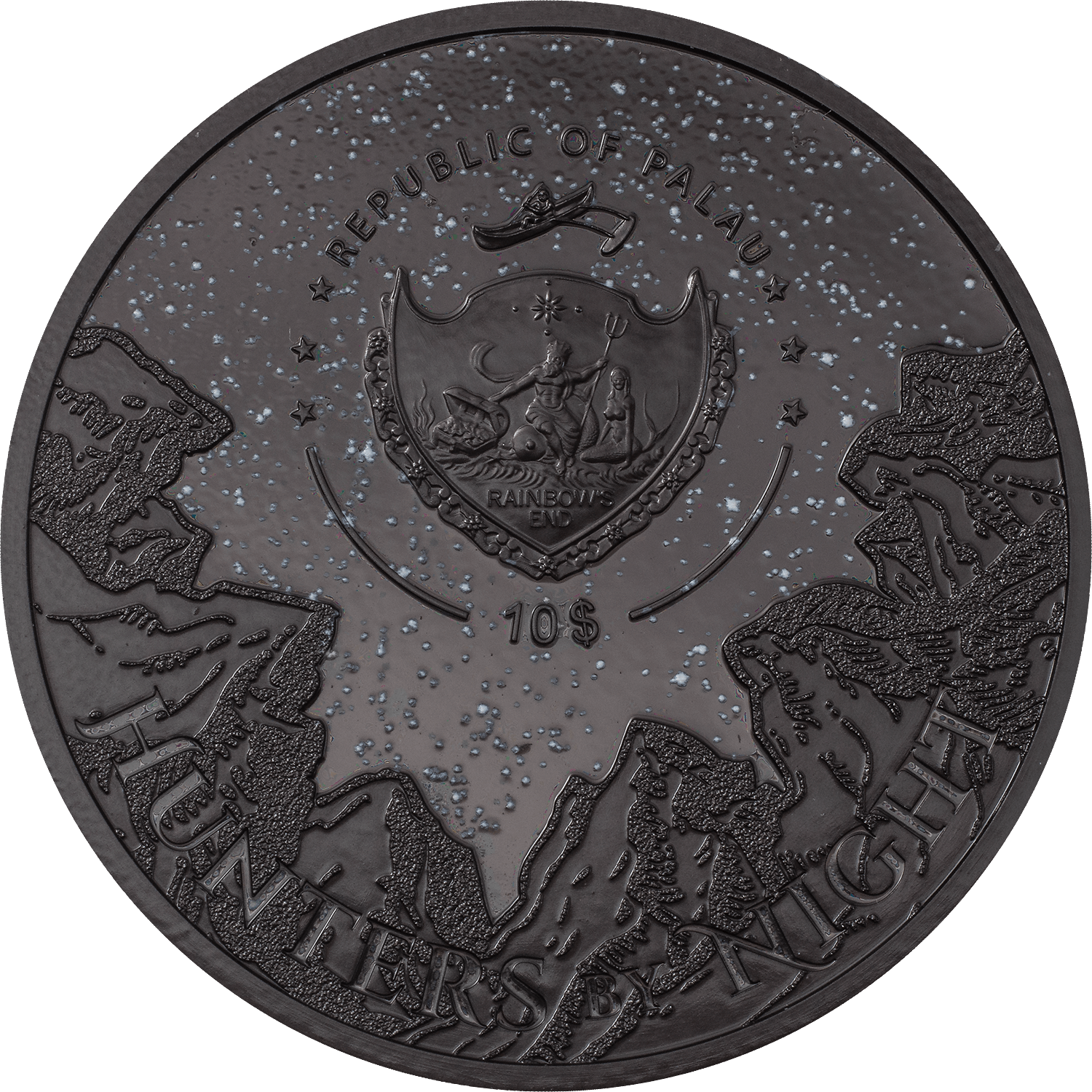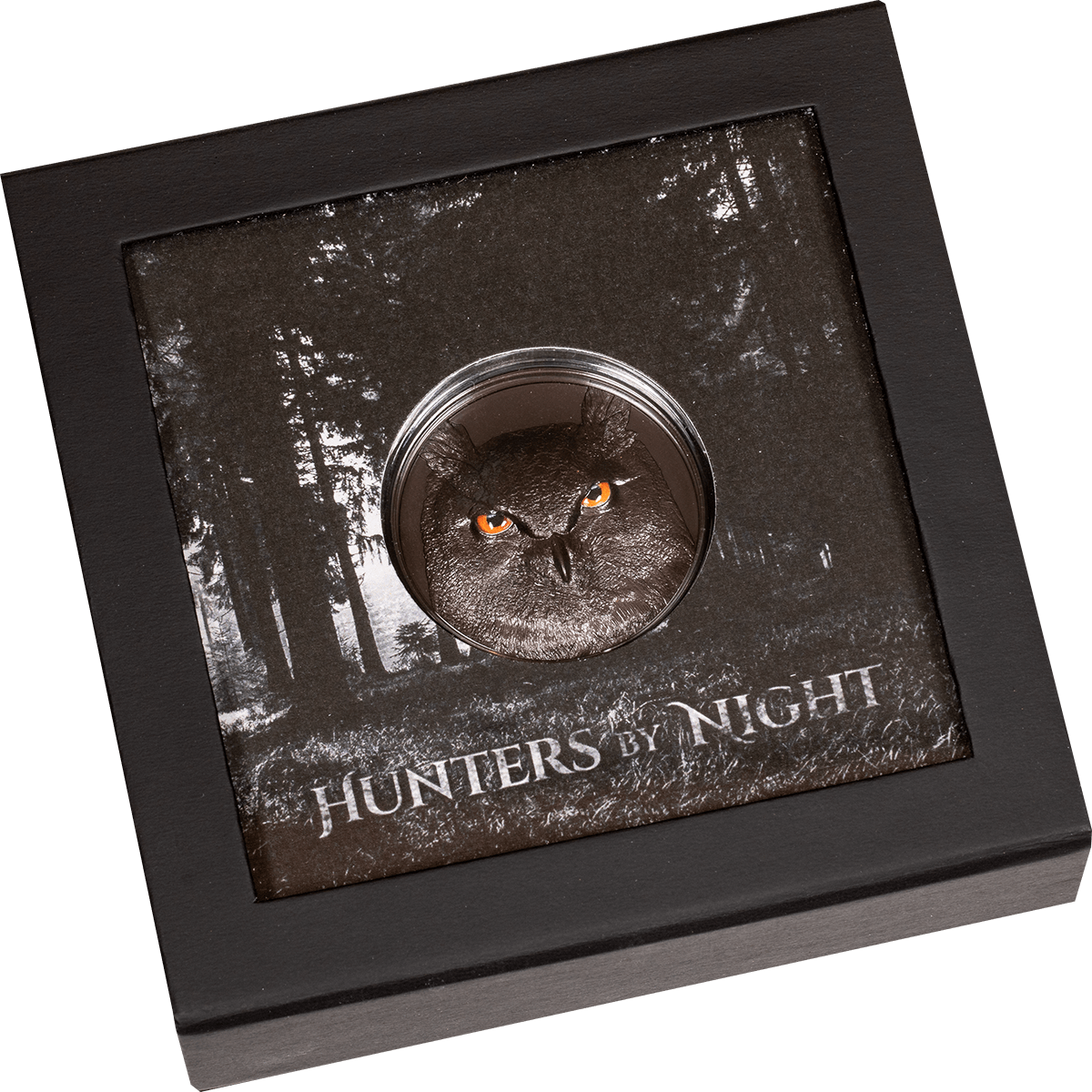 EAGLE OWL Hunters by Night 2 Oz Silver Coin $10 Palau 2021
This 2 Oz Silver coin is the new release in the "Hunters By Night" series and is dedicated to the Eagle Owl. The coin features the Smartminting technology, has an Obsidian Black Proof quality combined with silk areas and comes in a case, along with the Certificate of Authenticity. Limited mintage to 888 pieces worldwide!
In the realm of the night, a silent hunter emerges. The unsuspecting little mouse scurries through the field, blissfully unaware of the danger that lurks above. With its vibrant orange eyes fixated on its prey, the mighty Eagle Owl prepares to unleash its swift and deadly attack. This captivating scene comes to life in the second edition of the Hunters by Night series - a magnificent tribute to the prowess of this majestic predator.
Crafted with exquisite attention to detail, the Hunters by Night: Eagle Owl 2 oz Silver Coin showcases the artistry of enhanced smartminting® technology. The ultra-high relief brings a lifelike quality to the coin, capturing the intense presence of the feathered beast as it soars through the darkness. To enhance the immersive experience, the exclusive Obsidian Black finish perfectly replicates the deep black night, adding a touch of realism that is truly remarkable.
Limited to just 888 pieces worldwide, this collectible coin is a highly sought-after treasure for passionate collectors and nature enthusiasts alike. The success of the first edition, the Black Panther, attests to the worldwide acclaim of this extraordinary series. So be swift, for the opportunity to own this lifelike 2 oz coin may vanish as quickly as the prey in the grasp of the Eagle Owl.
With a weight of 2 ounces and a size of 38.61 mm, this silver coin exudes both elegance and substance. Its remarkable craftsmanship and attention to detail make it a true masterpiece to behold. Each coin is accompanied by a certificate of authenticity, ensuring its genuineness and quality.
Immerse yourself in the enchanting world of nocturnal hunters with the Hunters by Night: Eagle Owl 2 oz Silver Coin. Witness the intensity of the owl's gaze, the precision of its flight, and the power of its predatory instincts. This exceptional coin is not just a testament to the beauty of nature but also a remarkable work of art that will capture the imagination and admiration of all who lay eyes upon it.
smartminting©
The smartminting© technology is a ground-breaking advancement in contemporary numismatics that permits an unparalleled level of ultra-high relief, and it establishes novel benchmarks in the coin industry.
This technology enables the production of standard weight coins with larger diameters, while maintaining high relief height.

It also allows for coins with greatly reduced weight to maintain standard relief heights and permits coins with only slightly increased weight to exhibit high reliefs.