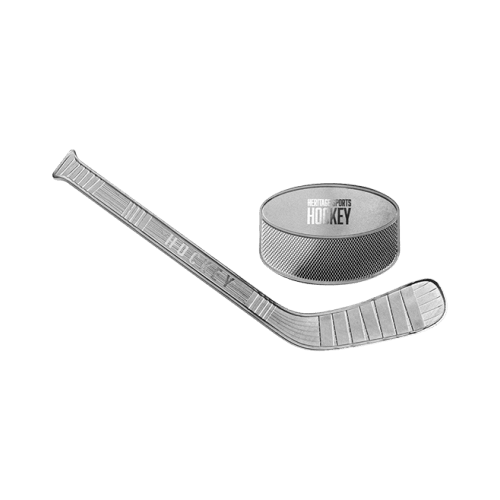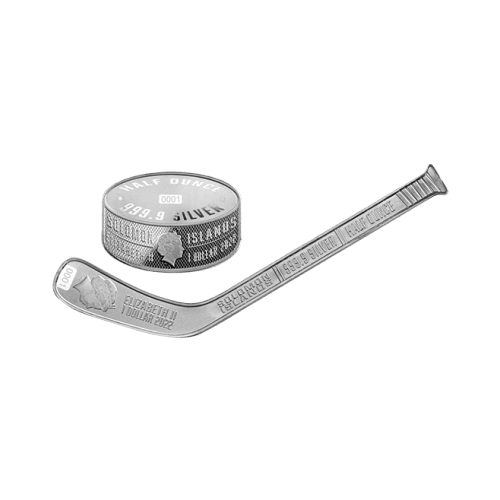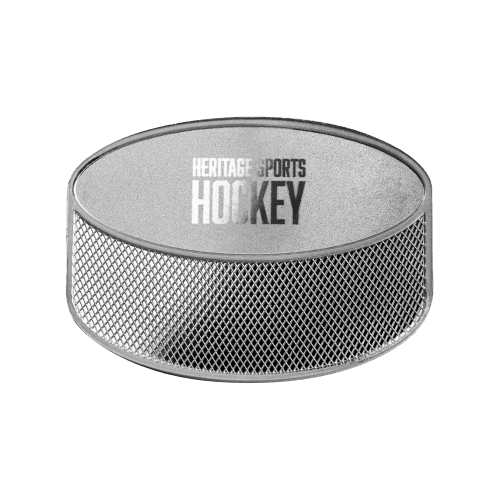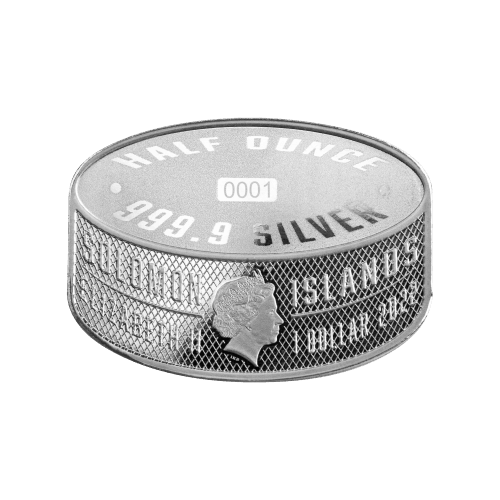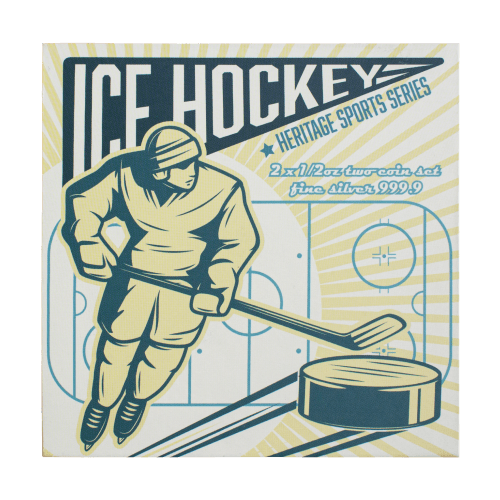 ICE HOCKEY Heritage Sports Set 2 Silver Coins $1 Solomon Islands 2022
This beautiful set of two 1/2 Oz Silver coins is the first issue in the new Heritage Sports series, dedicated to the some of most played games around the world. In this issue: Ice Hockey. The coins are shaped like the equipment needed to play the game, have Proof quality and come in a themed box, along with the Certificate of Authenticity. Limited mintage of 3000 pieces worldwide!
Only 1 unit left
Celebrate the rich heritage of sports with the Ice Hockey Heritage Sports Set 2 Silver Coins. This captivating series from the Solomon Islands pays homage to the beloved sports of hockey, baseball, golf, and curling. Each set features two 1/2 oz. pure silver coins shaped like the iconic equipment used in each sport, including a hockey stick and puck, a baseball bat and ball, a golf club bag and ball, and a curling stone and broom. Whether you're a sports enthusiast or a collector, these unique coins are a must-have addition to your collection.
Limited to a worldwide mintage of only 3,000 coins, each coin in the Ice Hockey Heritage Sports Set is individually serialized, adding to its exclusivity and collectible value. Crafted from 99.99% pure silver, these coins showcase exceptional quality and craftsmanship. The vintage-style packaging adds a nostalgic touch, making it the perfect gift for sports fans and collectors alike.
The design of the Ice Hockey coin pays tribute to the origins of the game. The word "hockey" is believed to have originated from the French word "hoquet," meaning "shepherd's crook." It is thought to have evolved from stick-and-ball games brought by immigrants to the North American colonies. The coin's shape resembles a hockey stick and puck, capturing the essence of this fast-paced and exhilarating sport. Its intricate detailing and fine craftsmanship make it a true work of art.
Experience the thrill and excitement of sports history with the Ice Hockey Heritage Sports Set 2 Silver Coins. Each coin is a testament to the enduring legacy of these beloved sports, evoking memories of great moments and legendary athletes. Whether you display them in your collection or gift them to a sports enthusiast, these coins are a remarkable way to celebrate our sports heritage and the joy that sports bring to our lives.
Don't miss out on this exceptional series. Collect all four sets and treasure the legacy of hockey, baseball, golf, and curling. Order your Ice Hockey Heritage Sports Set 2 Silver Coins today and relive the glory of our sporting past.