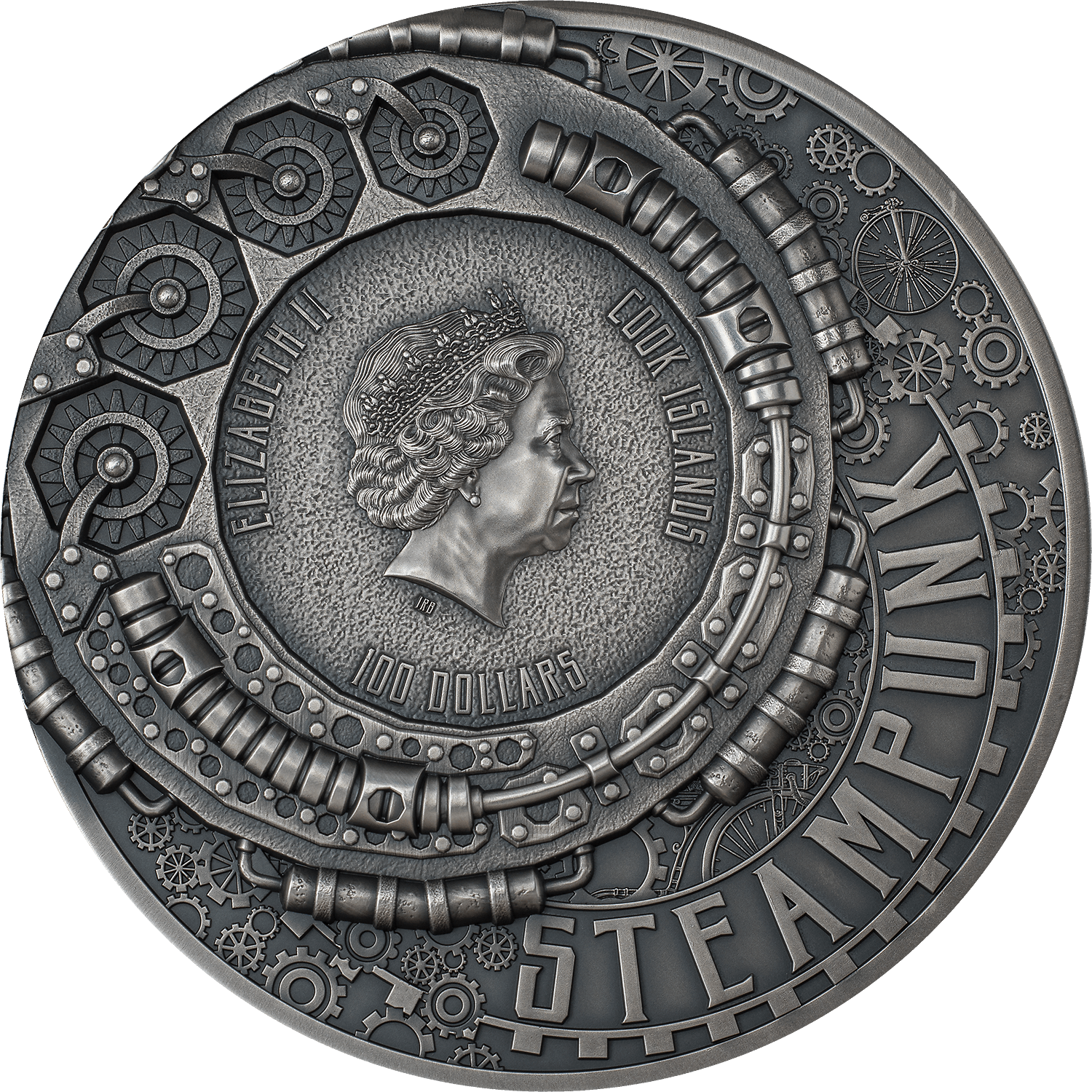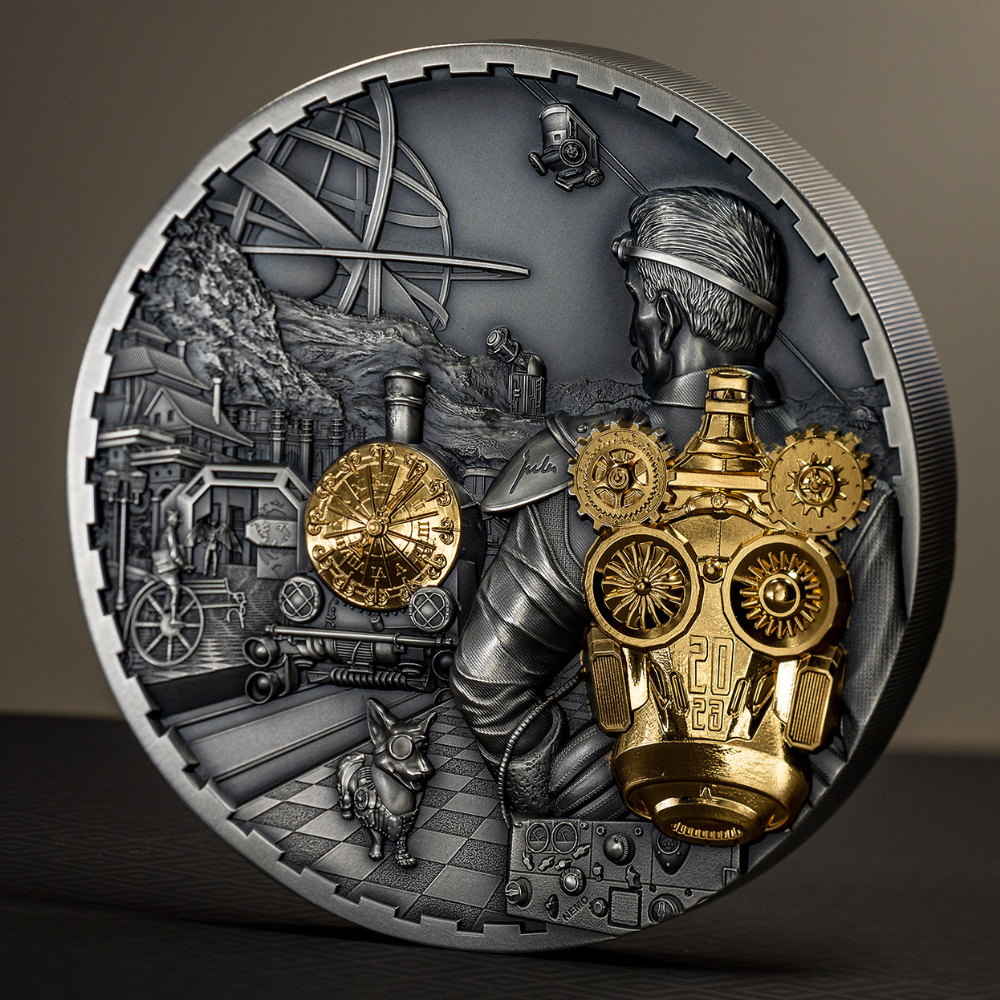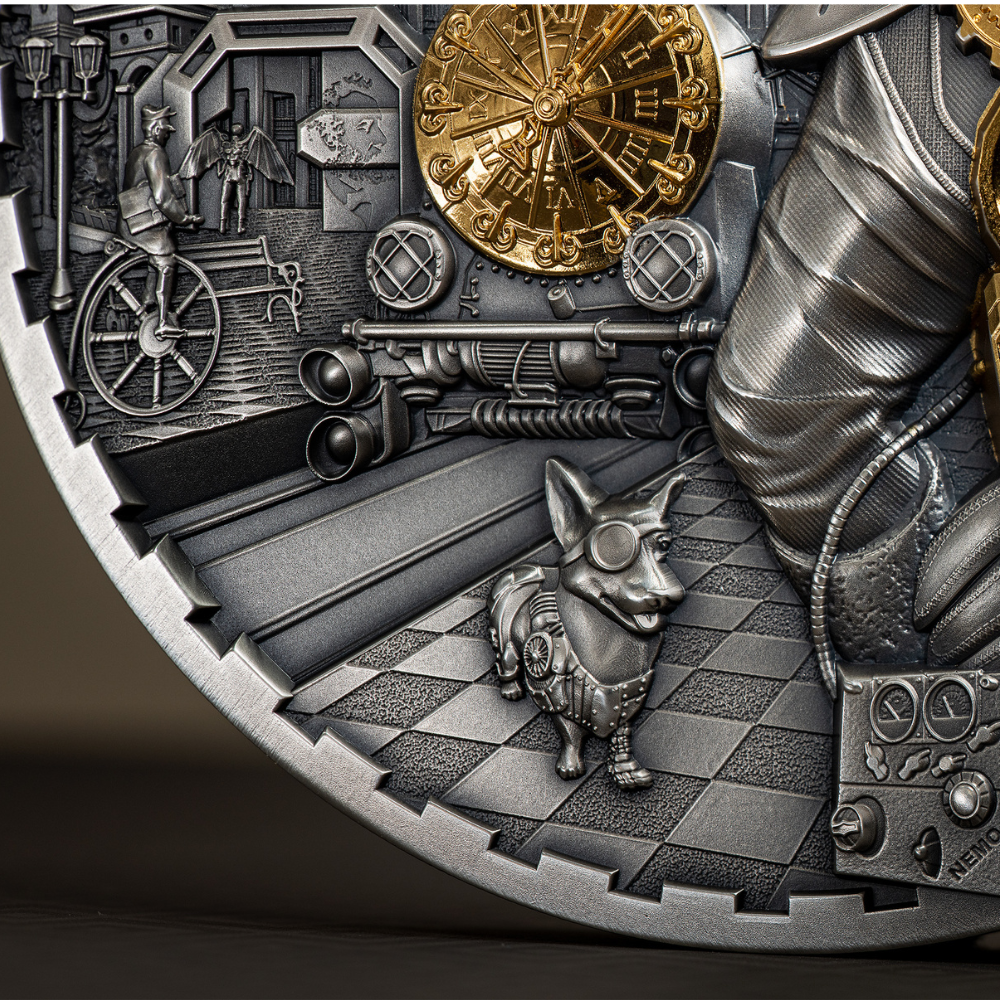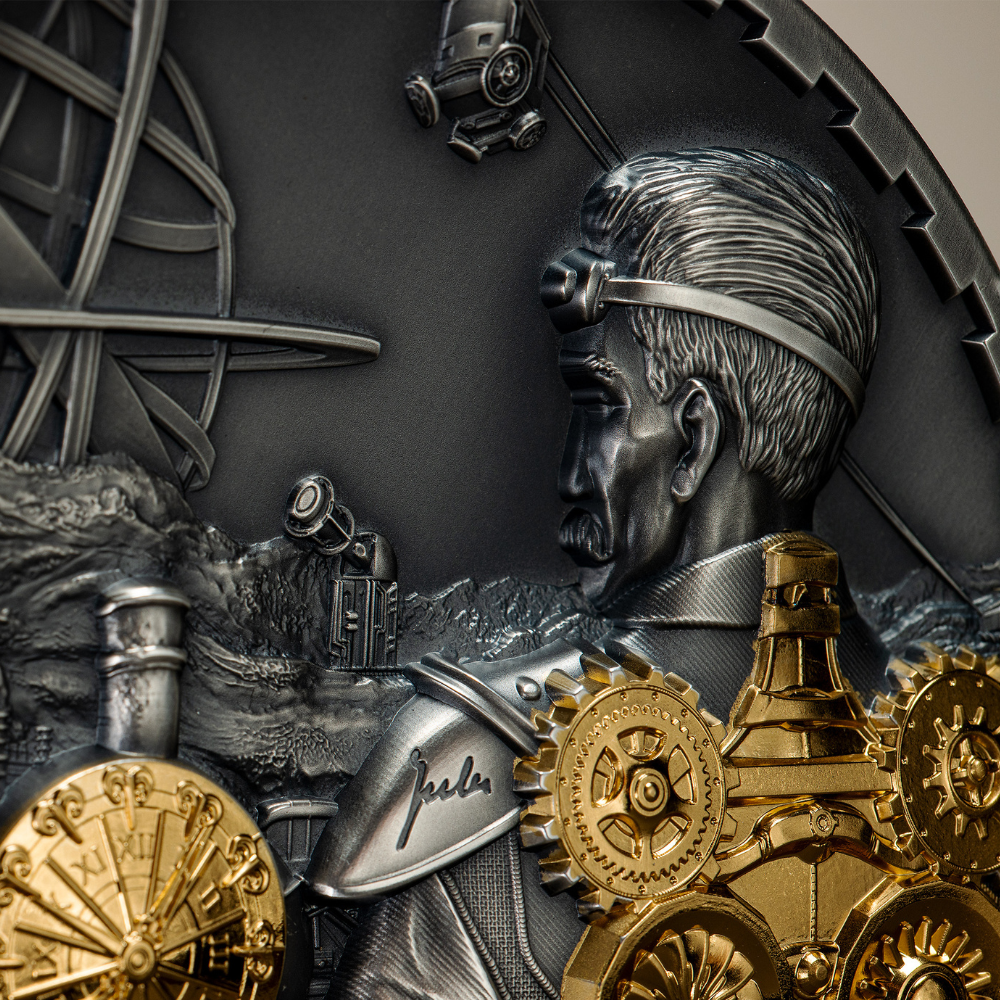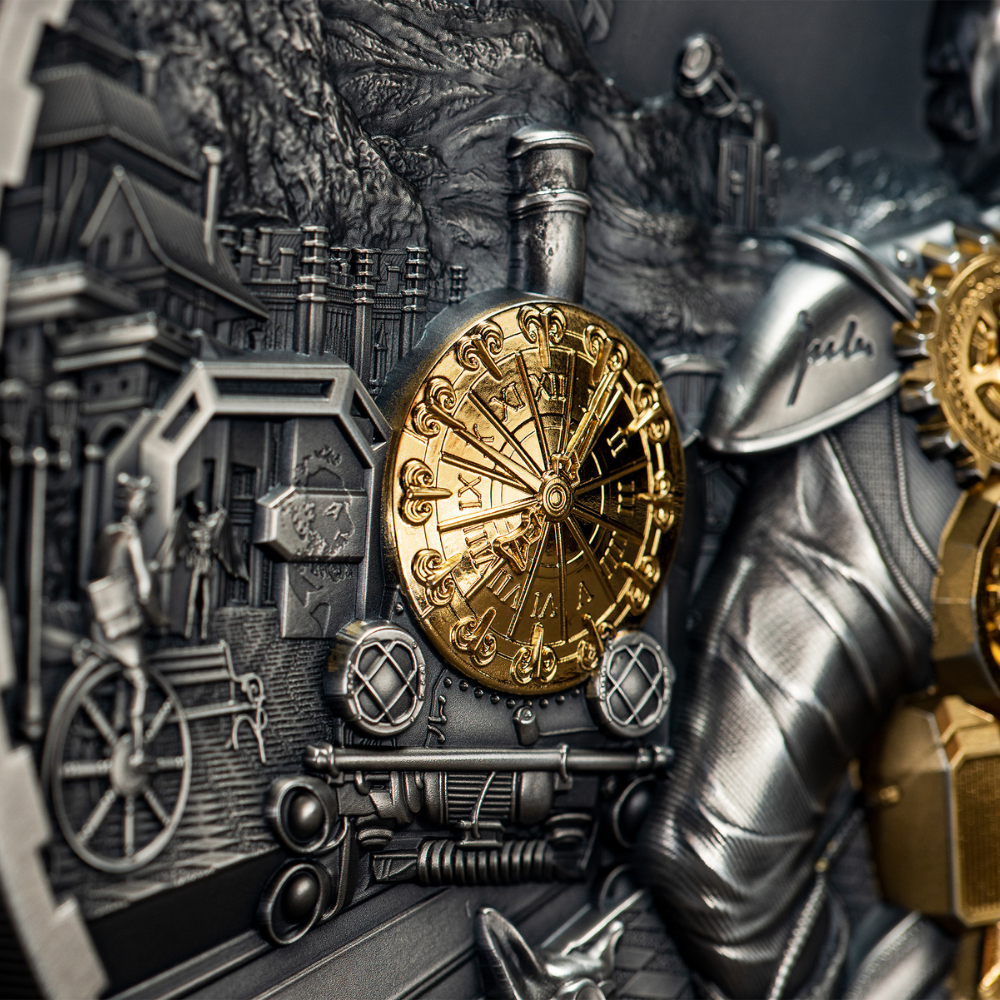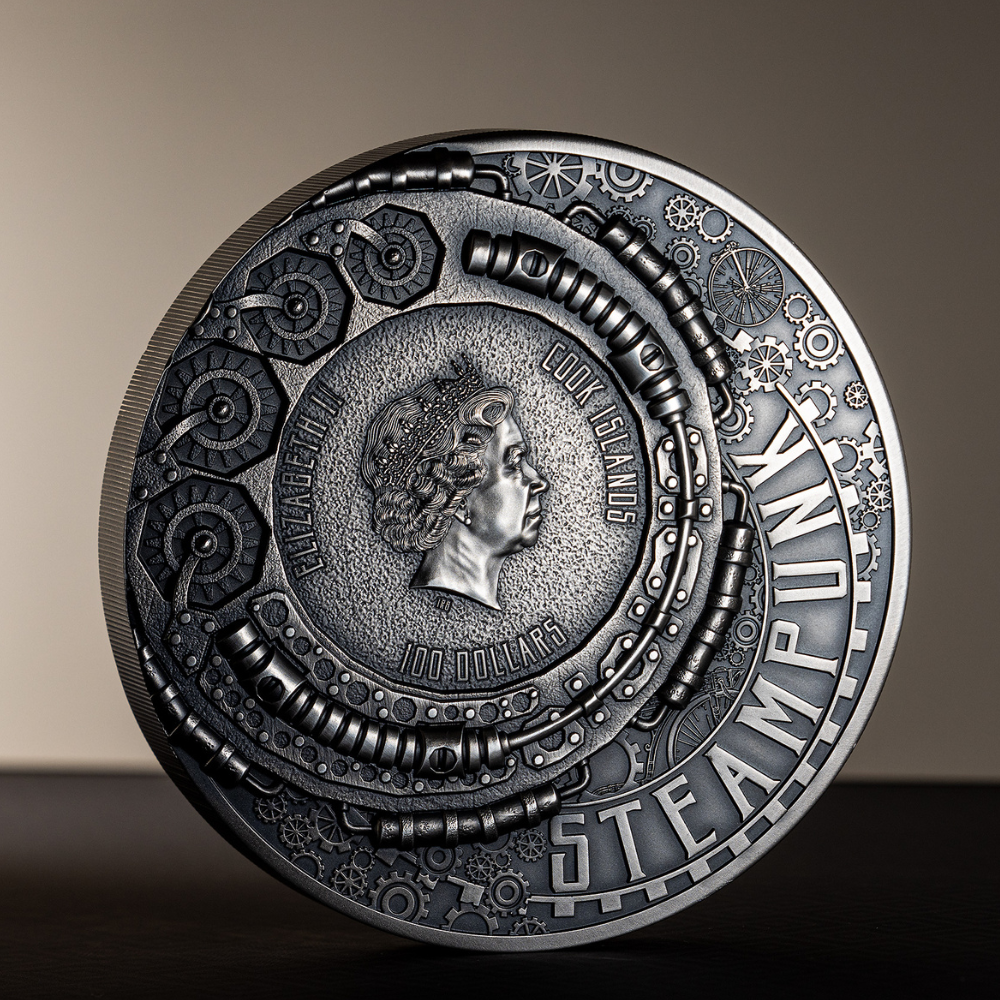 JET PACK Steampunk 1 Kg Kilo Edition Silver Coin $100 Cook Islands 2023
This incredible 1 Kg Silver coin is dedicated to the Steampunk that has become a cultural phenomenon. The coin has an Antique finish quality, has a selective Gilding, features Ultra High Reliefs thanks to the Smartminting technology and comes in a case, along with the Certificate of Authenticity. Limited mintage of only 111 pieces worldwide!
Step into a world where steam-powered marvels and futuristic dreams converge with the JET PACK Steampunk 1 Kg Kilo Edition Silver Coin. As the second release the highly anticipated Steampunk collection, this coin is a testament to imagination and innovation. Prepare to be mesmerized by its intricate details, surreal elements, and subtle nods to the visionary author Jules Verne. Immerse yourself in a bustling mountain village train station, where various modes of transport coexist, including a remarkable jetpack that hints at the possibilities of future mobility.
This extraordinary 1 kg silver coin is a true masterpiece in both size and design. Crafted from .999 fine silver, it showcases the exceptional quality and craftsmanship. The antique finish adds depth and character, accentuating the intricate steampunk-inspired artwork. With a diameter of 100 mm, this sizable coin becomes the focal point of any collection, inviting exploration and sparking the imagination.
Limited to a mere 111 pieces, this coin is a rare treasure for collectors and enthusiasts alike. Whether you are a steampunk aficionado, a fan of Jules Verne's timeless stories, or simply appreciate exceptional artistry, owning one of the only 111 JET PACK Steampunk 1 Kg Kilo Edition Silver Coins in existence is a true testament to your discerning taste and passion for the extraordinary.
The JET PACK Steampunk 1 Kg Kilo Edition Silver Coin is a striking blend of past and future, imagination and possibility. It captures the essence of an era where steam power reigns supreme and futuristic inventions captivate the imagination. As you hold this remarkable coin in your hands, you can't help but be drawn into its intricate details and the story it tells. It is more than a piece of precious metal; it is a work of art that transports you to a world of wonder and adventure.
smartminting©
The smartminting© technology is a ground-breaking advancement in contemporary numismatics that permits an unparalleled level of ultra-high relief, and it establishes novel benchmarks in the coin industry.
This technology enables the production of standard weight coins with larger diameters, while maintaining high relief height.

It also allows for coins with greatly reduced weight to maintain standard relief heights and permits coins with only slightly increased weight to exhibit high reliefs.