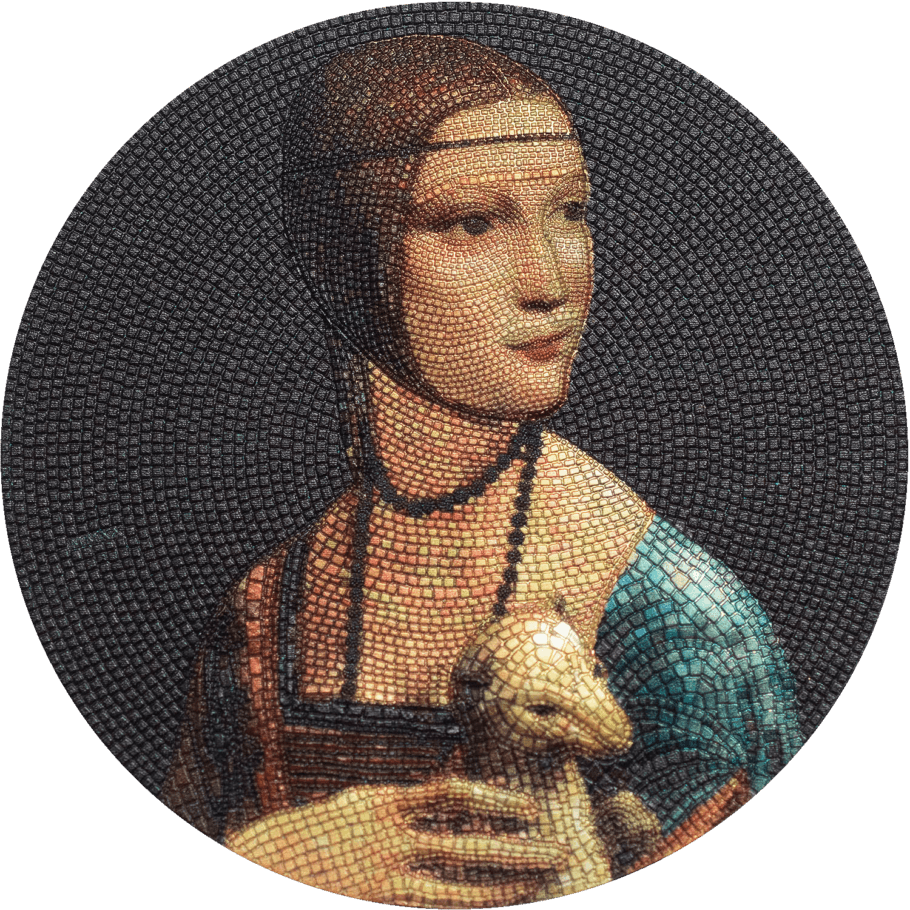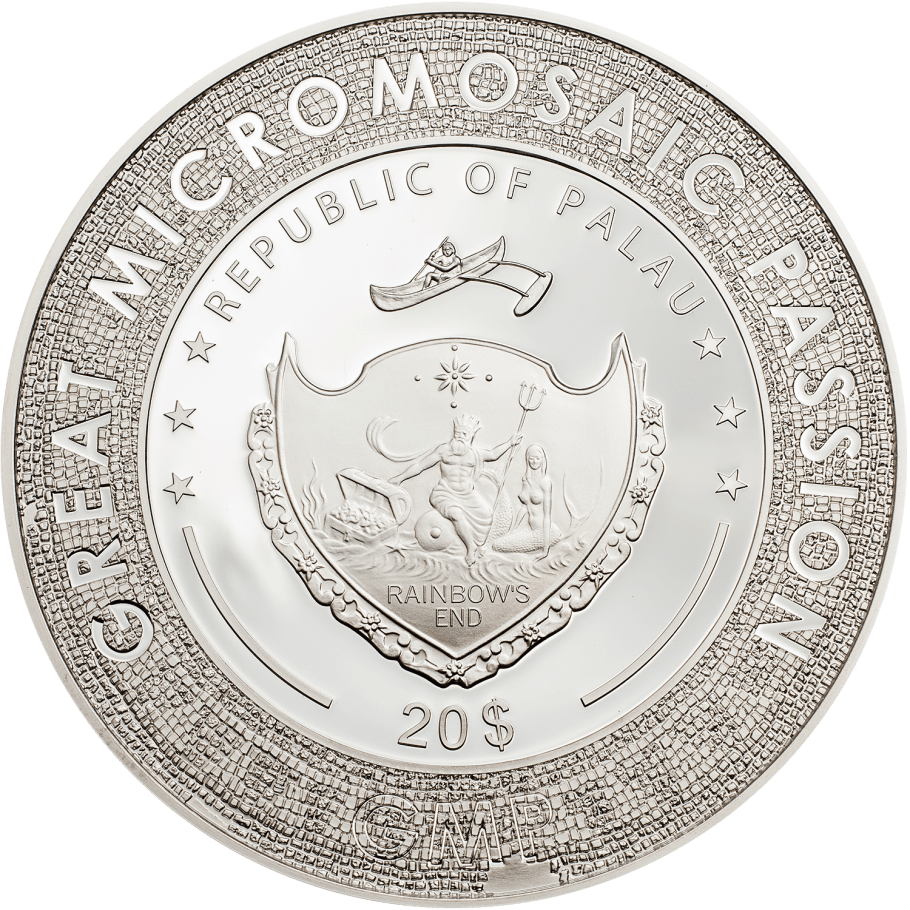 LADY WITH AN ERMINE Leonardo da Vinci Great Micromosaic Passion 3 Oz Silver Coin $20 Palau 2020
This extraordinary 3 Oz Silver coin is the fourth issue in the innovative "Great Micromosaic Passion" series, dedicated to mosaic art and to Leonardo da Vinci's masterpiece – Lady with an Ermine. The coin features more than 8000 minted tiles thanks to the Smartminting technology and comes in a mosaic tile shaped case, along with the Certificate of Authenticity. Mintage of only 499 pieces worldwide!
Only 1 unit left
Transport yourself to the world of Renaissance art and behold the brilliance of Leonardo da Vinci's masterpiece with the Lady with an Ermine Leonardo da Vinci Great Micromosaic Passion 3 Oz Silver Coin. Crafted to perfection, this coin encapsulates the timeless beauty and artistic finesse of da Vinci's renowned portrait. In 2020, the nation of Palau pays homage to this iconic artwork with a limited mintage of just 499 pieces.
Leonardo da Vinci's Lady with an Ermine is a mesmerizing portrait that exudes elegance and grace. Painted in the late 15th century, it depicts Cecilia Gallerani, a young woman of noble birth, holding an ermine—an animal associated with purity and royalty. The intricate details of the original painting are masterfully reproduced in this coin's design, capturing the delicate expression of the lady's face and the softness of the ermine's fur.
What sets this coin apart is its exceptional micromosaic passion. Utilizing cutting-edge technology, each coin is adorned with a micromosaic, a work of art within a work of art. The mosaic technique involves assembling minuscule pieces of glass to form a larger image, adding an extra layer of depth and intricacy to the coin's design. This meticulous craftsmanship ensures that every nuance and stroke of da Vinci's original masterpiece is faithfully represented.
With a weight of 3 oz and a diameter of 65 mm, this silver proof coin offers a substantial canvas to showcase the micromosaic artwork. The proof quality further accentuates the coin's visual appeal, enhancing the fine details and textures. Struck from .999 fine silver, this coin is a testament to the highest standards of minting excellence.
Embrace the legacy of Leonardo da Vinci and his iconic Lady with an Ermine with this limited-edition silver coin. As one of only 499 lucky collectors worldwide, you will not only own a work of art but also become part of the rich artistic heritage of the Renaissance. The Lady with an Ermine Leonardo da Vinci Great Micromosaic Passion 3 Oz Silver Coin is a testament to the enduring power of da Vinci's genius and serves as a cherished treasure in any numismatic collection.
smartminting©
The smartminting© technology is a ground-breaking advancement in contemporary numismatics that permits an unparalleled level of ultra-high relief, and it establishes novel benchmarks in the coin industry.
This technology enables the production of standard weight coins with larger diameters, while maintaining high relief height.

It also allows for coins with greatly reduced weight to maintain standard relief heights and permits coins with only slightly increased weight to exhibit high reliefs.