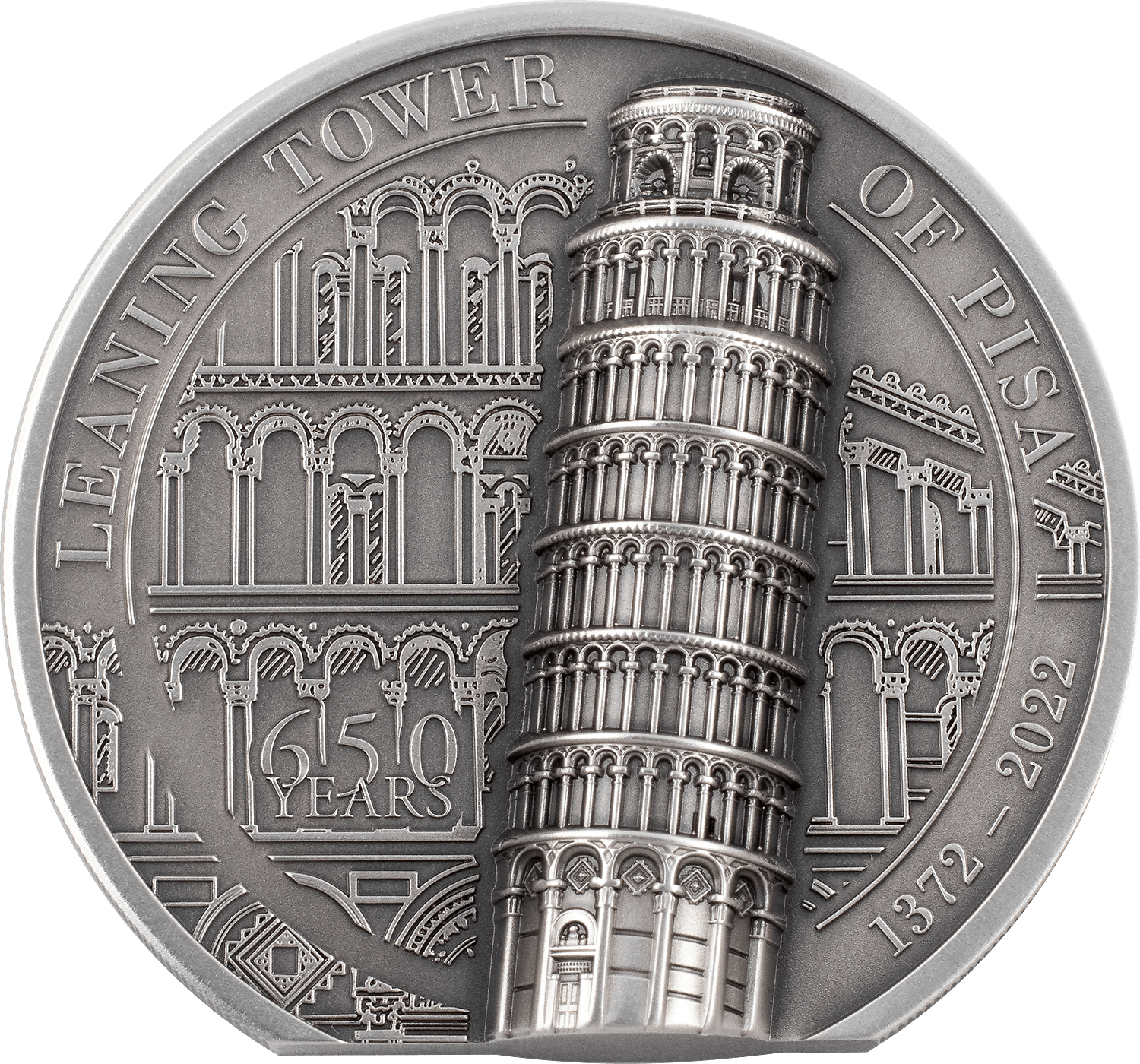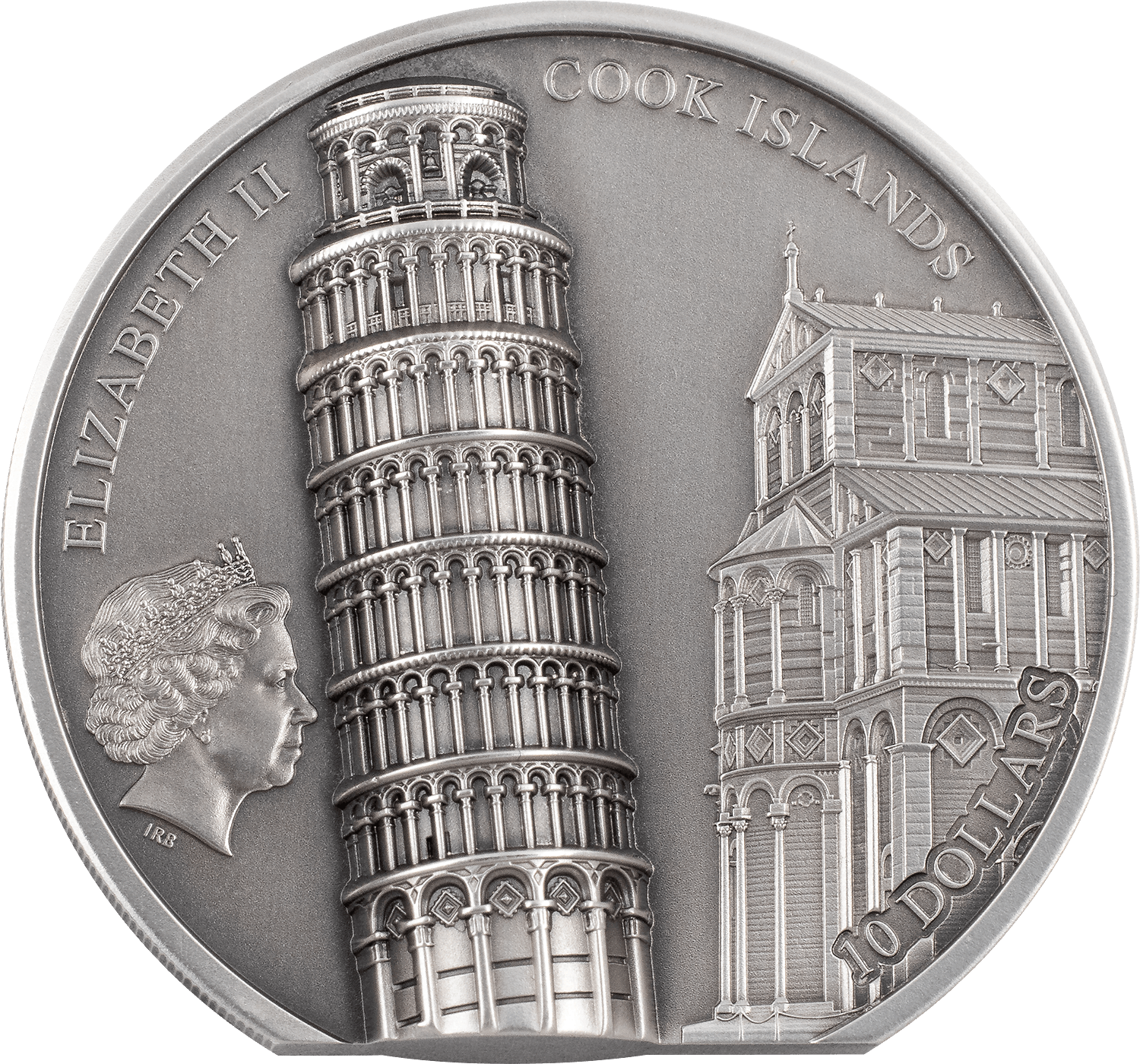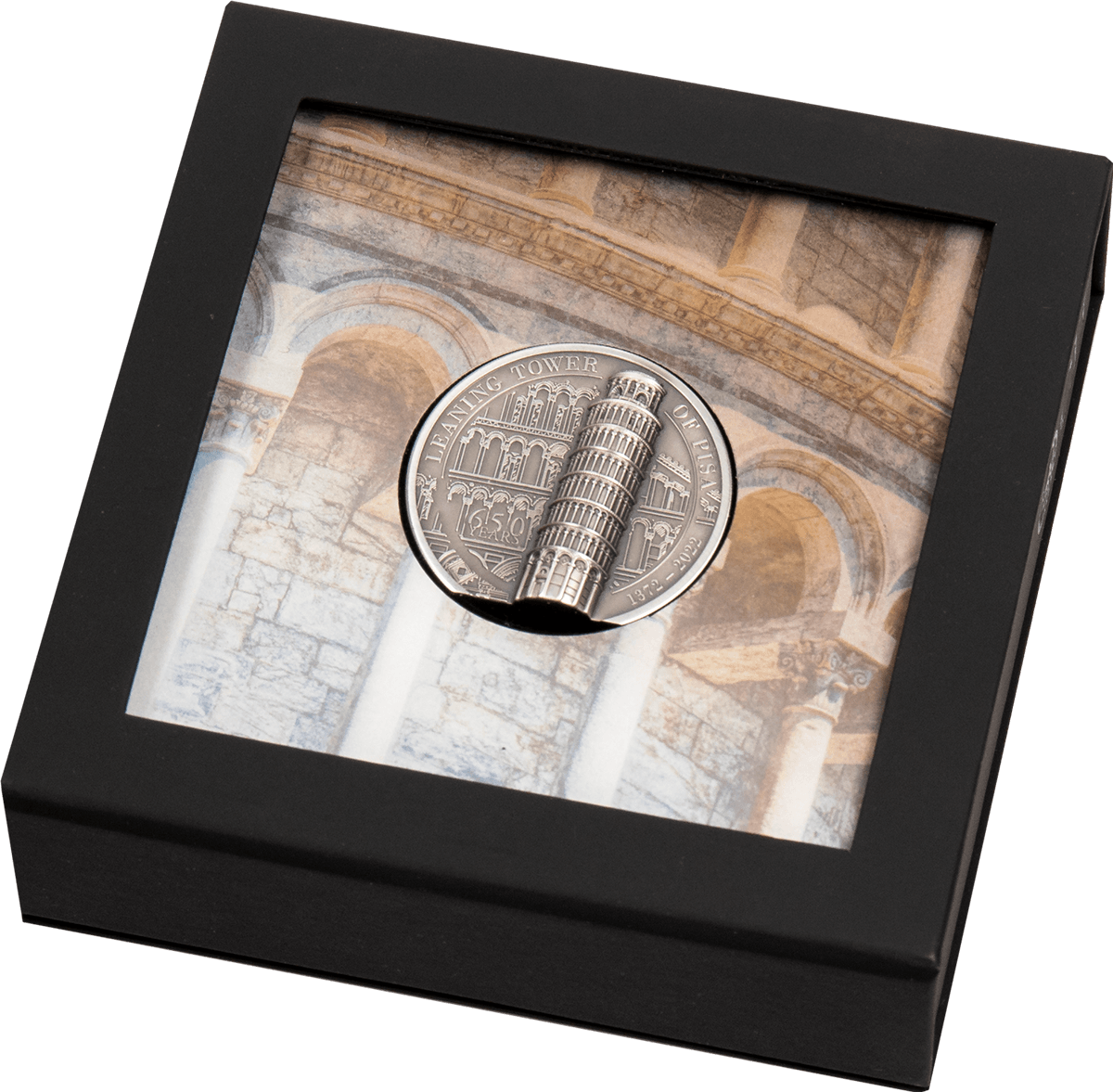 LEANING TOWER OF PISA 2 Oz Silver Coin $10 Cook Islands 2022
This incredible 2 Oz Silver coin celebrates the 650th Anniversary of one of the most photographed landmarks in the world: the Leaning Tower of Pisa. The coin has a flat bottom edge, has Ultra High Relief thanks to Smartminting Technology and has Antique Finish. It comes in a case, along with the Certificate of Authenticity. Limited mintage to 1372 pieces worldwide!
Only 1 unit left
Step into the world of architectural marvels with the Leaning Tower of Pisa 2 oz silver coin. This coin pays homage to one of the most recognized landmarks in the world, known for its captivating lean and timeless allure. As we celebrate the 650th anniversary of its completion, this coin invites you to appreciate the beauty found within imperfection.
The Leaning Tower of Pisa, designated as a UNESCO World Heritage Site, has captivated the hearts and minds of people worldwide. Its construction, which began in 1173 as a bell tower, encountered immediate challenges as the tower started to lean due to an unstable foundation. Despite numerous attempts to correct the lean, the tower stands today as a testament to human ingenuity and the beauty of embracing imperfection.
Crafted using smartminting® ultra-high relief, this 2 oz silver coin showcases the Leaning Tower of Pisa in stunning detail on both sides. From its iconic arches to the intricate belfry, every aspect of the tower is meticulously depicted, inviting you to admire its splendor. With a flat bottom edge, the coin offers a unique perspective that allows you to imagine standing in front of the tower and marveling at its grandeur.
Enhancing the allure of the design, the coin features an antique finish that adds depth and character, emphasizing the timeless charm of this architectural masterpiece. Limited to a mintage of 1,372 pieces, each coin is struck from 2 oz of .999 silver.
Whether you are a history enthusiast, an admirer of architectural wonders, or simply appreciate the beauty found in flaws, the Leaning Tower of Pisa 2 oz silver coin is a remarkable addition to any collection. Take this opportunity to own a piece of history, where flaw and beauty coexist in perfect harmony, forever capturing the spirit of this extraordinary tower.
smartminting©
The smartminting© technology is a ground-breaking advancement in contemporary numismatics that permits an unparalleled level of ultra-high relief, and it establishes novel benchmarks in the coin industry.
This technology enables the production of standard weight coins with larger diameters, while maintaining high relief height.

It also allows for coins with greatly reduced weight to maintain standard relief heights and permits coins with only slightly increased weight to exhibit high reliefs.