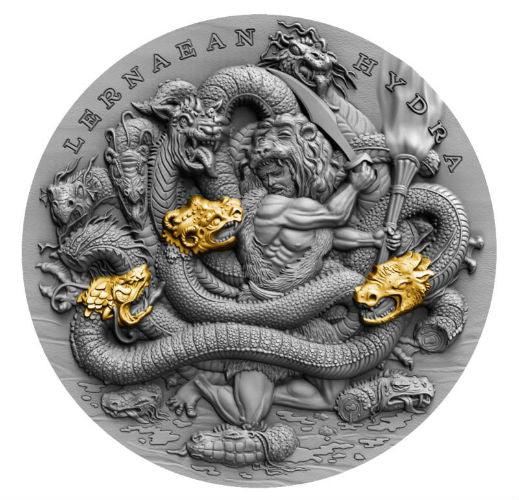 LERNAEAN HYDRA Twelve Labours of Hercules 2 Oz Silver Coin $5 Niue 2019
This beautiful 2 Oz Silver coin is the second release in the "Twelve Labours of Hercules" series, dedicated to one of the Twelve Labours – Lernaean Hydra. The coin features an incredible Gold plating, has a great High Relief, has an Antique Finish quality and comes in a themed case, along with the Certificate of Authenticity. Limited mintage to only 500 pieces worldwide!
Only 1 unit left
Celebrate the mythological prowess of Hercules with the Lernaean Hydra 2 Oz Silver Coin, the second release in the captivating "Twelve Labours of Hercules" series. Paying tribute to the legendary battle between Hercules and the fearsome Lernaean Hydra, this coin encapsulates the bravery and strength required to overcome seemingly insurmountable challenges.
Meticulously crafted from 0.999 pure silver, this 2-ounce coin features an exquisite Gold plating that accentuates the intricate details of the design. The selective gilded highlights shimmer with an ethereal radiance, drawing attention to the Hydra's serpentine forms and the determination in Hercules' expression as he engages in this epic struggle.
The High Relief technique employed in the coin's design adds depth and dimension to the artwork, bringing the mythological scene to life with remarkable clarity. Every sinuous coil of the Hydra and every sinew of Hercules' muscular frame are masterfully rendered, showcasing the skilled craftsmanship that has gone into creating this awe-inspiring piece.
With an Antique Finish quality, the coin exudes a sense of timelessness and antiquity. The carefully applied patina gives the impression of age and adds an air of authenticity to the design, emphasizing the enduring power of myth and legend.
Presented in a themed case that complements the coin's design, this limited-edition piece comes with a Certificate of Authenticity, attesting to its rarity and value. With a mintage limited to just 500 pieces worldwide, the Lernaean Hydra 2 Oz Silver Coin is a coveted treasure for collectors and enthusiasts alike.
Whether you appreciate the mythology of Hercules, admire the intricate artistry and craftsmanship on display, or simply seek to own a unique and significant piece of numismatic history, this coin is a remarkable addition to any collection. Immortalize the legendary battle against the Lernaean Hydra and embrace the indomitable spirit of Hercules with this exquisite silver coin.