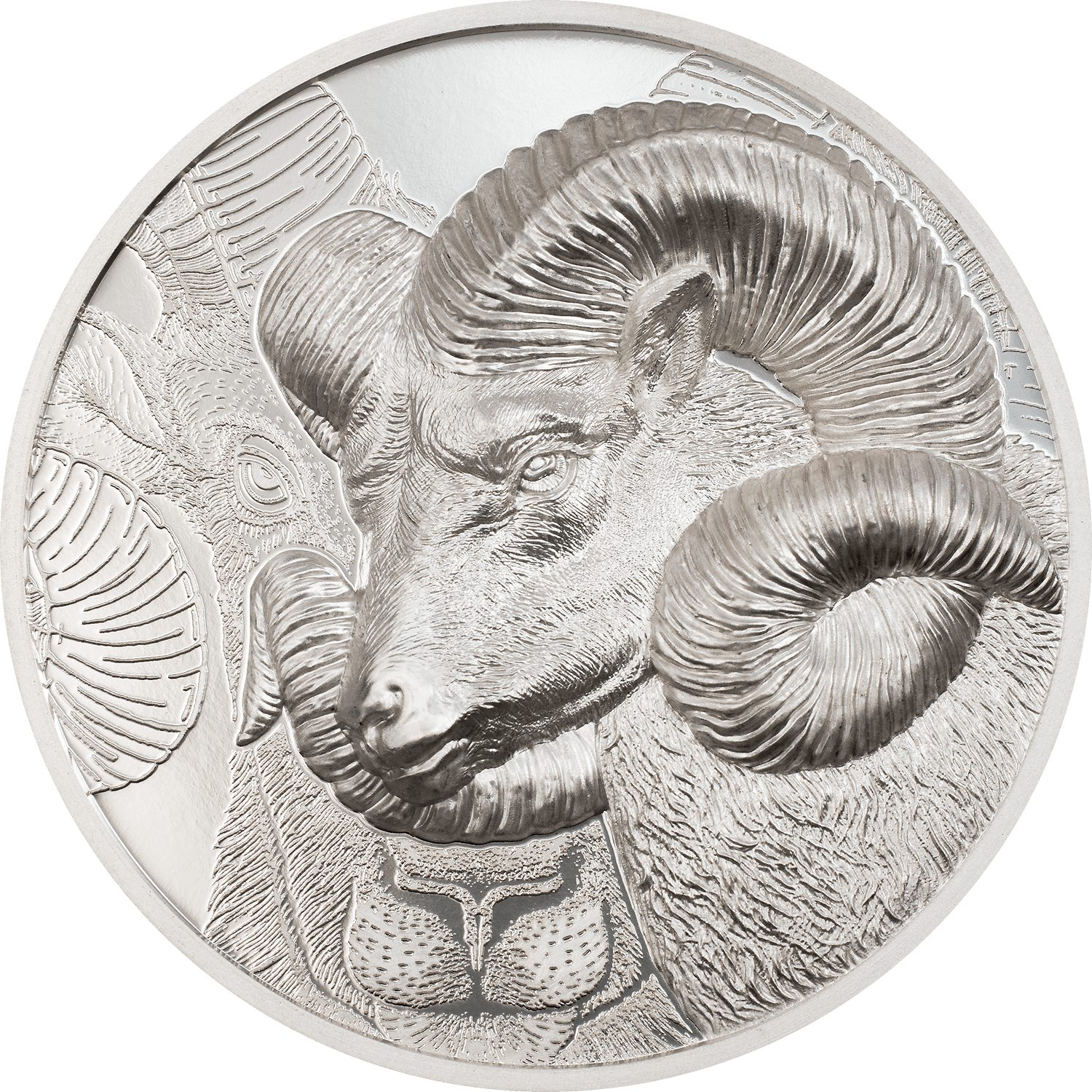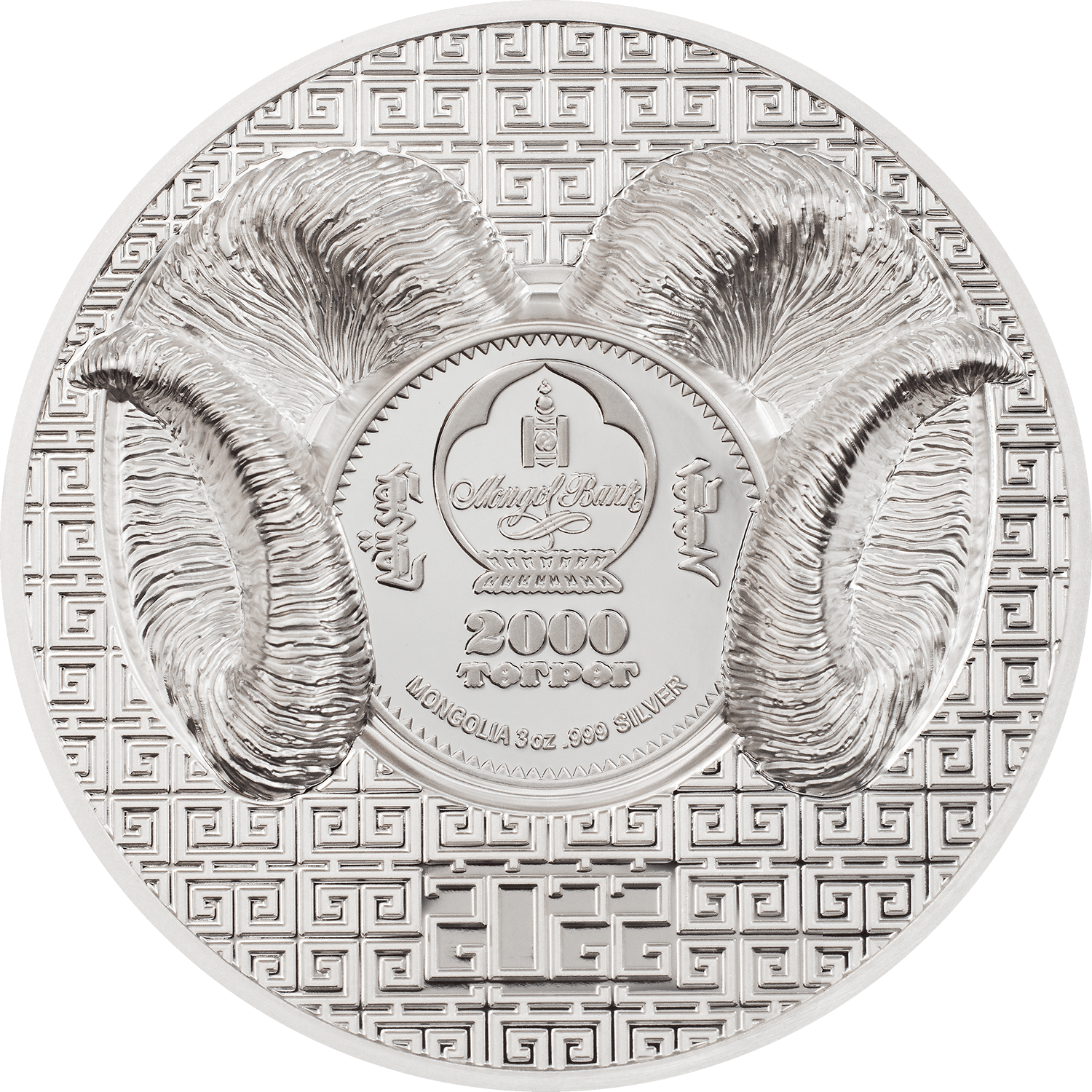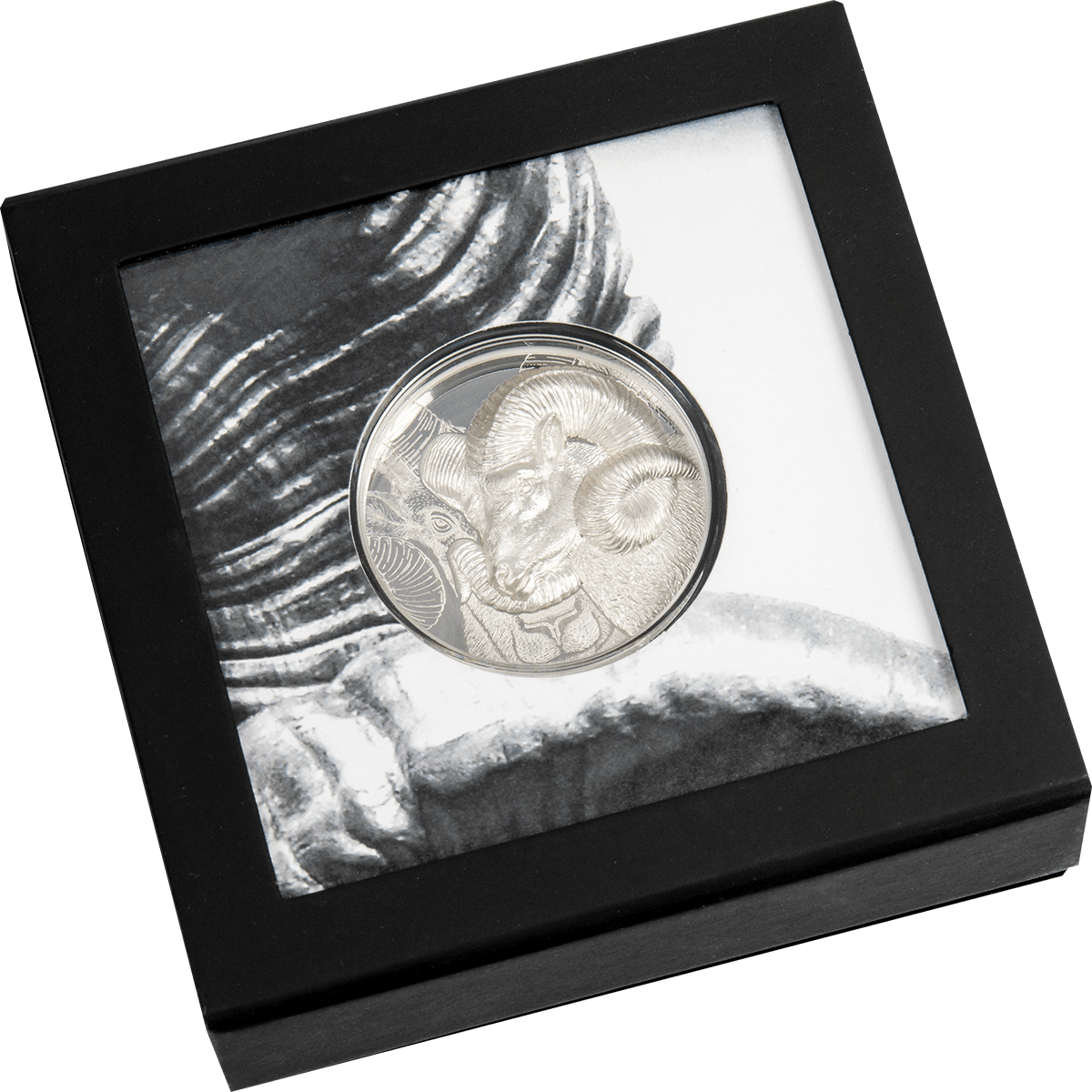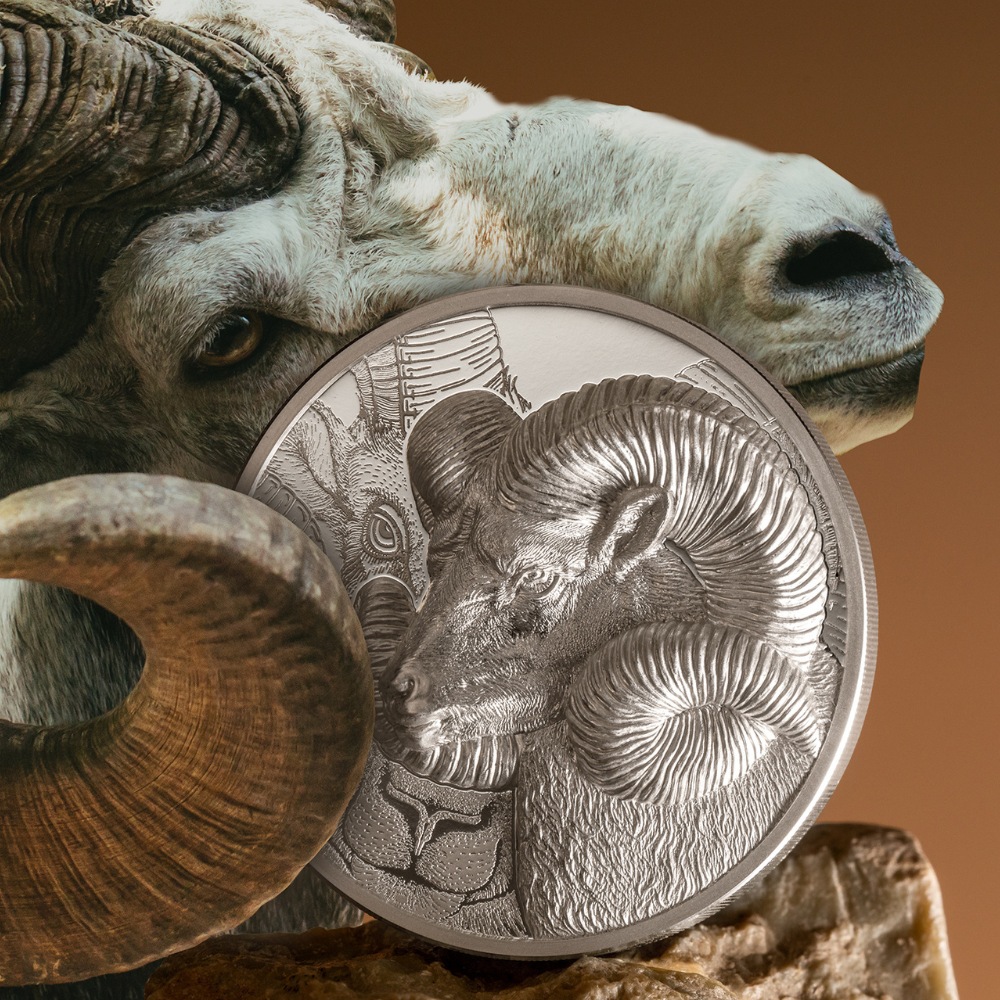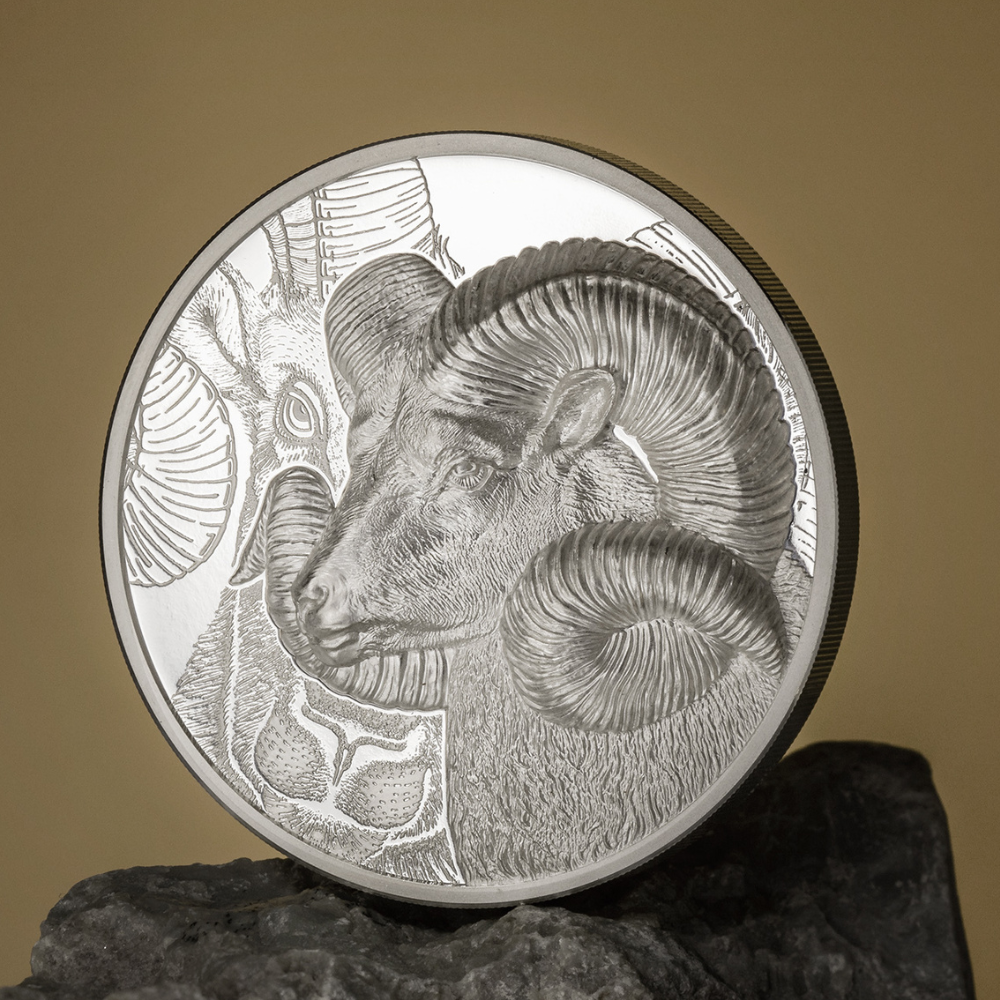 MAGNIFICENT ARGALI Wild Mongolia Ram 3 Oz Silver Coin 2000 Togrog Mongolia 2022
This beautiful 3 Oz Silver coin represents one of the largest wild sheep living in Asia – the Argali. The coin features Smartminting technology, has an incredible design, has Proof quality and comes in a case, along with the Certificate of Authenticity. Limited mintage of 500 pieces worldwide!
Prepare to be awestruck by the MAGNIFICENT ARGALI Wild Mongolia Ram 3 Oz Silver Coin, the latest addition to our prestigious collection. This coin pays homage to the majestic argali, the largest species of wild sheep found in the highlands of western East Asia, the Himalayas, Tibet, and the Altai Mountains. Standing up to 135 cm (4 ft) high and measuring up to 200 cm (7 ft) long, the argali is a remarkable creature adapted to survive in extreme cold, aridity, and high elevations up to 5800 m (19000 ft).
While these awe-inspiring animals possess great physical prowess, they also face challenges in their natural habitats. Himalayan wolves and leopards are their primary predators, and their populations are threatened due to factors such as domestic livestock ranching and hunting. The allure of a trophy specimen has made them a target for sports hunters, who seek both their meat and the prized horns used in traditional Chinese medicine. Males, in particular, boast two large corkscrew-shaped horns that can reach staggering lengths of up to 190 cm (6 ft 3 in) and weigh up to 23 kg (51 lb), which they use in competition with each other.
The reverse of this extraordinary coin showcases both a front-facing and a side-profile view of the argali. The side-profile image is struck in ultra-high relief, displaying meticulous attention to detail in the depiction of the fur and horns. The relief extends all the way to the edge of the coin, creating a seamless and captivating presentation. The front-facing view, expertly struck to resemble a ghosted image in the background, combines razor-fine detail and relief to create a truly stunning effect. The obverse features the argali's corkscrew horns in ultra-high relief, with the tilted effigy of the argali's face. The background boasts a unique geometric pattern with the hidden "2022" date incorporated into the design.
Limited to a mintage of only 500 pieces, this 3 oz silver proof coin is a true masterpiece of numismatic artistry. Struck in .999 silver and measuring 45 mm in size, it showcases the impressive capabilities of smartminting® technology in delivering unparalleled detail and relief. Whether you are a passionate collector or simply appreciate the beauty of wildlife, the MAGNIFICENT ARGALI Wild Mongolia Ram 3 Oz Silver Coin is a treasure worth adding to your collection. Don't miss this opportunity to own a piece of natural splendor and exquisite craftsmanship that celebrates the grandeur of these magnificent creatures.
smartminting©
The smartminting© technology is a ground-breaking advancement in contemporary numismatics that permits an unparalleled level of ultra-high relief, and it establishes novel benchmarks in the coin industry.
This technology enables the production of standard weight coins with larger diameters, while maintaining high relief height.

It also allows for coins with greatly reduced weight to maintain standard relief heights and permits coins with only slightly increased weight to exhibit high reliefs.