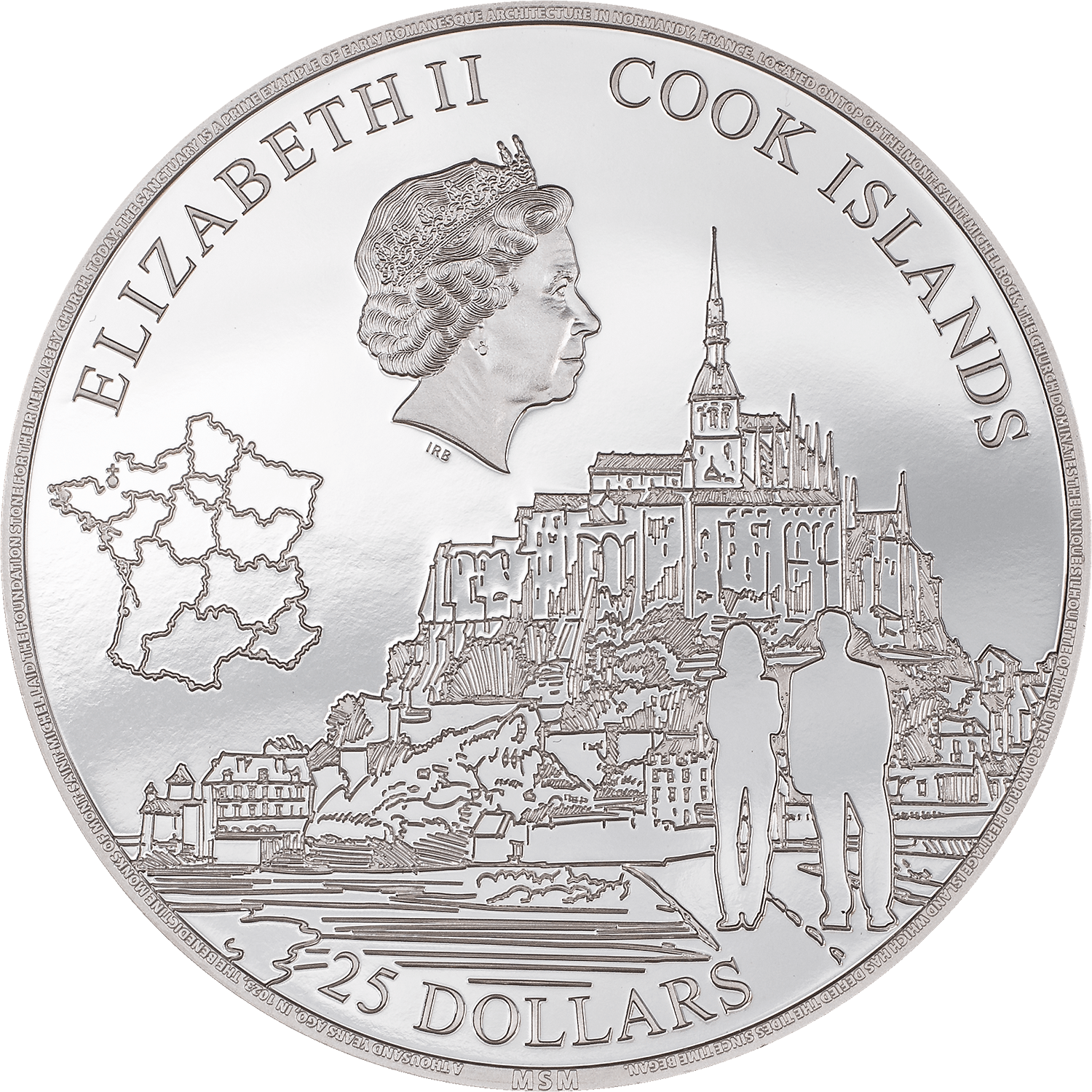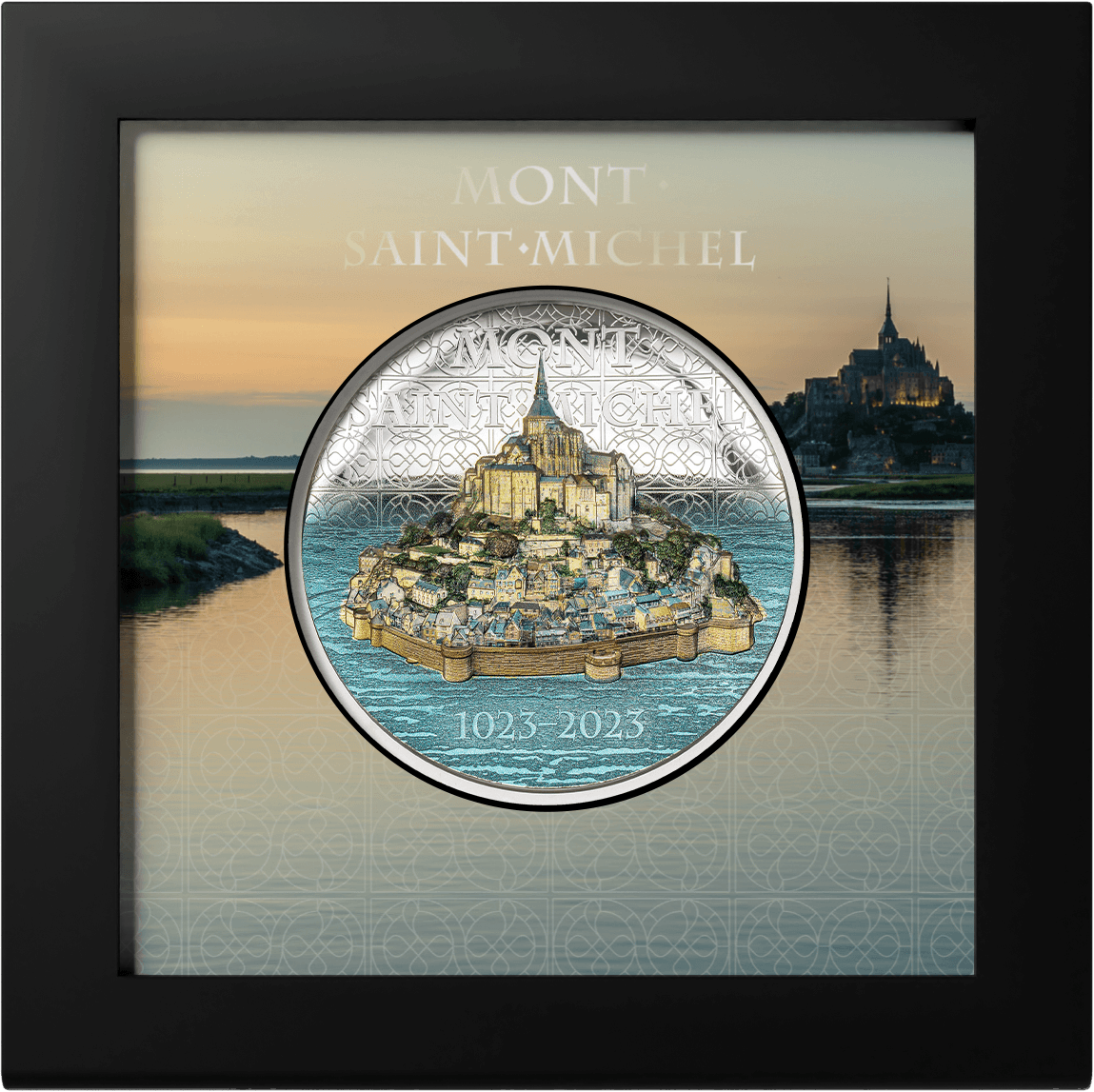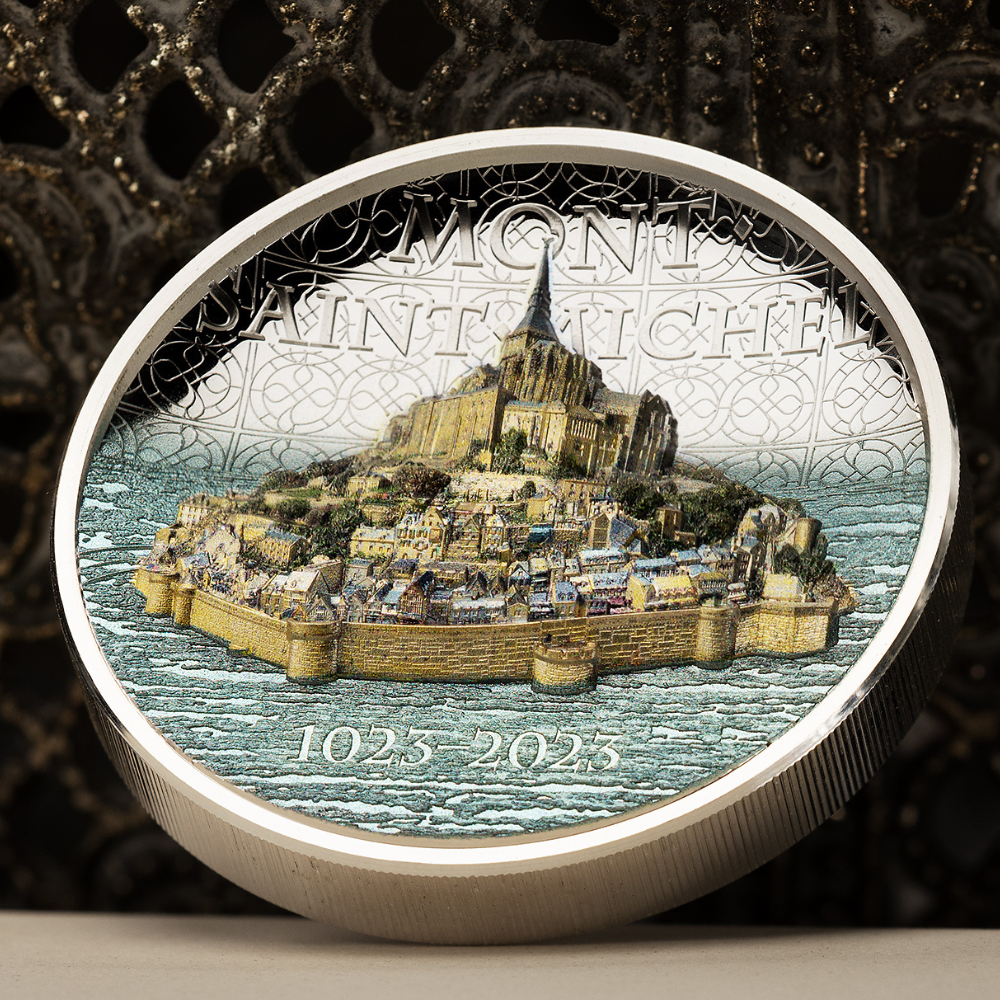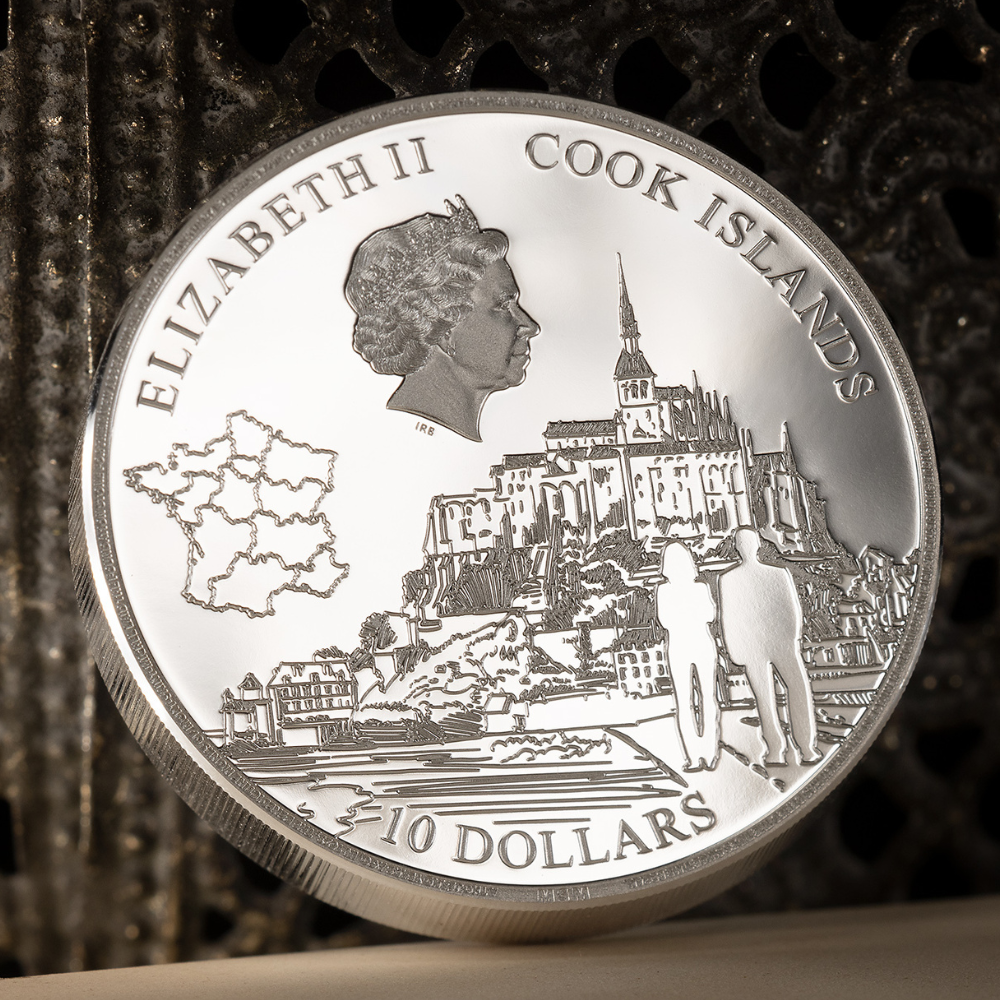 MONT SAINT MICHEL 5 Oz Silver Coin $25 Cook Islands 2023
This beautiful 5 Oz Silver coin depicts stunning landmark of Mont Saint Michel, an UNESCO World Heritage Site since 1979. The coin has a Proof quality, features the Smartminting technology and has an Ultra High Relief. It comes in a case, along with the Certificate of Authenticity. Limited mintage to 500 pieces worldwide.
Journey to the awe-inspiring Mont Saint Michel with the MONT SAINT MICHEL 5 Oz Silver Coin. This remarkable coin pays tribute to the iconic silhouette of Mont-Saint-Michel, a secluded mount off the coast of Normandy that has captivated the world with its unique beauty. Recognized as a famous landmark, a place of pilgrimage, and a UNESCO World Heritage Site since 1979, Mont-Saint-Michel is an architectural marvel and a symbol of spiritual significance.
The coin showcases the extraordinary silhouette of Mont-Saint-Michel, meticulously crafted in 5 oz of pure silver. Every intricate detail of the abbey, with its stunning spires and intricate Gothic architecture, is brought to life on the coin's surface. The expert craftsmanship and attention to detail truly capture the grandeur and mystique of this historic monument.
The history of Mont-Saint-Michel is as fascinating as its appearance. Construction of the Benedictine abbey began in 966 and continued over the centuries, resulting in the creation of the magnificent complex we see today. However, its journey has not been without challenges. In 1203, a devastating fire partially destroyed the abbey after an attempted conquest by King Philip II. In a remarkable act of compensation, the king funded the construction of the remarkable monastery known as La Merveille, or "the Wonder," as a testament to the enduring spirit of Mont-Saint-Michel.
As you hold this coin in your hands, you will be transported to the enchanting world of Mont-Saint-Michel. The design captures the allure and majesty of the mount, inviting you to explore its rich history and immerse yourself in its timeless beauty. Whether you are a history enthusiast, a collector of numismatic treasures, or simply appreciate the splendor of Mont-Saint-Michel, this coin is a remarkable addition to any collection.
Embrace the magic and allure of Mont-Saint-Michel with the MONT SAINT MICHEL 5 Oz Silver Coin. Let its exquisite craftsmanship and intricate design remind you of the enduring spirit of this remarkable monument and the centuries of history it holds within its walls.
smartminting©
The smartminting© technology is a ground-breaking advancement in contemporary numismatics that permits an unparalleled level of ultra-high relief, and it establishes novel benchmarks in the coin industry.
This technology enables the production of standard weight coins with larger diameters, while maintaining high relief height.

It also allows for coins with greatly reduced weight to maintain standard relief heights and permits coins with only slightly increased weight to exhibit high reliefs.