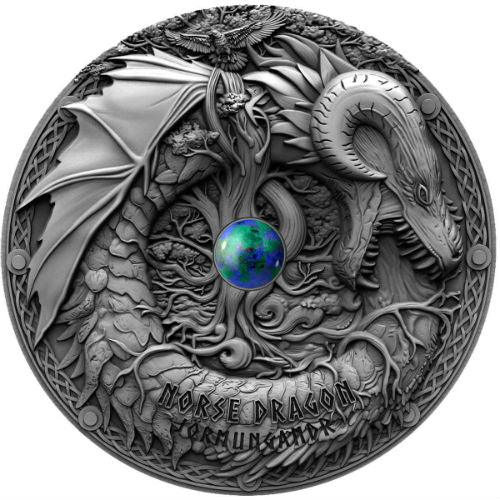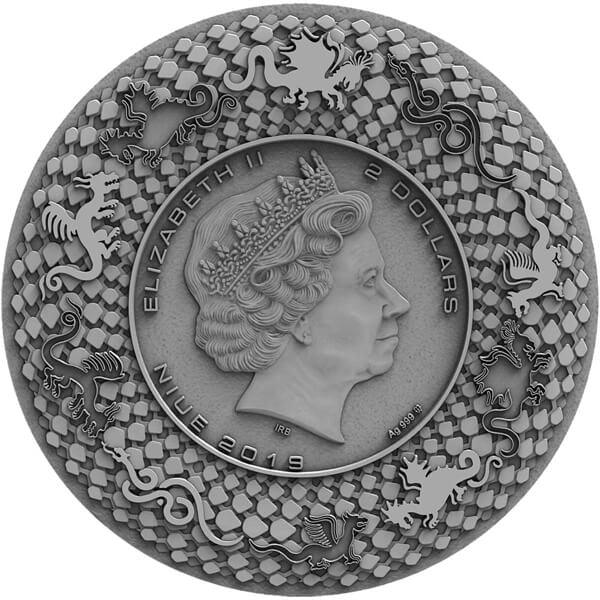 NORSE DRAGON Azurite Dragons 2 Oz Silver Coin $2 Niue 2019
This incredible 2 Oz Silver coin is the second release in the new "Dragons" series and features the Norse Dragon, the legendary creature of the Norse mythology. The coin has a beautiful Azurite insert, has an incredible High Relief, has an Antique Finish quality and comes in a case, along with the Certificate of Authenticity. Limited mintage of only 500 pieces worldwide!
Embark on a mythical journey with the Norse Dragon Azurite Dragons 2 Oz Silver Coin, the second installment in the captivating "Dragons" series. Drawing inspiration from Norse mythology, this coin transports you to the realm of legendary creatures and epic tales, making it a must-have for collectors and enthusiasts alike.
Crafted from 2 ounces of 0.999 pure silver, this coin embodies the power and mystique of the Norse Dragon. The exquisite Azurite insert serves as the centerpiece, capturing the essence of the dragon's ethereal nature. The deep blue hues of Azurite evoke a sense of enchantment and create a captivating contrast against the silver background.
The coin's remarkable High Relief adds depth and dimension to the design, bringing the Norse Dragon to life. Every intricate detail, from its fearsome scales to its piercing gaze, is meticulously crafted, showcasing the skill and artistry of the mint. The dragon's majestic presence dominates the coin, exuding strength and awe-inspiring allure.
With an Antique Finish, this coin possesses an aged and weathered appearance, evoking a sense of ancient wisdom and timelessness. This finish accentuates the intricate details and textures of the design, lending an air of authenticity and reverence to the Norse Dragon.
The Norse Dragon Azurite Dragons 2 Oz Silver Coin is elegantly presented in a case, providing both protection and an exquisite display option. It is accompanied by a Certificate of Authenticity, attesting to its limited mintage of only 500 pieces worldwide. This exclusivity ensures its rarity and adds significant value to your collection.
Whether you are a mythology enthusiast, a lover of intricate designs, or a dedicated collector, the Norse Dragon Azurite Dragons 2 Oz Silver Coin is a captivating addition to any collection. Immerse yourself in the world of Norse mythology and own a piece of ancient legend with this extraordinary coin.