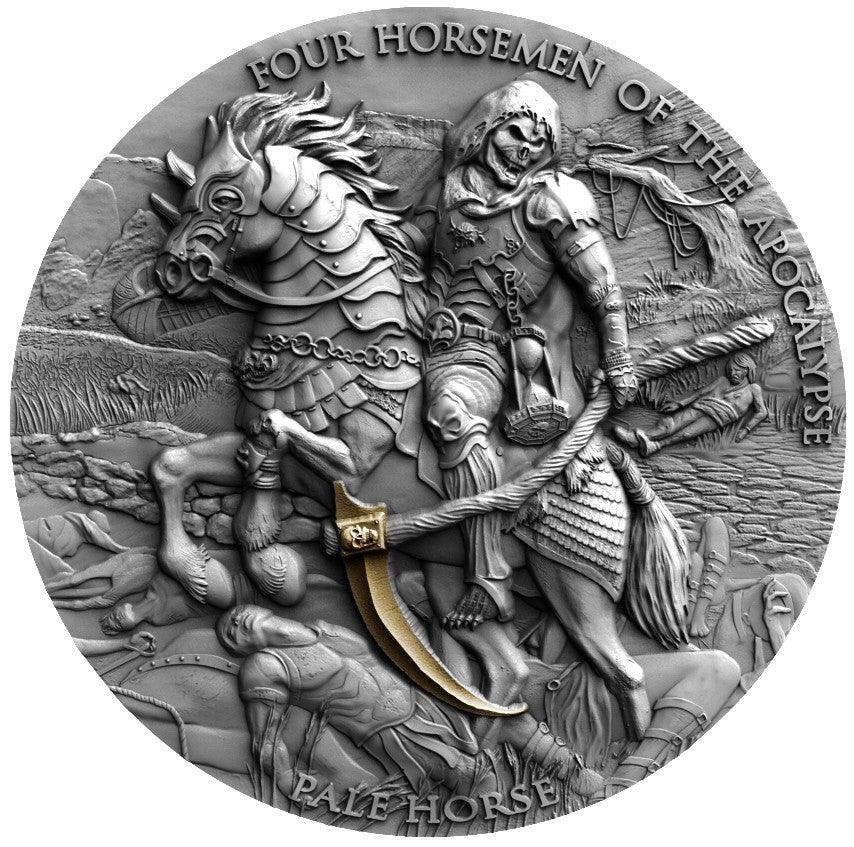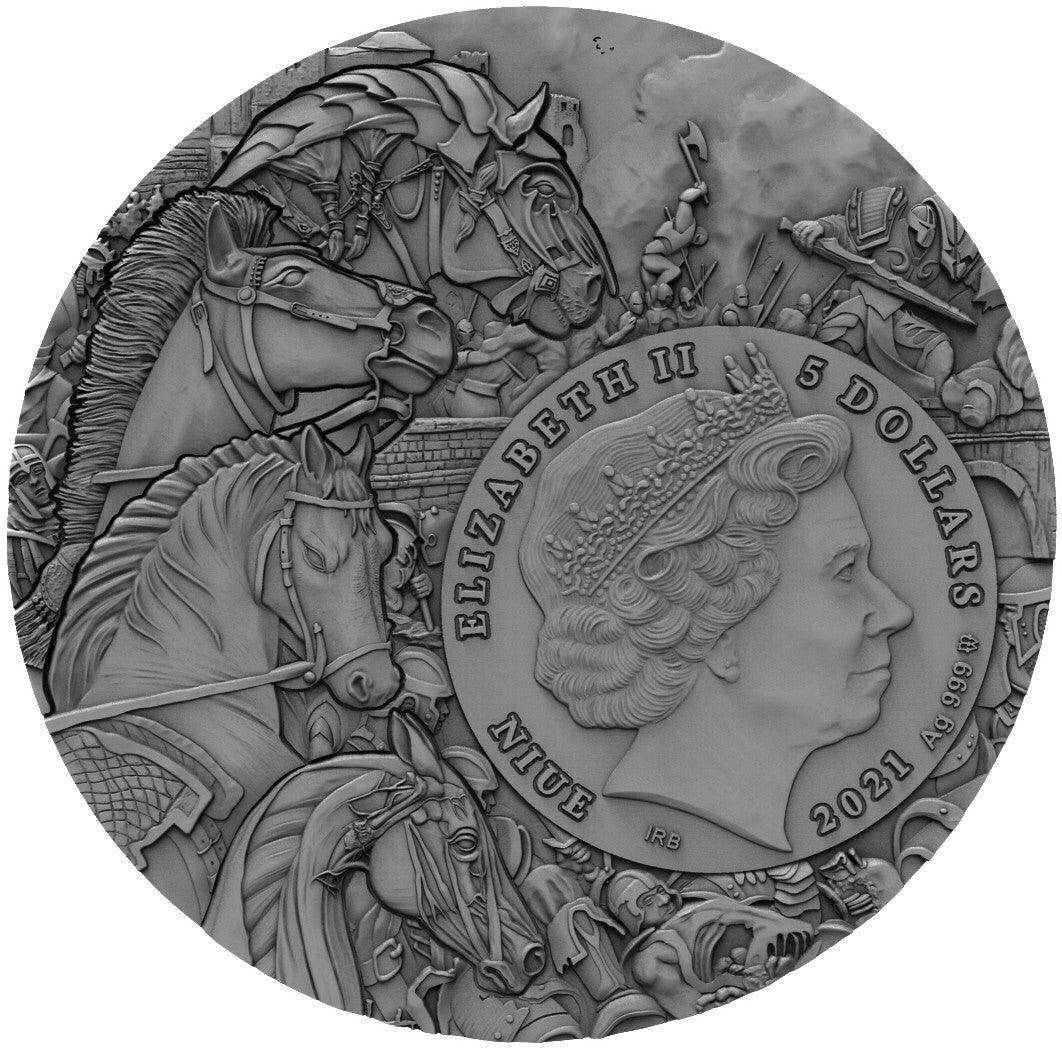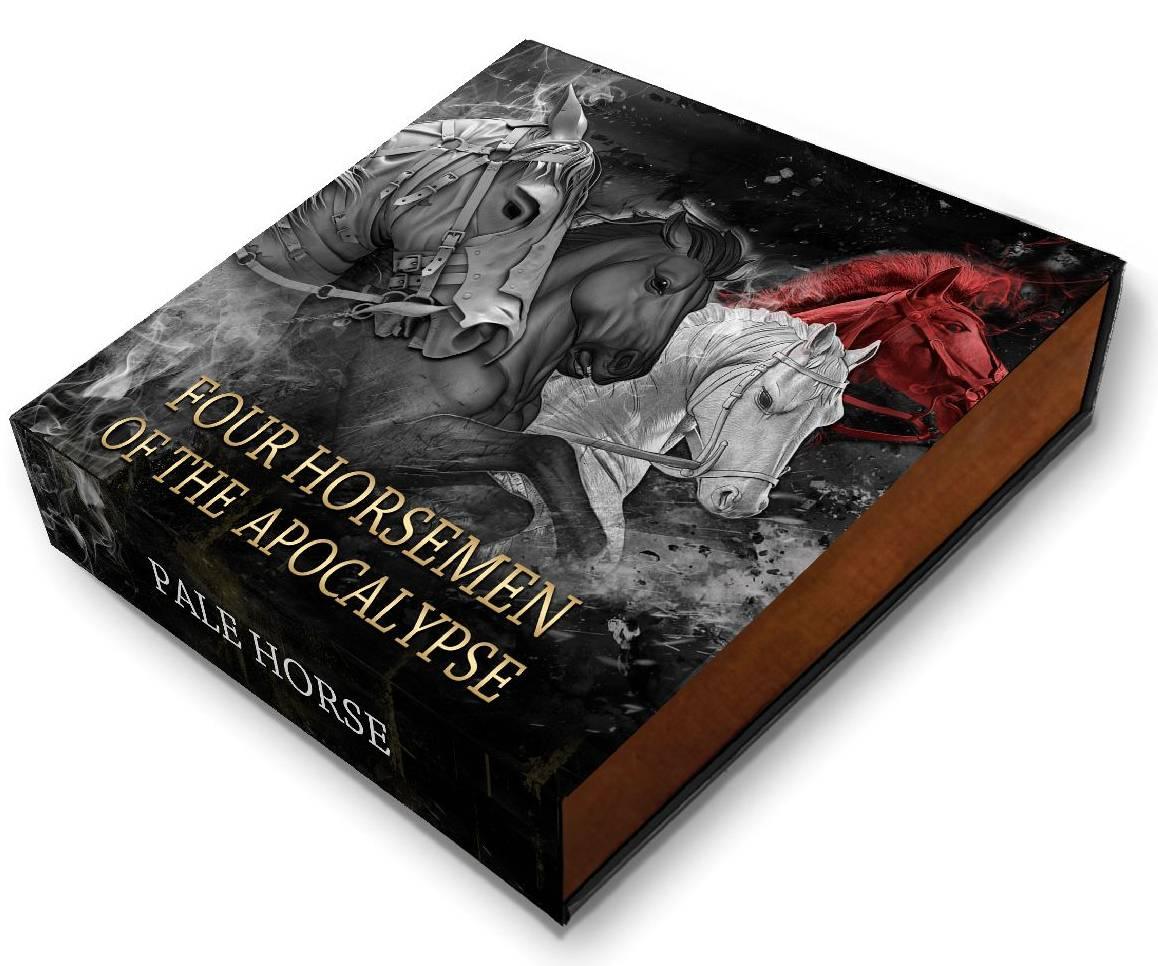 PALE HORSE Four Horsemen of the Apocalypse 2 Oz Silver Coin $5 Niue 2020
This beautiful 2 Oz Silver coin is the forth release in the "Four Horsemen Of The Apocalypse" series. This edition is dedicated to the Pale Horse. The coin presents wonderful and detailed High Reliefs, has a selective Gold plating, has an Antique Finish quality and comes in a case, along with the Certificate of Authenticity. Limited mintage of only 500 pieces worldwide!
Embrace the dark allure of the Pale Horse Four Horsemen of the Apocalypse 2 Oz Silver Coin, the fourth installment in the mesmerizing "Four Horsemen of the Apocalypse" series. Dedicated to the enigmatic Pale Horse, this coin encapsulates the haunting essence of its symbolic representation. With its remarkable craftsmanship and captivating design, this coin stands as a true masterpiece in the realm of numismatic artistry.
Weighing 2 ounces of 0.999 pure silver, this coin boasts exquisite high reliefs that bring every intricate detail to life. The meticulous craftsmanship beautifully captures the power and mystique of the Pale Horse, from its skeletal rider to the horse's sinewy form. The selective gold plating adds a touch of opulence, emphasizing key elements and creating a striking contrast between light and darkness.
The antique finish lends an air of age and wisdom to the coin, enhancing its aura of ancient mysticism. It invites you to delve deeper into the profound symbolism associated with the Four Horsemen and their pivotal role in the apocalyptic narrative. The coin serves as a visual testament to the weighty and allegorical concepts that lie at the heart of this legendary tale.
With a limited mintage of just 500 pieces worldwide, this coin is a true rarity. Each coin is accompanied by a Certificate of Authenticity, guaranteeing its quality and verifying its place within the limited production. To preserve its beauty and showcase its significance, the coin is elegantly encased, offering both protection and a stunning display option.
The Pale Horse Four Horsemen of the Apocalypse 2 Oz Silver Coin stands as a remarkable addition to any collection, embodying the profound symbolism and artistic craftsmanship that makes it a true treasure to behold.