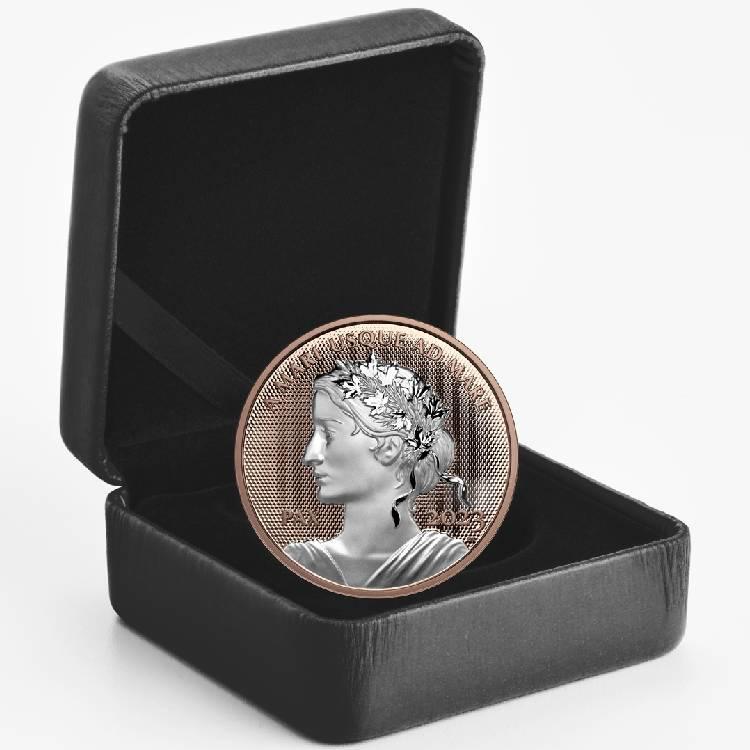 PEACE DOLLAR 1 Oz Silver Coin $1 Canada 2023
This beautiful Silver coin celebrates the universal human rights and world peace. The coin has Proof quality, Ultra High Relief and it is rose Gold plated. It has a wonderful design and comes in a case, along with the Certificate of Authenticity. Limited mintage of 6000 pieces worldwide!
Immerse yourself in the spirit of peace and harmony with the Peace Dollar 1 Oz Silver Coin. This exquisite coin, released in 2023, showcases an intricately engraved female personification of Peace. Represented by the Latin inscription "Pax," denoting the Roman goddess of peace, this coin serves as a powerful reminder of Canada's enduring commitment to seeking peace, stability, and a more secure international order. With a limited mintage of only 6,000 coins, this exceptional piece contains just over one ounce of fine silver, making it a highly collectible addition to any numismatic collection.
The design of the coin is a true testament to the craftsmanship and artistry involved. Featuring Ultra High Relief with exceptional detail, the Peace figure stands out prominently against an innovative and captivating background design. As the coin catches the light and is moved, a pulsating effect is created, enhancing the overall visual impact of the design. Lady Peace, adorned with a crown of maple leaves, shines brilliantly in silver, creating a striking contrast against the rose gold-layered background.
The obverse of the coin showcases the effigy of Her Majesty Queen Elizabeth II, skillfully crafted by Susanna Blunt. This depiction pays homage to Canada's rich history and connection to the British monarchy.
Beyond its stunning aesthetics, the Peace Dollar holds deep significance in commemorating Canada's profound contribution to global peacekeeping efforts. The legacy traces back to 1957 when Lester B. Pearson, then Canadian Secretary of State for External Affairs, was awarded the Nobel Peace Prize for his instrumental role in resolving the Suez Crisis by establishing the world's first large-scale United Nations peacekeeping force. This significant event marked the beginning of Canada's active involvement in UN peacekeeping missions.
For over four decades, Canada's commitment to peacekeeping remained an integral part of its international role. In 1988, the United Nations itself was awarded the Nobel Peace Prize for its extensive peacekeeping activities, with Canada having contributed close to 80,000 peacekeepers by that time. The Peace Dollar pays tribute to this rich history and showcases Canada's dedication to making the world a more peaceful place.
The Peace Dollar 1 Oz Silver Coin is not just a testament to exceptional craftsmanship and artistic expression; it encapsulates Canada's values of peace, harmony, and global cooperation. Encased in a protective capsule, this remarkable coin is a valuable addition to any collection and a symbol of Canada's commitment to building a more peaceful world.