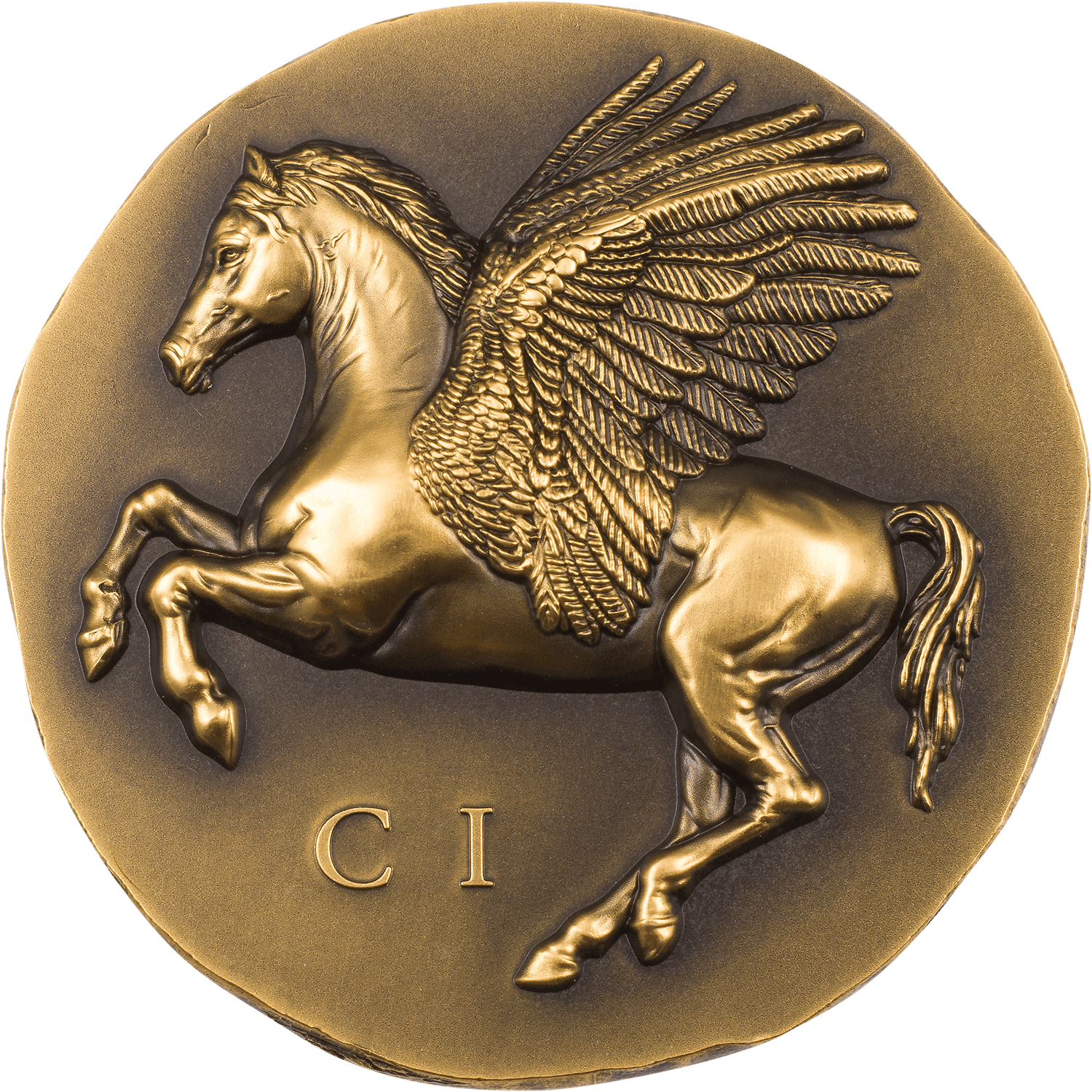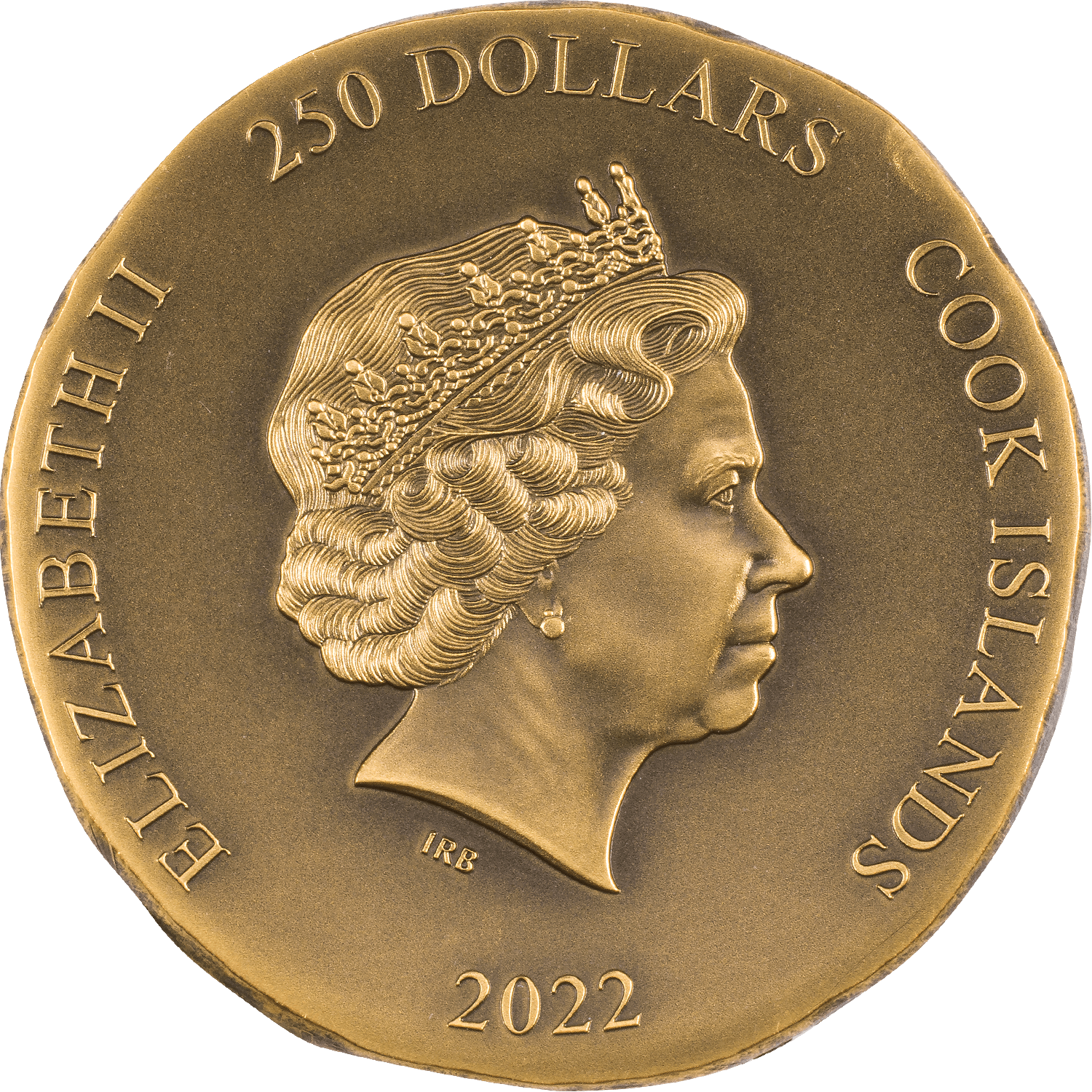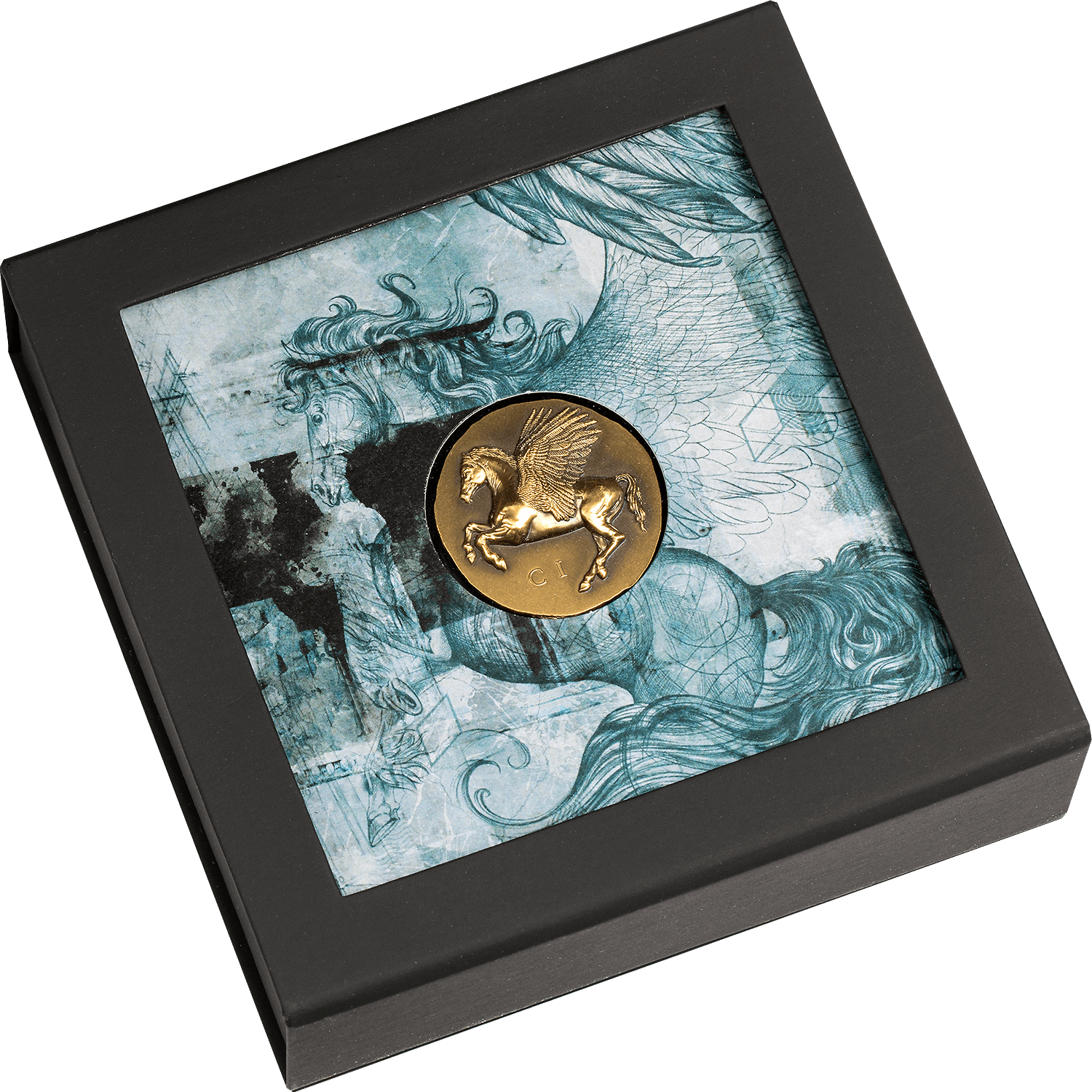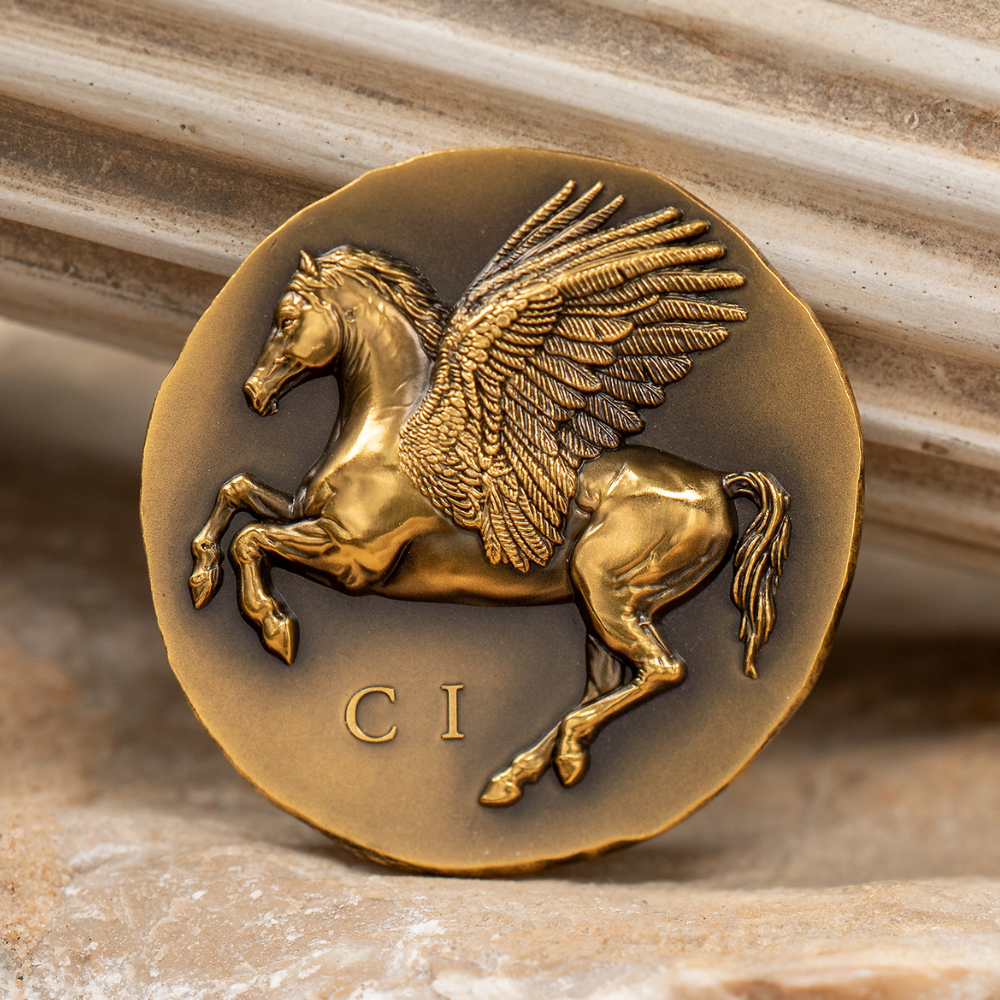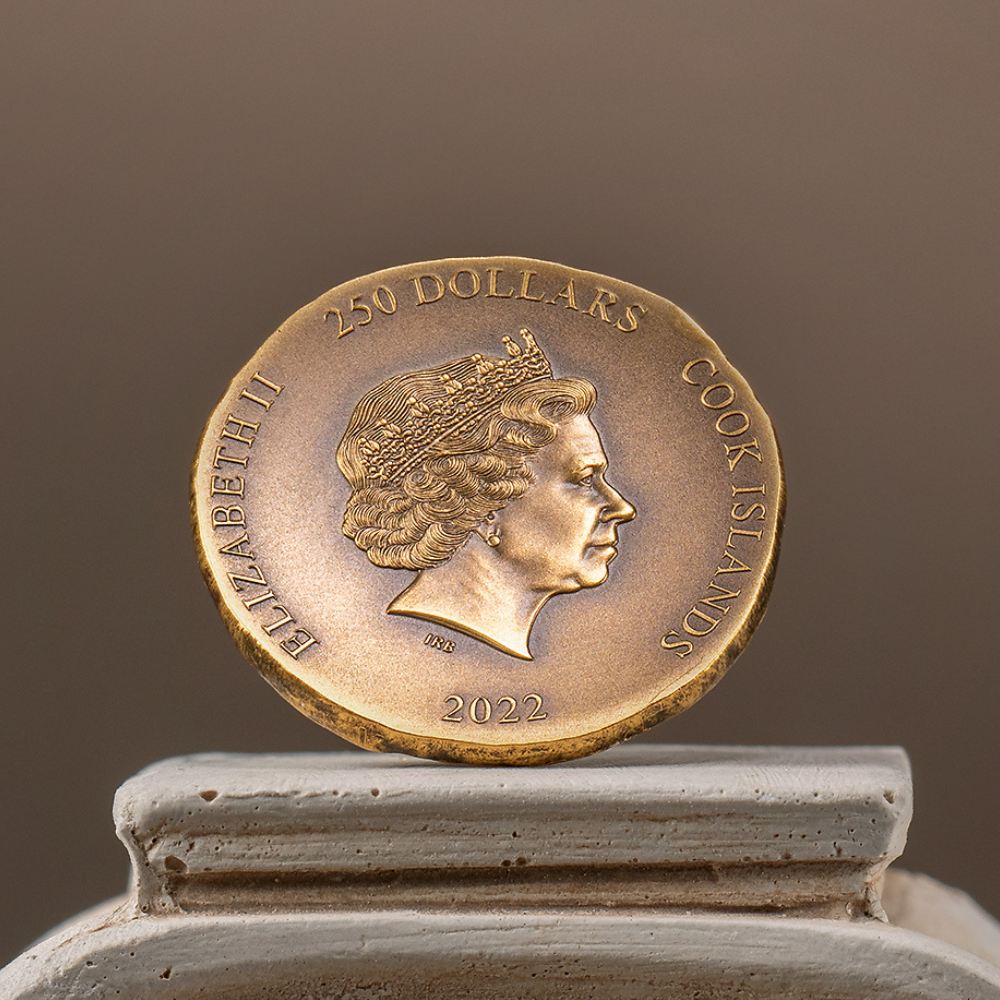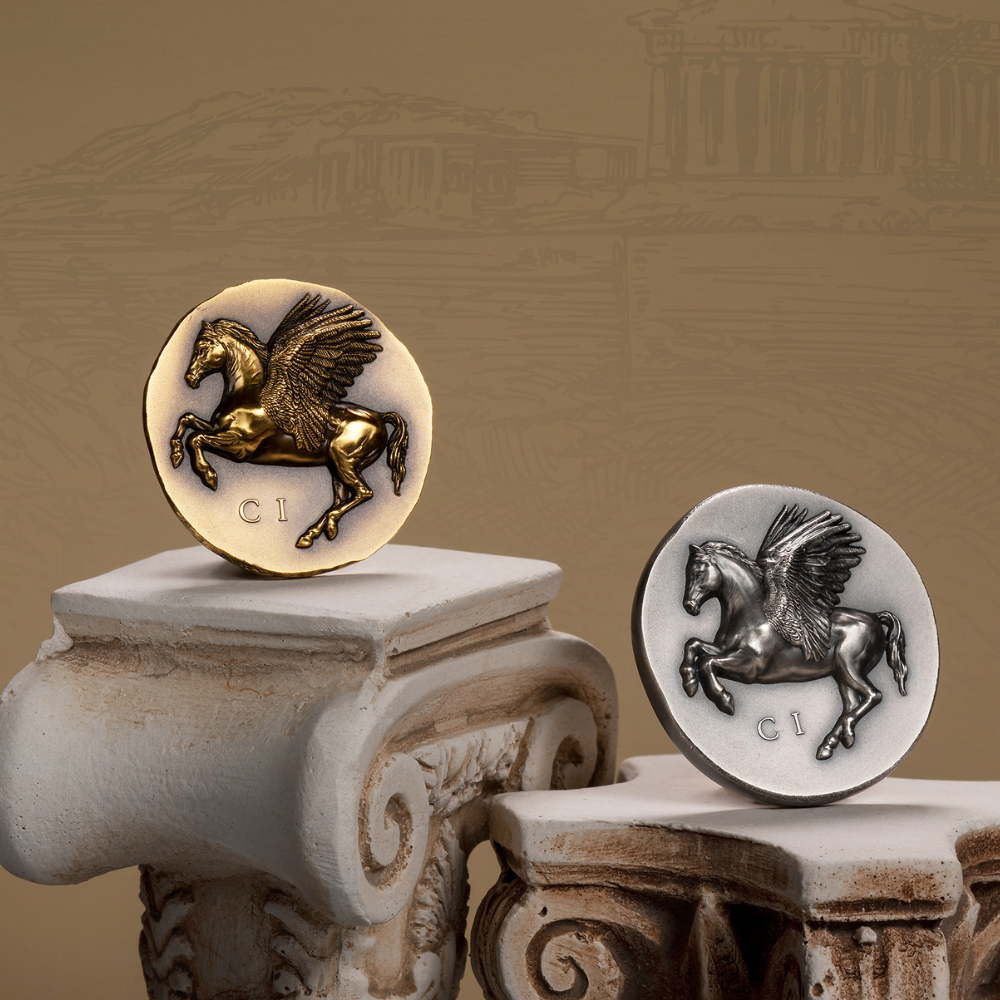 PEGASOS Numismatic Icons 1 Oz Gold Coin $250 Cook Islands 2022
This beautiful 1 Oz Gold coin is part of the "Numismatic Icons" series and features one of the most recognized creatures in Greek Mythology: Pegasus. The coin has Antique Finish quality, features Smartminting Ultra High Relief and comes in a case, along with the Certificate of Authenticity. Strictly limited mintage of 199 pieces worldwide!
Immerse yourself in the rich tapestry of Greek mythology with the PEGASOS Numismatic Icons 1 Oz Gold Coin. This exceptional coin captures the legendary winged horse, Pegasus, in all its majestic glory. According to Greek mythology, Pegasus was born from the union of Poseidon and Medusa. When Medusa was slain by Perseus, Pegasus emerged from her neck, symbolizing the enduring immortality of the soul. Known as a symbol of poetic inspiration, Pegasus, like Poseidon, possessed the power to create water streams by striking its hoof. The springs Hippocrene, named "Horse Spring," were believed to have been brought forth by Pegasus himself.
The ancient city-state of Corinth, a prosperous seaport, produced distinctive coins that featured Pegasus as a prominent motif. Drawing from this numismatic history, CIT now brings the iconic symbol of Pegasus to a modern coin. Leveraging the enhanced smartminting® technology, this coin seamlessly combines the ancient design elements, such as the uneven rim, with a breathtaking ultra-high relief. The result is a mesmerizing blend of tradition and innovation.
The PEGASOS Numismatic Icons series offers two remarkable editions. The 1 oz silver version, limited to only 999 pieces, showcases the meticulous craftsmanship and attention to detail that CIT is renowned for. Alongside this, the 1 oz gold premium edition takes numismatic artistry to new heights. Limited to just 199 pieces, this gold coin is struck in ultra-high relief and adorned with an antique finish, accentuating every intricate aspect of Pegasus' form. This release marks the first-ever gold coin in ultra-high relief with an antique finish from CIT, making it a truly exceptional addition to any collection.
To further complement the collection, a half gram gold version is also available, featuring a silk finish that adds a touch of elegance and variety to the series.
Don't let this opportunity fly away! Capture the beauty and power of Pegasus with the PEGASOS Numismatic Icons 1 Oz Gold Coin. With its approximately 30 mm size and striking antique finish, this coin is sure to be a cherished treasure, uniting ancient legend with modern craftsmanship. Experience the awe-inspiring presence of Pegasus and embark on a numismatic journey like no other.
smartminting©
The smartminting© technology is a ground-breaking advancement in contemporary numismatics that permits an unparalleled level of ultra-high relief, and it establishes novel benchmarks in the coin industry.
This technology enables the production of standard weight coins with larger diameters, while maintaining high relief height.

It also allows for coins with greatly reduced weight to maintain standard relief heights and permits coins with only slightly increased weight to exhibit high reliefs.