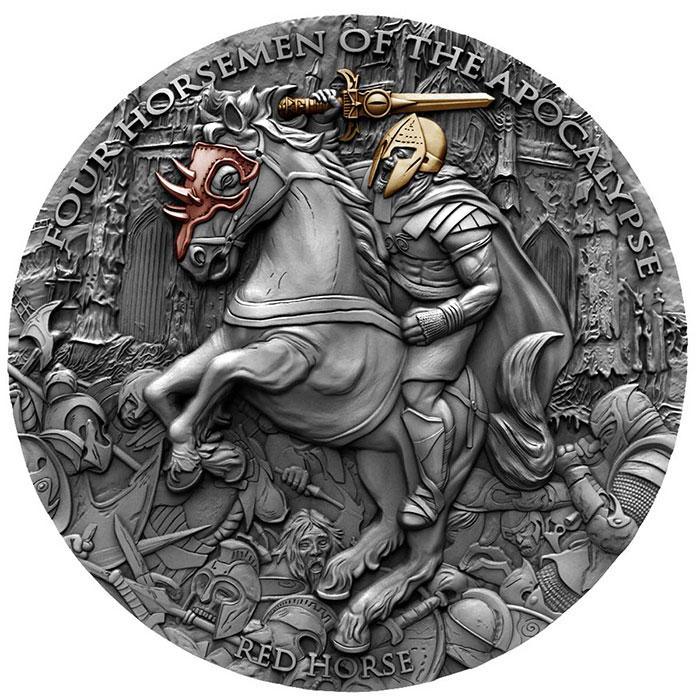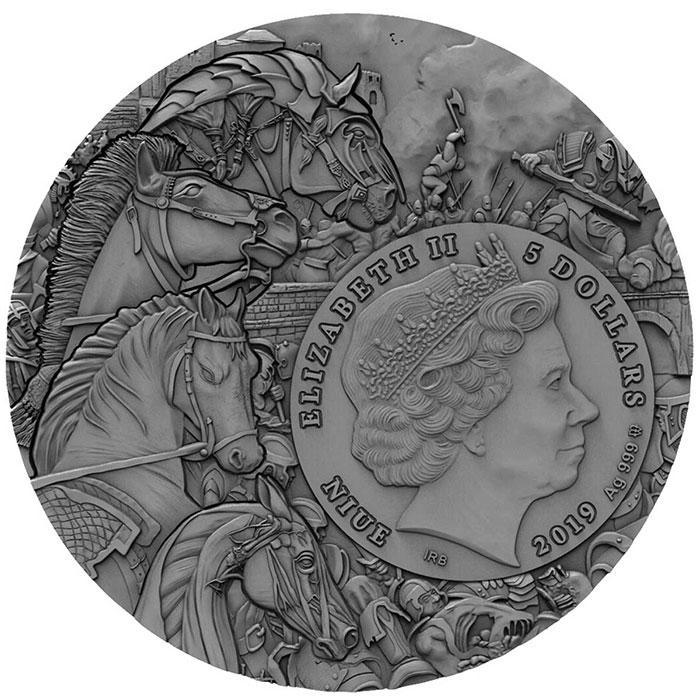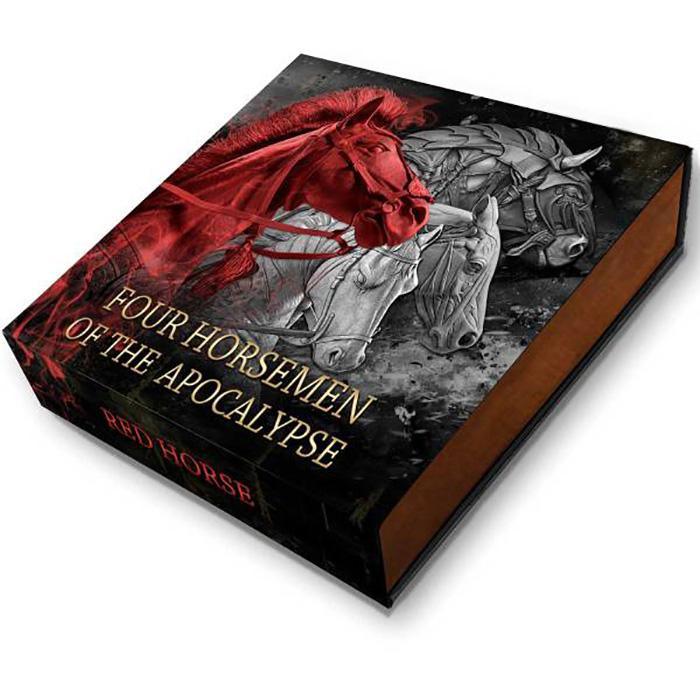 RED HORSE Four Horsemen of the Apocalypse 2 Oz Silver Coin $5 Niue 2019
This marvellous 2 Oz Silver coin is the second release in the new "Four Horsemen Of The Apocalypse" series. This edition is dedicated to the first Horseman – the Red Horse. The coin presents wonderful and detailed High Reliefs, has a selective Gold plating, has an Antique Finish quality and comes in a case, along with the Certificate of Authenticity. Limited mintage of only 500 pieces worldwide!
Only 1 unit left
Embrace the power and symbolism of the Four Horsemen of the Apocalypse with the Red Horse 2 Oz Silver Coin, the second release in this captivating series. Dedicated to the formidable first Horseman, this coin encapsulates the essence of chaos and warfare, showcasing its striking design and exceptional craftsmanship.
Crafted from 0.999 pure silver, this 2-ounce coin is a testament to the skill and artistry of the minting process. The selective Gold plating adorns the coin, accentuating the intricate details of the design. The vibrant hues of gold enhance the dynamic imagery, bringing the Red Horse to life with intensity and ferocity.
The coin features remarkable High Reliefs that provide depth and dimension to the artwork. Each element, from the flowing mane of the Red Horse to the fierce determination in its eyes, is intricately rendered, capturing the raw power and energy associated with the Horseman's role in the Apocalypse.
With an Antique Finish quality, the coin exudes an aura of ancient wisdom and timelessness. The carefully applied patina adds an aged and weathered look, evoking a sense of history and significance. This effect enhances the visual impact of the design and adds to its overall appeal.
The Red Horse 2 Oz Silver Coin comes in a protective case that complements the coin's theme, ensuring its preservation for years to come. Additionally, each coin is accompanied by a Certificate of Authenticity, attesting to its limited mintage of only 500 pieces worldwide, further enhancing its desirability among collectors and enthusiasts.
Whether you are drawn to the symbolic nature of the Four Horsemen of the Apocalypse, appreciate the exceptional artistry and craftsmanship, or seek a unique addition to your collection, this Red Horse 2 Oz Silver Coin is a remarkable choice. Embrace the power, mystery, and intrigue of the Red Horse and add a touch of apocalyptic allure to your numismatic portfolio.