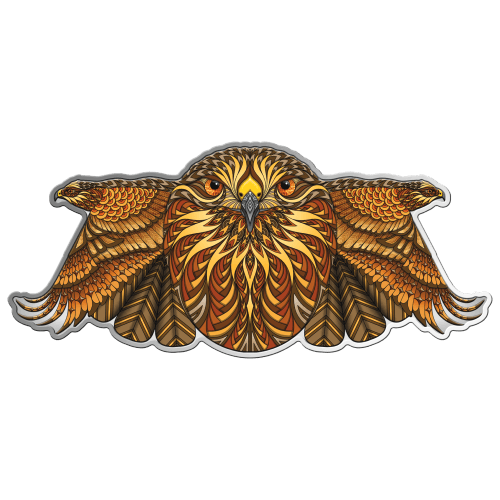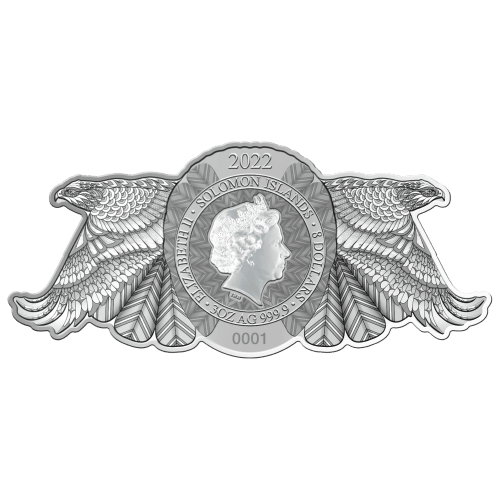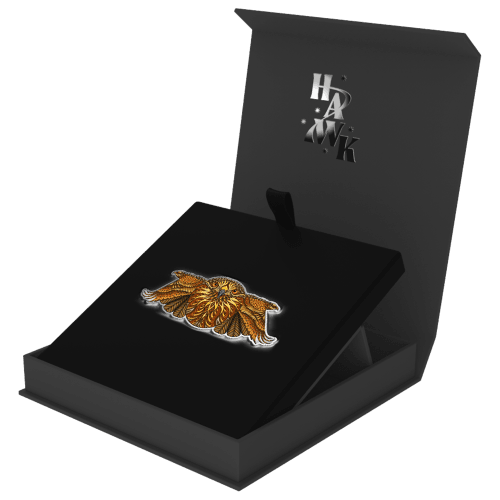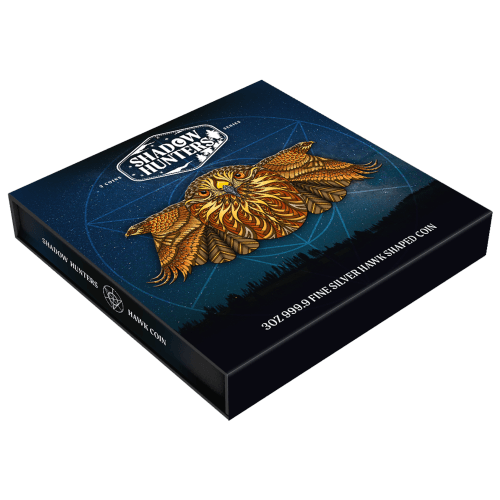 RED TAILED HAWK Shadow Hunters 3 Oz Silver Coin $8 Solomon Islands 2022
This beautiful 3 Oz Silver coin is an issue of Shadow Hunters series, dedicated to some of the beautiful mystical creatures that hunt in the shadow, in this issue: the Hawk. The coin is shaped and with beautiful and vivid colours, have a Proof quality and come in a box, along with the Certificate of Authenticity. Limited mintage of 1200 pieces worldwide.
Step into the mysterious world of the night with the Red-Tailed Hawk Shadow Hunters 3 Oz Silver Coin. As part of the captivating Shadow Hunters series, this coin showcases the grace and power of the red-tailed hawk in artist Phil Lewis' distinctive style. Crafted from three ounces of pure silver, each coin is shaped and adorned with vibrant colors, capturing the essence of these mystical creatures that rule the shadows. Housed in a custom capsule, these coins are not only exquisite collectibles but also symbols of strength and inspiration.
With a limited worldwide mintage of only 1,200 coins, the Red-Tailed Hawk Shadow Hunters series offers a rare opportunity to own these exceptional pieces of numismatic art. The intricately designed coin captures the red-tailed hawk's nocturnal hunting prowess and its ability to see with heightened clarity. Red-tailed hawks are known as messengers from another world, and as they descend from above, they bring with them the power of increased vision and perception.
Created by renowned artist Phil Lewis, the Red-Tailed Hawk Shadow Hunters coin reflects his deep connection to the wonders of nature. Through his vibrant artistry, Phil transforms humble pencil drawings into vivid visions of rich color, extreme detail, and flowing movement. His unique style captures the essence of wildlife and landscapes, infusing them with energy and vibrancy. With advanced techniques and materials, Phil creates luminous designs that invite us to connect with the universe and with one another in new and inspiring ways.
Embrace the majesty and mystery of the red-tailed hawk with the Red-Tailed Hawk Shadow Hunters 3 Oz Silver Coin. With its 99.99% pure silver composition and stunning design, this coin is a remarkable testament to the beauty and symbolism of these magnificent creatures. Whether you are a passionate collector, a nature enthusiast, or seeking a meaningful gift, the Red-Tailed Hawk Shadow Hunters coin will captivate your imagination and evoke a sense of connection to the hidden realms of the night.
Don't miss your opportunity to own this extraordinary series from the Solomon Islands. Order your Red-Tailed Hawk Shadow Hunters 3 Oz Silver Coin today and let the spirit of the hawk guide you on a captivating journey into the depths of the night.