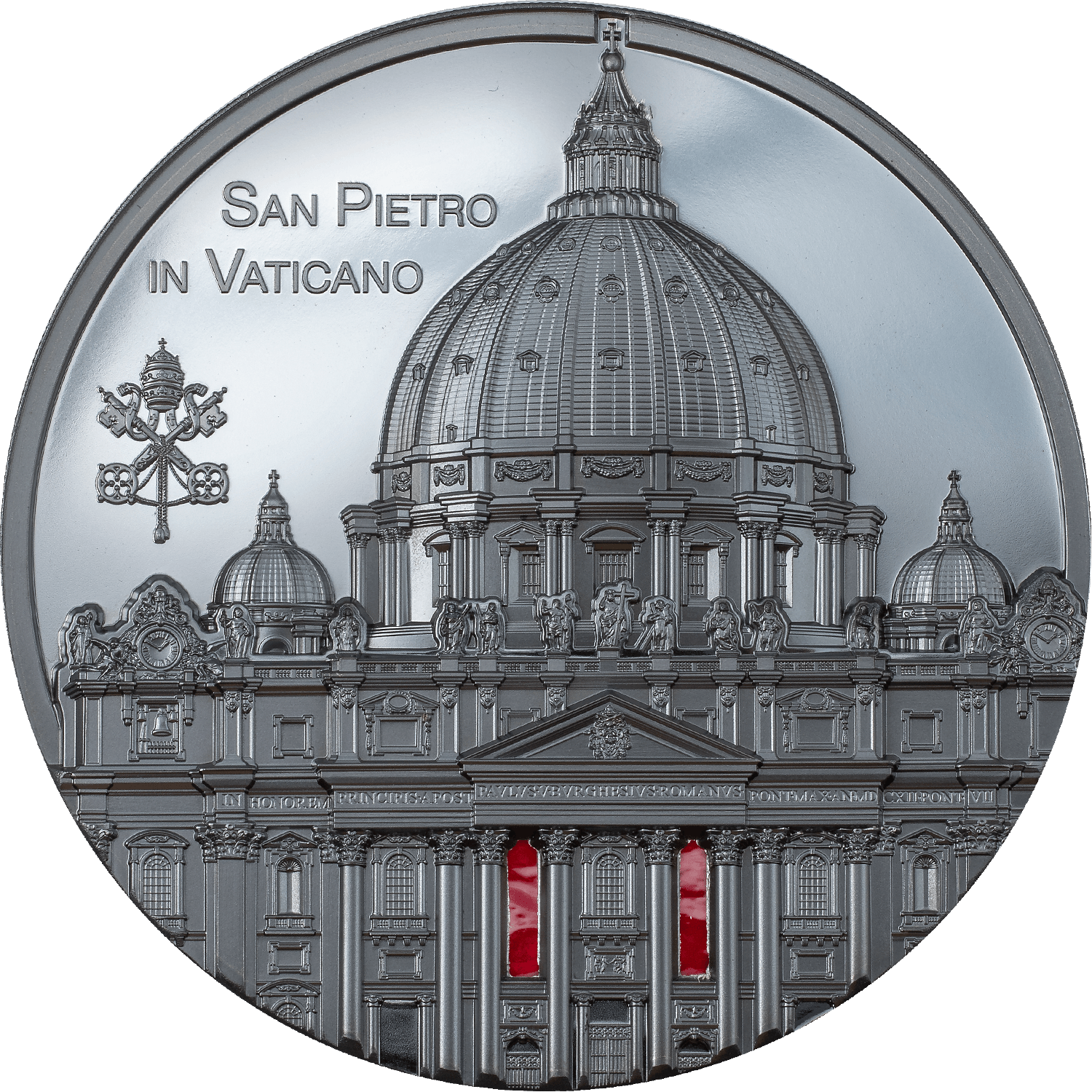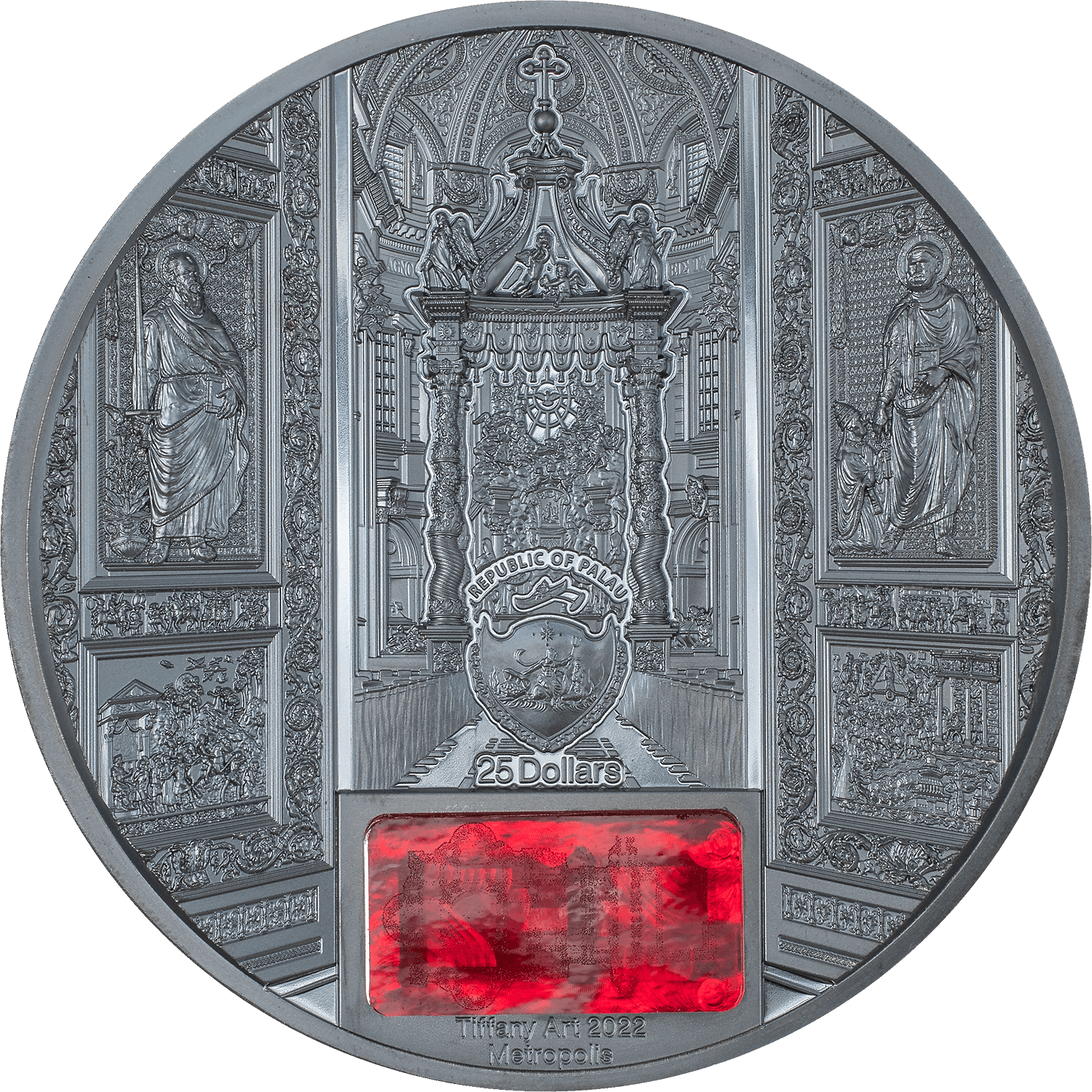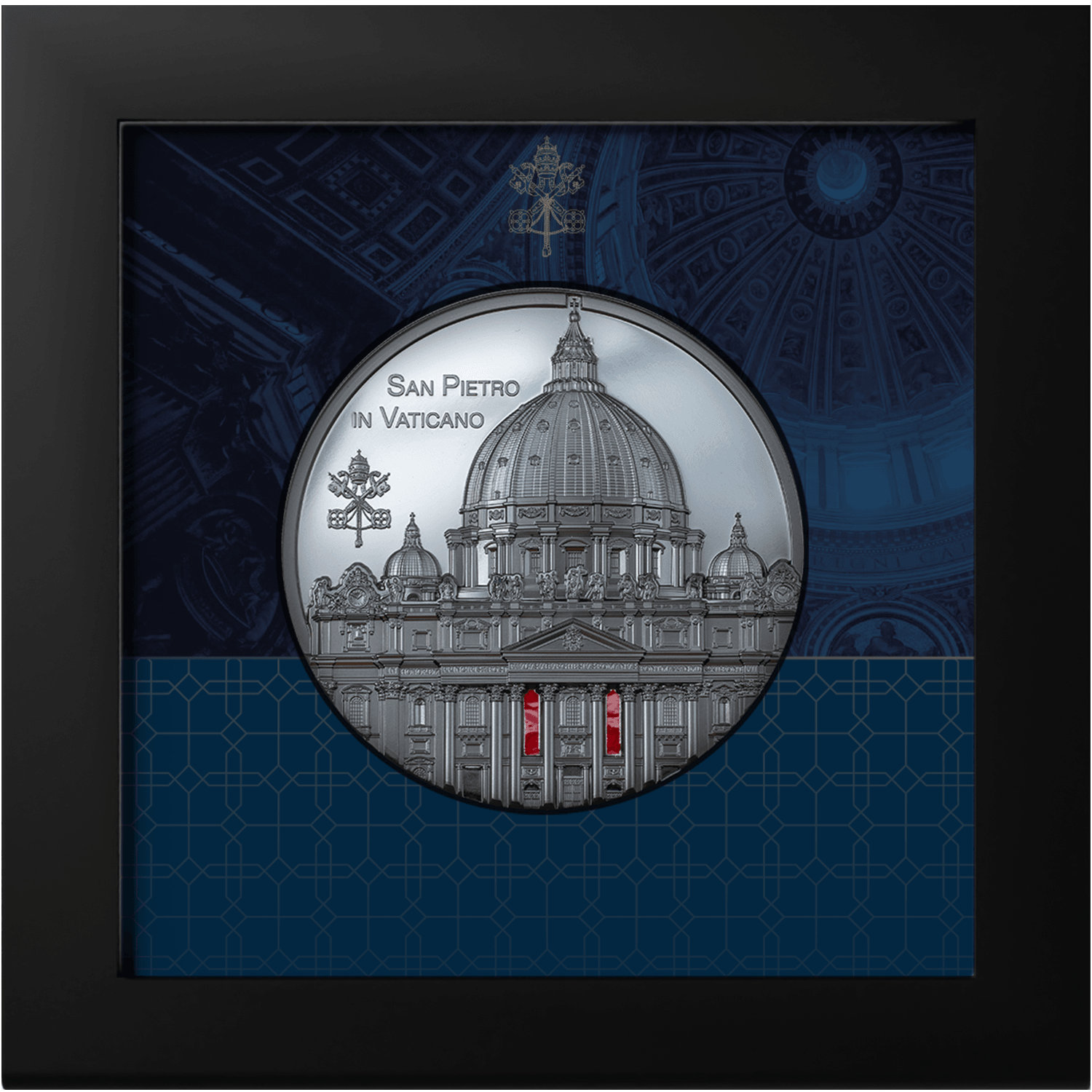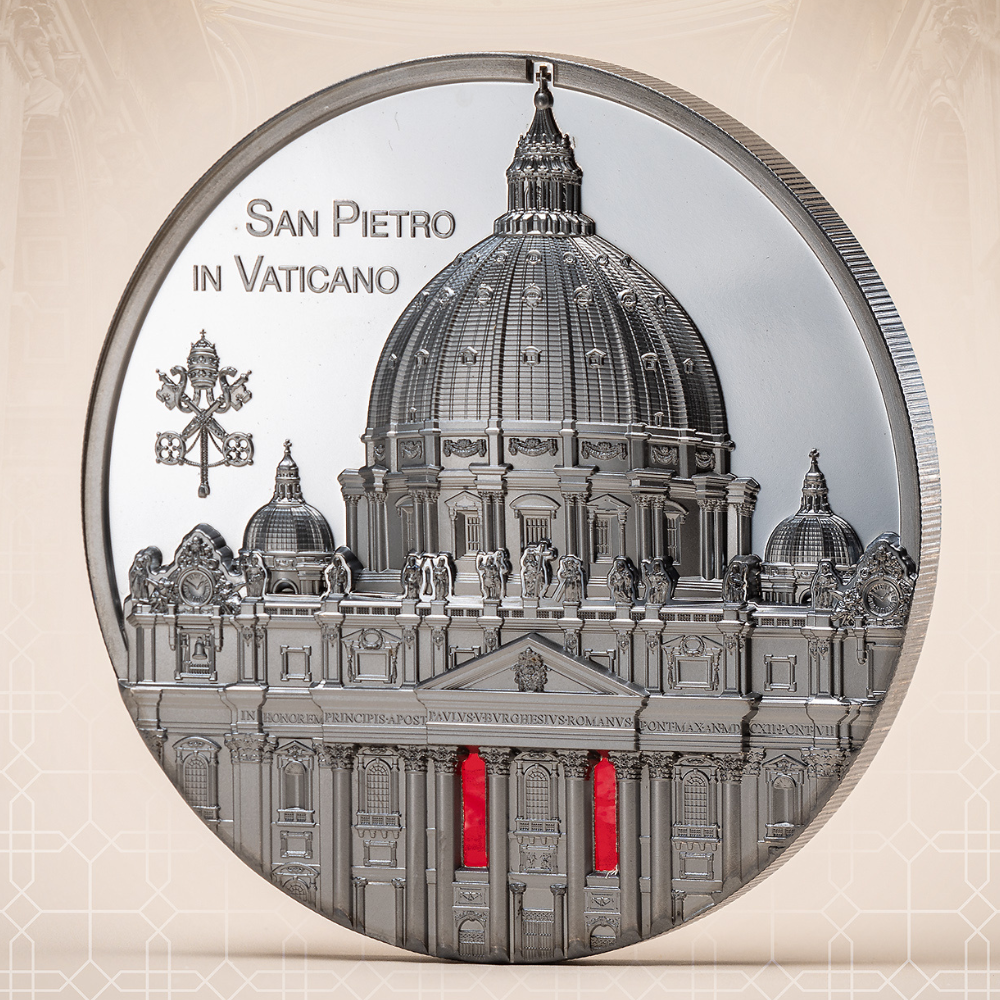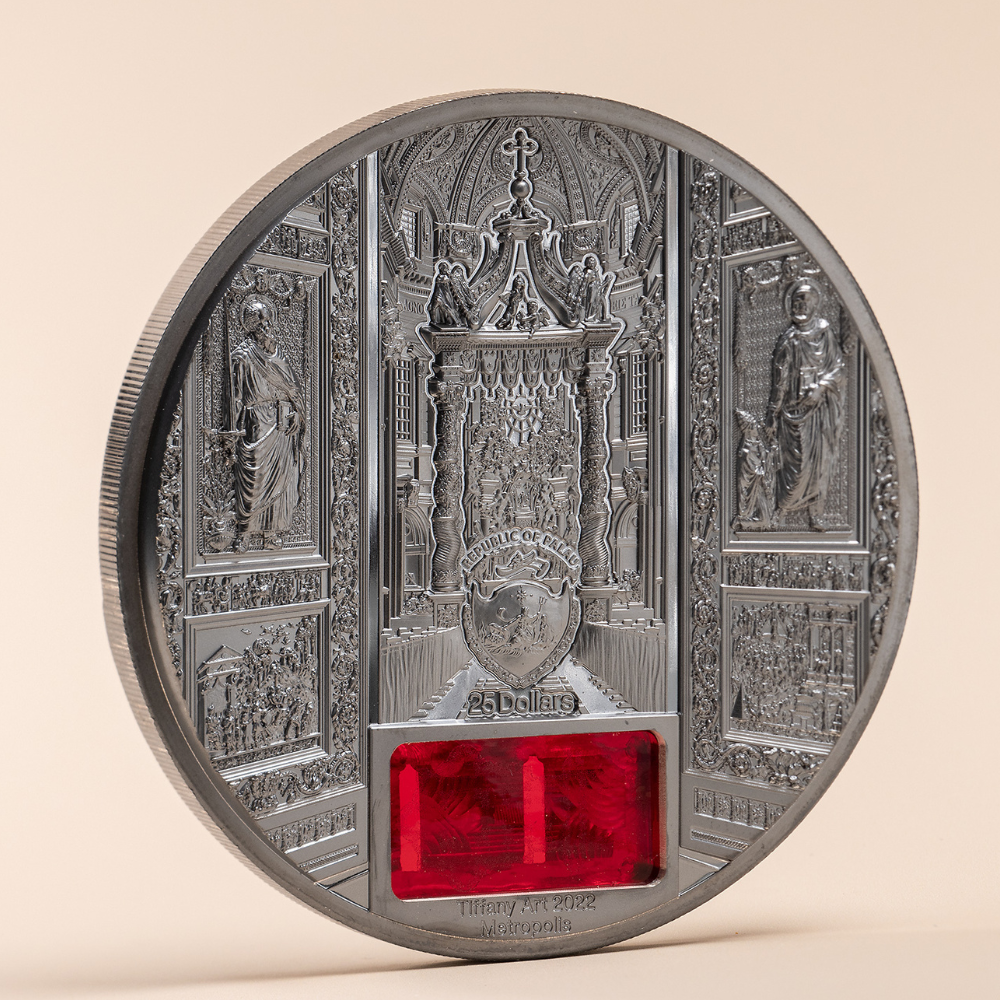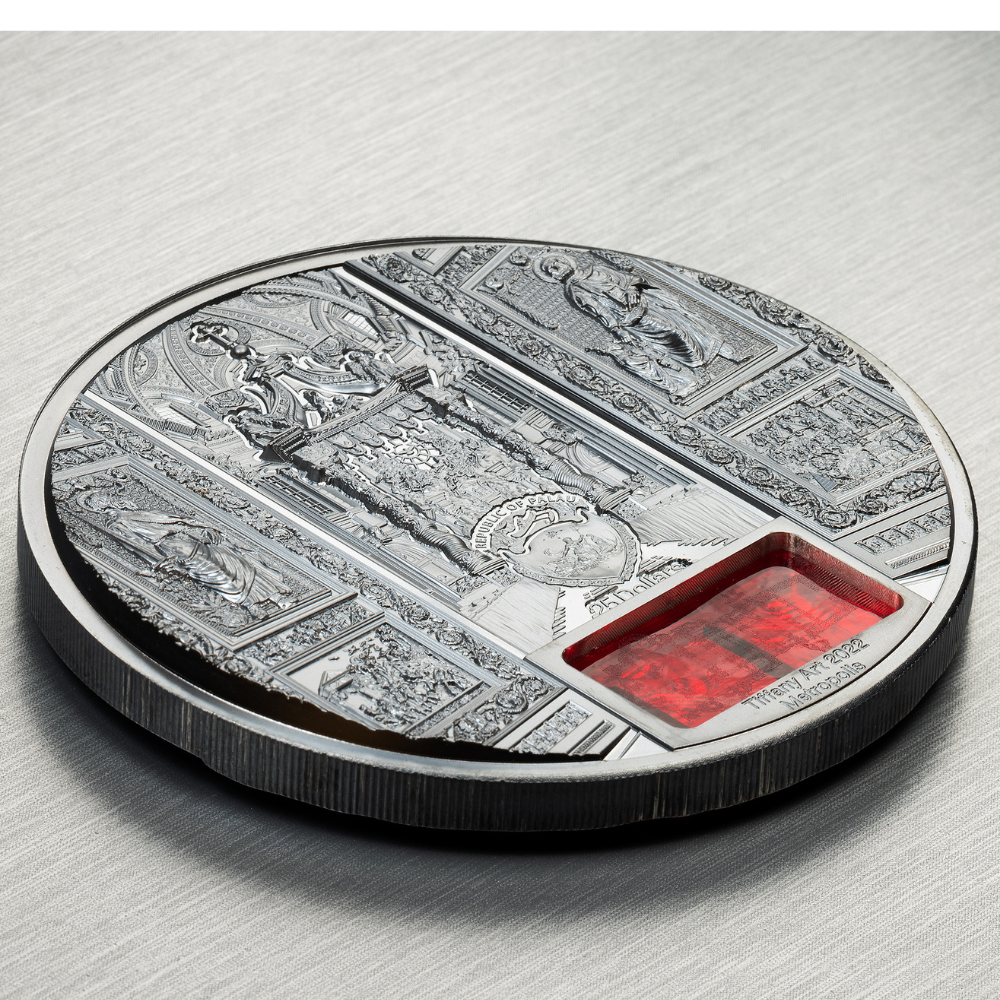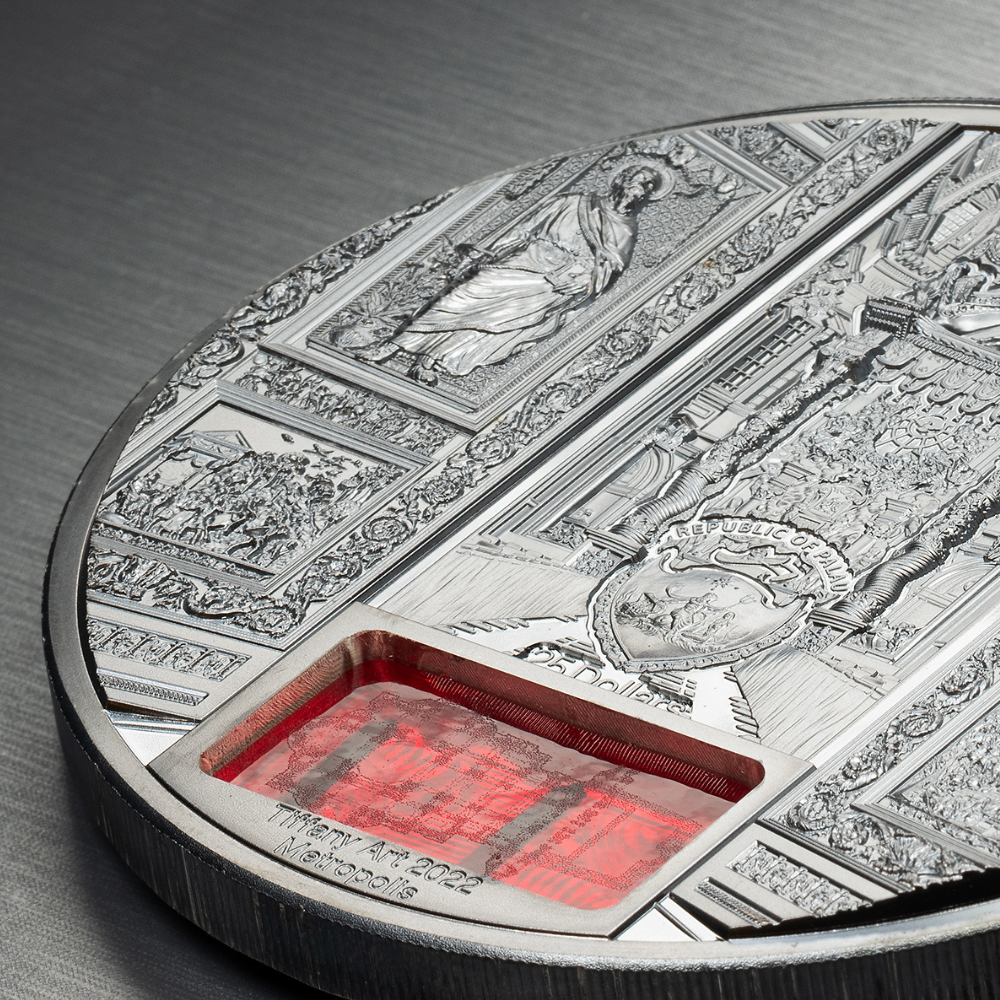 SAN PIETRO IN VATICANO Tiffany Art 5 Oz Silver Coin $25 Palau 2022
This wonderful 5 Oz Silver coin is part of the well-known "Tiffany Art" series and is dedicated to the legendary St. Peter's Basilica in Rome. The coin features the Smartminting technology, has an amazing design, features a wonderful glass insert and comes in an elegant case, along with the Certificate of Authenticity. Limited mintage to 555 pieces worldwide!
In stock
Transport yourself to the heart of Vatican City with the stunning San Pietro in Vaticano Tiffany Art 5 Oz Silver Coin. This exquisite coin pays homage to the grandeur and majesty of St. Peter's Basilica, an iconic architectural masterpiece that stands as a testament to the rich history and cultural heritage of Rome.
Crafted from .999 fine silver, this coin carries a weight of 5 oz and boasts a sizable 65 mm diameter, ensuring its prominence as a centerpiece in any collection. The black proof finish adds a touch of elegance and refinement, accentuating the intricate details of the design. From the imposing façade to the renowned dome, every element of St. Peter's Basilica is beautifully captured on this remarkable coin.
The front of the coin showcases the famous dome of St. Peter's Basilica, extending into the edge, creating a striking visual effect. Immerse yourself in the grandeur of this architectural marvel as you admire the intricate details of the façade and envision the Pope addressing his devoted audience from the central balcony.
Turn the coin over, and a breathtaking scene unfolds before your eyes. Through the half-opened monumental Filarete portal, you catch a glimpse of the captivating interior of the basilica. The vibrant red luminous Tiffany glass reveals the blueprint of the entire cathedral, adding a touch of artistry and symbolism to the design. The meticulous craftsmanship and smartminting® technique used in its creation result in an ultra-high relief, bringing depth and dimensionality to the coin.
With a limited mintage of 555, the San Pietro in Vaticano Tiffany Art 5 Oz Silver Coin is a rare and highly sought-after treasure for collectors and admirers of fine numismatic art. Whether you are a history enthusiast, an architectural aficionado, or a passionate collector, this coin encapsulates the grandeur and cultural significance of St. Peter's Basilica, allowing you to hold a piece of Vatican City's rich legacy in the palm of your hand.
smartminting©
The smartminting© technology is a ground-breaking advancement in contemporary numismatics that permits an unparalleled level of ultra-high relief, and it establishes novel benchmarks in the coin industry.
This technology enables the production of standard weight coins with larger diameters, while maintaining high relief height.

It also allows for coins with greatly reduced weight to maintain standard relief heights and permits coins with only slightly increased weight to exhibit high reliefs.