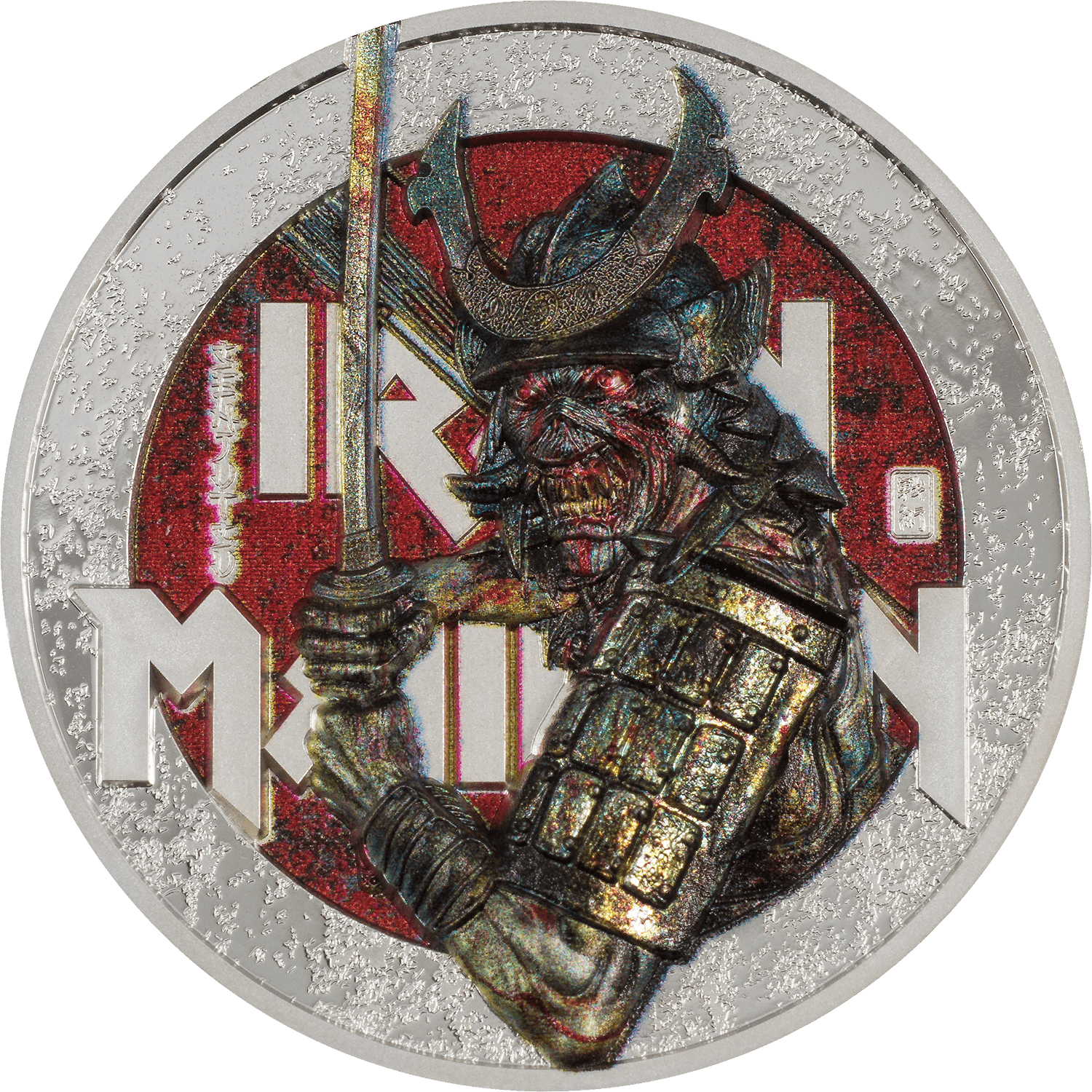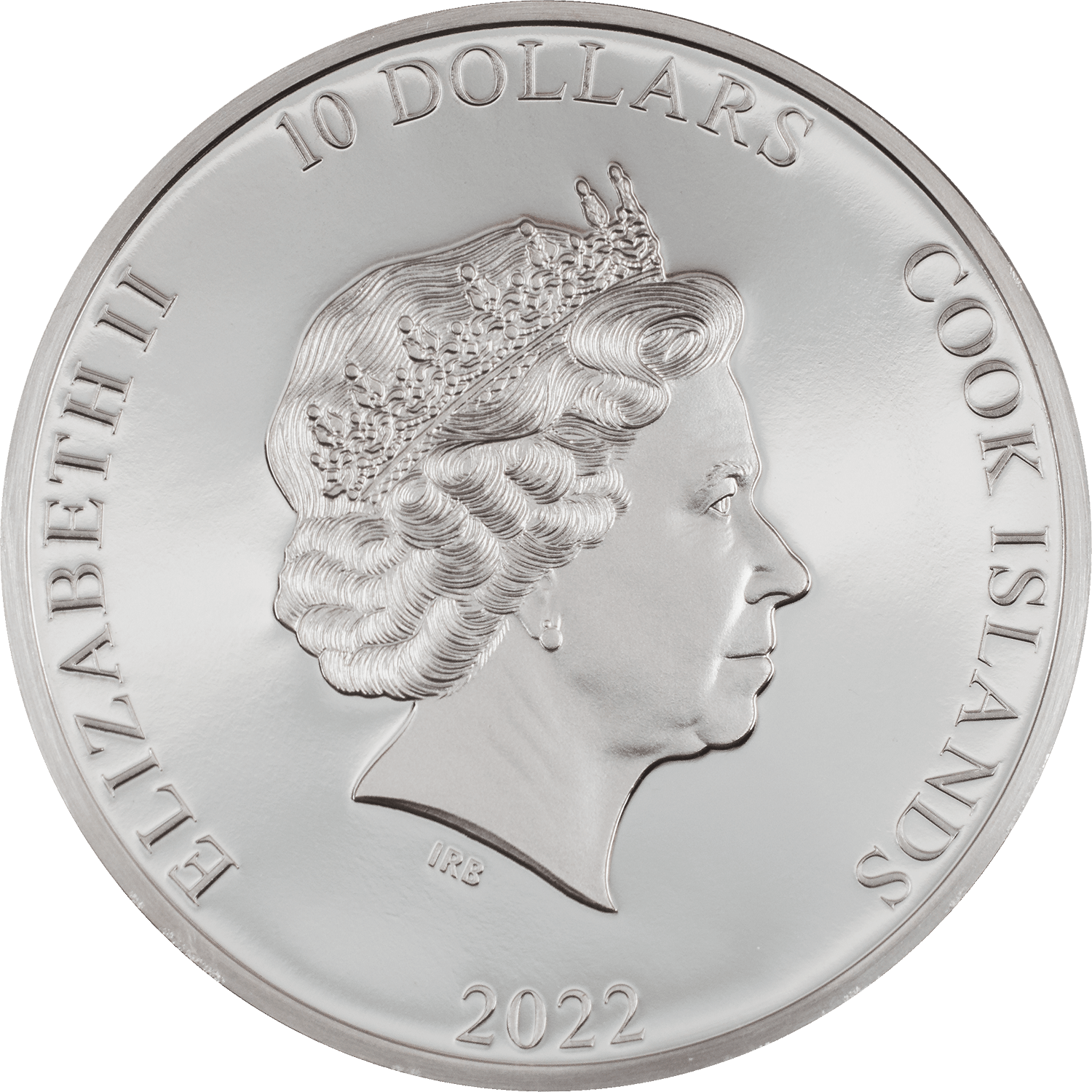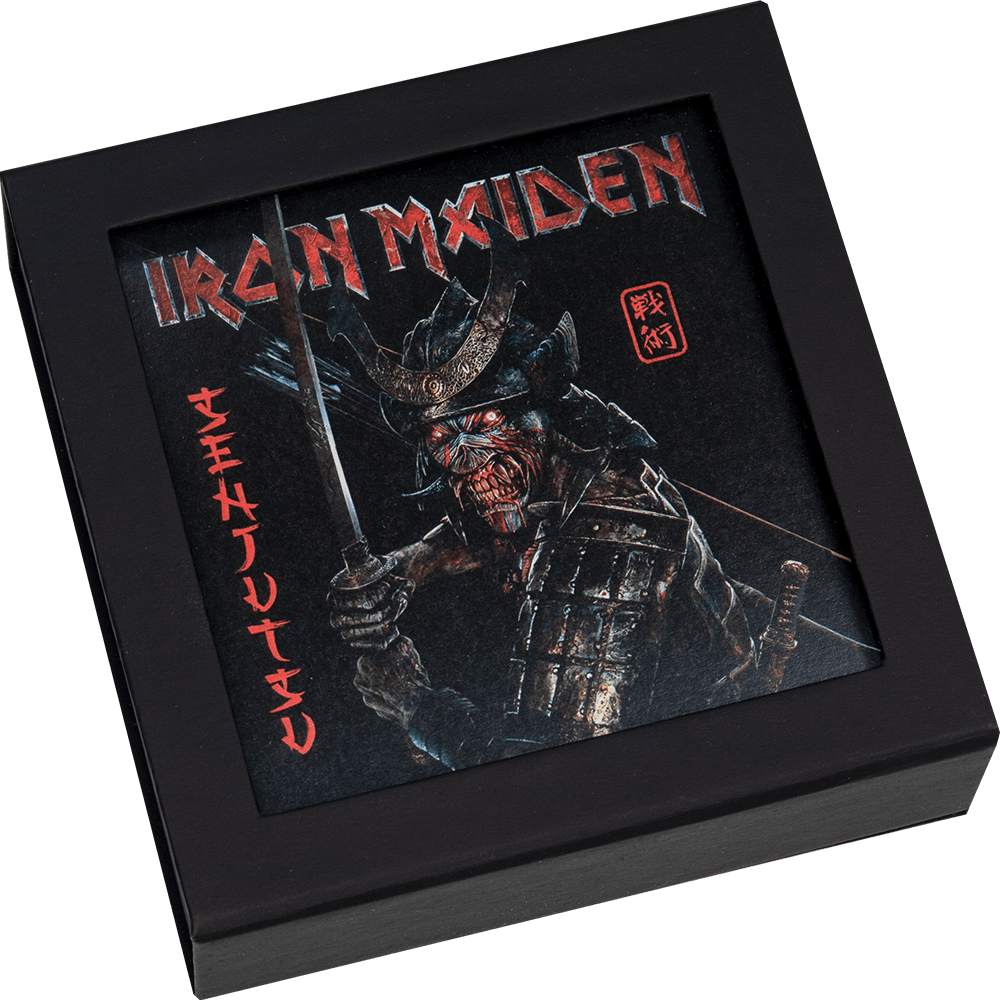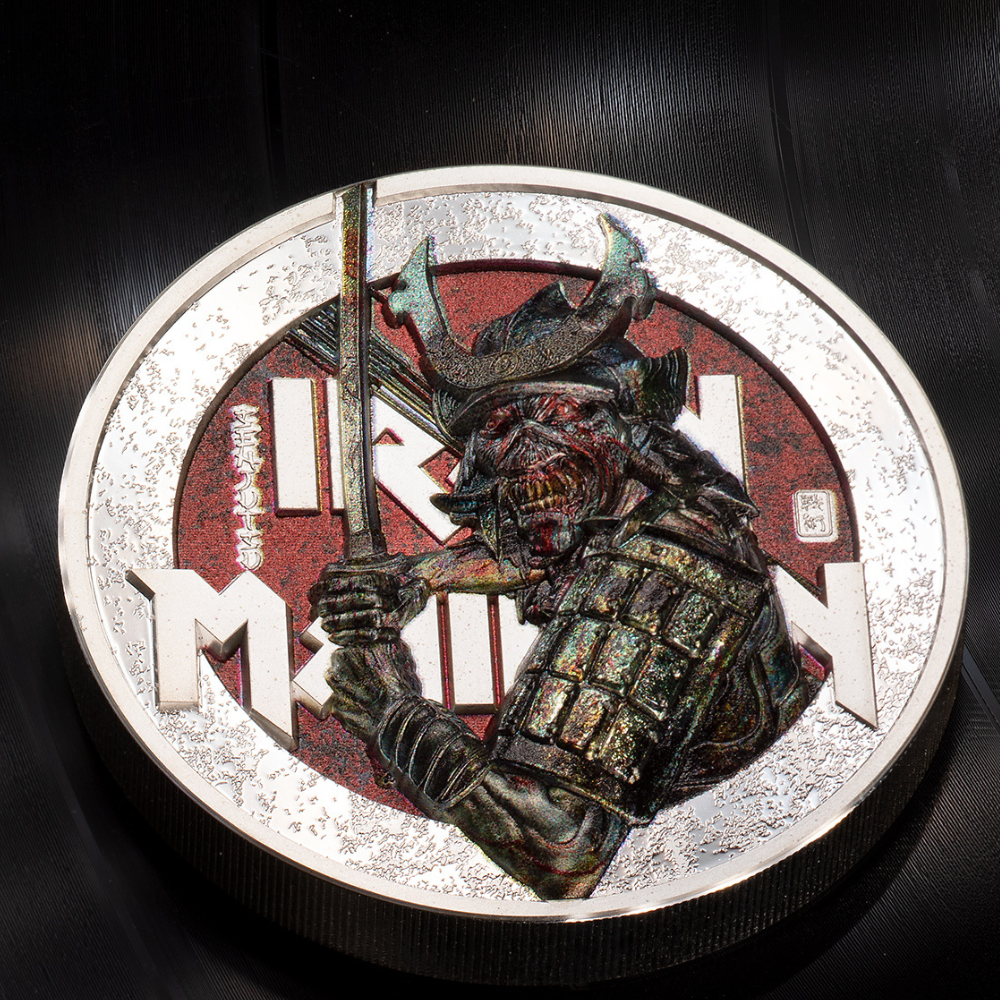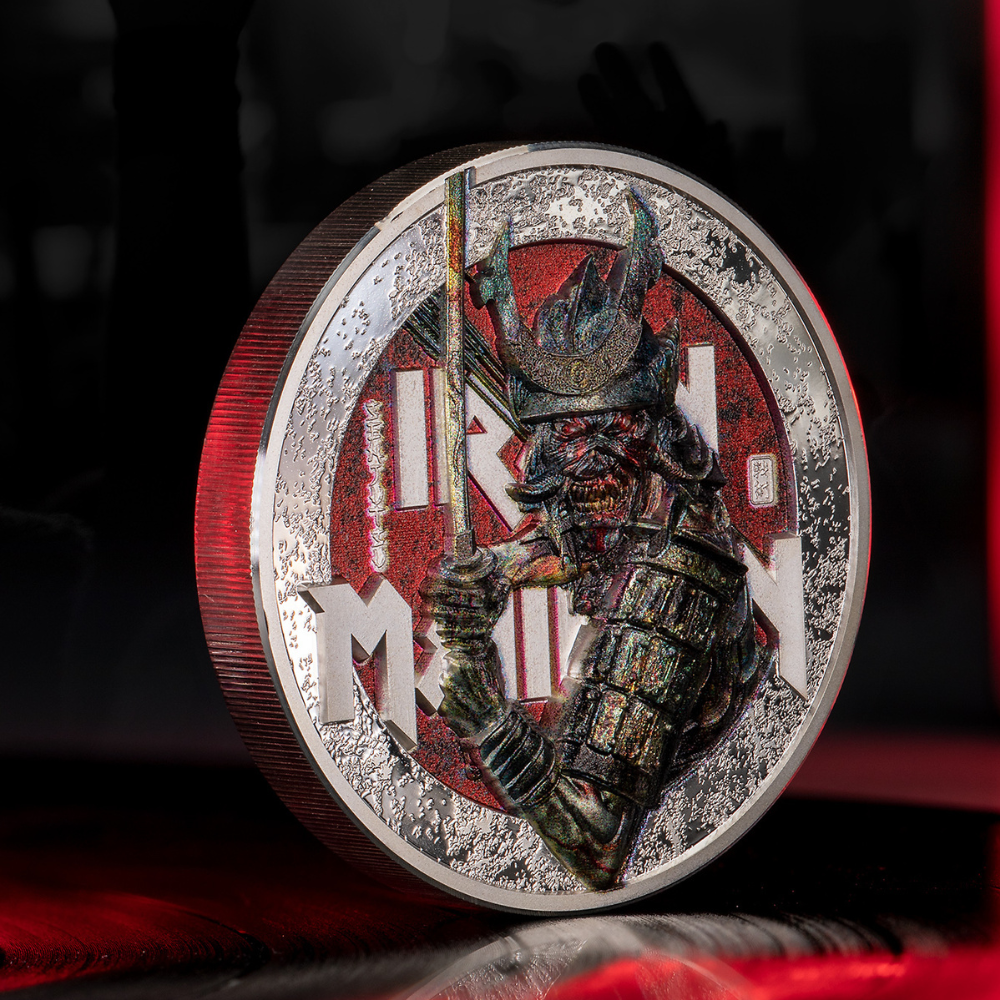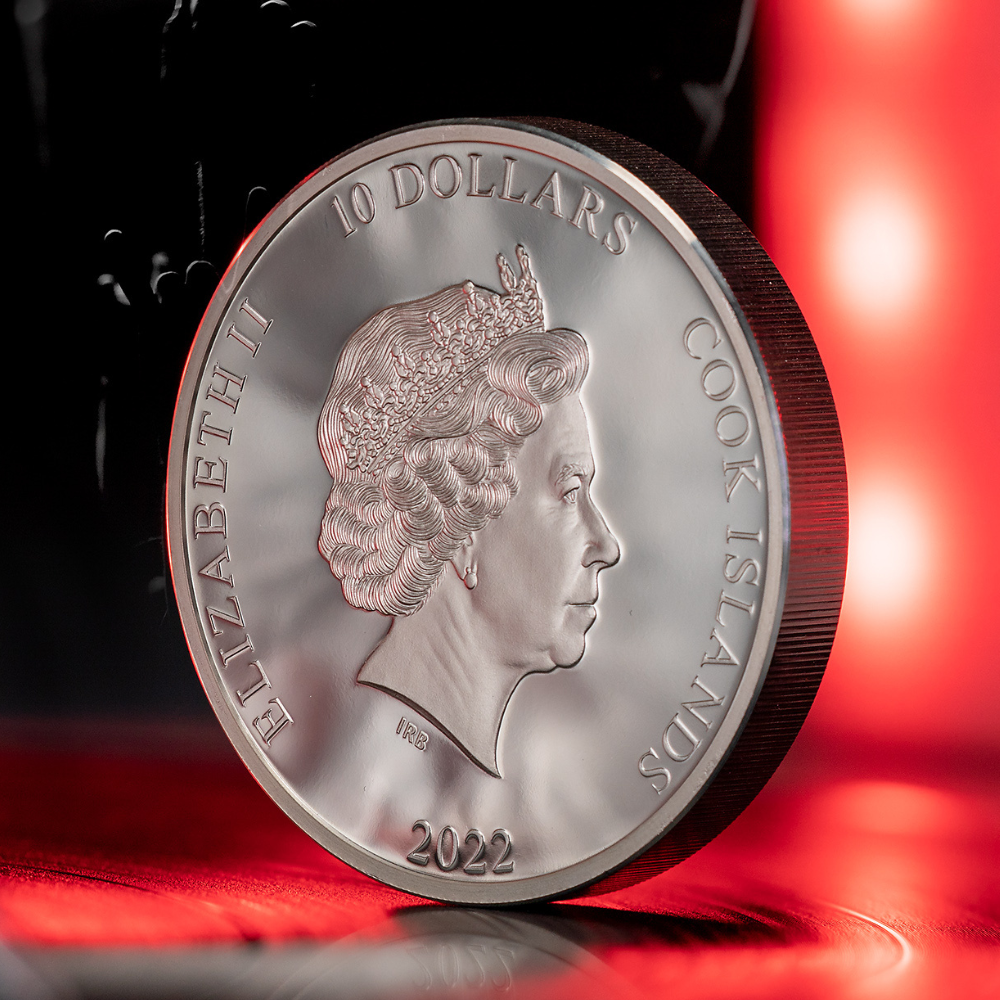 SENJUTSU Iron Maiden 2 Oz Silver Coin $10 Cook Islands 2022
This 2 Oz Silver coin is dedicated to Iron Maiden's last album: Senjutsu. The coin is an official licensed product, features an impressive Smartminting Ultra High Relief, has Proof quality and an incredible coloration. The coin comes in a window box, along with the Certificate of Authenticity. Limited mintage of 999 pieces worldwide!
Prepare to rock out with the SENJUTSU Iron Maiden 2 Oz Silver Coin, the latest heavy metal sensation from CIT. Following the incredible success of the "The Number of the Beast" coin, this release pays homage to Iron Maiden's newest album, "Senjutsu," which has taken the world by storm, reaching the #1 spot in 23 countries. With its Japanese-inspired name meaning "tactics and strategy," the album showcases Iron Maiden's unique sound and pushes musical boundaries.
The coin features the iconic Eddie, Iron Maiden's beloved mascot, dressed in ancient Samurai-style armor and wielding a formidable Samurai sword. This officially licensed design is brought to life using CIT's impressive smartminting® technology, ensuring exceptional detail and quality. The 2 oz silver proof coin showcases a remarkable blend of colorization and ultra-high relief, creating a dynamic visual experience. Eddie appears to leap off the coin, with the relief of his sword extending to the very edge, capturing the energy and power of Iron Maiden's music.
In addition to the silver coin, the SENJUTSU collection also includes a colorful 5 gram silver note and a detailed half gram gold proof coin. Each piece in this series showcases the striking design and craftsmanship that Iron Maiden fans have come to expect. With the band's Legacy of the Beast tour captivating audiences worldwide, these coins are sure to be highly sought after by collectors and fans alike.
With a limited mintage of 999 coins, the SENJUTSU Iron Maiden 2 Oz Silver Coin is a must-have for Iron Maiden enthusiasts and fans of heavy metal. Don't miss your chance to own a piece of music history and celebrate Iron Maiden's latest musical masterpiece. Crank up the volume, embrace the spirit of rock, and let the power of Iron Maiden ignite your collection!
smartminting©
The smartminting© technology is a ground-breaking advancement in contemporary numismatics that permits an unparalleled level of ultra-high relief, and it establishes novel benchmarks in the coin industry.
This technology enables the production of standard weight coins with larger diameters, while maintaining high relief height.

It also allows for coins with greatly reduced weight to maintain standard relief heights and permits coins with only slightly increased weight to exhibit high reliefs.