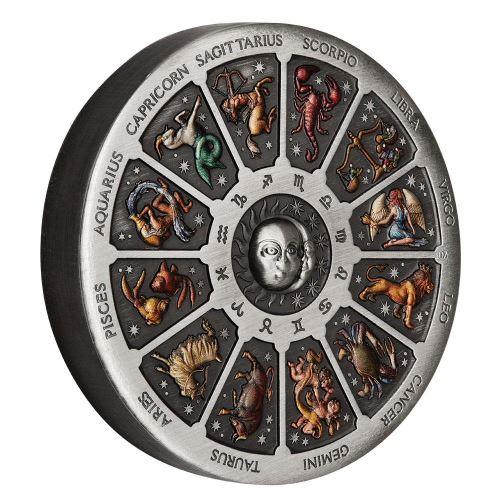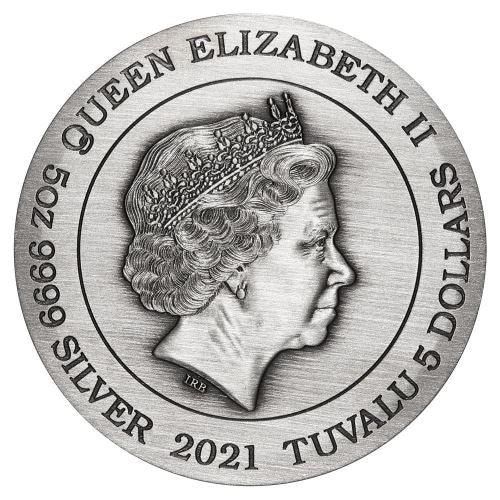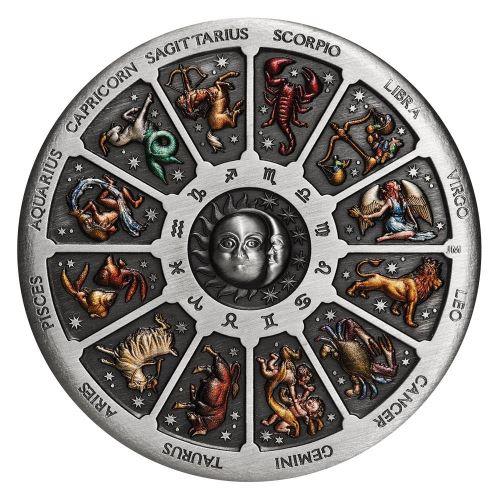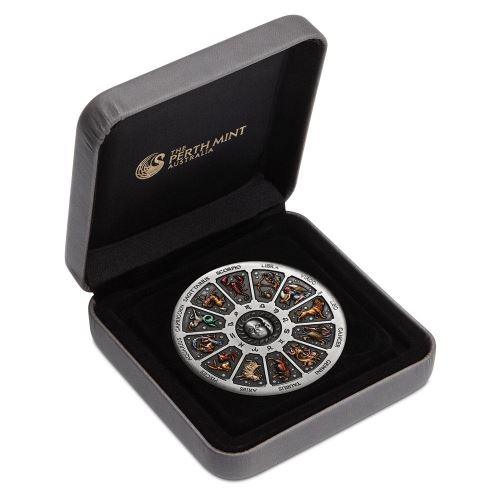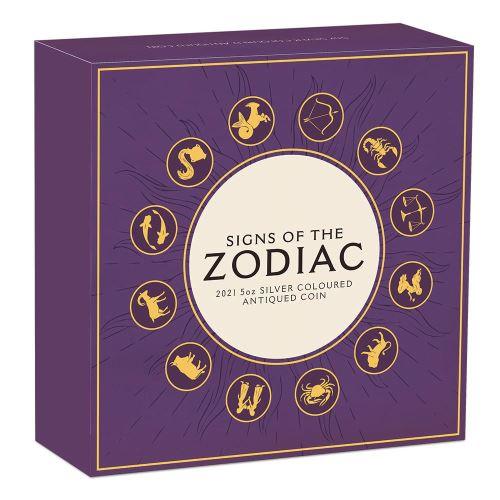 SIGNS OF THE ZODIAC 5 Oz Silver Coin $5 Tuvalu 2021
This lovely 5 Oz Silver coin is dedicated to the 12 Signs of the Zodiac, representing the 12 constellations central to Western astrology. The coin has a wonderful coloration, has an interesting design, an Antique Finish quality and comes in a beautiful case, along with the Certificate of Authenticity. Limited mintage to 388 pieces worldwide!
Step into the mesmerizing world of astrology with the exquisite 2021 Tuvalu Signs of the Zodiac Antiqued Colored 5oz Silver coin, a true masterpiece from The Perth Mint. This coin is a celebration of the 12 signs of the Zodiac, expertly portrayed with precision and beauty. Whether you're a seasoned astrologer or simply intrigued by daily horoscopes, this magnificent 5oz silver coin will captivate your imagination.
The reverse of the coin showcases original artistry, featuring each zodiac sign in vibrant color: Aries the ram, Taurus the bull, Gemini the twins, Cancer the crab, Leo the lion, Virgo the maiden, Libra the scales, Scorpio the scorpion, Sagittarius the centaur, Capricorn the goat, Aquarius the water bearer, and Pisces the fish. Each sign is accompanied by inscriptions of its name and pictogram, along with stylized motifs representing the Sun, the Moon, and stars.
As a legal tender release by Tuvalu, the obverse displays the Ian Rank-Broadley portrait of Her Majesty Queen Elizabeth II, adorned with a hand-applied antique finish. Encircling the rim are inscriptions, including "QUEEN ELIZABETH II . 5 oz 9999 SILVER . 2021 . TUVALU . 5 DOLLARS."
This premium offering features an extremely limited mintage of only 388 pieces worldwide, making it a highly sought-after treasure for collectors. The selective colorization and antiqued finish add a remarkably stunning effect to the already powerful design, brought to life by the acclaimed designer, Jennifer McKenna.
Each 5oz silver coin comes housed in a classic gray display case and is accompanied by a numbered Certificate of Authenticity. The coin is securely packaged in an illustrated shipper, adding to the overall allure of this captivating piece.
Embrace the enchanting world of astrology and the zodiac signs with the 2021 Tuvalu Signs of the Zodiac Antiqued Colored 5oz Silver coin. Whether displayed as a centerpiece in your collection or cherished as a symbolic work of art, this coin will undoubtedly leave a lasting impression with its intricate details and vibrant colors. Secure your purchase now and own a stunning piece of the celestial wonders that have fascinated humanity for centuries.