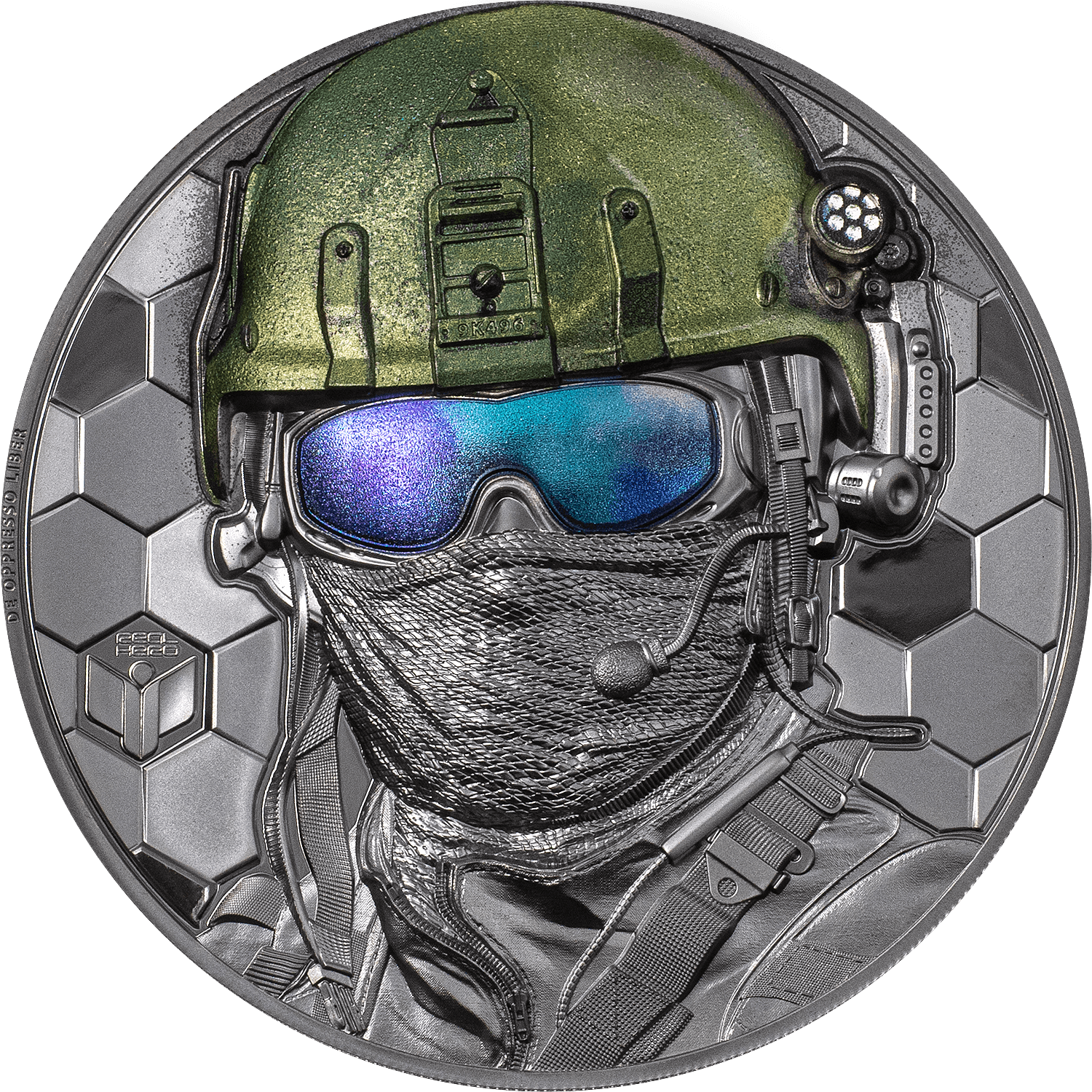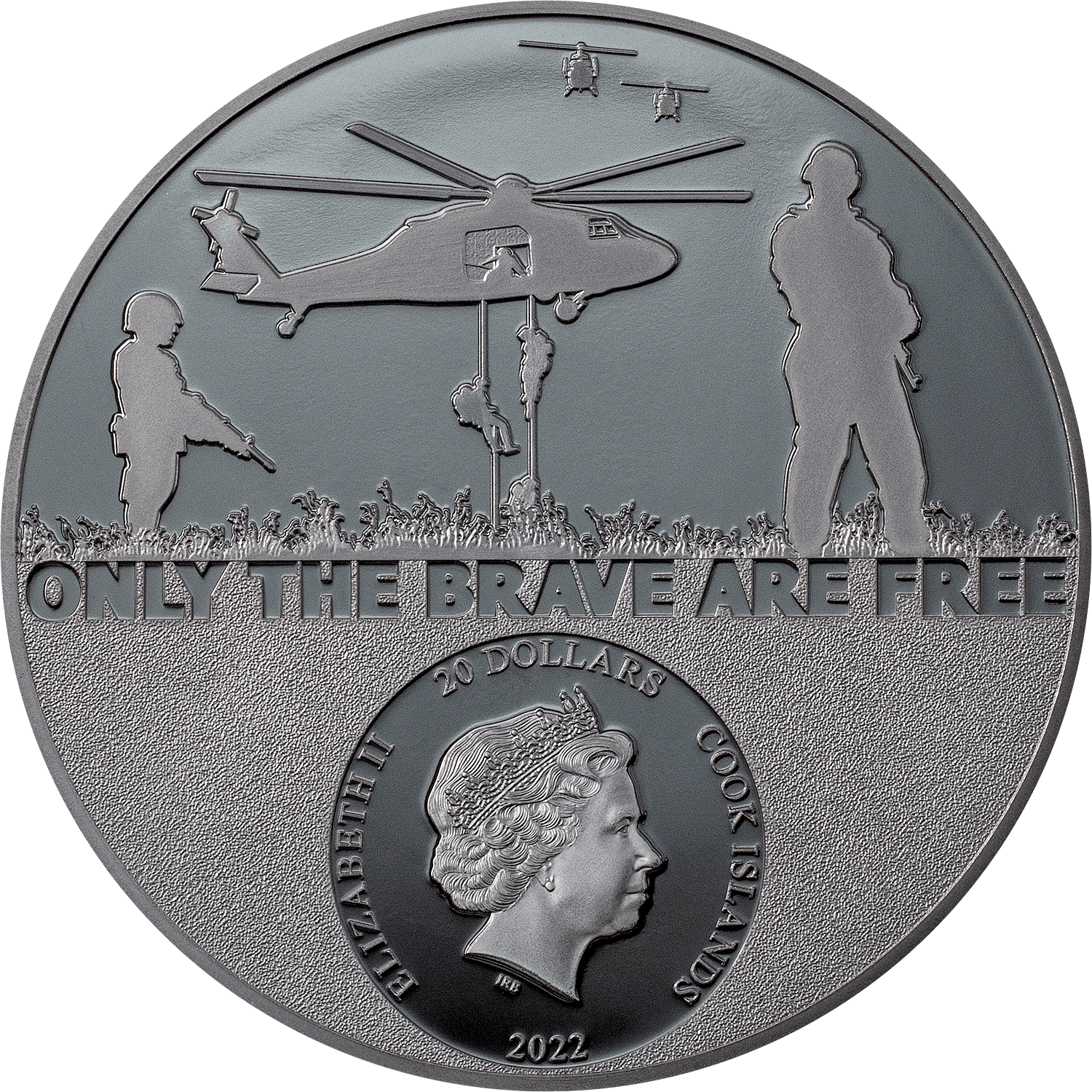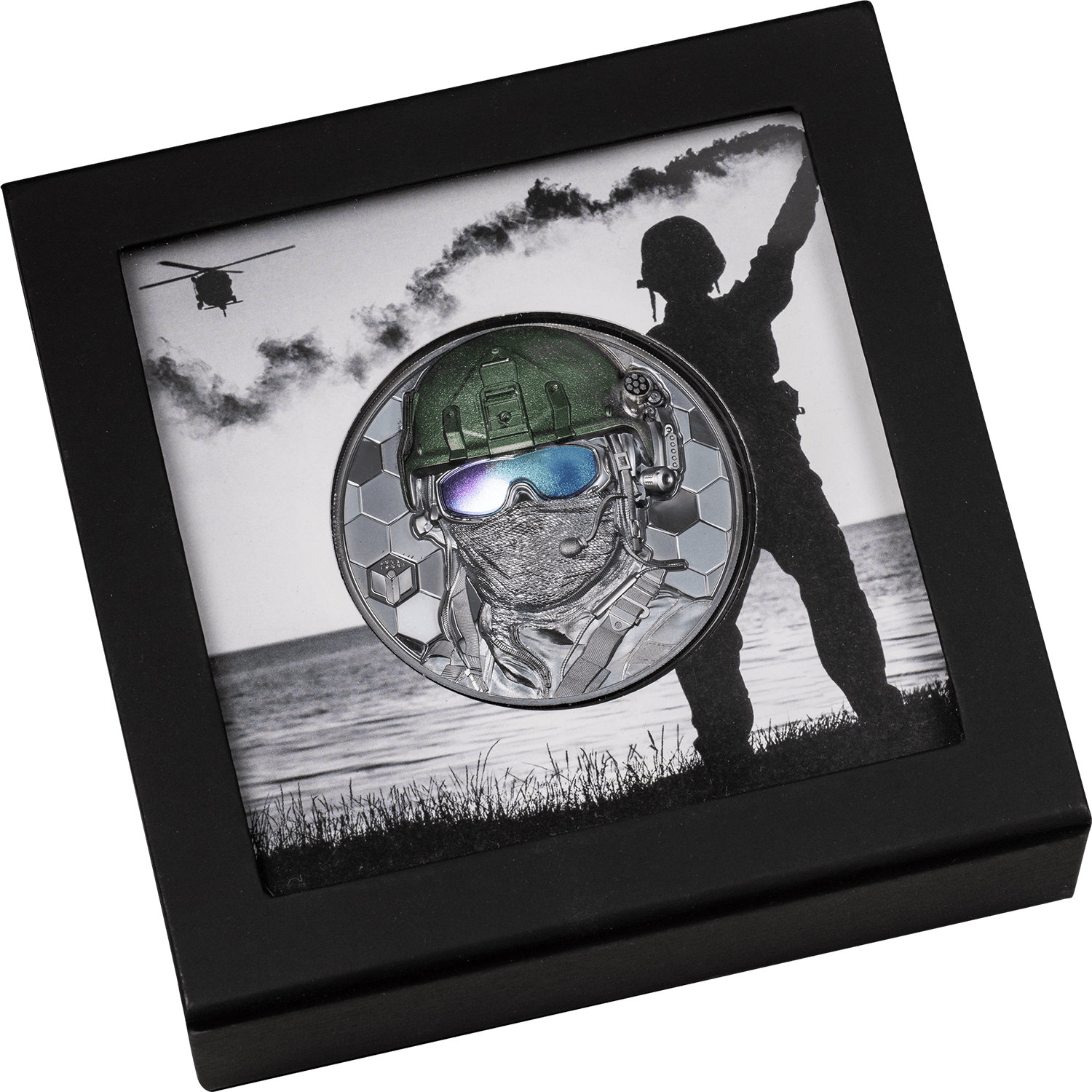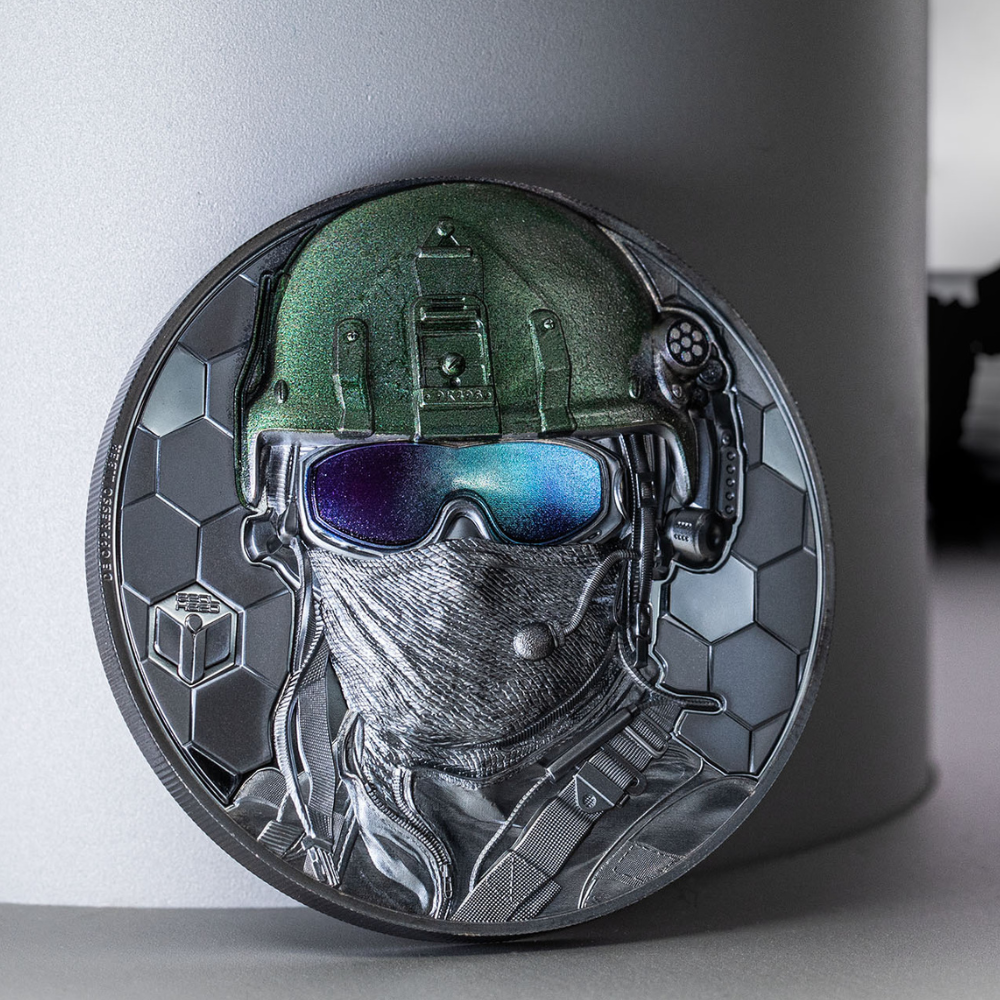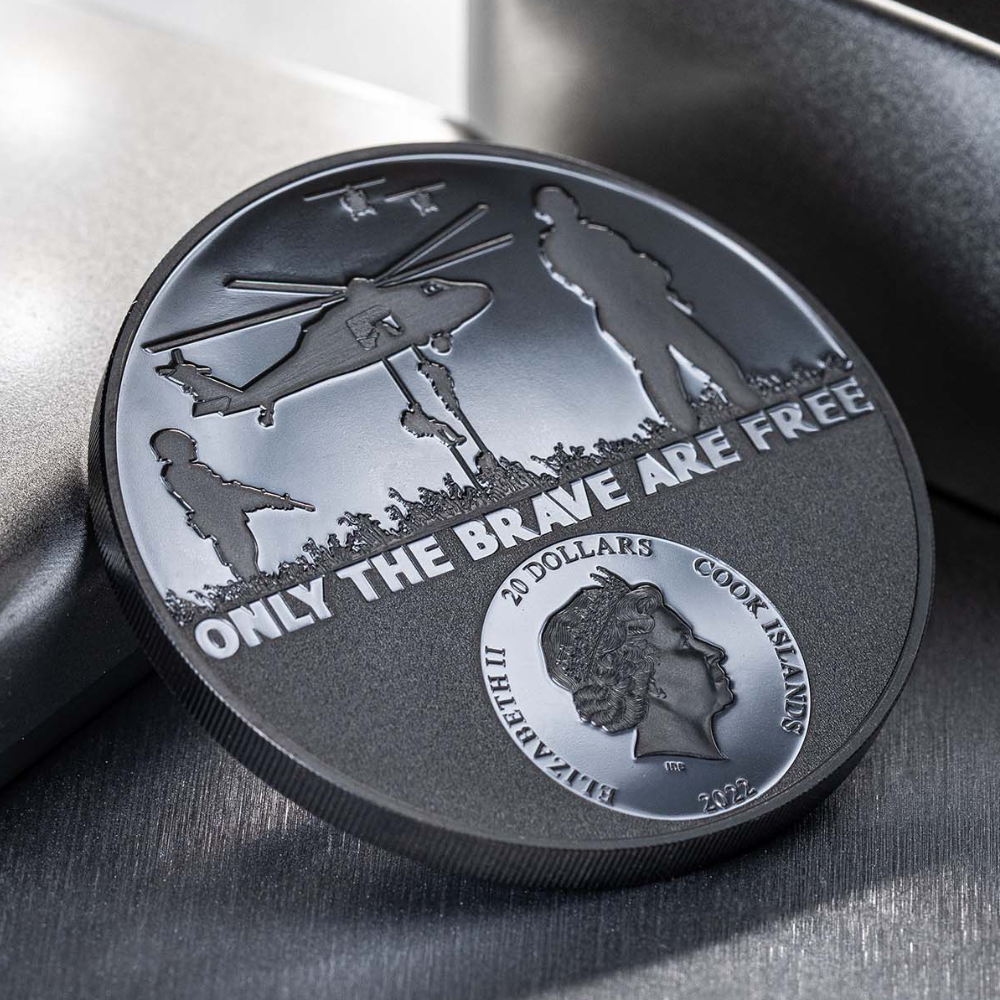 SPECIAL FORCES Real Heroes 3 Oz Silver Coin $20 Cook Islands 2022
This wonderful 3 Oz Silver coin is a new release in the "Real Heroes" series and is dedicated to the Special Forces. The coin features the Smartminting technology, has an Ultra High Relief, a Black Proof quality and comes in a case, along with the Certificate of Authenticity. Limited mintage to 750 pieces worldwide!
Introducing the SPECIAL FORCES Real Heroes 3 Oz Silver Coin, a remarkable tribute to the brave men and women who serve in military special forces units. These elite soldiers are the epitome of courage and skill, consistently facing the most challenging and perilous missions. With this extraordinary coin, we honor their unwavering dedication and pay homage to their extraordinary contributions to national security.
Crafted with meticulous attention to detail, this coin showcases the essence of special forces soldiers. The black proof finish accentuates the specialized uniforms and equipment worn by these remarkable individuals. From the finely sculpted helmet to the intricately designed mask, every element is captured in stunning ultra-high relief. The soldier's protective goggles are skillfully colorized, creating a striking contrast that symbolizes their vigilant and unwavering focus in the face of danger.
The design of the coin extends to the very edges, presenting a visually captivating image against a backdrop of a honeycomb pattern and the iconic Real Heroes logo. As you explore the rim, you'll discover the traditional motto of the special forces, "de oppresso liber," meticulously minted in micro detail. This subtle addition further embodies the spirit of these exceptional individuals and their commitment to liberating those oppressed.
Limited to a mere 750 pieces, this 3 oz silver blackproof coin holds immense rarity and collectability. Each coin is struck using smartminting® technology, ensuring exquisite detail and uncompromising quality. As you hold this magnificent piece in your hands, you'll feel a profound sense of honor and respect for the real heroes who selflessly serve their countries.
Join us in celebrating the extraordinary feats of special forces soldiers with the SPECIAL FORCES Real Heroes 3 Oz Silver Coin. This coin is more than a mere collector's item; it's a tangible representation of valor and sacrifice. Whether displayed in your collection or gifted to a deserving individual, this coin serves as a lasting testament to the indomitable spirit of those who answer the call of duty. Don't miss your opportunity to own this remarkable piece of numismatic artistry and honor the real heroes among us.
smartminting©
The smartminting© technology is a ground-breaking advancement in contemporary numismatics that permits an unparalleled level of ultra-high relief, and it establishes novel benchmarks in the coin industry.
This technology enables the production of standard weight coins with larger diameters, while maintaining high relief height.

It also allows for coins with greatly reduced weight to maintain standard relief heights and permits coins with only slightly increased weight to exhibit high reliefs.