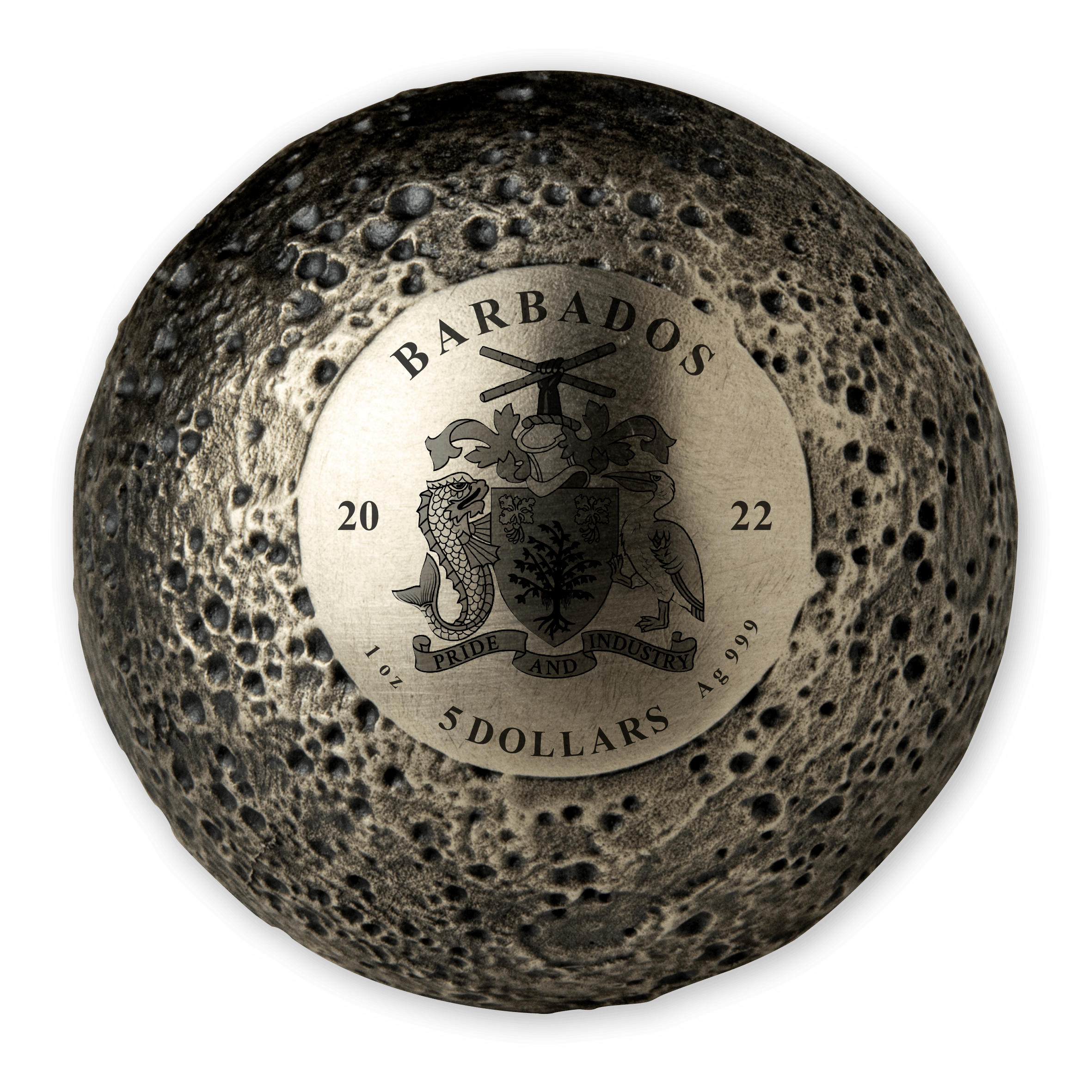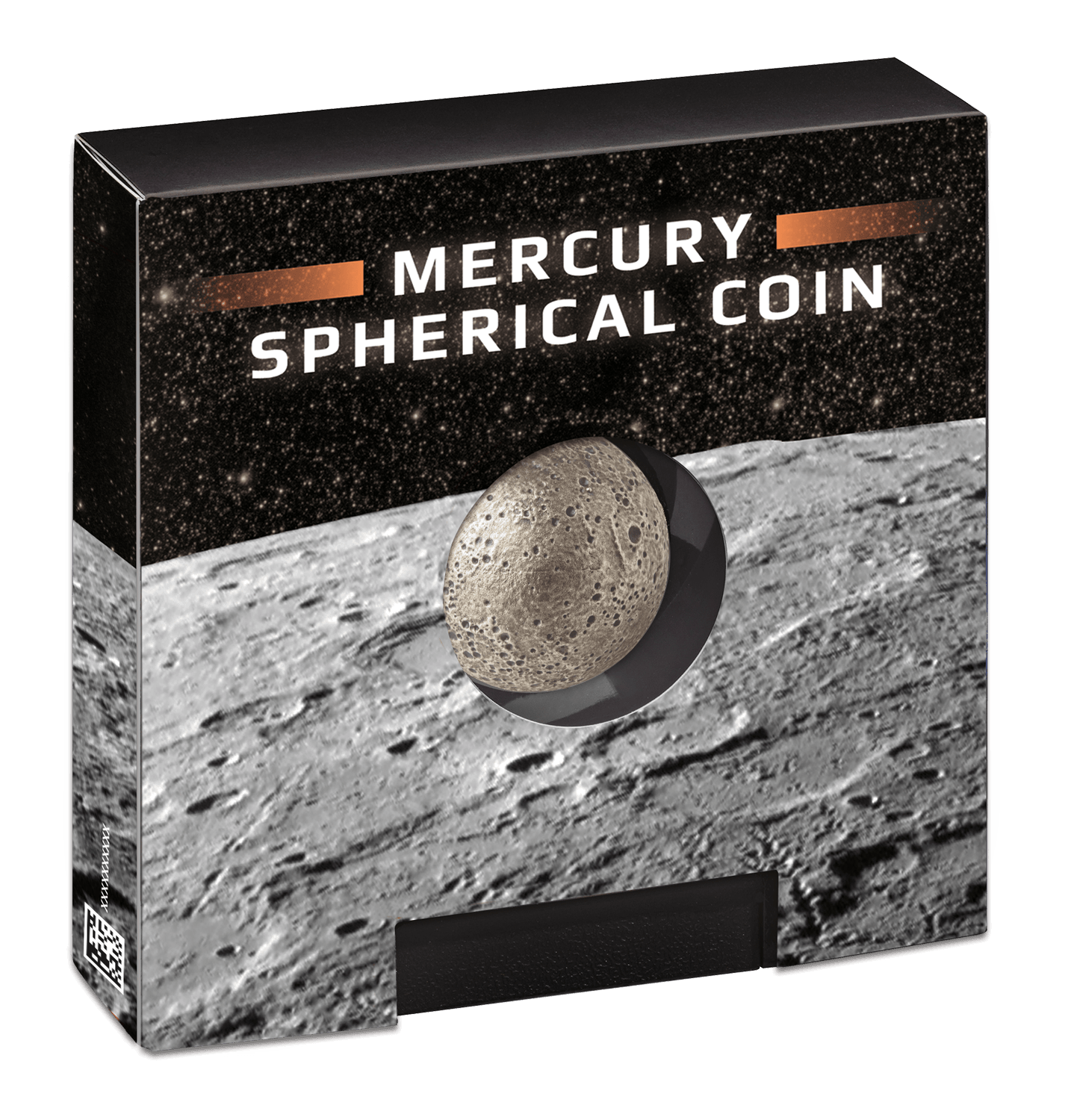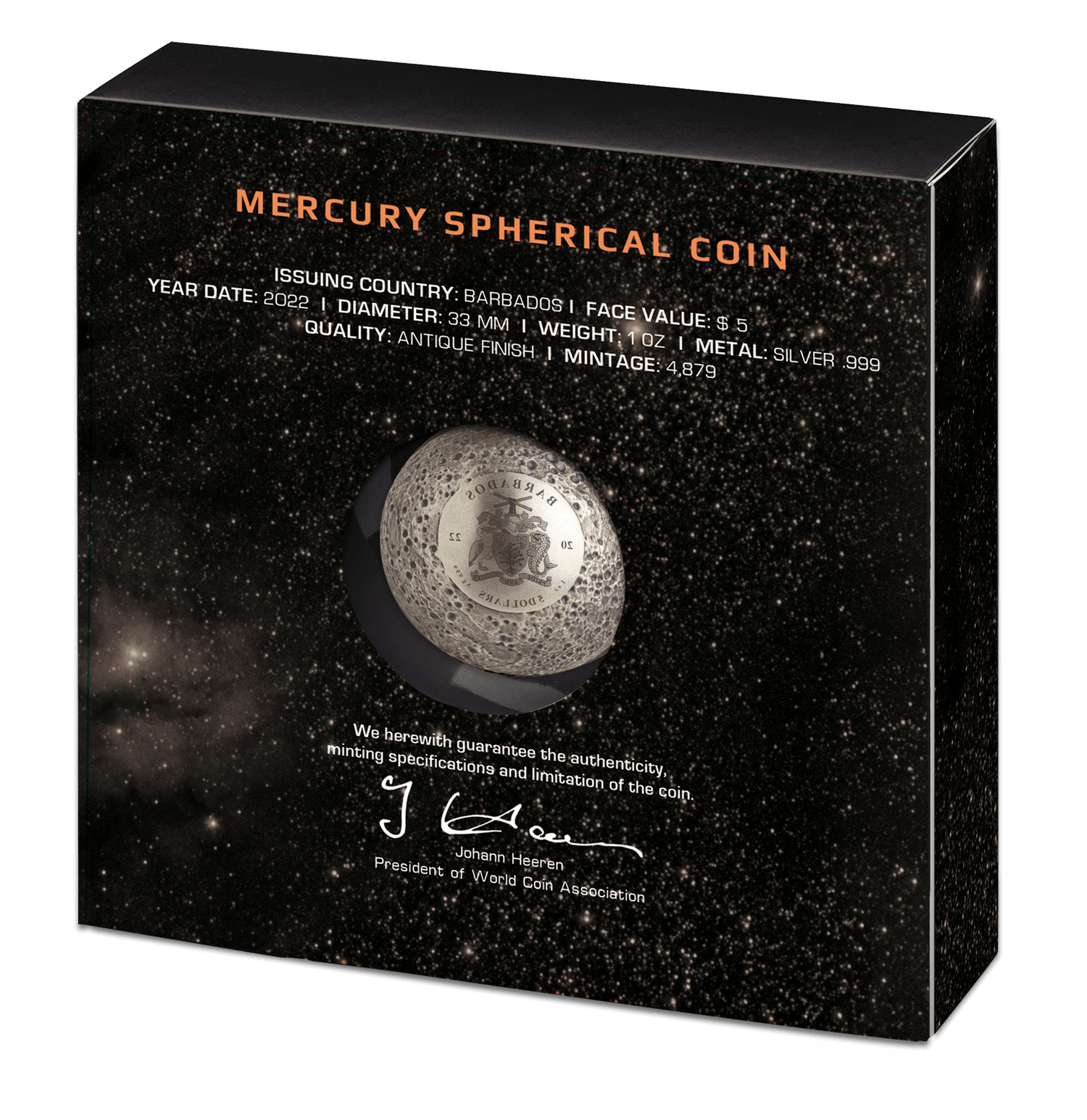 SPHERICAL MERCURY 3D Planet 1 Oz Silver Coin $5 Barbados 2022
This beautiful 1 Oz Silver coin is dedicated to the smallest planet in the Solar System: Mercury. The coin has a wonderful spherical shape and an Ultra Dark Antique Finish quality. The coin comes in a float frame, along with the Certificate of Authenticity. Limited mintage to 4879 coins worldwide, which represents the exact diameter of the planet!
In stock
Embark on an extraordinary journey to the planet Mercury with the Spherical Mercury 3D Planet 1 oz Silver Coin. Crafted from one ounce of pure Silver, this coin takes numismatic art to new heights by featuring a realistic depiction of Mercury's surface. Prepare to be amazed as you explore the intricacies of our neighboring planet in stunning detail.

The design of the coin is a true testament to innovation and craftsmanship. The coat of arms is skillfully applied using a highly innovative "Water Transfer Print" technique, ensuring the utmost precision and clarity. This meticulous attention to detail brings a touch of elegance to the overall presentation of the coin.

What sets this coin apart is its Ultra Dark Antique Finish, which creates a lifelike representation of Mercury's surface. Every crevice, ridge, and crater is meticulously captured, allowing you to explore the planet's unique topography from the comfort of your own collection. The combination of the realistic design and the exquisite craftsmanship makes this coin a true work of art.

To further enhance its appeal, the Spherical Mercury 3D Planet Coin comes in a float frame for both storage and display. This thoughtful packaging not only protects the coin but also allows you to showcase its beauty in all its spherical glory. With a limited mintage of only 4,879 coins worldwide, this represents the exact diameter of Mercury, which measures approximately 4,879.4 kilometers.

Whether you are a space enthusiast, a collector of unique coins, or simply appreciate the wonders of our universe, the Spherical Mercury 3D Planet 1 oz Silver Coin is a remarkable addition to any collection. Immerse yourself in the allure of Mercury and let this extraordinary coin transport you to the depths of our solar system.